He started out acting when he was 13, having sealed roles in several films and shows, including Mothers, Birthday, Dr. Romantic, The Bride of Habaek, The King in Love, Still 17, Do You Like Brahms, and more recently, the Netflix hit series All of Us Are Dead.
But the breakout star's talent goes beyond just acting. At the prime age of 21, Yoon Chan-young has not only established himself as an amazing actor but he is also the first ambassador for Coach Korea, joining the likes of Jennifer Lopez, Michael B Jordan and Jeremy Lin.
As part of his partnership with the House, the star will be included in advertising campaigns for leather goods, ready-to-wear and footwear in the Spring 2022 season.
"I was surprised, excited and proud to become the first Korean ambassador for Coach, a global brand with such a long tradition and heritage," said Yoon Chan-young. "It's a pleasure and honour to work with a brand that shares the values I believe to be important."
In a recent interview with the actor himself, Yoon opened up about his style inspirations, what he liked most from the new collection by Coach, and some of the challenges he faced while filming All Of Us Are Dead.
His style inspirations
When it comes to style, many draw inspirations from friends and family, celebrities, magazines or even fashion brands. And in this case, Yoon shared that he usually gets his inspiration from the latter. "Coach has been a great style inspiration for me.
I have been able to experiment with different styles through the photoshoots with Coach as well as the fashion items Coach has given me as gifts. These new styles I try out continue to inspire me," he said.
How his sense of style changed over the years
Like many, Yoon was experimenting with different styles in hopes of finding one that would suit his look. With no prior experience in fashion, he found himself learning the ropes of dressing up and what was trending on the internet.
In the interview, he shared, " I did a lot of research—surfing the web or going to offline shops to see what's out there. I tried out a lot of different looks. The more you try something on, the better feel and understanding of style you obtain. Trying something from stylish brands such as Coach really helps you grasp what style works for you. Style inspirations from such brands really helped me understand and build up my own style."
He describes his style as romantic and cute
While Yoon looks charming and cool in Coach's Spring 2022 denim signature ready-to-wear pieces, the star shares that one of his favourite items from the collection would have to be the "t-shirt with a rabbit on it".
"It's really cute and it's made of organic cotton." He also said, "I think it's meaningful that Coach cares for the environment and the planet while making something so stylish."
How he stays optimistic during the pandemic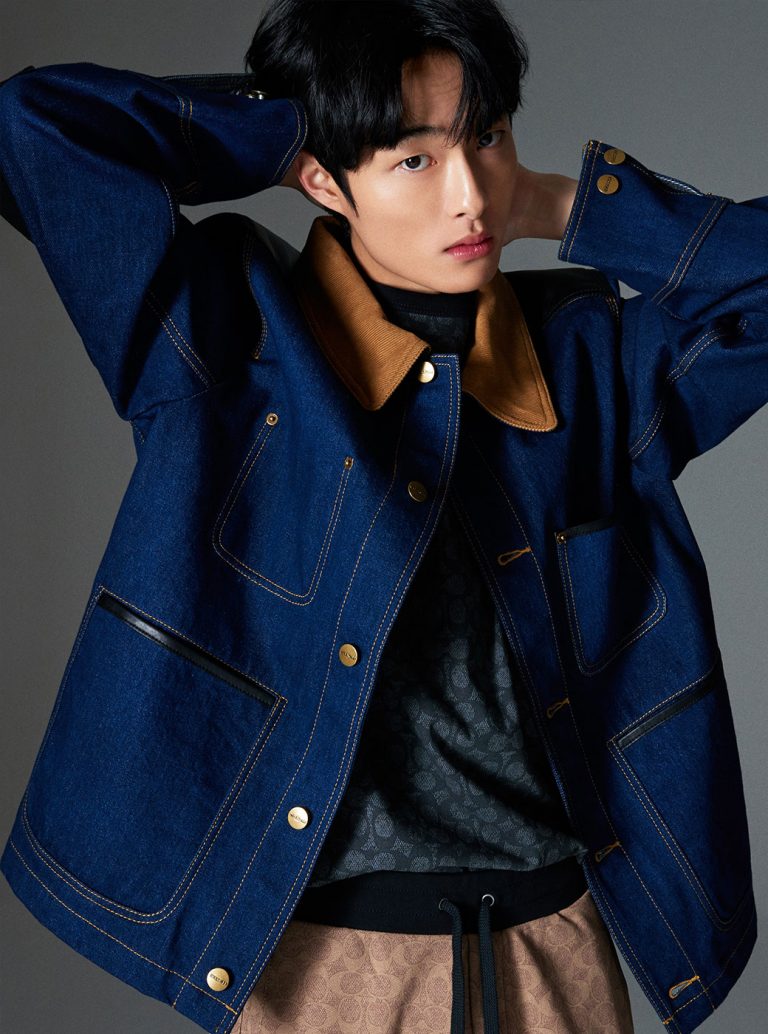 After enduring multiple lockdowns and restrictions, many have expressed how difficult it was to "stay positive" in light of the pandemic. And it was no different for Yoon himself. During the interview, he mentioned, "The pandemic has been a real struggle for many people.
''I also experienced challenges because of the pandemic, but I continue to stay optimistic because there is the hope that this will end someday and we will be able to go back to how things were in the past."
As for his travel plans, he also added that he does see himself travelling more in the future and has even considered making a pit stop to our little red dot. "I imagine myself travelling to Singapore when the pandemic is finally over, and imagining such things helps me carry on and stay optimistic under this pandemic situation."
The biggest challenge he faced while filming 'All Of Us Are Dead'
"The whole project was about survival. And the series was filmed throughout the four different seasons, but every cast had one single outfit during the whole time. So, the heat and the cold were most challenging. But it was such a wonderful, fun experience that I barely remember the challenges I was faced with while filming All of Us Are Dead."
The most memorable moment while filming 'All Of Us Are Dead'
If you've already binge-watched the highly-raved Netflix zombie hit series, then you would have probably remembered the scene in the library where Yoon, who played Lee Cheong-san, was involved in a chase with Yoon Gwi-nam (played by Yoo In-soo), who is the main antagonist in the first season.
In reference to this scene, Yoon shared that it was actually the most challenging scene to film throughout the series. "The bookcases fall down, and you had to put the bookcases and books back in place to refilm the scene. Among the cast, I was the first to finish filming this scene, so after finishing my part, I went up to the crew and quietly thanked them for their good work."
And while it was a difficult scene to film, Yoon did mention that it was actually one of the most memorable and rewarding moments he experienced while filming. "All of a sudden, the entire staff was calling out my name and giving me a round of applause.
It was an appreciation of the great work we did together as a team, and at that moment everyone was feeling the same thing — feeling proud that the hard work really paid off and we were able to film a really solid scene. That was an unforgettable moment for me. I was really touched. That night, when I lied down on my bed to sleep, I thought I heard voices from earlier, rooting for me and calling out my name "Lee Cheong-san, Lee Cheong-san.""
Will he be making a comeback in Season 2?
Can't wait for Season 2? You're not alone. And while there are no official statements in regards to a new season of the hit Netflix zombie series, Yoon did mention that he "looks forward to Cheong-san making a comeback if there is to be a Season 2."
This article was first published in Her World Online.