You'll be surprised by the tons of things to do in Singapore during the weekends that don't include cafe-hopping or hanging out in town. As a burgeoning cultural hub, there has been a gradual increase of art galleries and museums in the little red dot. And the best part? Most admissions are free for locals and permanent residents.
Whether it houses renowned paintings, sculptures or installations by local or international artists, here are some cool art galleries in Singapore that you should spend your weekend at. Weekend date idea? Checked.
1. ION ART GALLERY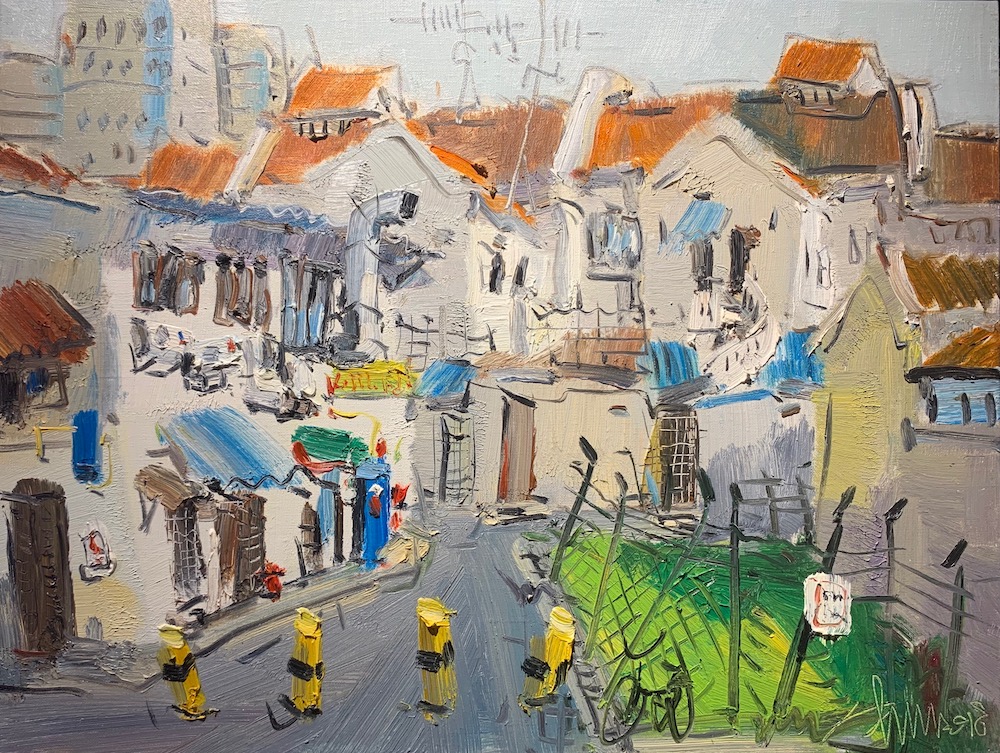 ION Art gallery shouldn't be a stranger to you. Located on the fourth level of ION Orchard, ION Art gallery is a progressive visual art space that gives visitors an integrated mall experience. The art works here are constantly changing, so you can be sure you'd get a new experience every time you pop by. From June 18 to 23 (10am to 10pm), the gallery is casting a spotlight on "six talents" who are at the forefront of the Singapore art scene, namely Siew Hock Meng, Miau Wong, Ng Yak Whee, Fan Shao Hua, Zhu Hong and Jose Martinez. Pieces show each artist's personality as well as their interpretation on various themes of nature, culture, people and Cityscapes.
From June 26 to July 7, The New Age Renaissance - Tan Oe Pang's Solo Exhibition will take over the space, and it is held in conjunction with the launch of the Singaporean multidisciplinary artist's new limited-edition art book "n Conversation with Tan Oe Pang and Goh Huck Heng in Singapore. Displayed will be an array of art works and oil paintings from his extensive art career throughout the years. Admission to the ION Art gallery is free.
ION Art gallery is at Level 4 ION Orchard, 2 Orchard Turn, Singapore 238801, tel: 6238 8228.
2. ARTITUDE GALERÍA
ARTitude Galería is the first local art gallery devoted to contemporary Latin American visual art. Founded and curated by British Holly Turner, ARTitude Galería seeks to bring Colombian artists to the heart of Asia and to support Colombian artists who are already established in Colombia and have gained international prestige, as well as young aspiring artists, who display a great deal of potential.
The gallery's opening exhibition "Magical Realism: A Latin American Art Movement" featured emerging, mid-career, and established Colombian artists, exploring the concept and culture of magic realism through their art. Gallery viewings are on appointment basis - visit their website for more information.
ARTitude Galería is at 31B Pagoda Street, Singapore 059190, tel: 9837 1977.
3. NATIONAL GALLERY
Situated at the birthplace of modern Singapore, National Gallery is a progressive visual arts institution that oversees the largest public collection of modern art in Singapore and Southeast Asia. There are currently a few ongoing exhibitions, such as Siapa Nama Kamu (What is your name)? Art in Singapore since the 19th Century at the DBS Singapore Gallery which covers Singapore's art history from the 19th century to the present day.
There's also the Gallery Children's Biennale 2019 (until Dec 29, at various locations in National Gallery Singapore) which allows children to get creative and to embrace a fantastic, magical world through 11 imaginative artworks installations. Free entry for Singaporean & PRs.
National Gallery is at 1 St Andrew's Rd, Singapore 178957, tel: 6271 7000.
4. MIAJA ART COLLECTIONS - CONTEMPORARY ART GALLERY
Founded by Isabelle Miaja, Miaja Art Collections - Contemporary Art Gallery hopes to encourage visual dialogues to inspire and enrich individuals. Besides promoting artists through exhibitions and public programmes, the gallery also focuses on introducing inspiring and cross-cultural art to local art community and general public.
We loved the exhibition that was held from Mar 15 to Apr 15, titled "It's Five O'Clock Somewhere Solo Exhibition by David Yarrow", the world-renowned London-based fine art photographer. Twenty-eight of his finest black and white shots of endangered wild animals from all over the globe were presented, including his iconic image entitled "Cara Cigar" with model-actress Cara Delevingne. There were also limited edition prints from his recently completed project in Montana with supermodel Cindy Crawford.
Miaja Art Collections - Contemporary Art Gallery is at 9 Muthuraman Chetty Rd, Singapore 238931, tel: 6737 8979.
5. UOB ART GALLERY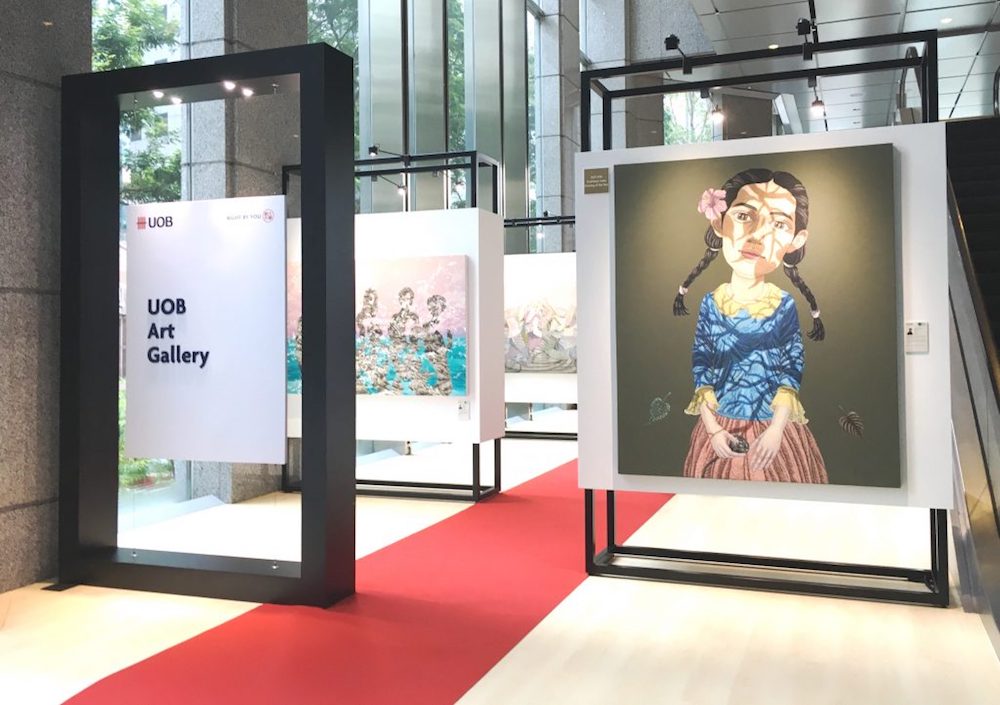 Located at the lobby of UOB Plaza 1, the UOB Art Gallery is a creative respite amid the hustle and bustle of Singapore's CBD area. Besides showcasing pieces from the UOB Art Collection, the gallery also features winning entries from the UOB Painting of the Year competition and solo exhibitions by the competition's alumni artists.
From now until July 4, the space is showcasing Adrift in Colour: A Solo Exhibition by Valerie Ng, who won the Bronze award in the Established Artist Category for the 2018 UOB Painting of the Year (Singapore) competition. Get in touch with your artsy side by admiring the 15 abstract paintings inspired by the elements, colours and patterns in nature.
UOB Art Gallery is at UOB Plaza 1, 80 Raffles Place, Singapore 048624, tel: 6539 1177.
6. FOST GALLERY
This gallery was founded by Stephanie Fong, with an ethos to showcase the best of Singapore's emerging contemporary talent at different stages of their careers, and to display pieces from artists all over the world, with of course, a focus on those based in Singapore.
Its most recent exhibition, which ended on June 9, is "No Substance (Trunk)" is a new iteration of Zul Mahmod's sound sculpture series "No Substance" from 2014. His earlier work is an inquiry into the role of human inhabitants in a big city. Without them, cities will just be glass towers which ring hollow, metaphorically speaking. Check its website for updates on its new exhibition.
FOST Gallery is at 01-02 Gillman Barracks, 1 Lock Road, Singapore 108932, tel: 6694 3080.
7. PARKVIEW MUSEUM
Located within Singapore's very own 'Gotham City' building - or Parkview Square - in Bugis, this private museum established by the Parkview Group was opened in 2017 with a focus on contemporary art. Its offerings range from solo shows to thematic exhibitions to displays of pieces from the Group's extensive collection.
Its most recent exhibition was Breezing Willow, done in conjunction with National Art Museum of China and China Cultural Centre. It showcased more than 100 ancient classic New Year paintings from the small market town of Yangliuqing. Admission to the museum is free and guided gallery tours are available too. The museum is currently closed to prepare for its next exhibition. Check its website for updates.
Where: Parkview Museum is at 600 North Bridge Road, Parkview Square, Level 3 Singapore 188778, tel: 6799 6971.
8. MIZUMA GALLERY
First established in 1994 in Tokyo, its founder, Mizuma Sueo, went on to open Mizuma & One Gallery in Beijing in 2008, followed by Mizuma Gallery in Gillman Barracks here in 2012. His aim is to support and promote young artists from Japan in the region, and to introduce new and promising young talents from Southeast Asia to the international art scene. Check out its latest exhibition, Face to Face, a solo presentation by Indonesian artist Iwan Effendi, who is also the co-founder and co-artistic director of Yogyakarta's Papermoon Puppet Theatre.
The darkly fascinating exhibition showcases puppet sculptures in various positions, staring blanky, as though lying in wait for a puppeteer to infuse their empty shells with layers of thought, speech, and emotions. Also displayed is a series of new drawings by the artist himself. From June 8 to July 7.
Where: Mizuma Gallery is at 22 Lock Road #01-34, Gillman Barracks, Singapore 108939, tel: 6570 2505.
This article was first published in Home & Decor.