With the lack of overseas trips, we've been finding ways to cure our travel bug in Singapore, with the latest Covid-19 rules in mind of course.
Throughout the various phases we have seen (circuit breaker, phase 3 reopening, P2HA etc), cycling has remained a largely undisrupted activity for us - besides the group size limit.
As day-to-day cycling becomes an increasingly preferred mode of transport (to avoid the crowds in public transport), leisure cycling is also gaining momentum for the quick breather and respite it offers from our daily grind.
Plus, being on the bike gives you access to places and views that would be challenging to achieve by foot.
Other perks of cycling: You have the permission to go mask-free (because maskne is real, though you're free to keep your mask on for safety).
Plus, you get to burn anywhere from 347 to 578 calories* from 60 minutes of cycling, depending on how fast you cycle. So why not?
*Calorie burn estimates are based on a 55kg person.
Ready to hit the road or trail?
Here are 15 scenic cycling routes we'd recommend for leisure cycling - from a path that winds through lush greenery at picturesque Coney Island, to a charmingly rustic route through Pulau Ubin.
PS: We've ranked the cycling routes according to our perceived difficulty levels (based on distance, terrain and incline), starting from the easiest cycling route.
Have fun exploring Singapore on wheels!
The best leisure cycling routes in Singapore
Canberra Park
Facilities at this 1.5-hectare park (opposite Blk 325, Sembawang Crescent) – in addition to family-friendly cycling and walking paths – include swings, slides, a rope course and a playground catering to children with special needs.
Marina Bay/Bayfront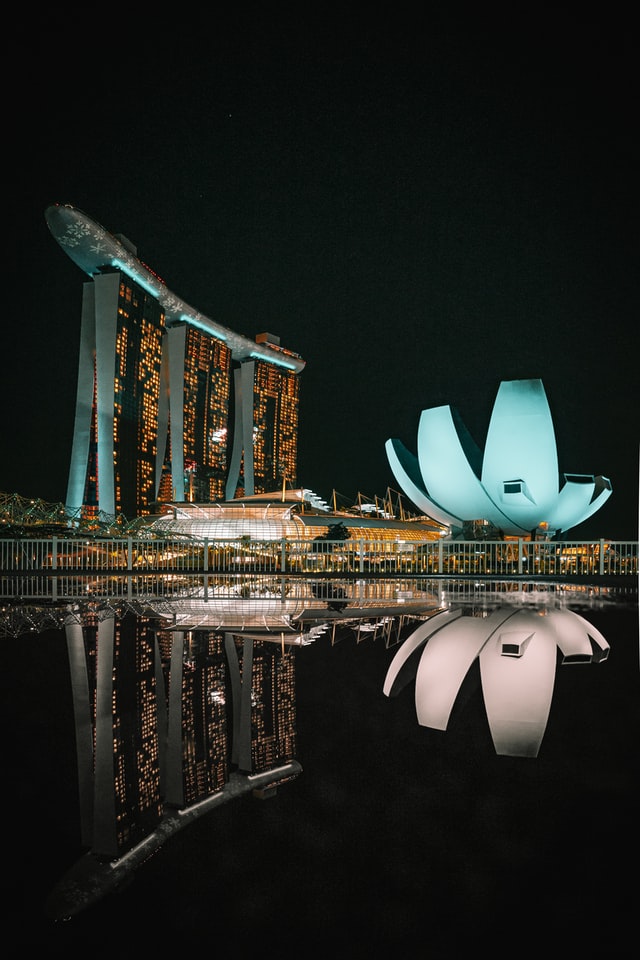 Stand in awe of Singapore's iconic skyline during the golden hours and watch the city light up in a gorgeous orange hue.
This 3km ride starts from Marina Bay Sands and goes across the Helix Bridge and around the Esplanade and Merlion.
You can extend your pedalling journey by throwing in a loop at Gardens by the Bay, or round up your night at one of the many restaurants or bars lining the waterfront. 
Changi Airport Connector
Suitable for family-friendly outings, this leisurely 3.5km ride starts from East Coast Park and heads towards the glittering Jewel Changi Airport.
Photo opportunities with your kids abound at the Changi Jurassic Mile section, home to the city's largest permanent outdoor display of 20 life-sized dinosaurs.
For a hassle-free experience, rent a bike at one of the seven GoCycling outlets in the heartlands, and return it at the Hub & Spoke Café – we hear it's also a great spot to indulge in a rewarding ice cream shake after a hot ride!
Punggol Waterway Park
Cycling along the 4.2km serene, man-made canal is the main attraction here, meandering through Punggol Eco-Town.
The park also features a multi-generational fitness corner and kid-friendly areas such as a water playground and sandpit.
Ensure ample time to check out several Insta-worthy spots such as the suspended Adventure Bridge, or the Jewel Bridge from where park users can enjoy a full view of the setting sun.
Kranji Heritage Trail
Singapore is seldom associated with agriculture, but farms and cottage industries once thrived in the country.
Amble your way through the Kranji area and stop by landmarks such as Bollywood Veggies and Thow Kwang Pottery Jungle, as well as historically significant sites like the Kranji War Memorial and World War II First Landing Site for a blast from the past.
Coney Island
More than half the size of its eponymous New York cousin, this ecologically sustainable park offers a variety of habitats including mangroves, coastal forests, grasslands and casuarina woodlands to pedal through.
There are also five quiet seaside spots, where you can take a break from cycling to try to spot one of the 80 species of birds that call the area home.
Rent a bicycle from Punggol Point Park, or bring your own. Note that the park is closed from 7pm to 7am.
The Rail Corridor (Central)
A mix of pure gravel riding and paved sections, this 4km stretch from The Rail Mall to the conserved Bukit Timah Railway Station near King Albert Park MRT is relatively flat with few surprises.
Be sure to snap a few photos at the two conserved truss bridges – a nod to its railway heritage – that are extremely Insta-worthy.
The Rail Corridor (Central) is part of the longer 24km Rail Corridor which starts from Woodlands Train Checkpoint to Tanjong Pagar Railway Station.
Currently, trail improvement works are ongoing at different sections with a progressive reopening by 2025.
Track 15
An introductory track for those who prefer the wilderness to the well-paved paths of a park, Track 15 runs parallel to the Bukit Timah Expressway.
The 6km trail is a fairly smooth ride and suitable for cyclists of all levels, but the Gangsa Hill area it leads to is lined with jumps, bends and slopes, and is recommended only for experts.
Pulau Ubin
Cycling is one of the more popular ways to get around this rustic offshore island, and away from the hustle and bustle of the concrete jungle.
Rent a bicycle from one of the many shops in the jetty area, and explore landmarks such as the Tudor-style House No. 1 at Chek Jawa (and walk the boardwalks after), Ubin Quarry, and Wei Tuo Fa Gong Temple.
For seasoned mountain bikers, Pulau Ubin is also home to the advanced Ketam Mountain Bike Park for adrenaline-filled rock-littered descents, and demanding hillside climbs.
Eastern Coastal Loop
Explore one of Singapore's most popular belts of parks and seafront recreational spots on this 17.5km-long trail, which encompasses flora and fauna sanctuary Tampines Eco Green, the famous Bedok Food Centre, and a long-time favourite for R&R – East Coast Park.
Western Adventure Loop
The Western Adventure Loop connects eight parks in the wild West, starting from the 12km route starts from the leafy Choa Chu Kang Park, and ends at the rugged cliff wall and quarry pond at Bukit Batok Nature Park.
Keep your eyes peeled for birds – the White-bellied Sea Eagle and Pacific Swallow have been reportedly spotted there – as you pedal through the Pang Sua Park Connector.
Central Urban Loop
Explore little-known pockets of Singapore with this 36km-long Central Urban Loop which utilises park connectors, and cuts through small parks and community spaces in the heartlands of Bishan, Ang Mo Kio, Toa Payoh and Whampoa.
While pedalling, take in the distinctive architecture of the Bishan and Potong Pasir estates, and feel free to stop and nosh on local delights at the Circuit Road Food Centre. 
Southern Ridges  
This scenic 9km bike trail starts from South Buona Vista Road, leading to green, open spaces before reaching the 80m-long Alexandra Arch.
Head up the man-made elevated walkway which rises over the dense secondary forest of Telok Blangah Hill, before arriving at the familiar, undulating Henderson Waves (note that certain sections require you to dismount and push your bikes).
Grab a swig of water here, and mentally prepare for the last lung-busting ascent up Mount Faber.
Rower's Bay Park
So named because of the reservoir's popularity with kayaking and dragon-boating enthusiasts, Rower's Bay forms the first phase of the 150km Round Island Route.
The main route clocks in at 60km from Rower's Bay to Gardens by the Bay, via Sengkang, Punggol, Pasir Ris, Changi and East Coast Park.
For a more leisurely spin, whizz towards Seletar Aerospace Park, an Instagram hotspot with expensive jets in the background.
But first, stroll along the boardwalk to admire the stunning waterfront views and swaying willow trees.
Coast-to-Coast (C2C) Trail
Certainly not for the faint-hearted, the thigh-burning 36km-long C2C Trail cuts across Singapore, linking Coney Island in the northeast with Jurong Lake Gardens in the west.
Most of the route utilises park connectors, but note that it can get blisteringly hot in the middle of the day, as not all stretches provide shady foliage.
The good news is that pitstops can be plotted for some respite, either at Adam Road Food Centre for the famous nasi lemak (checkpoint 4), or one of the casual cafes in Bishan-Ang Mo Kio Park (checkpoint 5).
READ ALSO: Looking to start cycling? Here are 3 things you must know
This article was first published in Her World Online.