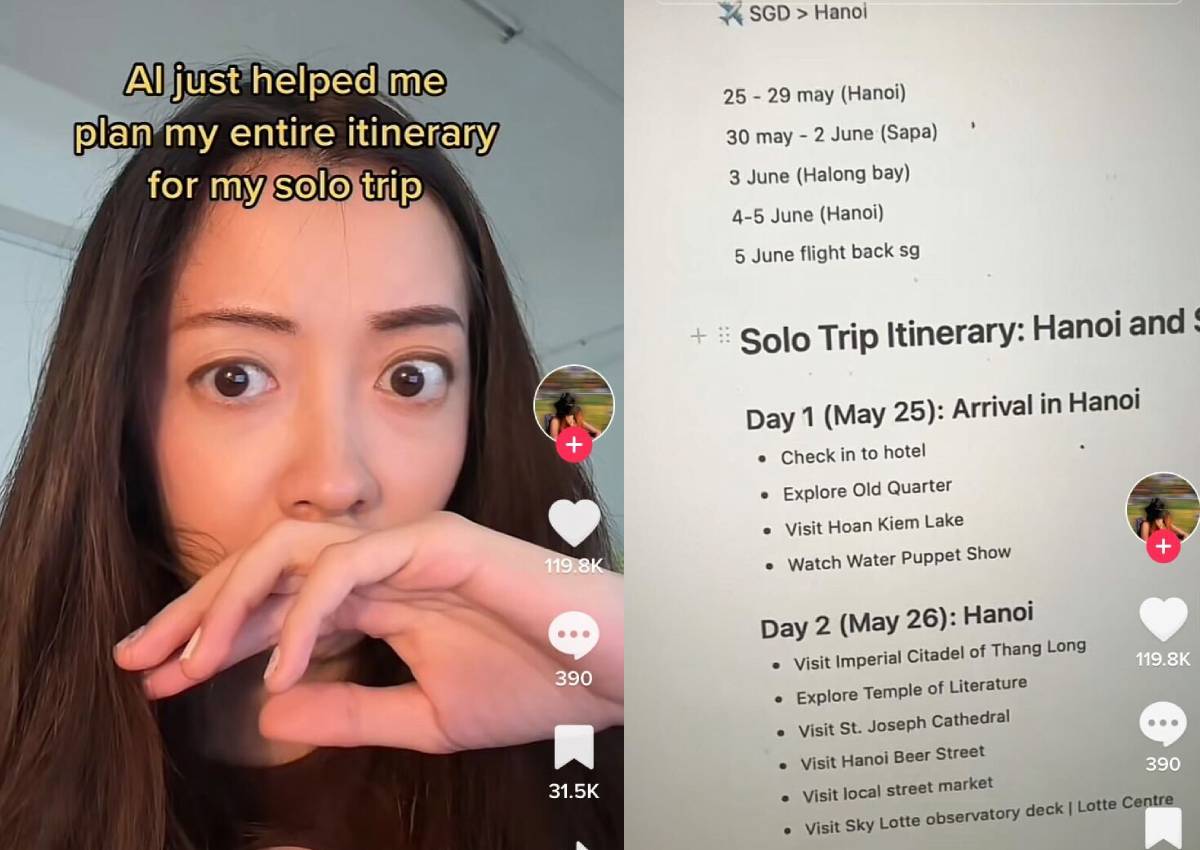 Planning a trip overseas but not sure what to do, or where to start? Using an Artificial Intelligence (AI) tool might free yourself from some of that stress.
This was what one Singaporean TikTok user Mel did, when she used the Notion AI writing assistant to help plan her 12-day solo trip to Hanoi, Vietnam.
Her bare-bones list simply included places she wanted to visit, such as Sapa and Halong Bay, as well as her arrival and return dates. She then left it to the AI bot to work its magic.
And map out a detailed itinerary, it did.
https://www.tiktok.com/@what.mel/video/7212547771201490178
The suggestions which the AI bot spat out in quick succession were clearly annotated and split into the different days.
For example, Day 1 included a short list of things to do, such as "Check in to hotel" (how perceptive), before suggesting other places to visit such as "Explore Old Quarter" and "Visit Hoan Kiem Lake".
Day 2 included more suggestions of places of interest to visit, and we observed that on days where travelling between cities would be expected, the AI bot was smart enough not to overload the schedule. Not bad.
Based on sample itineraries we Googled online, the list pretty much covered the area's main attractions, including the famous Train Street and the Hanoi Night Market.
It even threw in food recommendations, though oddly, two of them were for "Chicago Pizza" and another Italian joint. The two eateries, however, appear to be highly rated online, and we guess they are options when one tires of local flavours?
We noticed also that the bot seemed to run out of steam by the end, offering only three suggestions (two of them food places) on Day 10 and for Day 11.
Also, the two activities listed were located in the city of Hoi An — a 14.5-hour drive away from Hanoi, according to Google Maps.
The recommendation to visit Ba Na Hills on Day 8 was also misguided as the attraction is near Da Nang, also located further down south.
Regardless of the itinerary's perceived flaws, it was definitely enough to draw some inspiration from, at least.
Make sure to double check yourself, netizens advise
Speaking to AsiaOne, Mel admitted that she was surprised by the results by Notion AI, as well as the response from netizens to her clip. 
The video has since gone viral with close to 1.3 million views and around 400 comments.
"I was honestly surprised that [the tool] planned out a day-by-day schedule," said Mel, sharing how she'd seen another TikTok user using Notion AI for their travel itinerary and decided to try it out for herself.
While she had initially considered using the viral AI chatbot ChatGPT, it was down that day, "so Notion AI it was".
Nonetheless, many commenters on her video appeared to be similarly awestruck by the results.
"This can't be real," wrote one netizen in disbelief.
"This is amazing," said another, adding that the AI tool's help meant "less stress" for travellers planning their itinerary.
However, many also cautioned Mel about the dangers of revealing one's travel itinerary online.
"I guess they were genuinely concerned for my safety and that is so sweet of them," said Mel, 28, who's the co-founder and director of social media agency Two Sleepy Heads.
Some commenters who have utilised AI tools to plan their travel journeys chimed in with their advice to always double-check results from such AI bots as they can often be inaccurate.


One noted that such itineraries wouldn't work as "it doesn't factor in travel time".
Sharing that she knew better than to "follow the itinerary blindly", Mel acknowledged that the tool had at least helped her get started.
"The AI-generated itinerary was just to get me started and to do more research on the places to go visit," shared Mel.
"Someone commented that the real itinerary is in the comments, and I totally agree."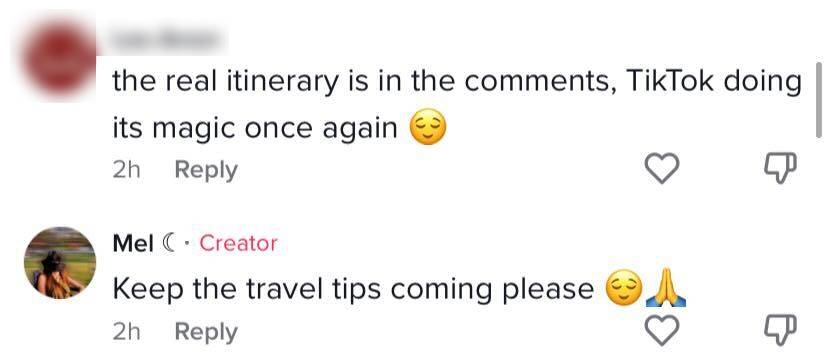 She added: "I'm glad that this video did magic and helped provide travel tips to not just me, but to the TikTok community as well."
candicecai@asiaone.com
No part of this story or photos can be reproduced without permission from AsiaOne.