Centrale 8 DBSS review: Relatively convenient HDB living close to MRT station and amenities
PUBLISHED ON
September 17, 2023 9:00 AM
By
Sean
Centrale 8 At Tampines DBSS was the 8th out of 13 DBSS to be built in Singapore, and it holds a special place in Singapore's DBSS history as one of the most (if not the most) scandalous DBSS that formed part of why the entire scheme was scrapped.
When developer Sim Lian announced the indicative price of a five-room flat of up to $880,000, a public outcry ensued. Despite DBSS supposedly catering to higher-income earners, the sticker price alone went against HDB's ethos of providing affordable public housing.
Initially-launched prices:
| | |
| --- | --- |
| Type of Flat | Indicative Price Range |
| Three-room | $397,000 – $510,000 |
| Four-room | $531,000 – $683,000 |
| Five-room | $685,000 – $880,000 |
To provide some context, Tampines Greenleaf (just next door) was launched a month earlier with five-room flats starting at about half this price: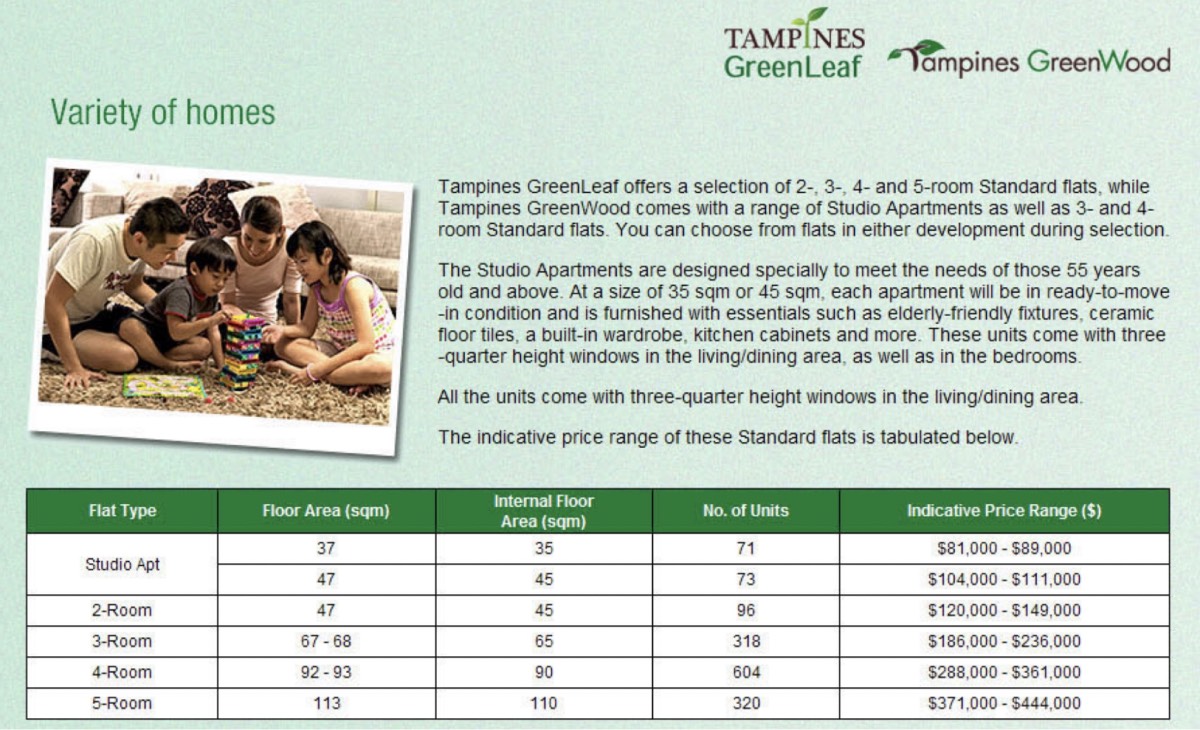 Today, prices of five-room flats at Centrale 8 At Tampines still go for a low $800K+. This means at the initial prices, the returns would've been paltry at best.
So it got off to a rocky start, but things continued to go downhill. After residents moved in, complaints of defects started to pile on to the point where Minister Heng Swee Keat himself had to oversee a task force to deal with the complaints. Issues such as "rusty door handles, uneven tiles and choked toilets" and "design flaws that cannot be fully rectified", such as sanitary pipes being placed in the service yard and oddly-positioned doors.
A resident we spoke to, who lives at Centrale 8, was also featured in our recent article.
So if you're considering a unit at Centrale 8 At Tampines today, read on to tour the DBSS to decide for yourself!
Centrale 8 at Tampines DBSS tour
I'll start the tour from the only entrance into Centrale 8 which is along Tampines Central 8 (no prizes for guessing how the development got its name!).
From the outside, you're greeted by the large development sign. You just can't miss it given it's the only entrance in and out of the development before you hit the four-way junction intersecting with Tampines Concourse.
Those looking to stay here should also know that it is the only development situated along this road, so I can't see any reason why this road would have heavy traffic at all.
Once you turn in, you'll see that the development is quick to let you drive straight into the multi-storey car park. This is a win on multiple fronts.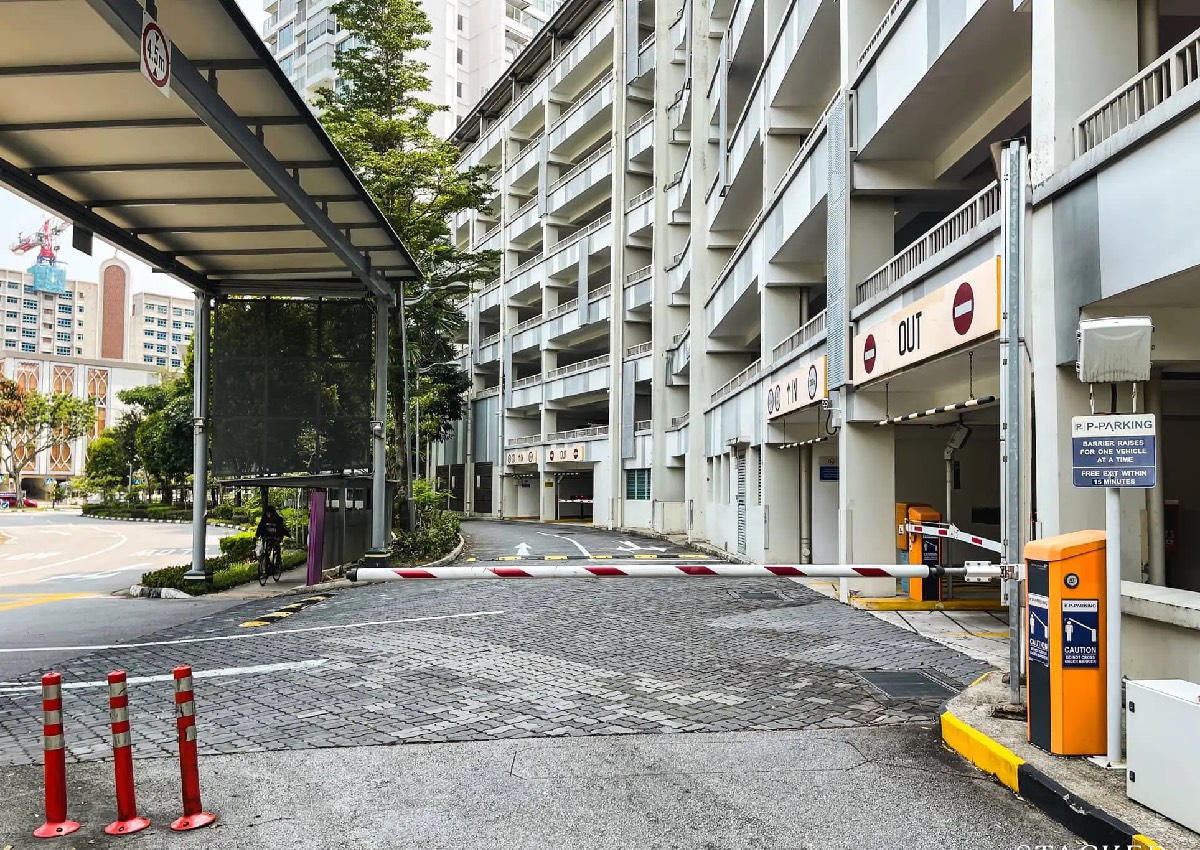 First, drivers save time by not having to drive around the service roads to get to the car park which is not uncommon in HDBs.
Second, while I'd like to be greeted with a landscaped entrance, putting an MSCP here means that residential units wouldn't have to face the dreaded entrance. I know some people who don't mind facing the main road, but facing the entrance where drivers can directly peer into your unit each and every hour is probably the lesser of two evils.
Here, you'll find two entrances and exits which is more than enough for a development with 708 units.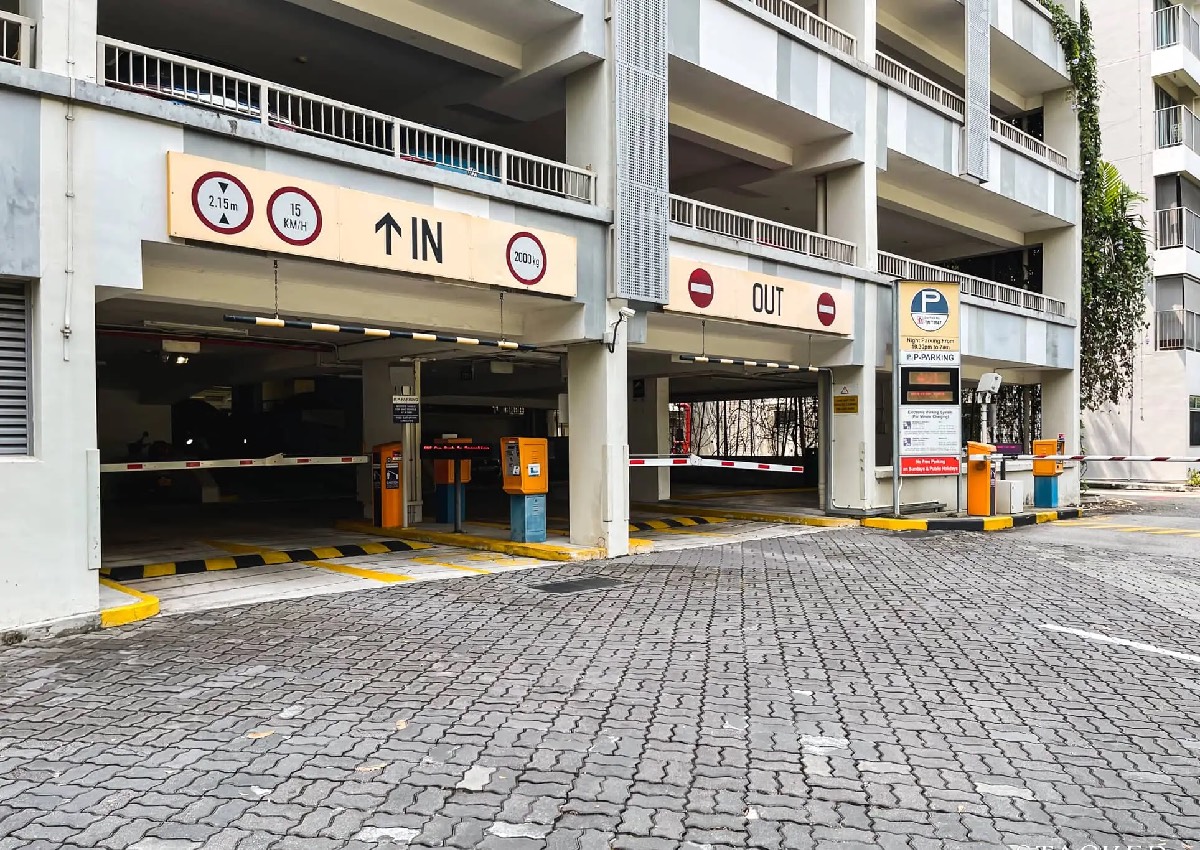 The MSCP's design is congruent with the overall design of the development, though I'm not really a huge fan of the grey concrete look. I would've much preferred more greenery, but I suppose that would've been more costly to the developer to build something that is less impactful to buyers.
Heading inside, you'll find that the lower floors here can be quite dim with lights turned on even during the day: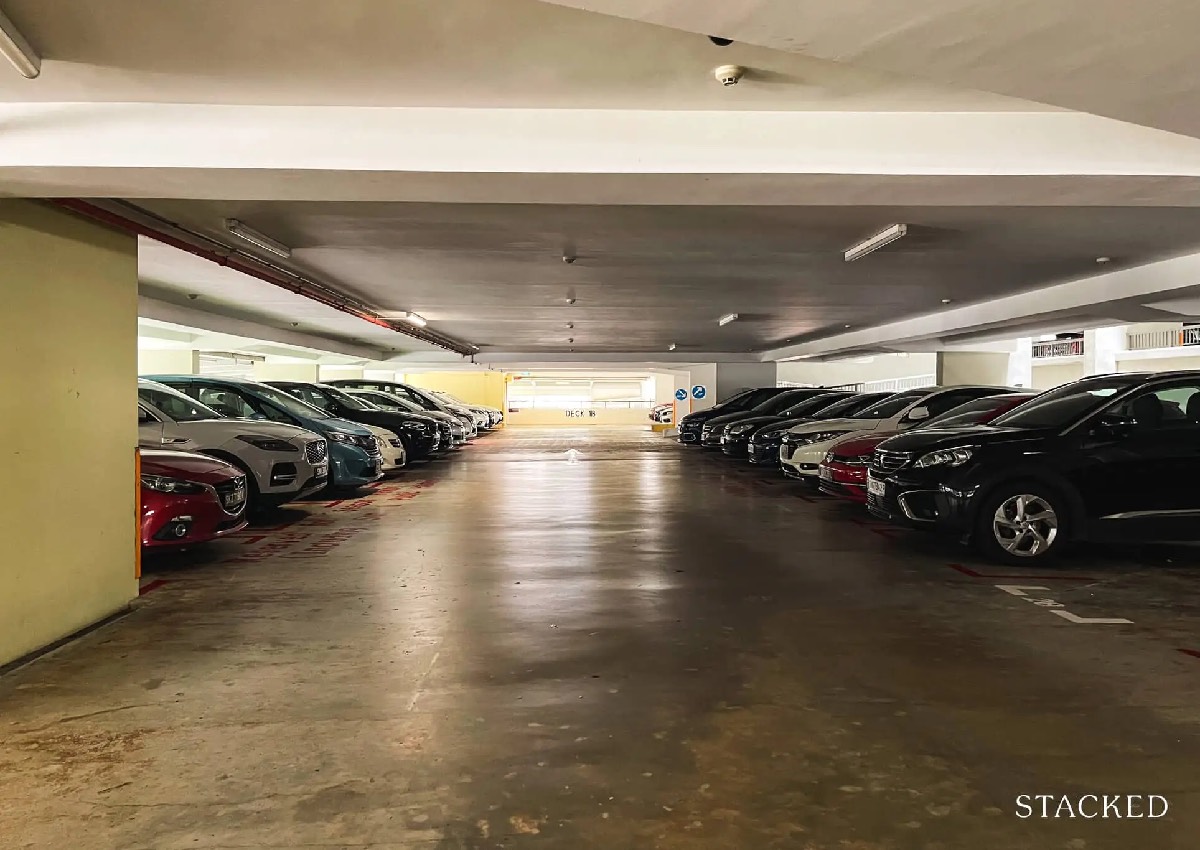 It does get better on higher floors though: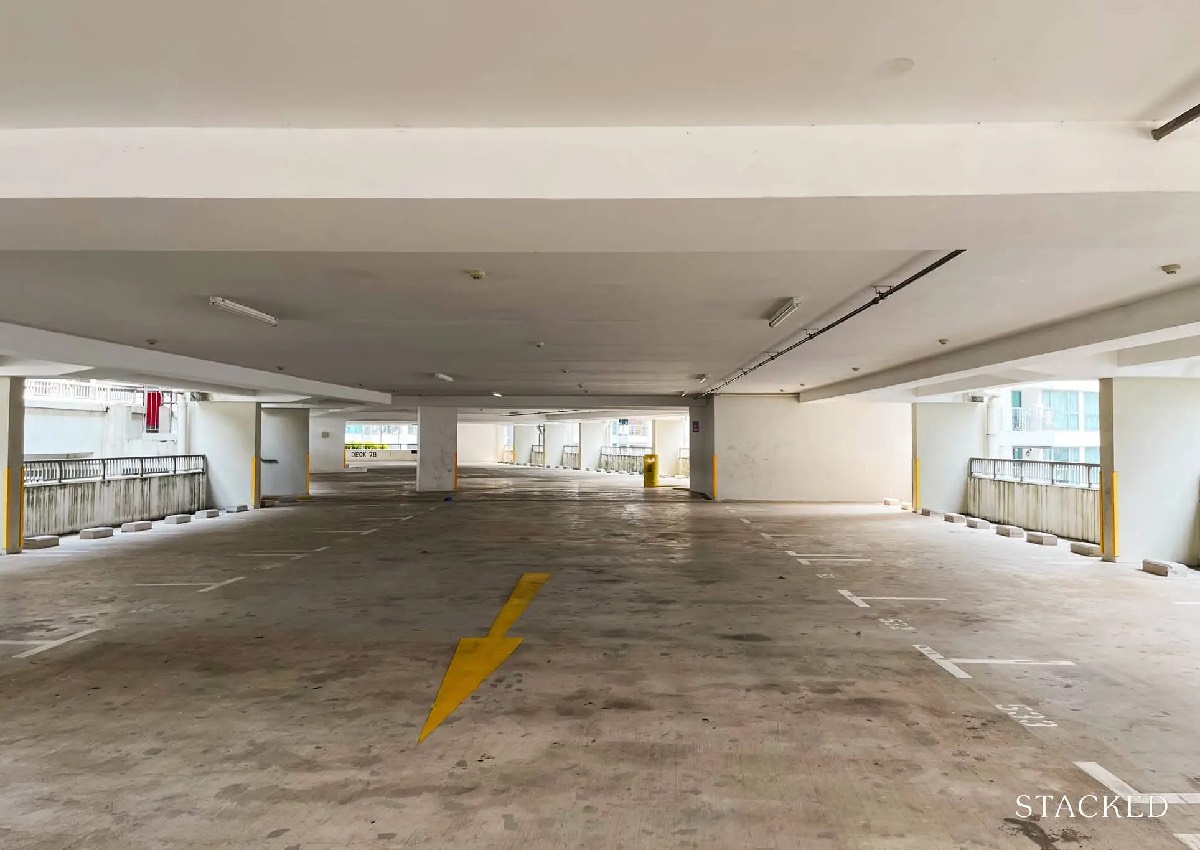 When I was here, it was evident that the car park has many vacant lots. A quick check on HDB's season parking page reveals 289 lots so far in September 2023 which is really good because it's likely everyone who needed it has already bought it for this month.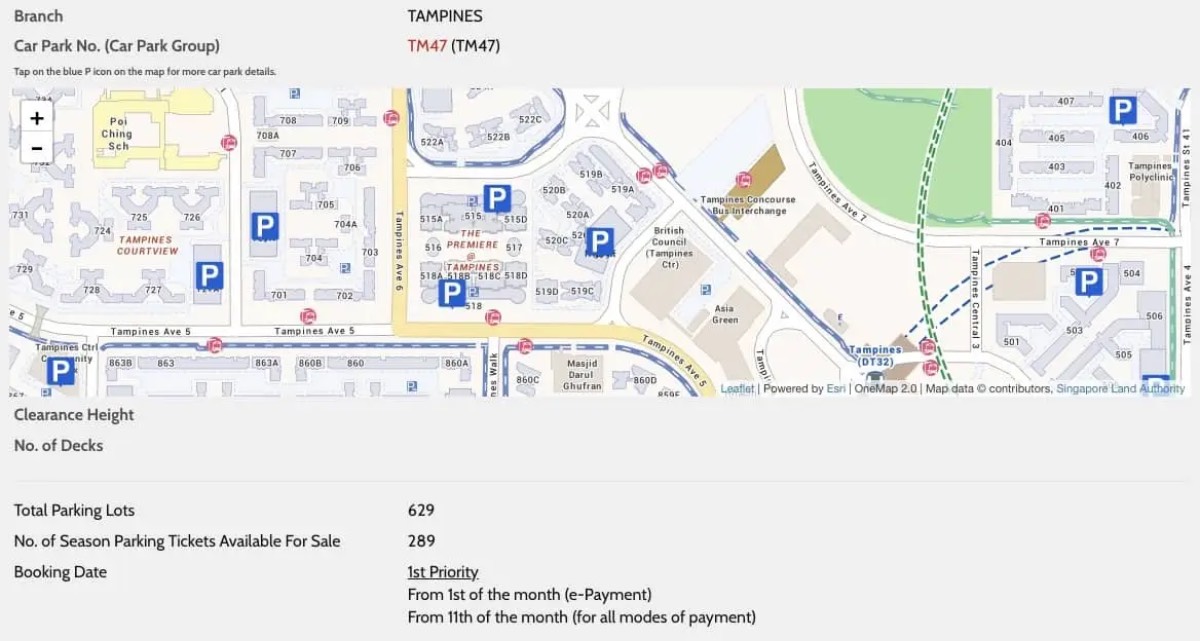 From here, it's clear that Centrale 8 suffers from the same privacy issues that many other developments with an MSCP suffer. At this angle, you can look directly into some of the living quarters of certain stacks.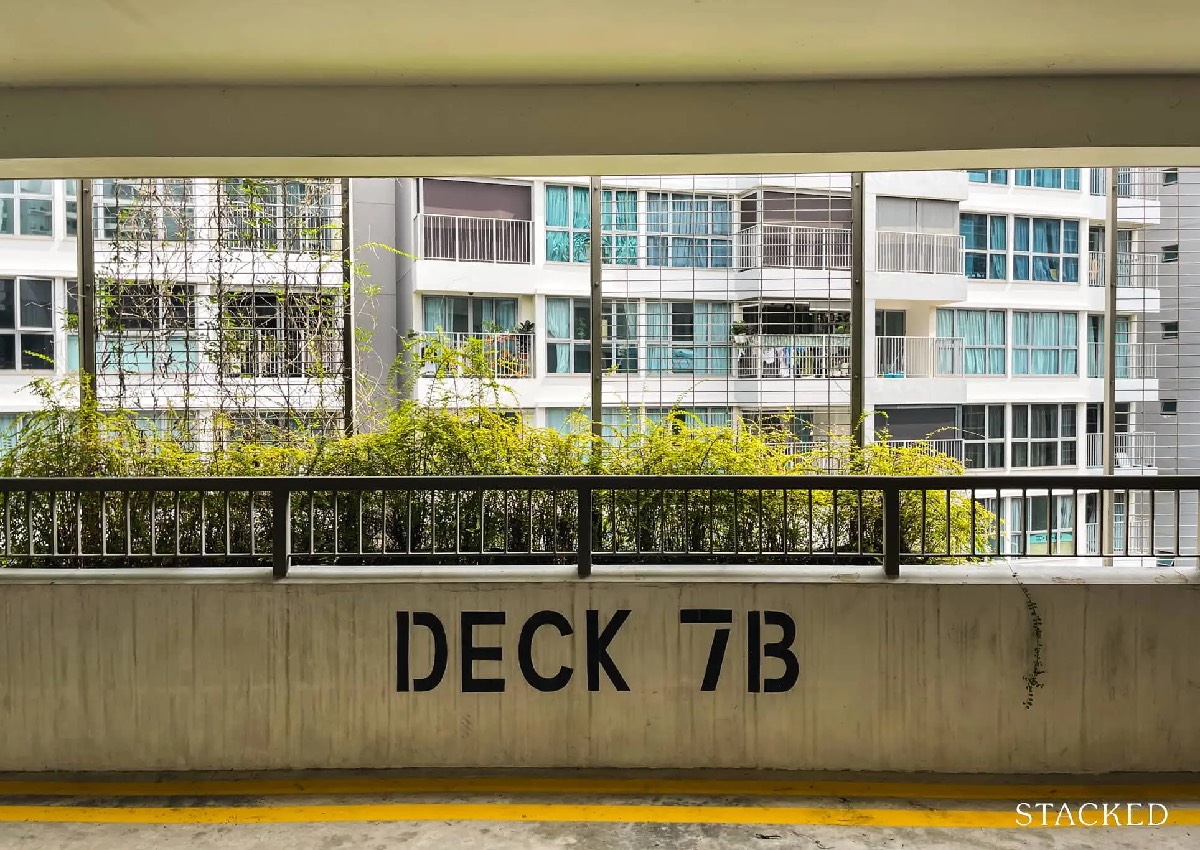 It's also not that far away. Judging from URA's map tool, this seems to be less than 10 metres away!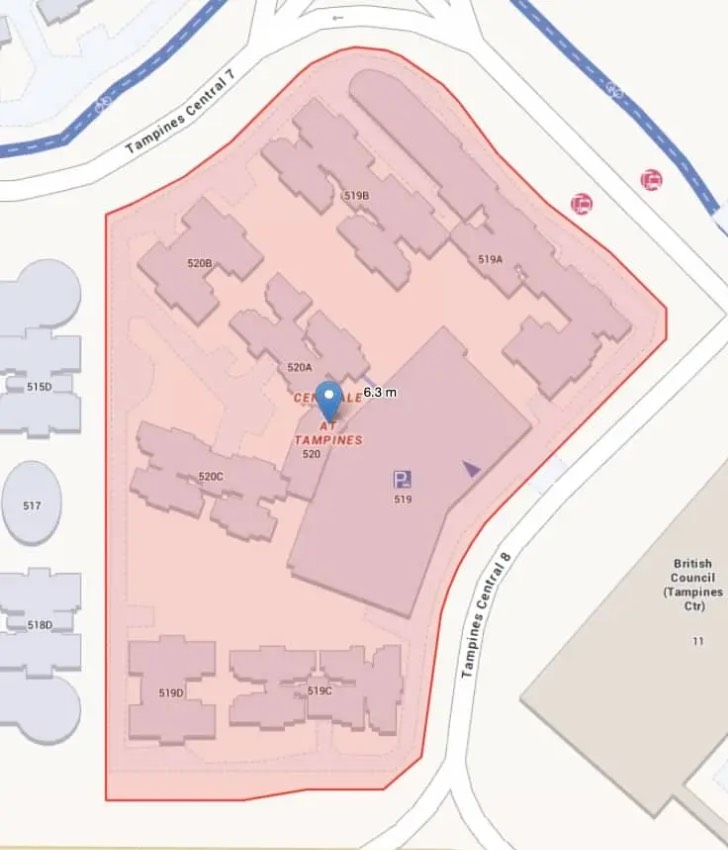 In some sense, having this view does reduce the property's value. But in a more positive manner, this also makes it more affordable and is ideal for those on a budget who don't mind this orientation. Do note though, that it may be quite difficult to offload a unit when intending to sell in the future.
Something else I'd like to highlight is the maintenance here. While it's decent overall, some walls do look like it needs some tender loving care: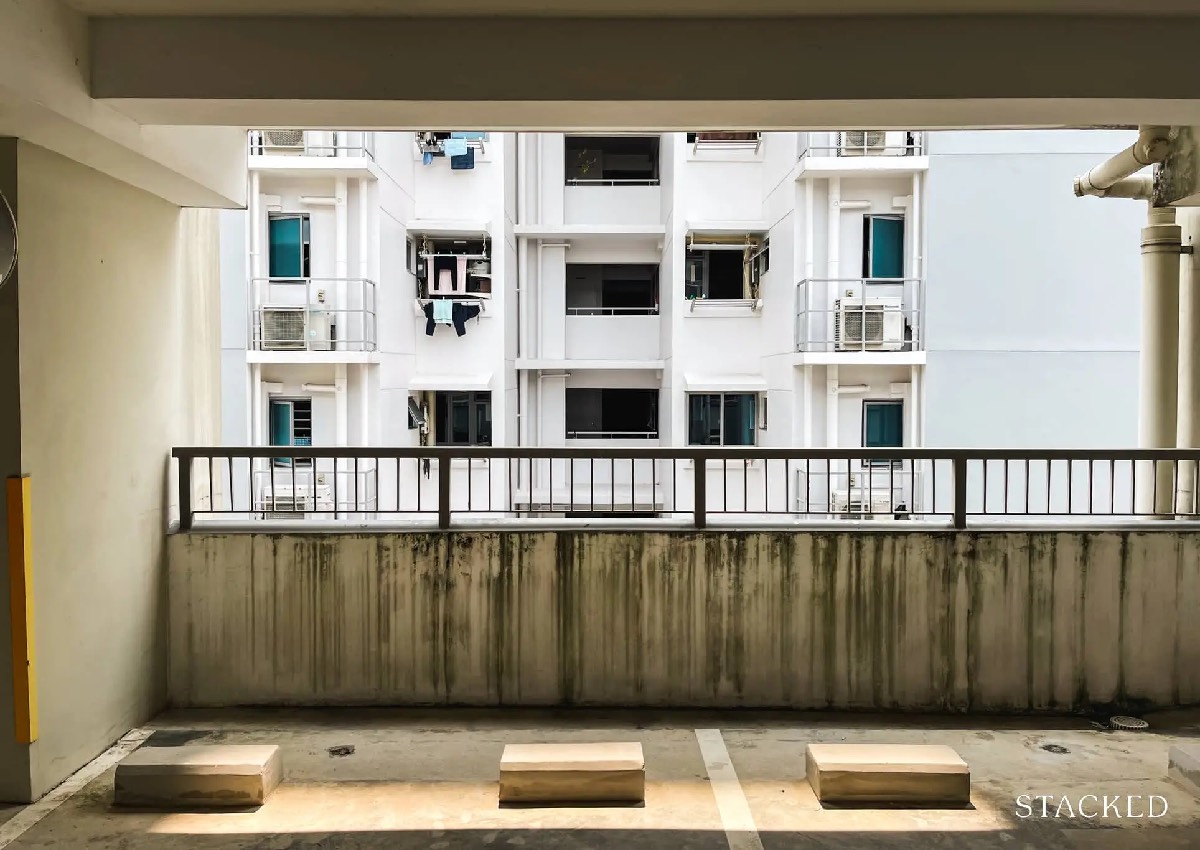 The problem looks isolated to this segment only as the rest of the development seems okay. This is unlike my previous review of Parkland Residences DBSS where it's clear that almost the entire development needs a repainting job.
Now that we're done, let's move on to the next part of our tour: The car park rooftop!
The MSCP has a lift lobby that's pretty spacious and bright: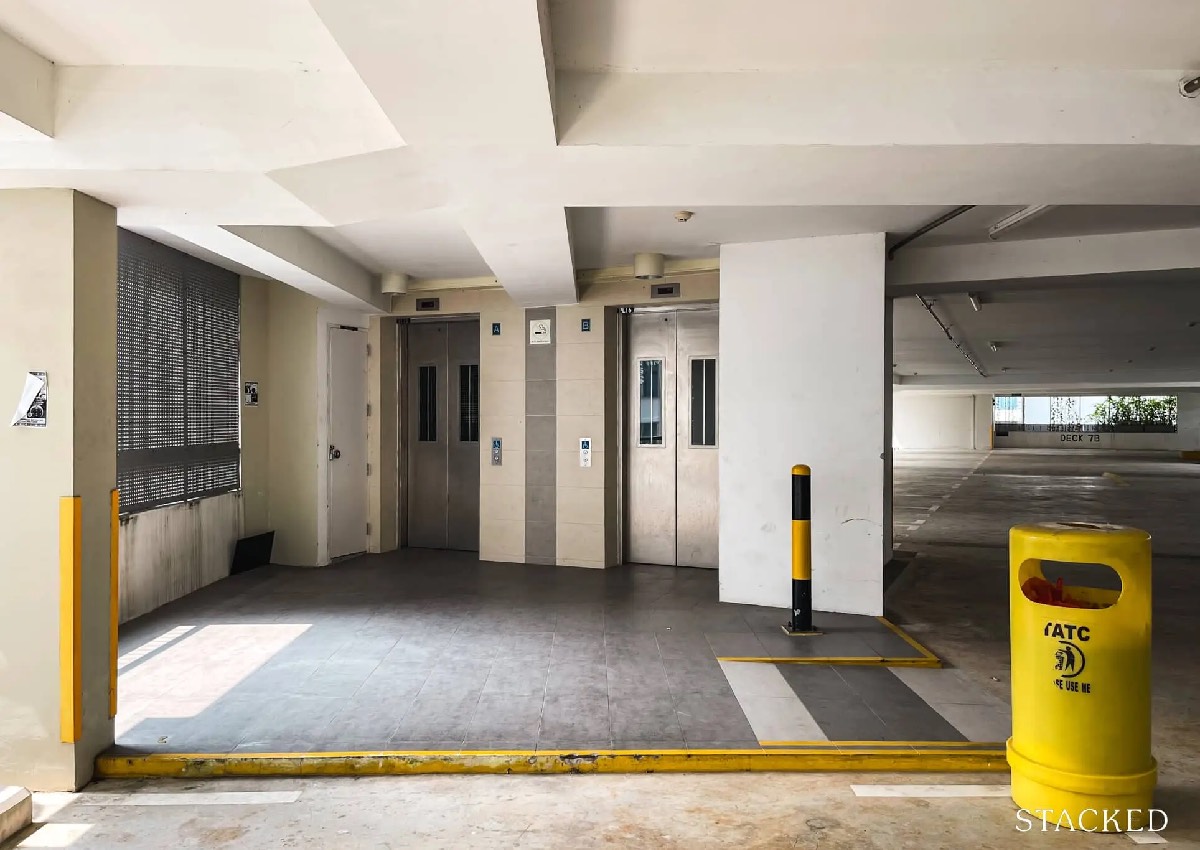 Heading up, you'll find that residents are treated to yet another level of parking: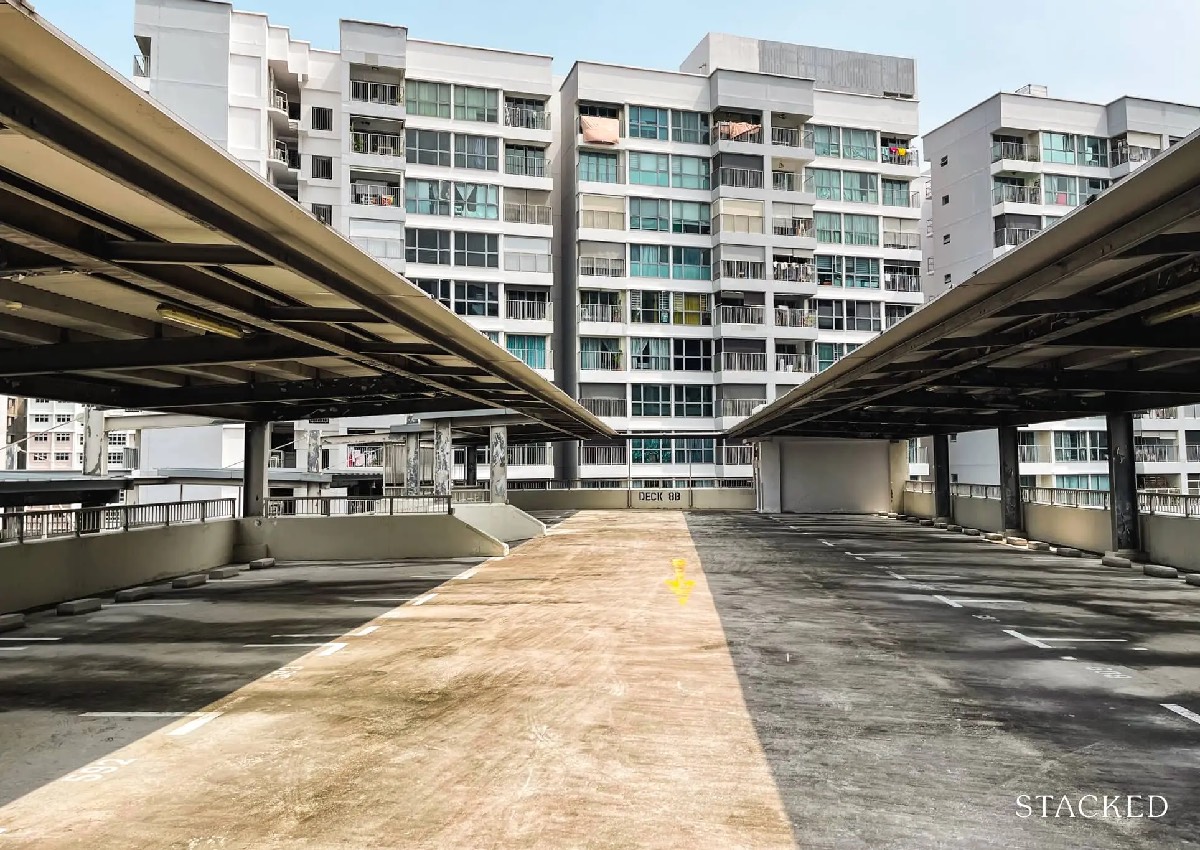 I suppose this is one of the reasons why season parking is not a problem here at all. It turns out that Centrale 8 does not come with a rooftop garden, unlike most of the recent HDBs we've seen. Perhaps it's not surprising since DBSS were built by private developers who had their bottom line to protect. Having to involve landscaping and gardening work is costly and time-consuming, so we can see why having just another level with outdoor parking lots makes sense for their bottom line.
After all, a car park rooftop garden is not a make-or-break when buying a flat – but something you can appreciate once you move in. It's great for those who do not wish to go too far for a nice stroll but I suppose it's a nice to have not a must have. Some people may also prefer having more parking lots so they wouldn't have to worry about season parking.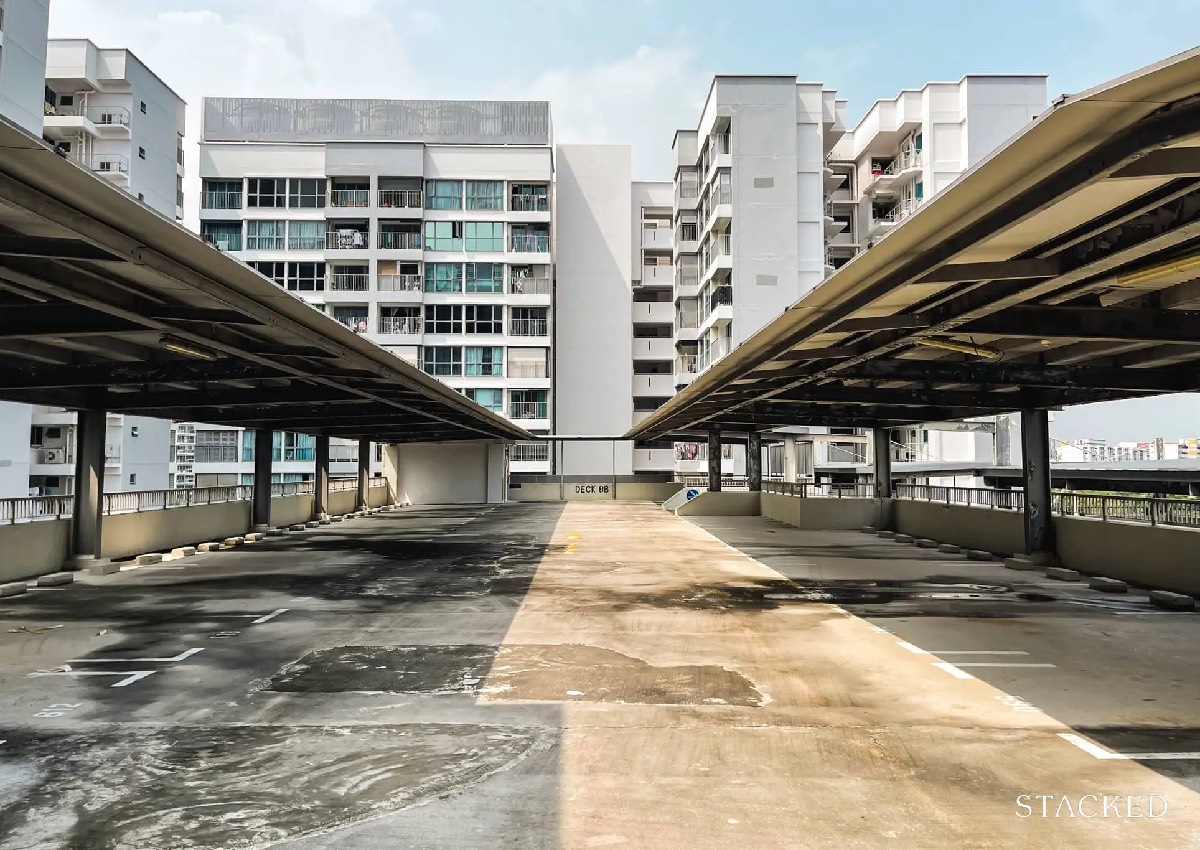 However, I think most would agree that it's kind of an eyesore for neighbouring stacks, so I definitely would prefer to have one personally.
The last thing I'd like to highlight is that this MSCP has no link bridges. This means that drivers who park on higher floors must head down to level 1 first, then walk over to their block. As mentioned in multiple reviews, this can sound like a small thing but builds up over time in terms of inconvenience. There are developments with link bridges, so if you're someone who drives, perhaps you should look into such developments first. Or better yet, those with basement-style parking where you can park directly within your block!
Now that we're done with the MSCP, let's head back down where you'll find the sheltered pavilion.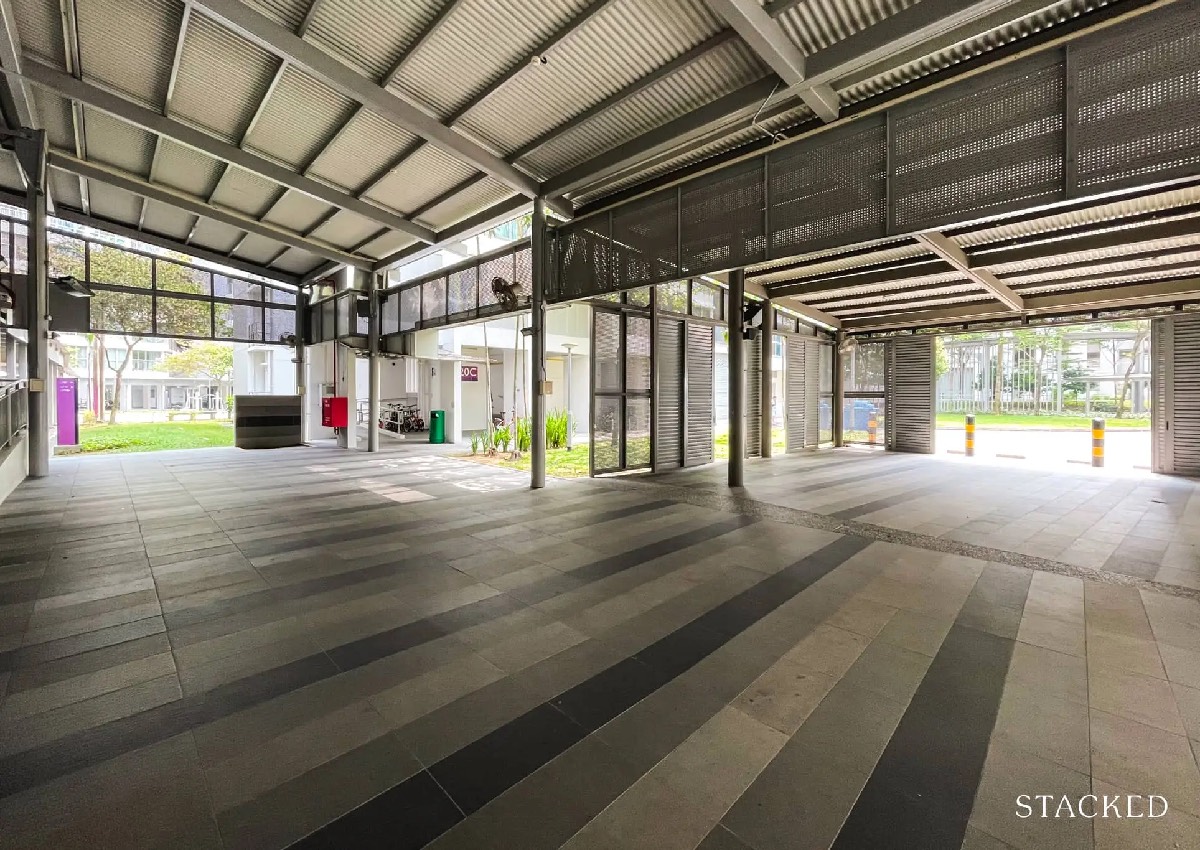 Getting there was quick as it's connected directly to the car park, so it's very convenient for guests to reach. As usual, it has lights here, and I'm happy to see fans as well (this isn't a given!). There's also the usual wash bay.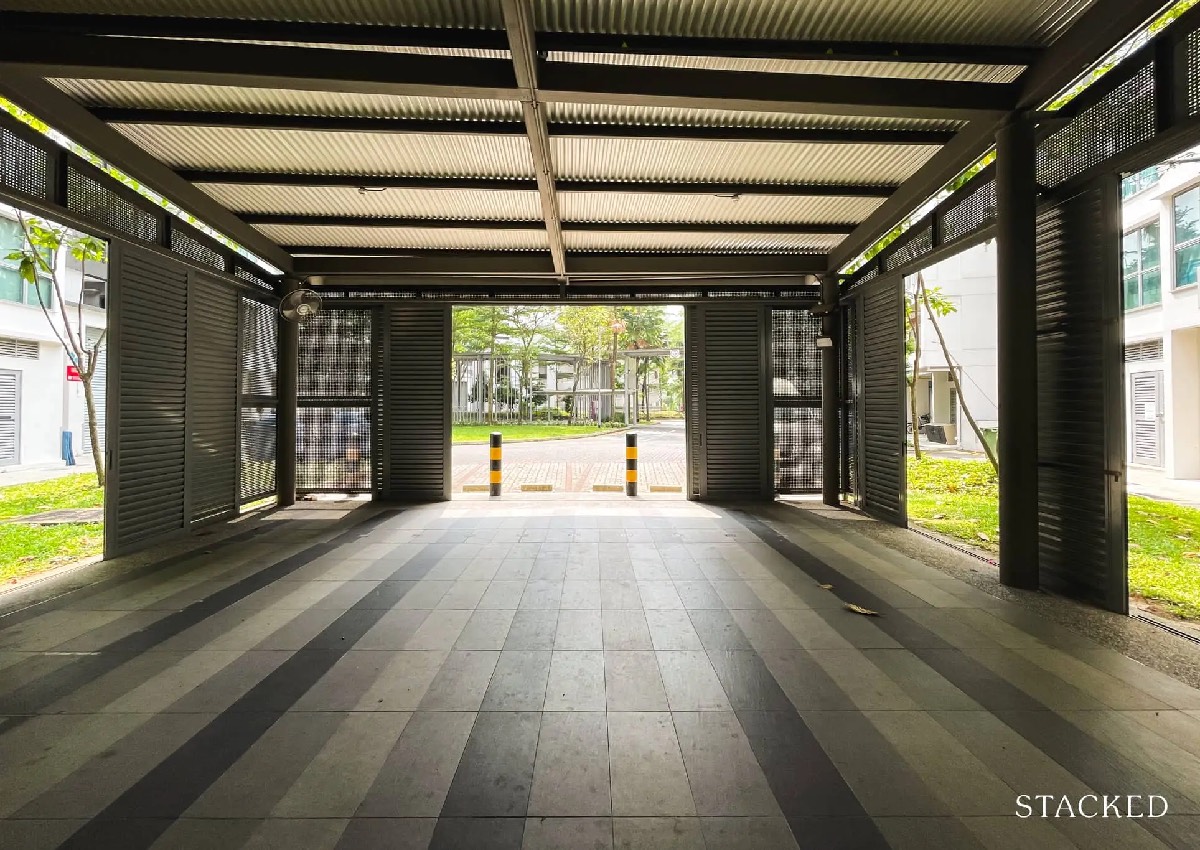 The sheltered pavilion is quite unique as it sports an L-shape layout rather than the usual rectangular layout. As you can see, it's also really spacious.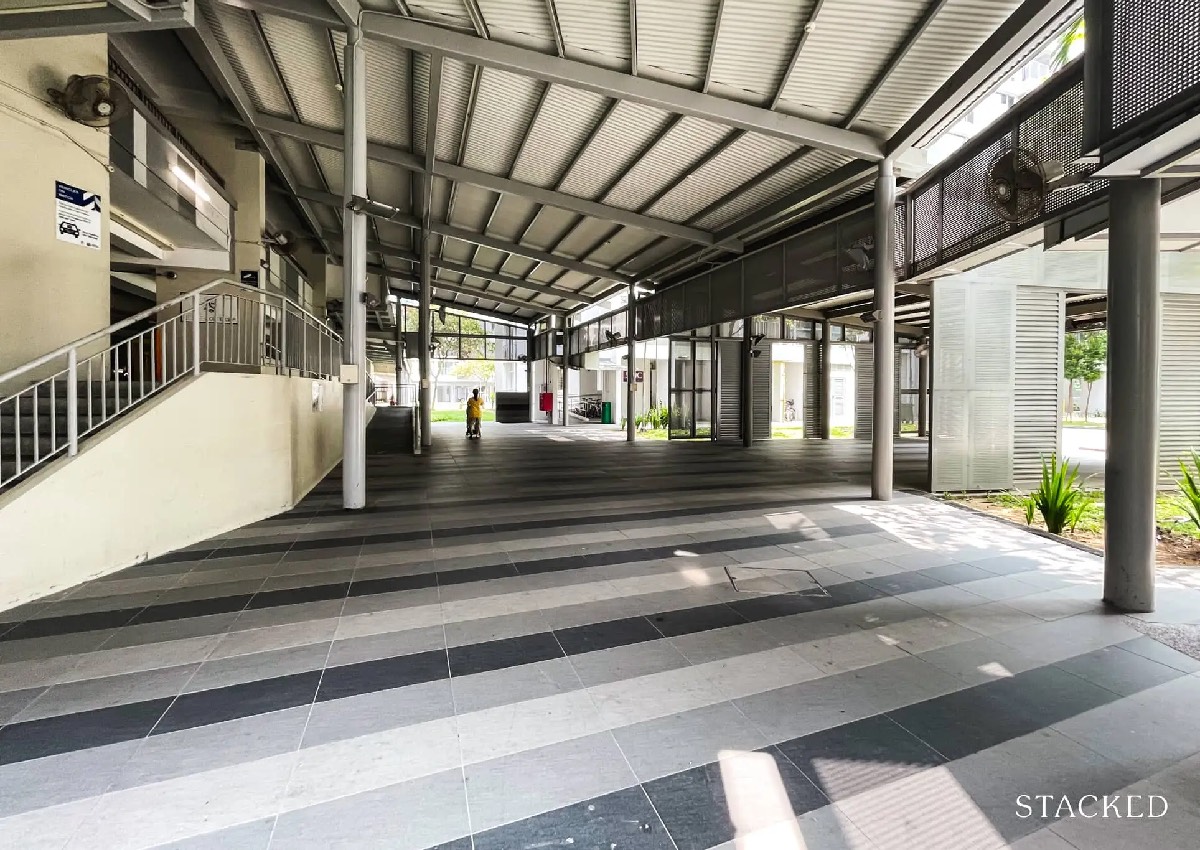 Another unique feature is the presence of sliding doors/panels to enclose the area if necessary. Usually, residents are expected to make such privacy arrangements by themselves, so I think this is a nice touch to the place and not something I've seen in my reviews (so far).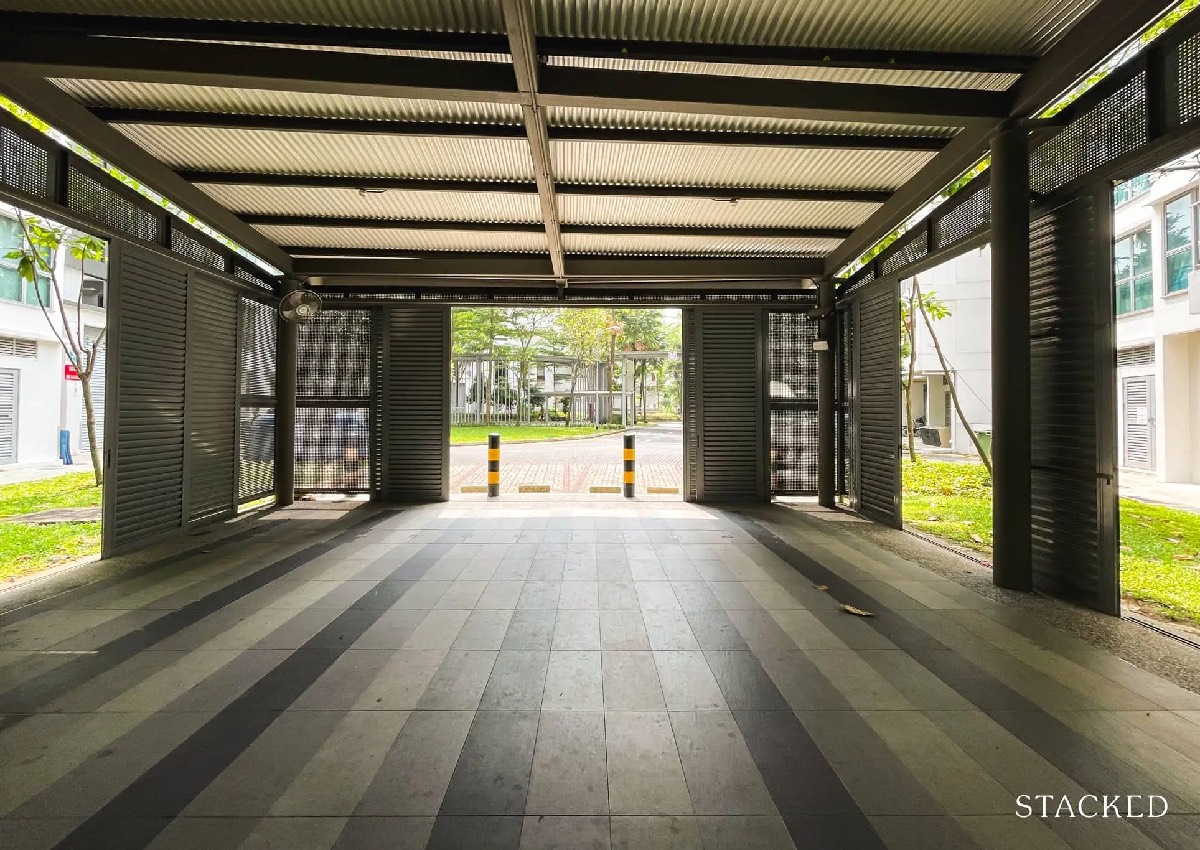 Next, let's look at the drop-off area which is located between blocks 520A and 520C: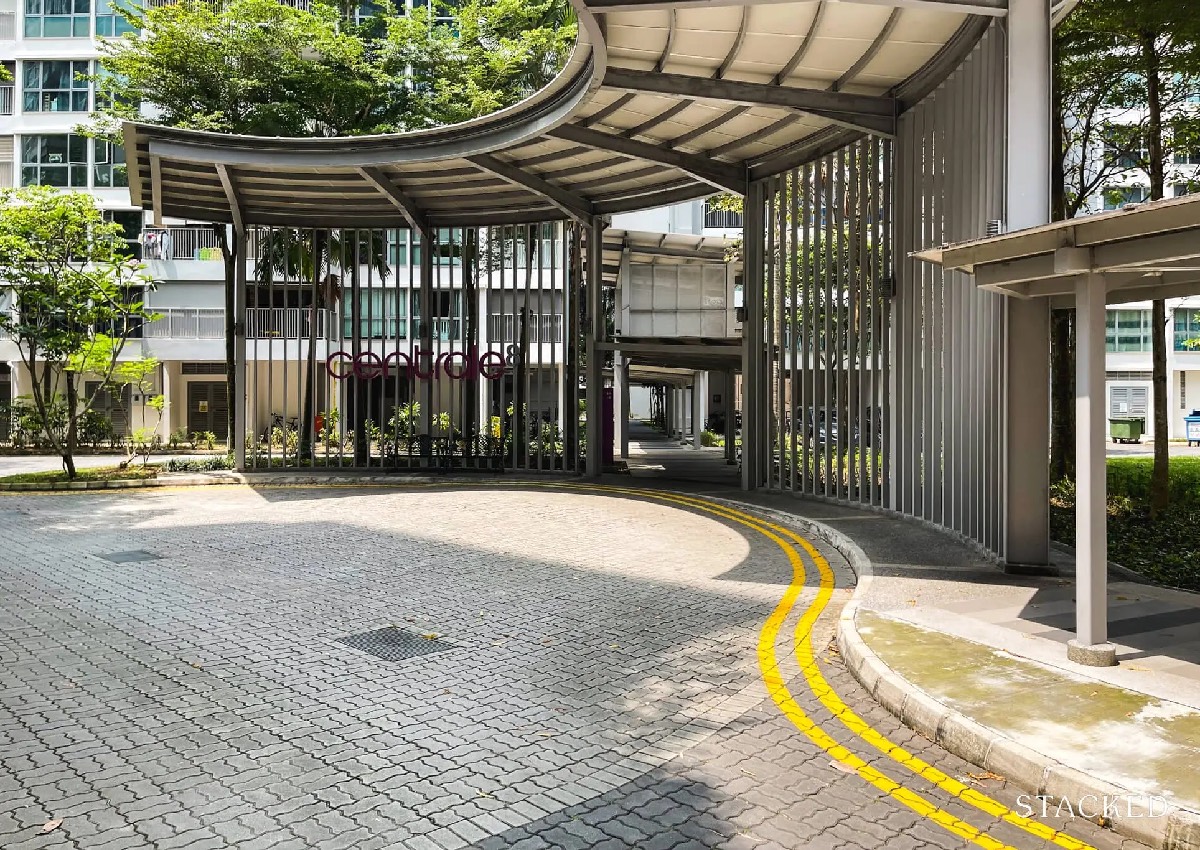 The drop-off here looks quite decent as it can fit three to four cars, has benches for people to sit on and comes with sheltered walkways throughout the development.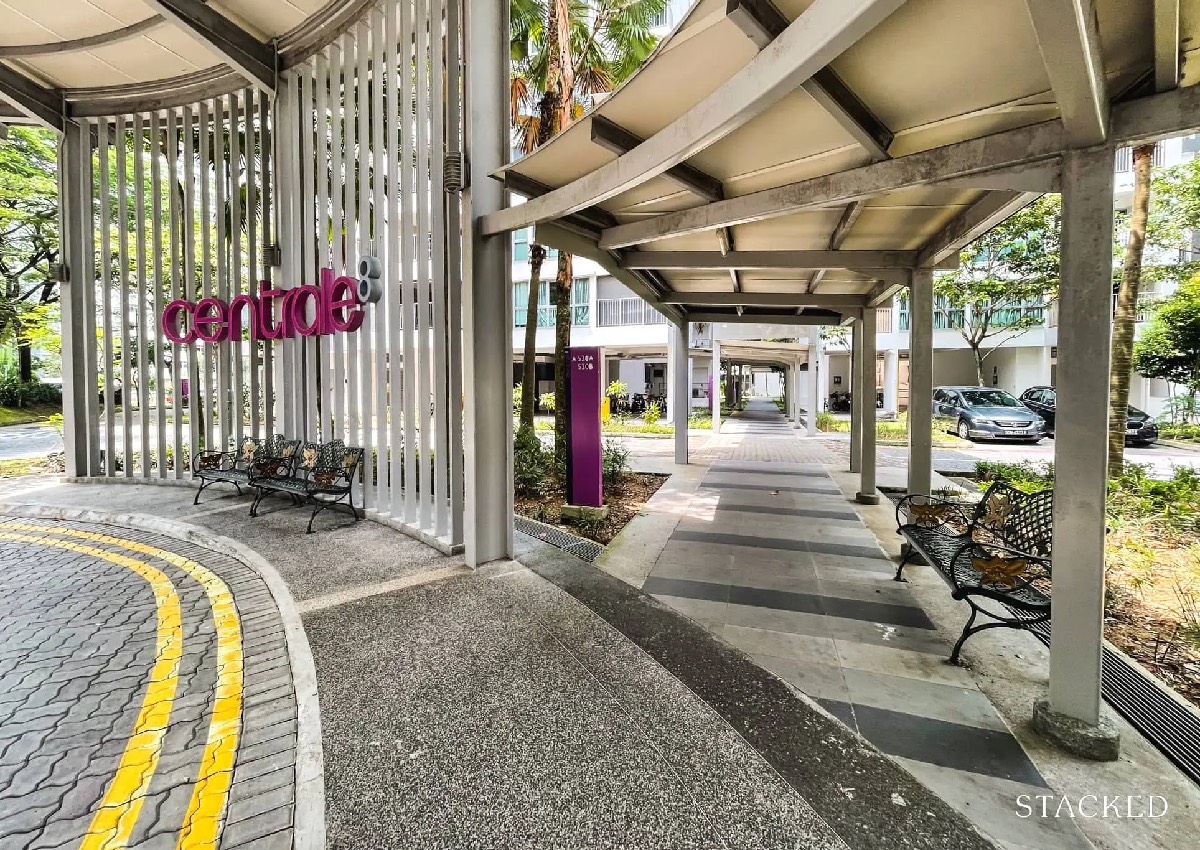 However, it is the only drop-off area in the entire development, at least from my walk around here. I've noticed the site plan indicated multiple drop-off points at various blocks, but upon visiting these sites, they do not seem like drop-off points at all.
Granted, you can technically drop anywhere along the service roads to reach your block, but having at least a shelter and a designated spot as a drop-off is good to have.
Next, let's check out the facilities here. First off, we have the playground: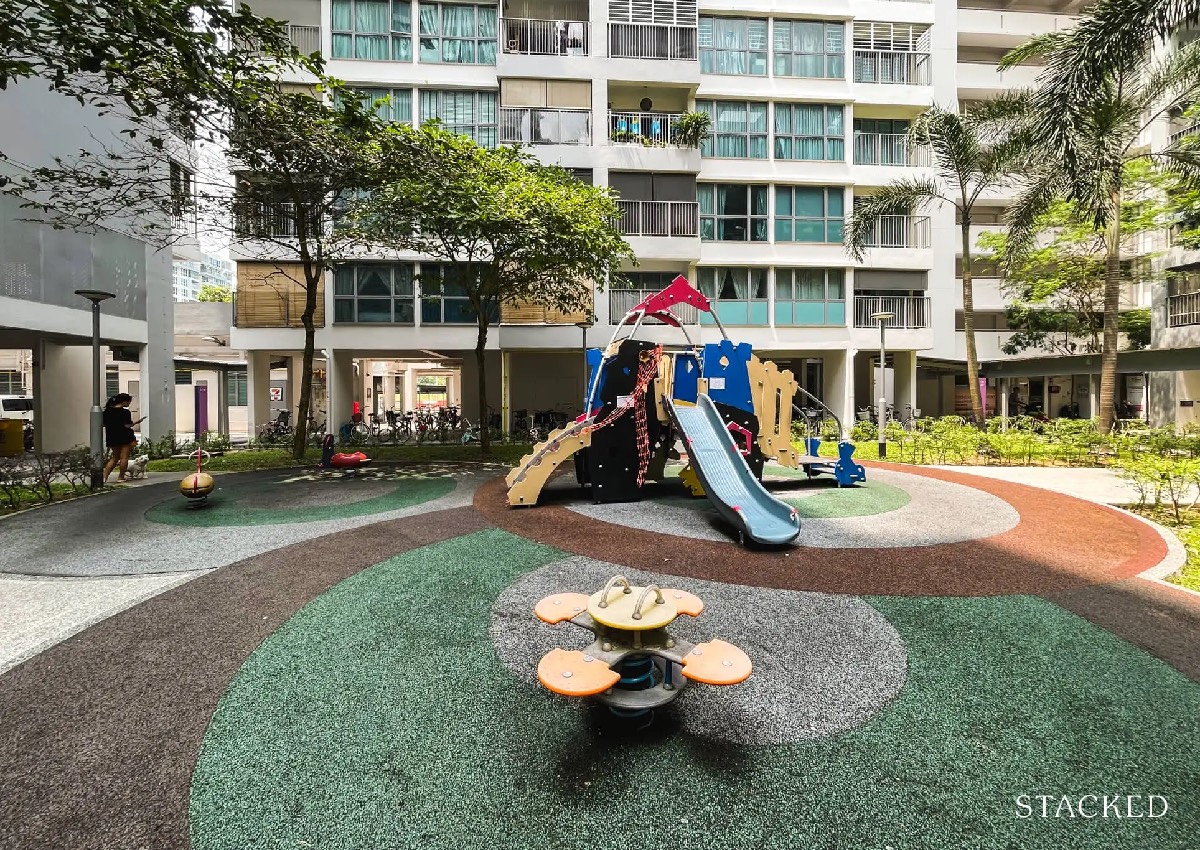 There are two types here, one is a more traditional and colourful one that comes with a slide (younger kids).
Around this playground, there are also spring riders which is great for toddlers.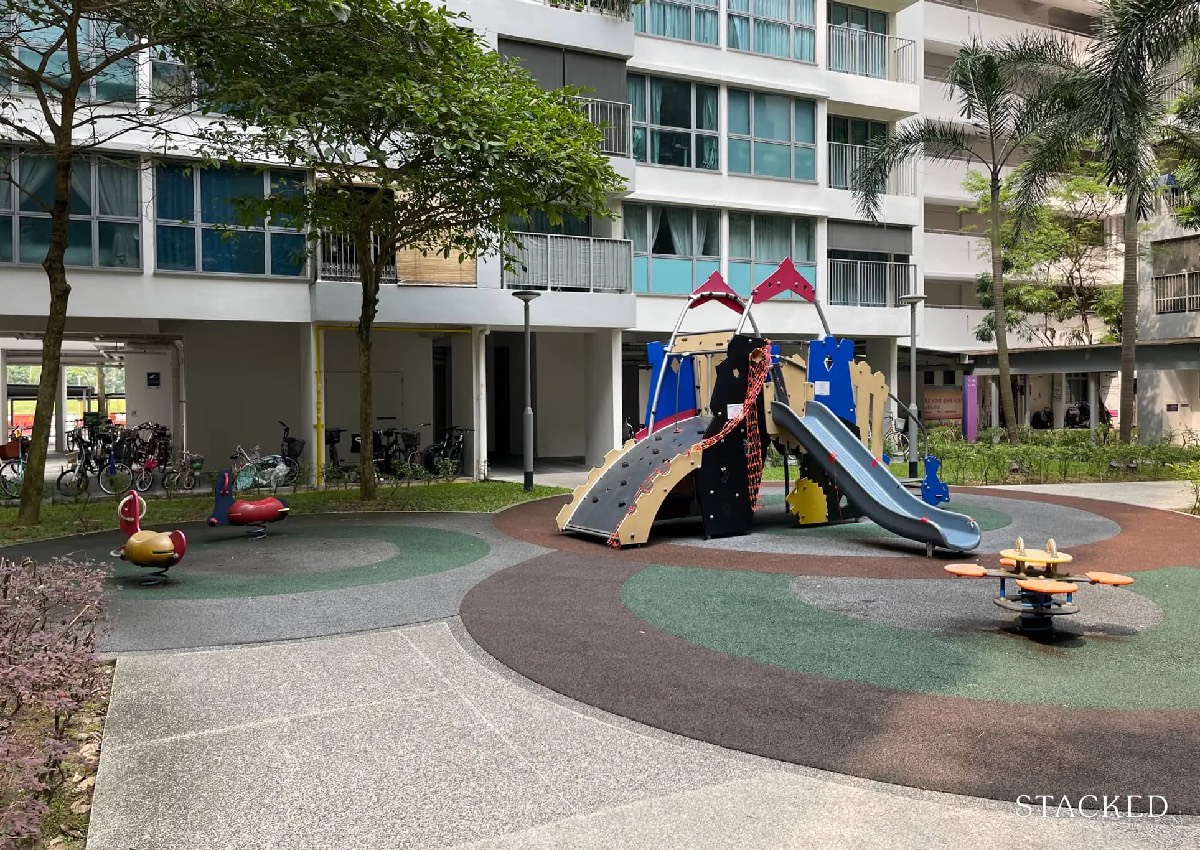 For the more adventurous ones, there's a pretty decent climbing structure that they can use.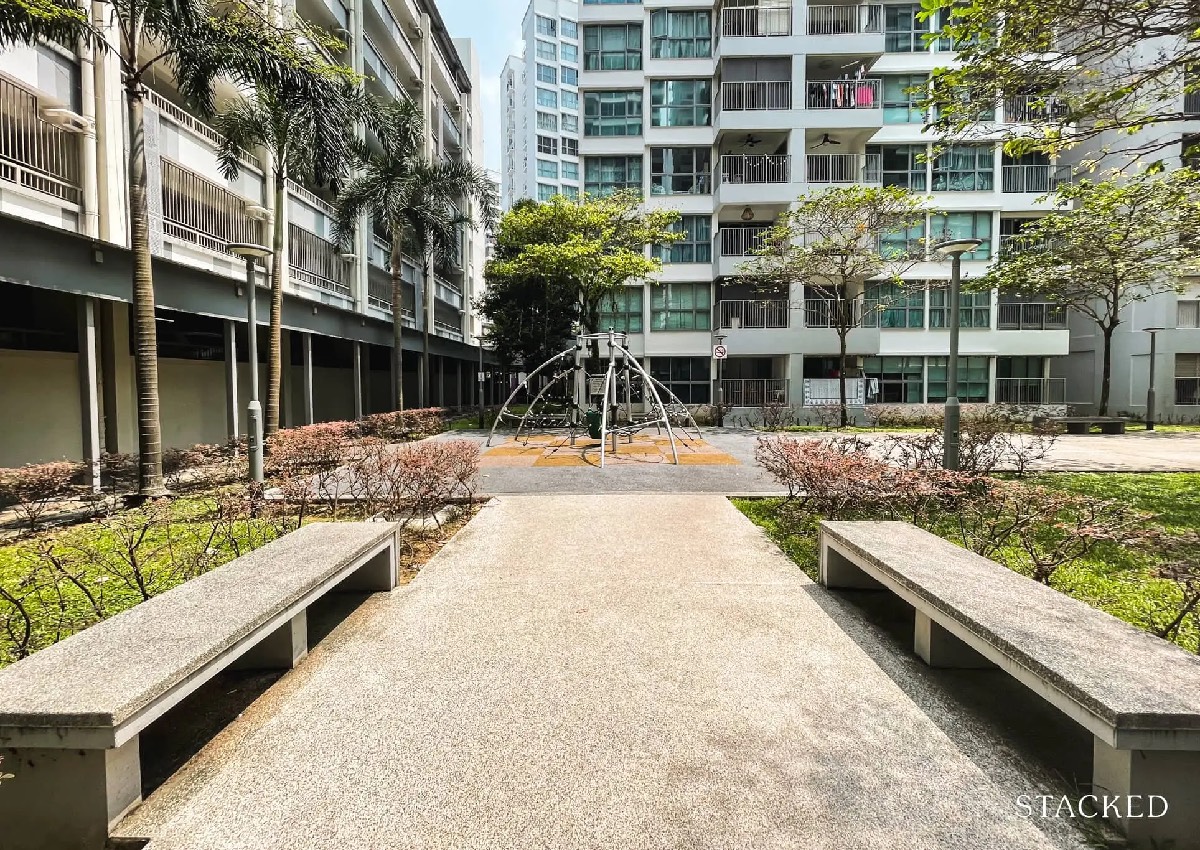 Parents looking after their kids would also be glad to know that there are ample seats around, however, it does suffer from not having a shelter. It can get a little hot here as there aren't enough trees to shelter the benches.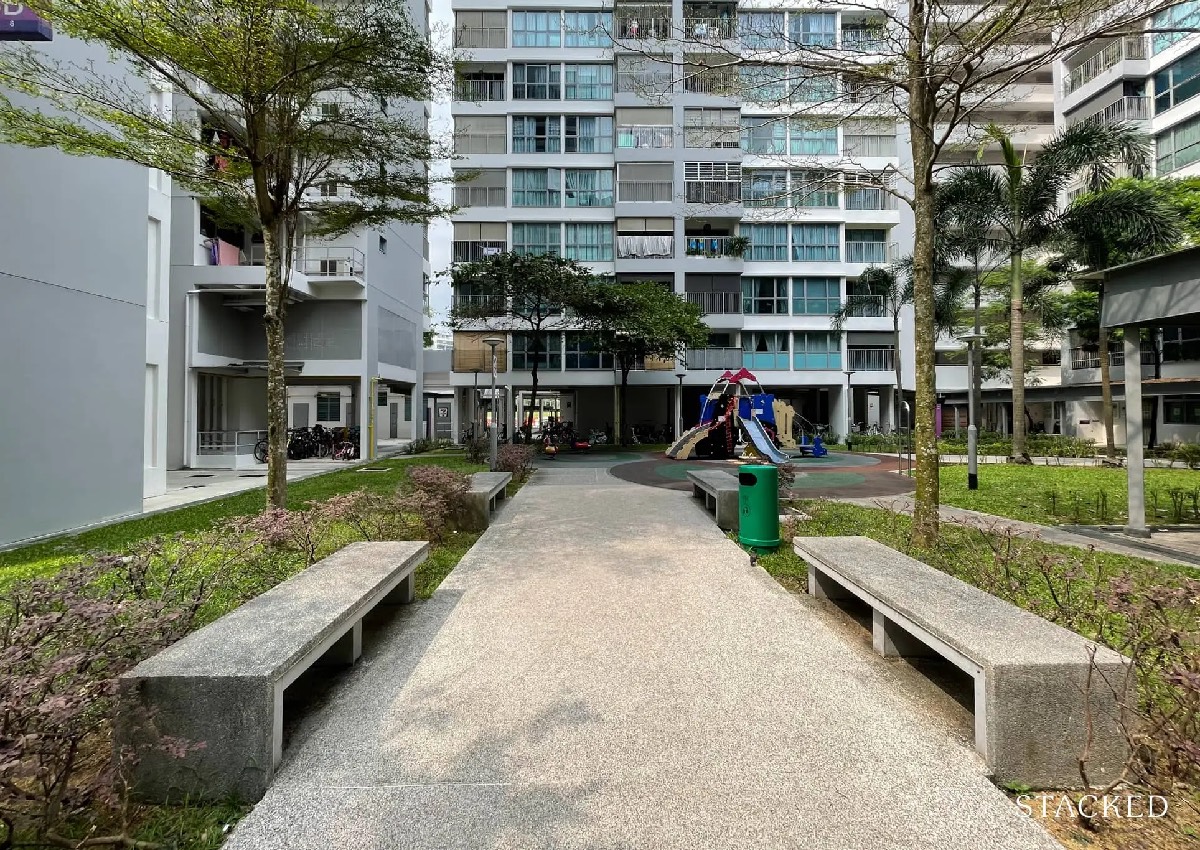 One issue that's immediately apparent here is just how close the blocks are to the playground: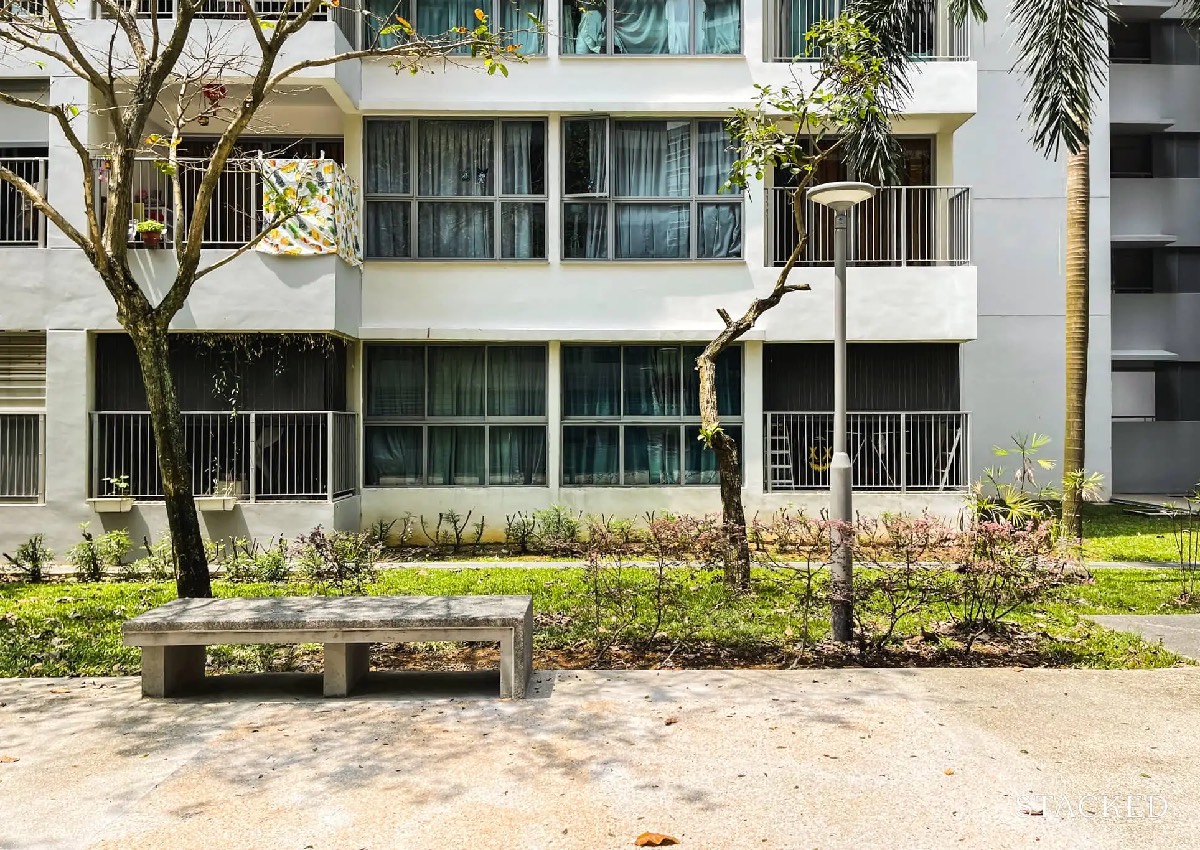 It's not uncommon for units to face the common area at all, however, it would've been great if more natural barriers could be built here such as thicker vegetation to block out the views directly into the units.
It's so close and unprotected that it doesn't take much for someone to vault the balcony railings at all which can be a concern given it's not a gated compound.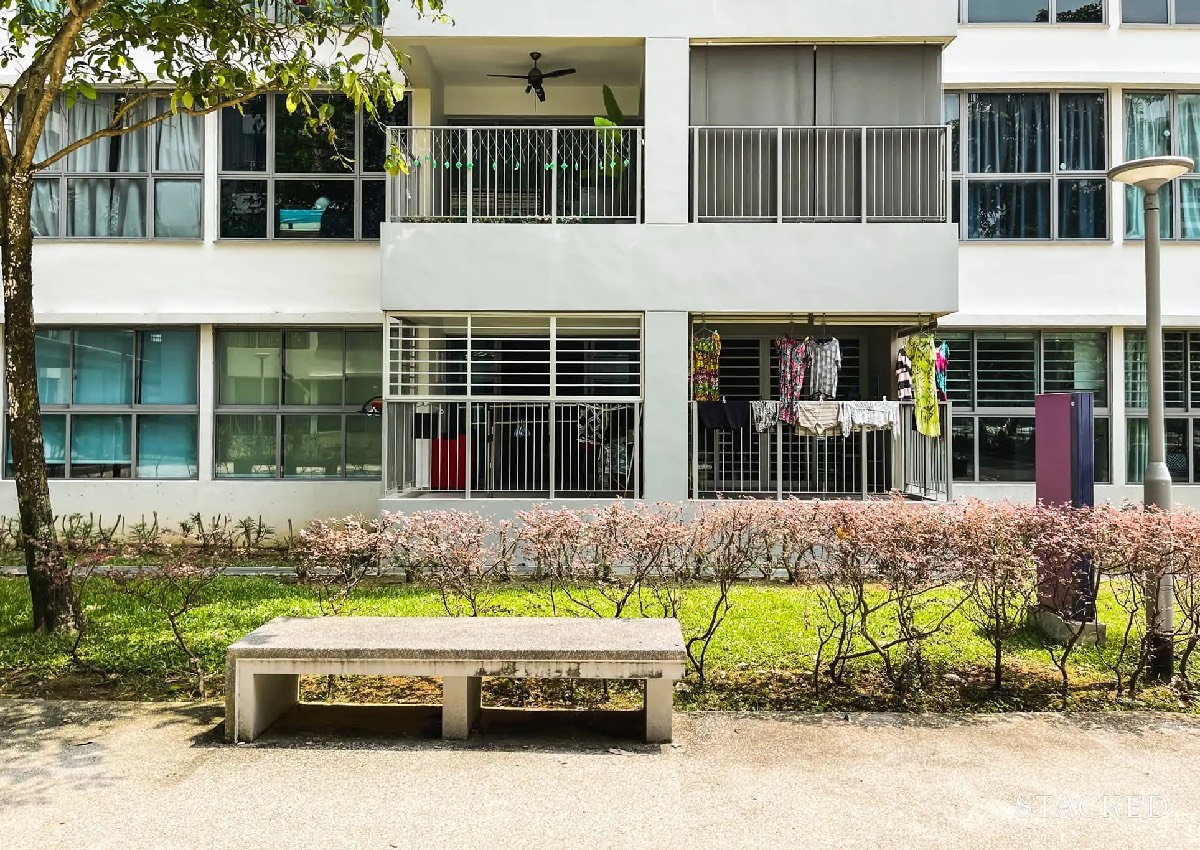 Next, let's check out the fitness equipment.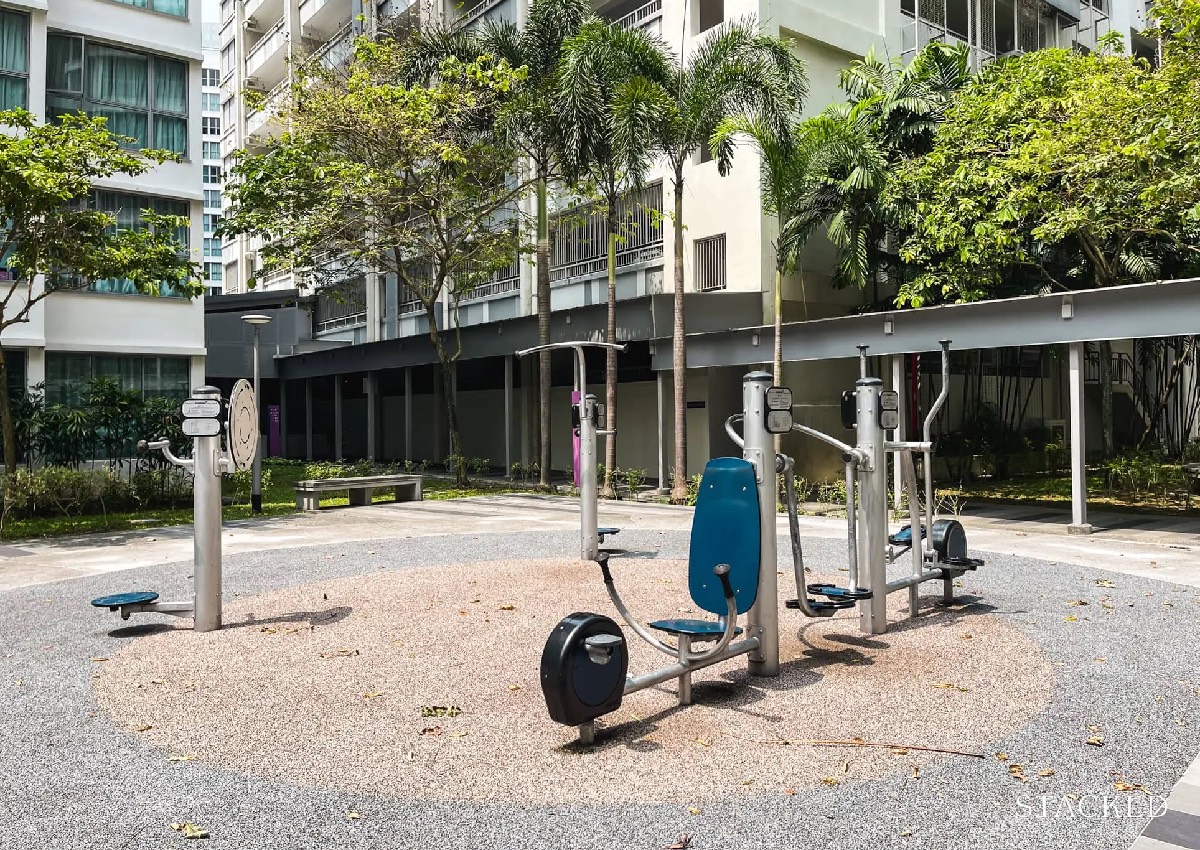 The variety of equipment here is quite limited but at least it has the basics.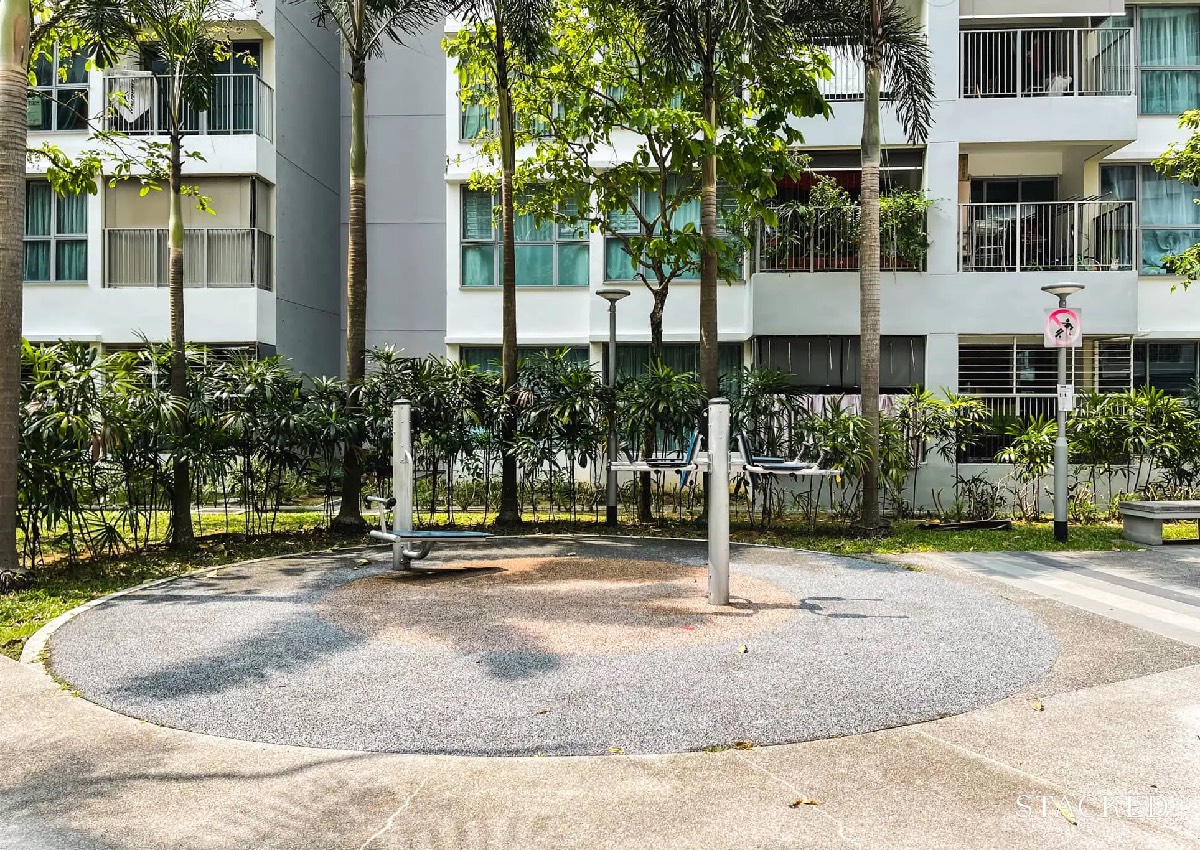 Now that we've seen the facilities, let's head up to check out what the common corridor looks like.
Heading to the lift lobby, I found that half the lights here were turned on, which does help it seem more welcoming.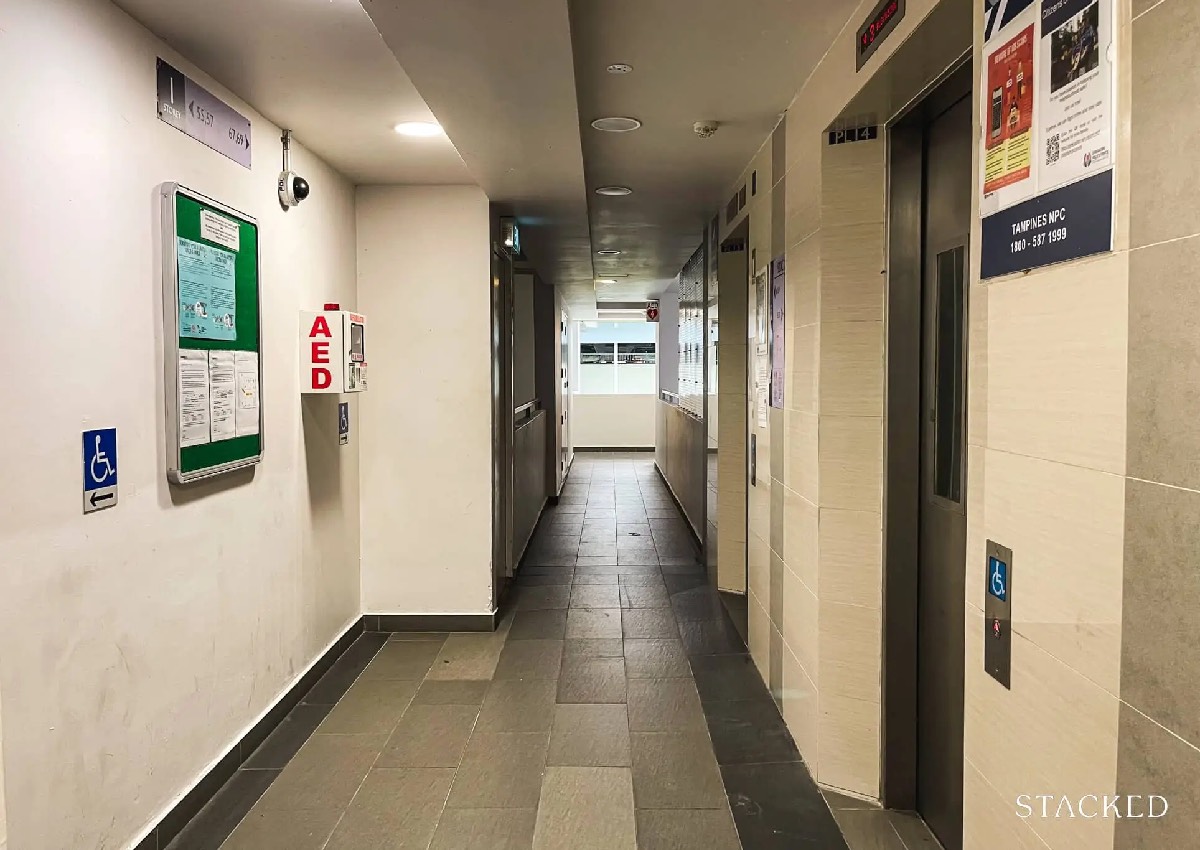 That said, from here, you can tell that it's a little narrow which is telling of things to come.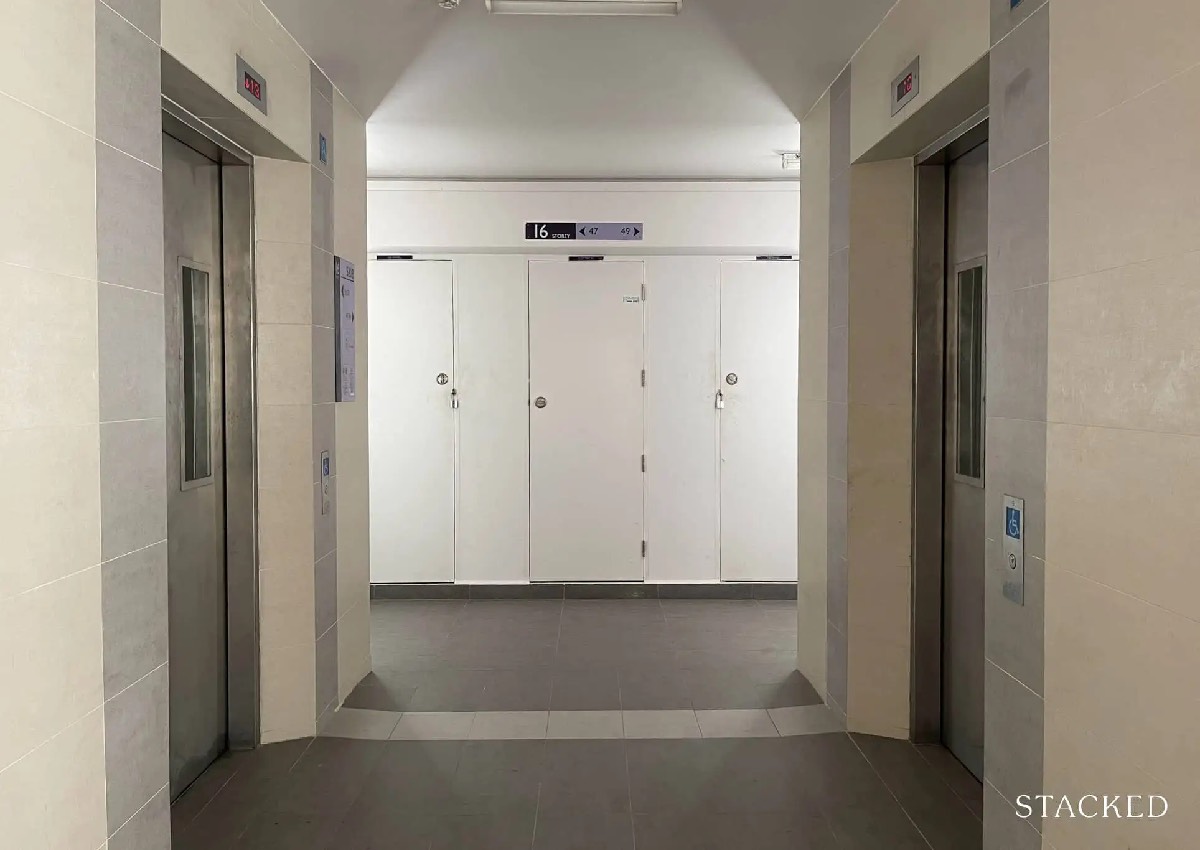 In total, there are two lifts here that serve 15-16 storeys. While there are four to nine units per floor (depending on the block), the lower height of the development ensures the wait isn't going to be long.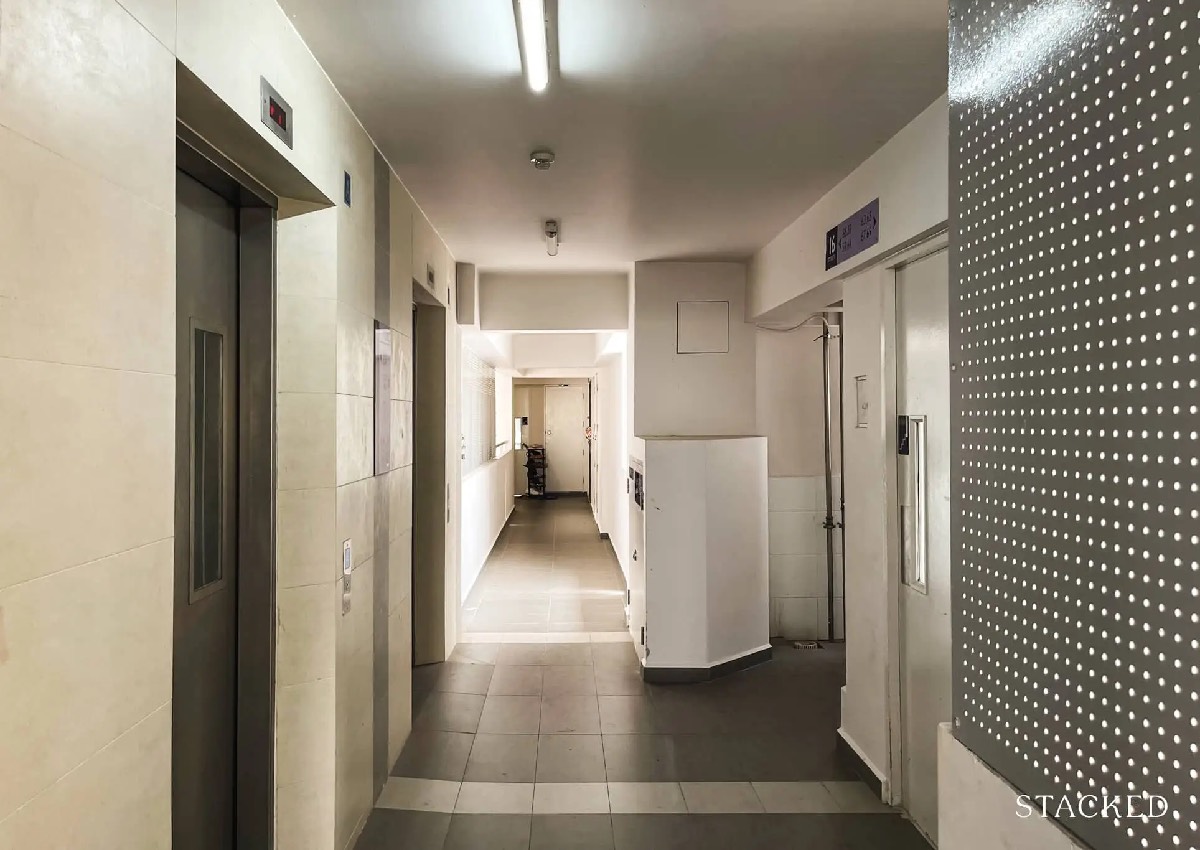 At this stage, it's important to mention that not all blocks are equal. Some blocks have a narrower corridor than others.
For example, this block has four units on each side, but they're not side by side and there's an ample amount of space outside each unit: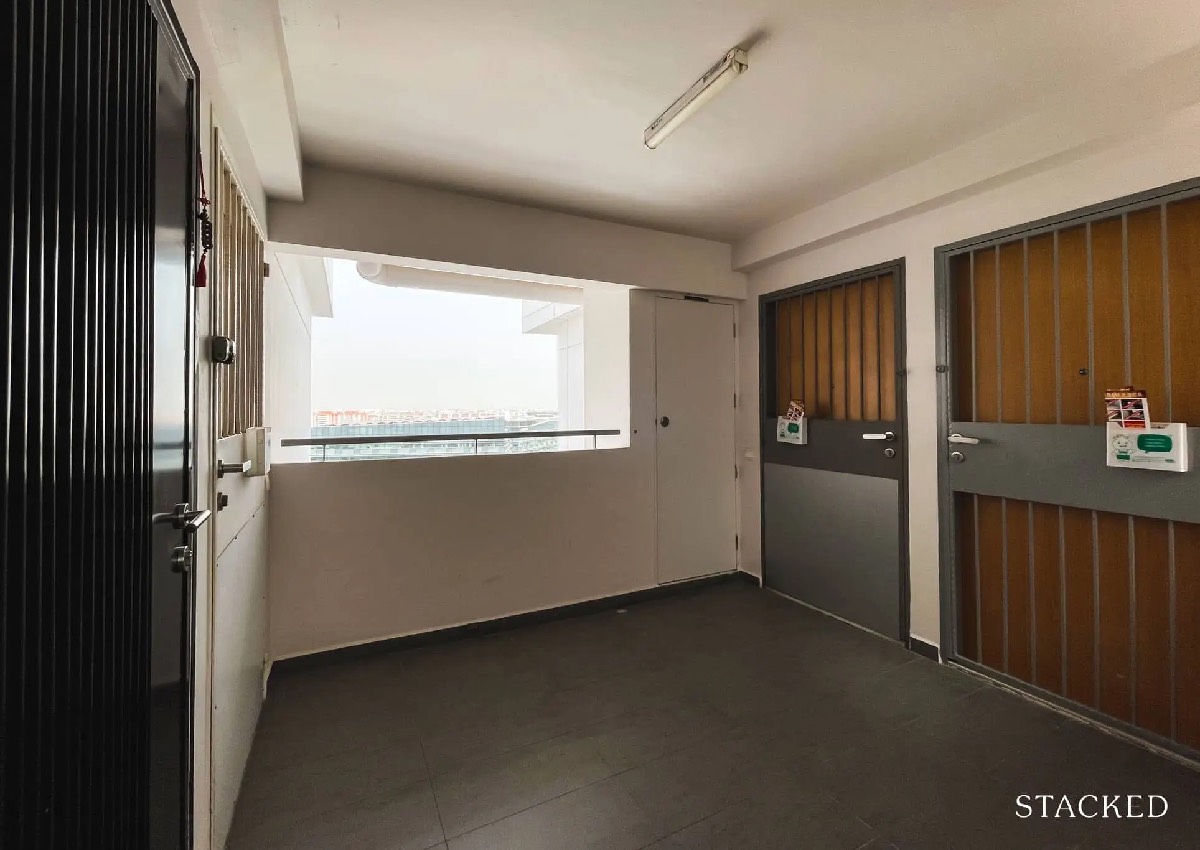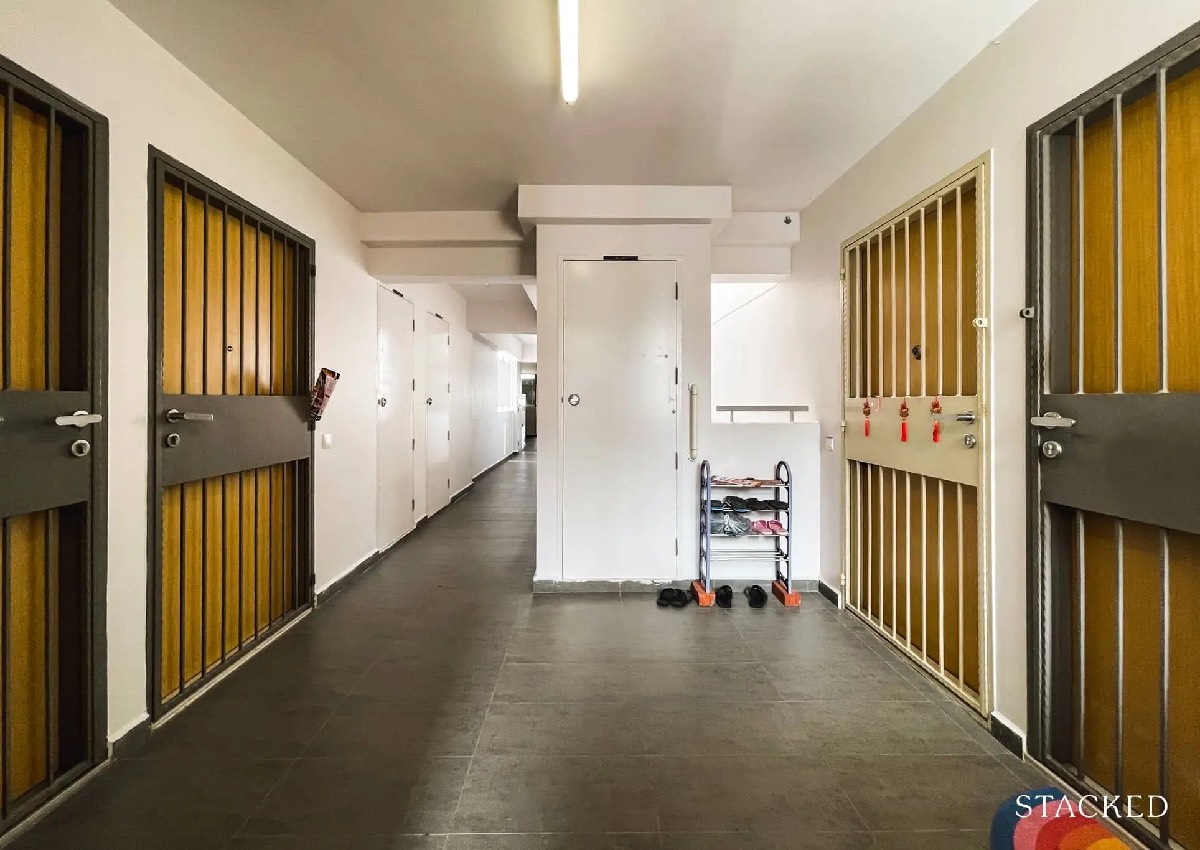 Despite how spacious it looks, do you have enough space for a shoe rack here? Four neighbours sharing this space can be tricky if everyone wants to place a shoe rack outside due to the swinging gate, making it quite difficult to place one here.
Compare that to this: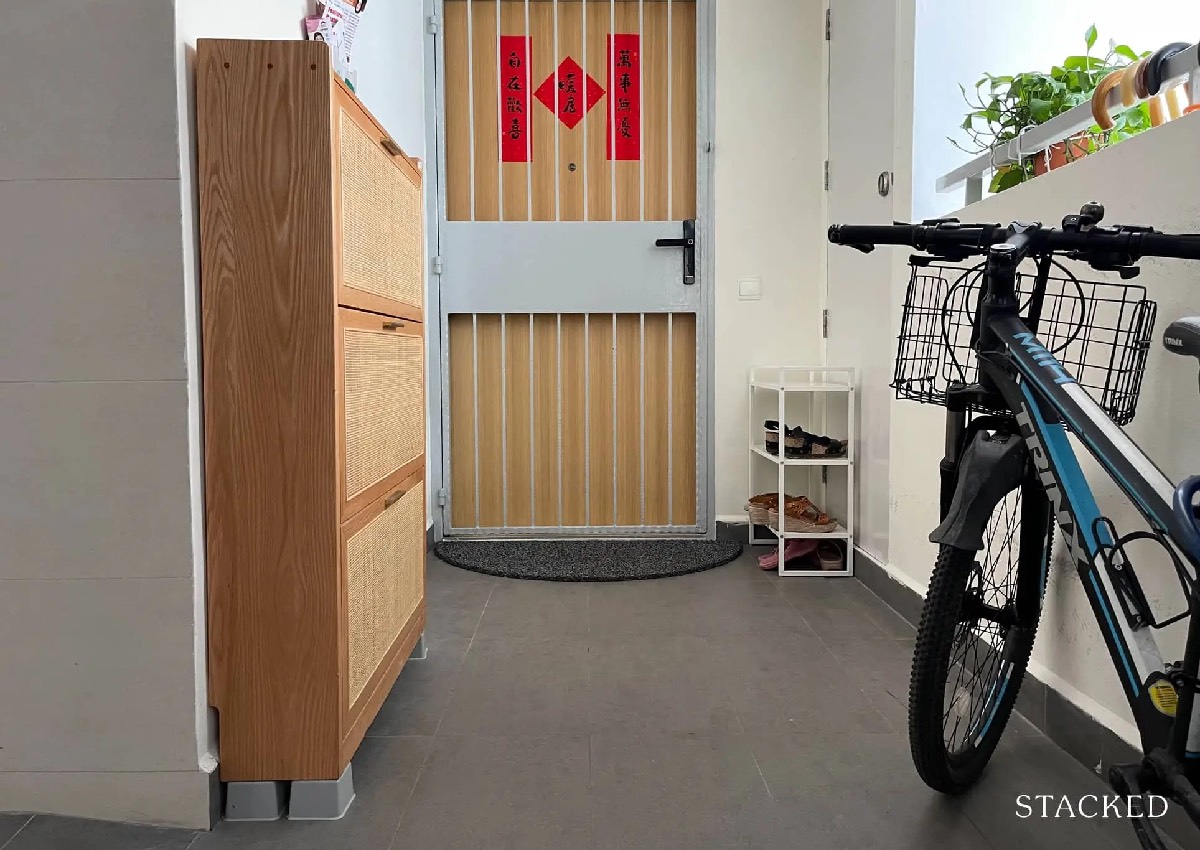 Each unit here isn't really in direct competition for the common space outside their unit, giving them greater freedom to place a shoe rack. They could even place cabinets and a bicycle.
The best are the floors with just four units – each in its own corner:
The picture above shows a true corner unit which is very private. There's no reason why anyone would be using the space directly in front of your unit – most people wouldn't even go by to see it!
From here, you can tell that even the area directly outside your unit should be taken into consideration when buying a home as it is sometimes the little things that can help. It could mean not having to be so particular about bringing in deliveries so quickly so as not to annoy the neighbours which is especially useful if you do not have a helper or come back late a night.
For those who think that having a decent amount of common space outside your unit is important, consider examining the different blocks in a development first to see which has the advantage here.
Now that we're finally done with the common corridors, let's check out the amenities on offer here which is where Centrale 8 shines!
Residents who prioritise proximity to amenities will find the commercial block to be a godsend: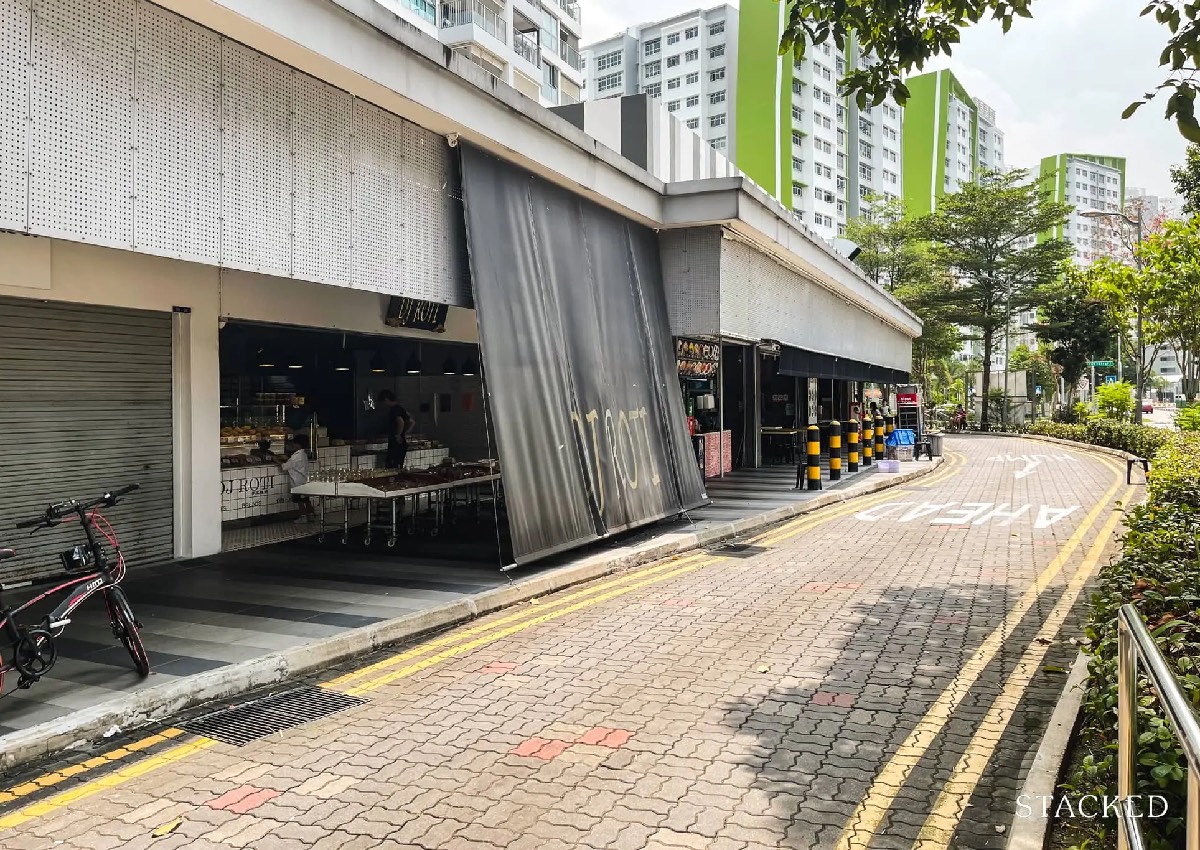 Here, you'll find the standard food court, grocery store (in this case, a 7-Eleven), a clinic and a bakery.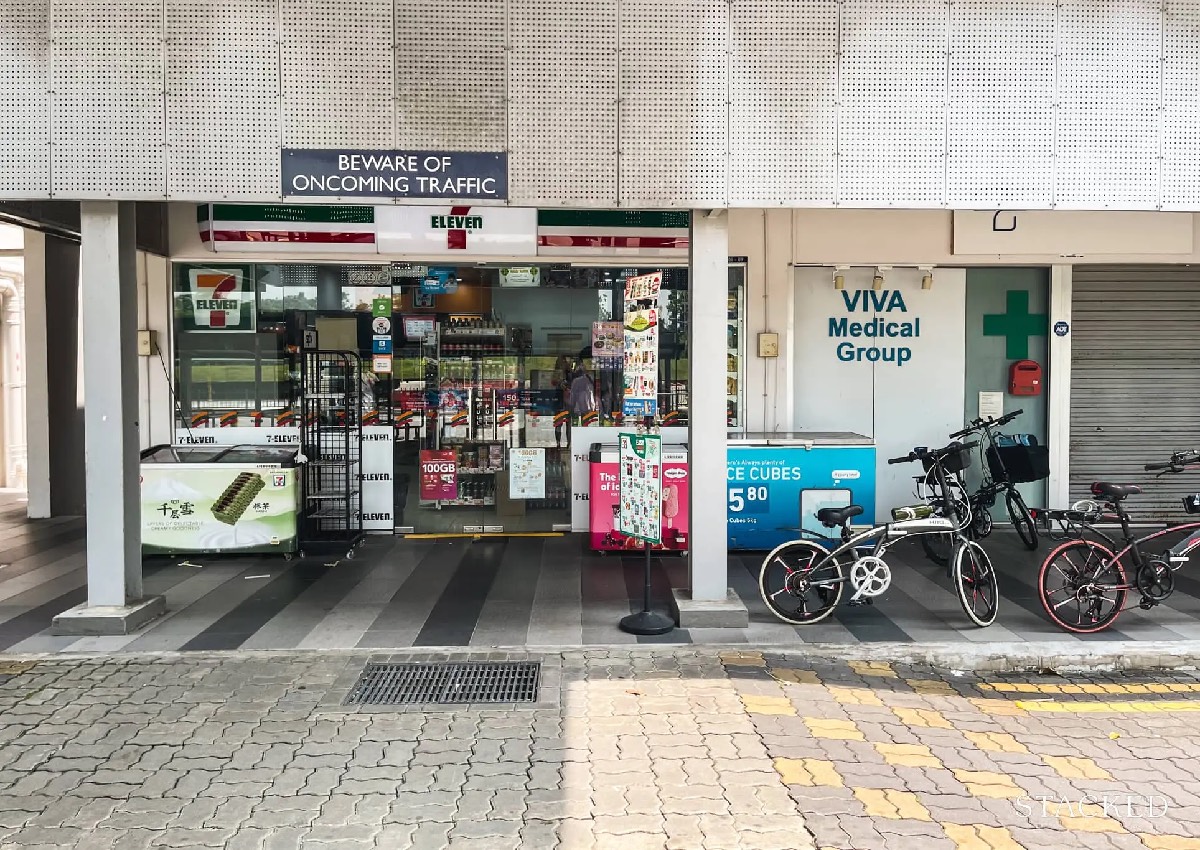 While Tampines 1 is around a nine-minute walk away which honestly isn't bad at all, having a food court just at your doorstep just makes it all the more convenient so you can head down in your semi-pyjamas without feeling out of place.
Finally, we have a childcare centre here. This one is operated by Sunshine Kids Care Centre and has vacancies within one year (as of December 2022).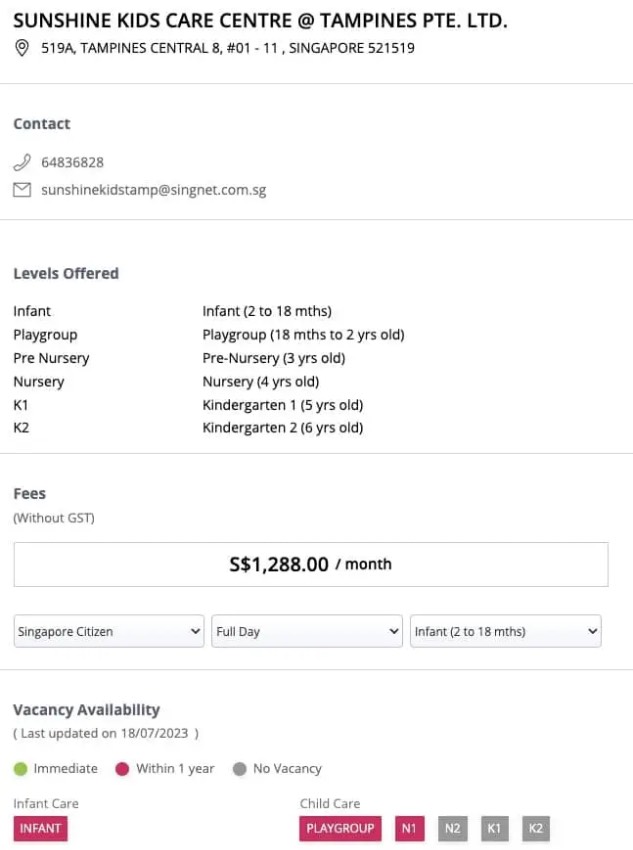 There are also numerous childcare centres around, however, Centrale 8 is located on the east side of where all the childcare centres are, so it means fewer childcare centres that are nearby unlike developments located in the centre of the cluster.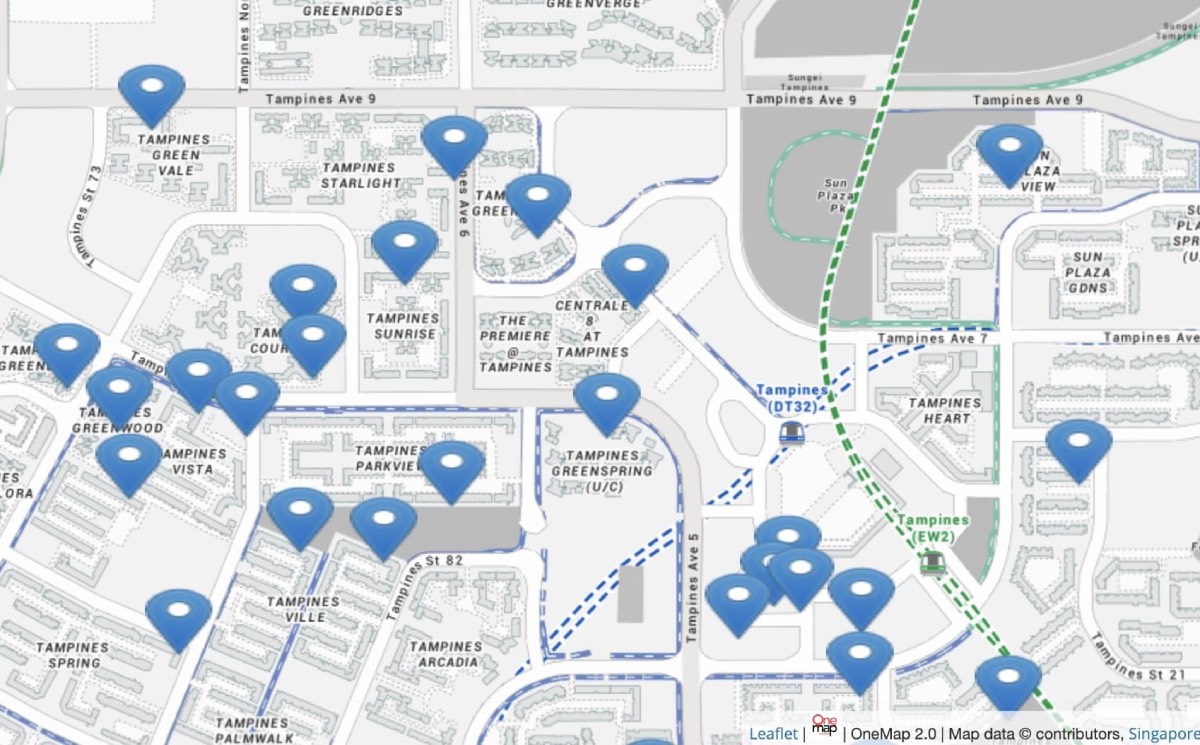 And with that, we've come to the end of the tour of Centrale 8's main offerings and facilities. Let's now see what the immediate area has to offer!
Centrale 8 DBSS location review
GOOGLE MAP HERE
Having the commercial block within the development already puts Centrale 8 at an advantage over other HDBs. With the eating house, residents wouldn't have to worry much about getting their meals here.
The grocery store is a 7 Eleven though, which isn't exactly the same as a Sheng Shiong or NTUC FairPrice. Thankfully, Centrale 8 is within walking distance (around six minutes) of Our Tampines Hub.
Unless you've never stepped foot into Tampines, you probably know about this integrated community and lifestyle hub that features a ton of eateries. For starters, there's a very decent hawker centre here with pretty good eateries! The hub also has an NTUC FairPrice and houses one of the largest rooftop pools in Singapore. This is also where you can find the library which, when you take all of what this place offers, makes this hub a top destination for families living in the area.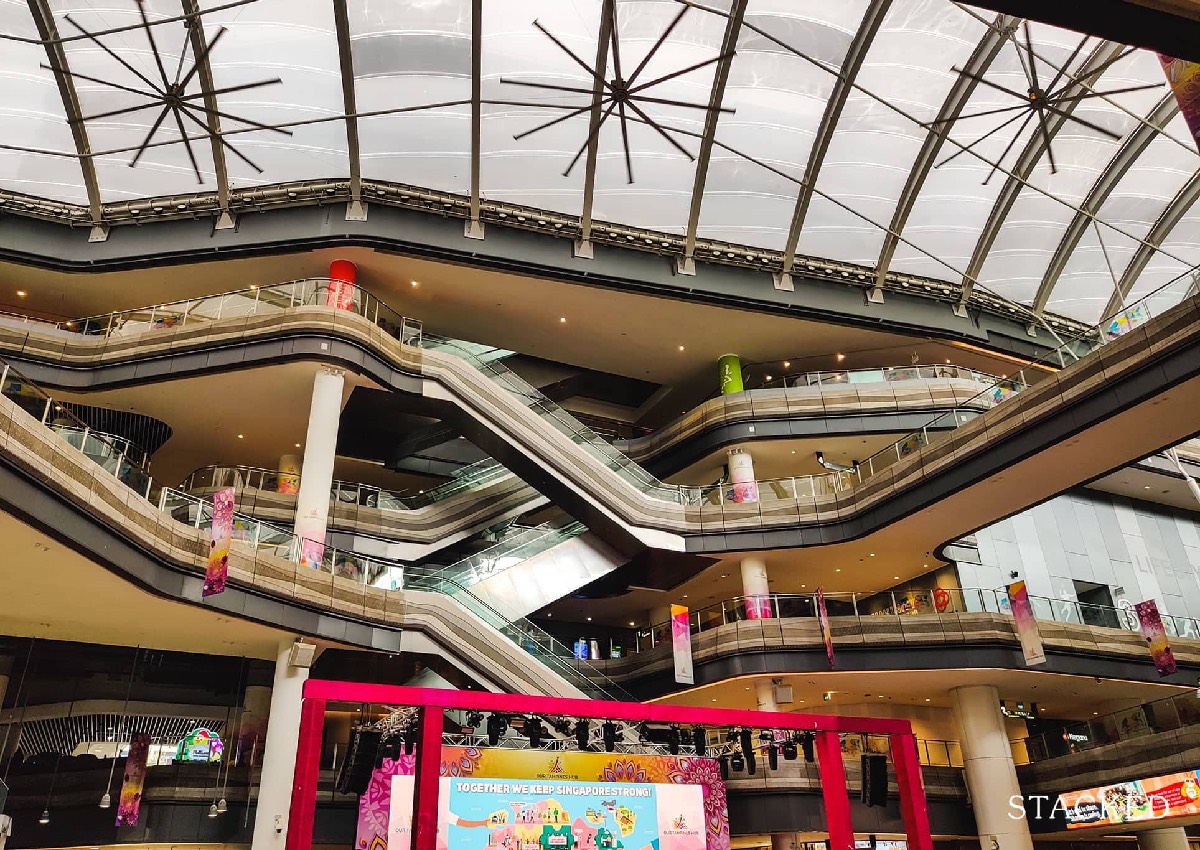 Needless to say, residents staying at Centrale 8 would never feel like they're far from amenities.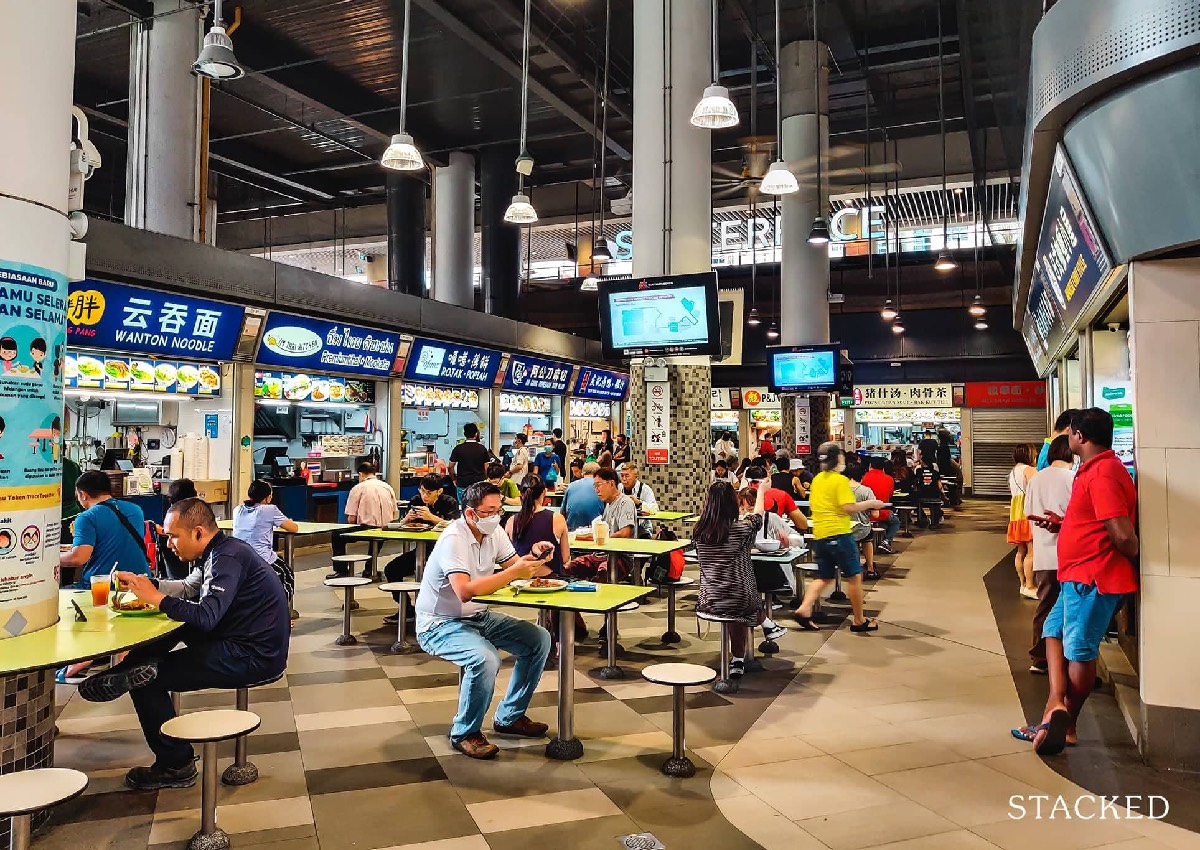 Besides its proximity to Our Tampines Hub, residents at Centrale 8 can reach Tampines 1 shopping mall in just under 10 minutes. While this isn't considered near, it's very decent considering this is a major mall – something that not many HDBs can brag about being within a 10-minute walk to.
Besides shopping and eating, Centrale 8 is also within walking distance to not one, but two parks. The first is the neighbourhood park also known as Tampines Central Park. The second and much larger one is Sun Plaza Park. Both parks are about a five to six minutes walk away which is great given the lack of a rooftop garden in the development.
Speaking about parks, Centrale 8 is also within a short cycle of the Tampines Park Connector. While it's not directly next to one unlike the newer Tampines GreenVerge, it's only about a two-minute cycle to reach one! From here, residents can quickly cycle to the Siglap PC westwards to the Kallang Basin or even straight to East Coast Park.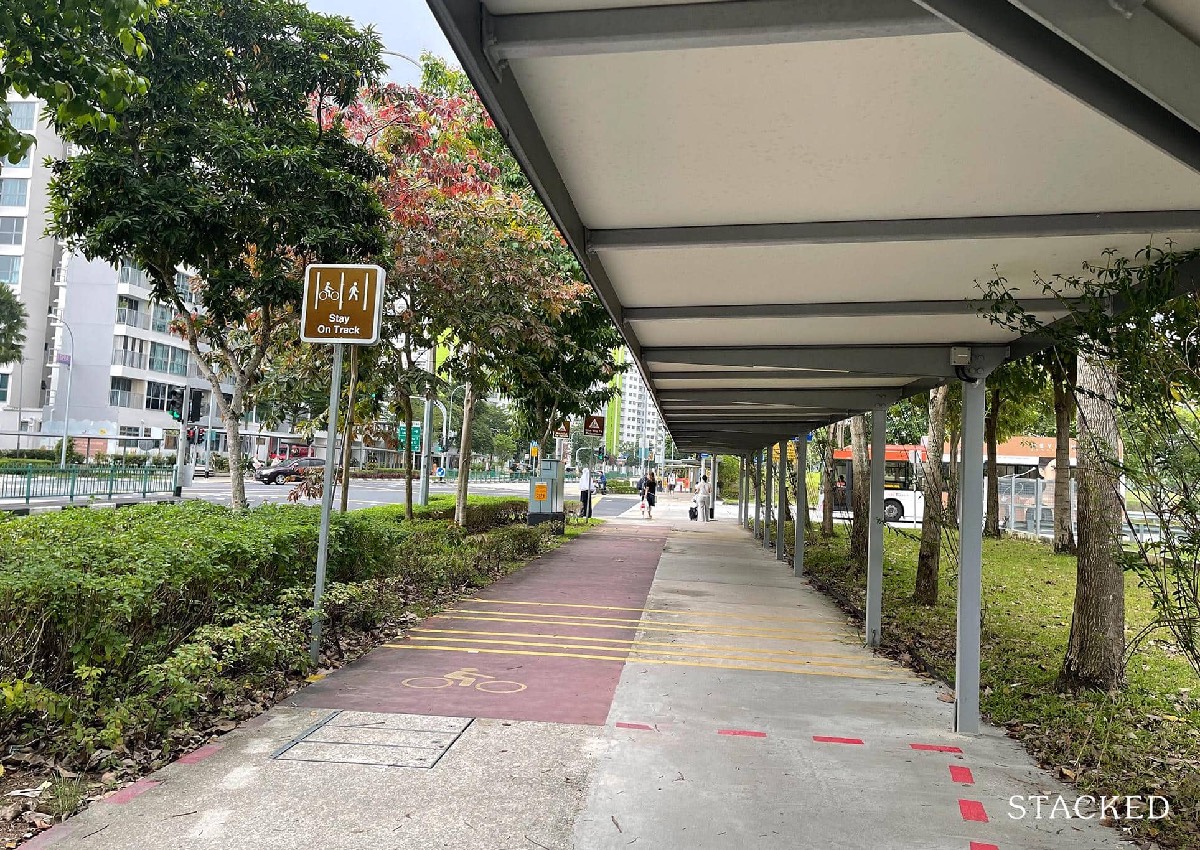 Overall, I would say that the immediate location is really decent. It's got its own commercial units, yet is within walking distance to some of the best amenities you can find in the neighbourhood plus a major mall. The parks and proximity to the park connector do make this place very liveable.
Public transport
| | | |
| --- | --- | --- |
| Bus station | Buses serviced | Distance from HDB (& est. walking time) |
| BLK 519A (76529) | 68, 68B, 127, 127A, 129, 298, 969, 969A | 50m (1 min walk) |
| BLK 619A (75479) | 34, 34A, 34B, 69, 72, 291, 291T | 100m (2 min walk) |
Closest MRT: Tampines MRT (Downtown Line and East-West Line) – about a five-minute almost fully-sheltered walk to the Downtown Line.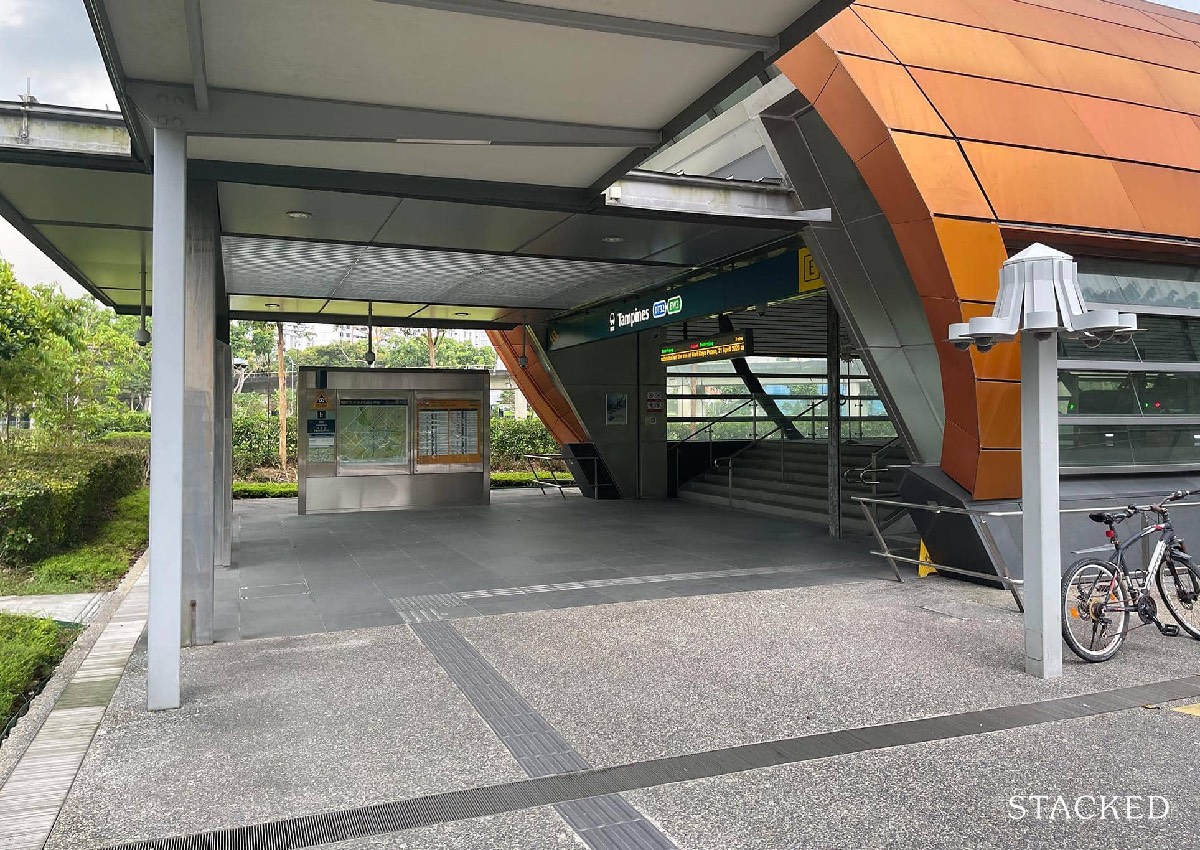 You'll also pass by the Tampines Concourse Bus Interchange. The only part that's not sheltered at all is at the traffic junction – but it is quite a big one!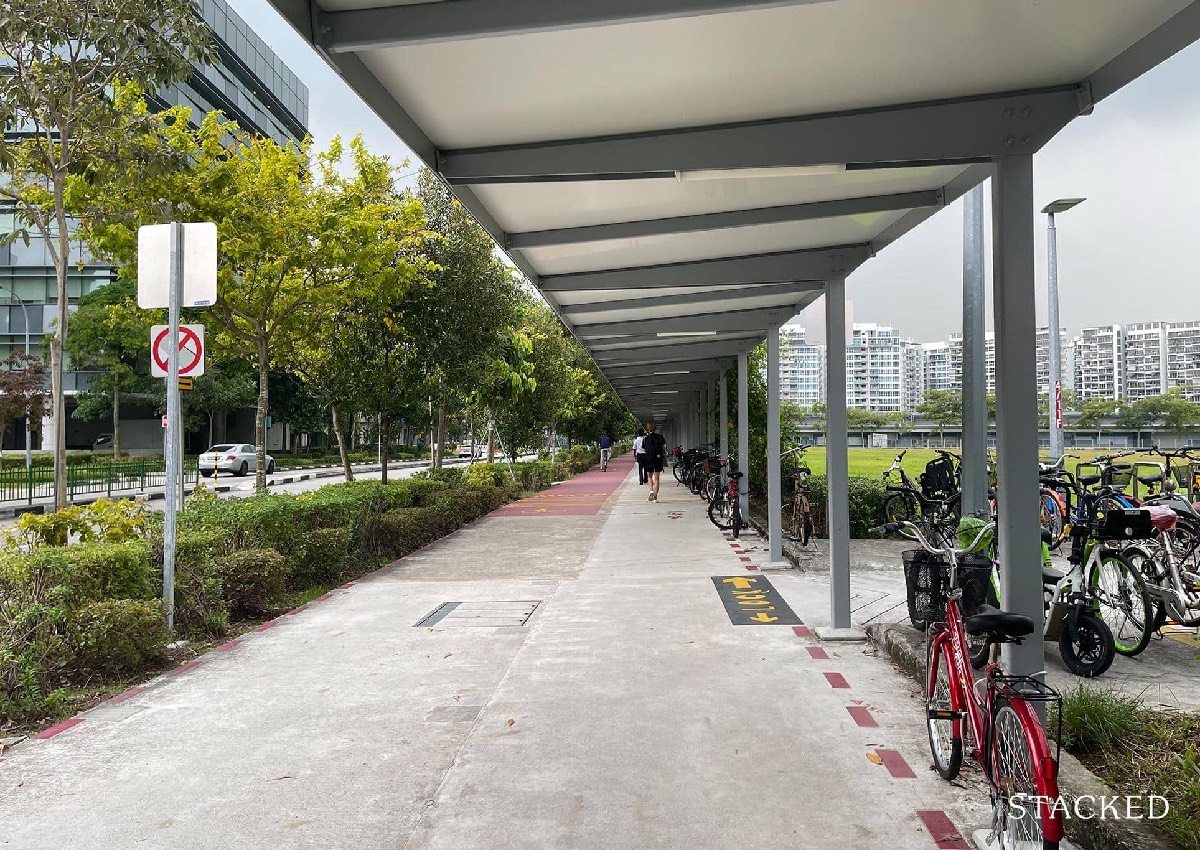 In terms of bus connectivity, the bus stop just outside offers a limited route with none going directly to the CBD: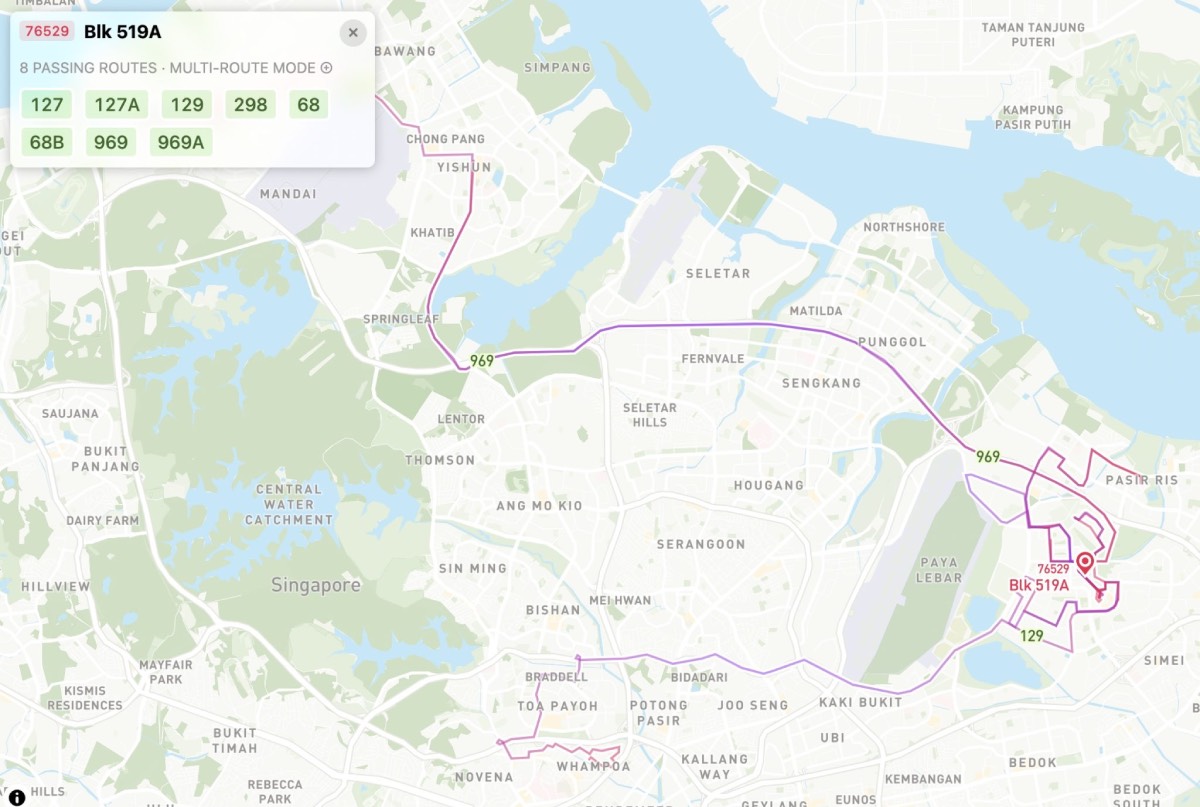 That being said, it is close to the Tampines Bus Interchange which is where the Downtown Line is. Here, there are a ton of options to choose from: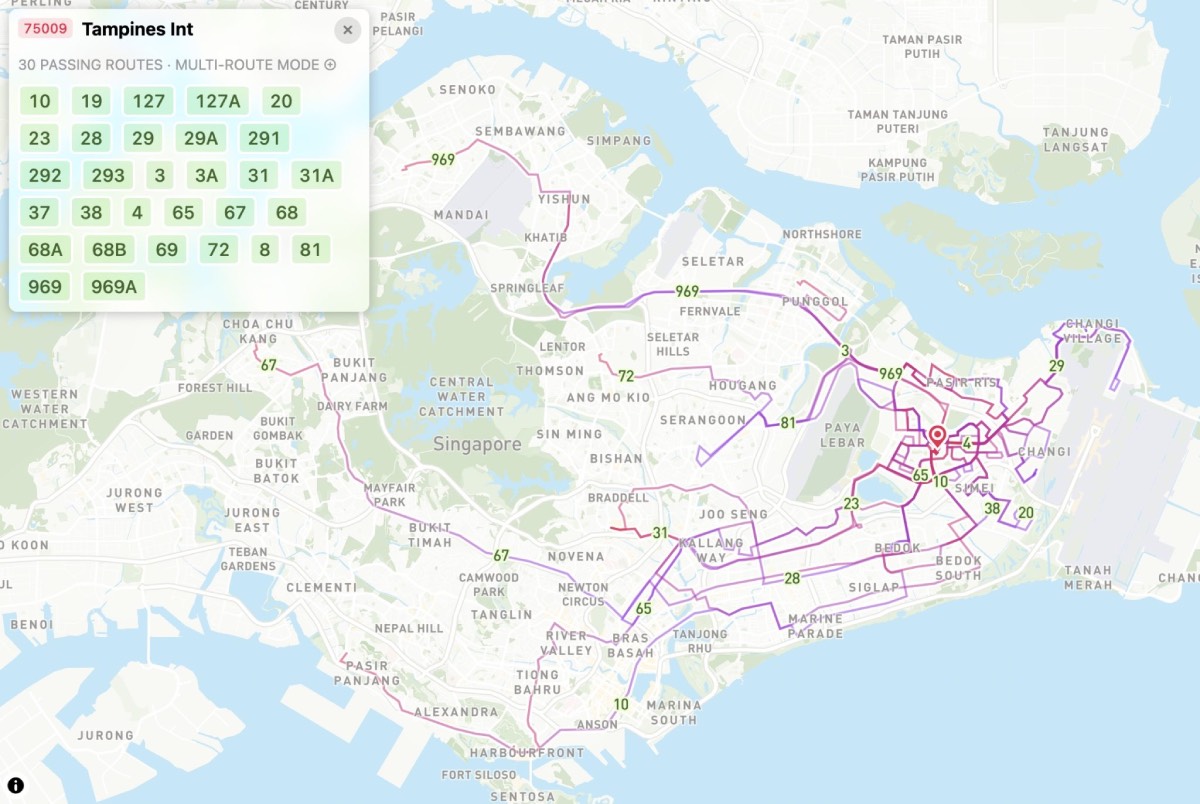 The journey to the bus stop is seamless since it's right outside the development and it's sheltered too.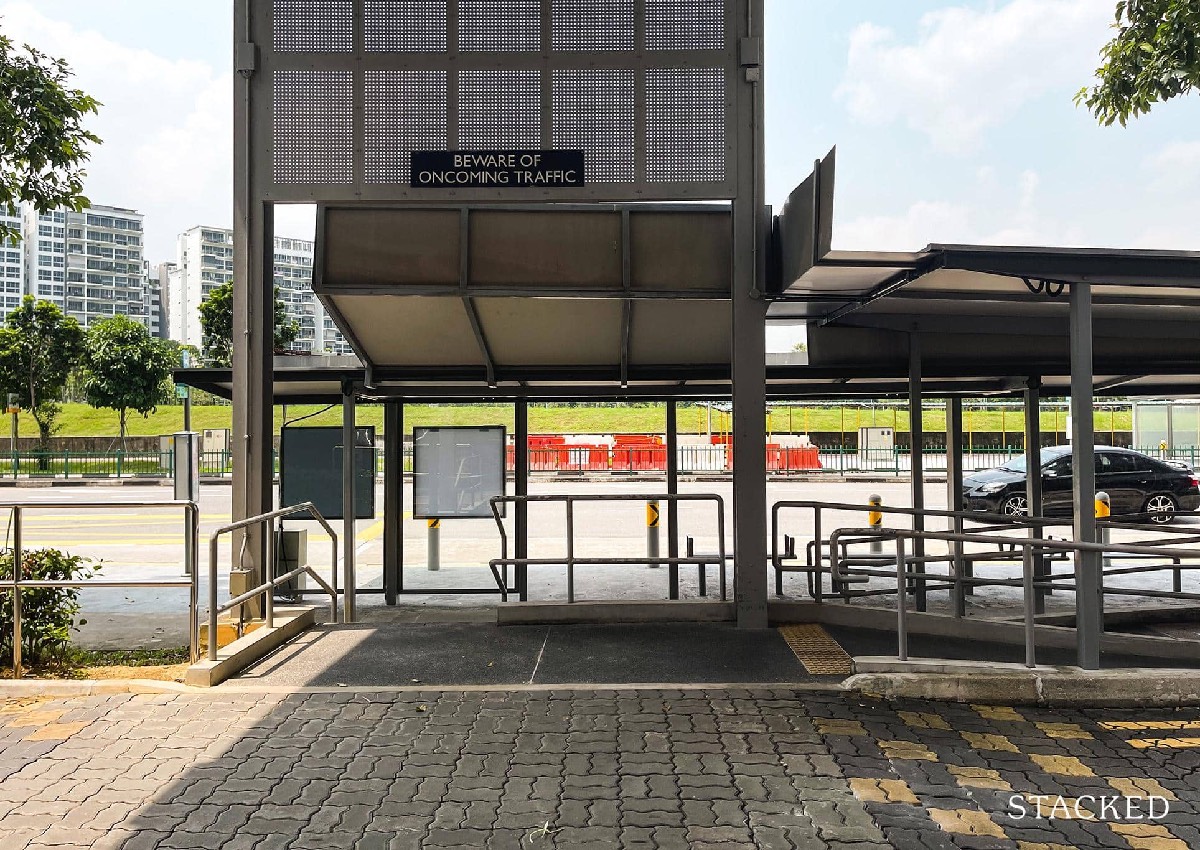 It's sheltered from the development so you wouldn't have to worry about getting home in the wet weather.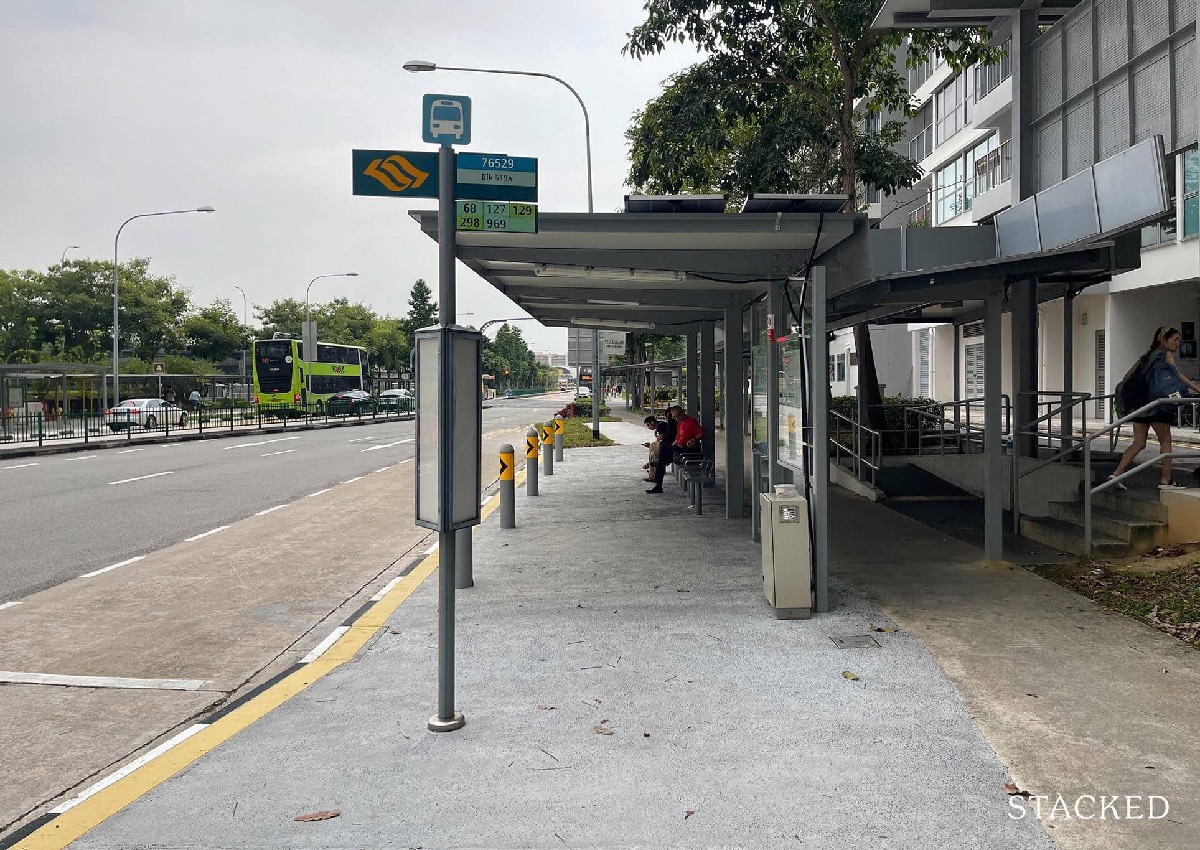 Private Transport
| | |
| --- | --- |
| Key destinations | Distance from HDB (& est. peak hour drive time) |
| Raffles Place | 18.9 km (26 mins drive) |
| Orchard Road | 16.1 km (22 mins drive) |
| Suntec City | 13.8 km (23 mins drive) |
| Changi Airport | 9.5 km (17 mins drive) |
| Tuas Port | 50.5 km (1 hr and 7 mins drive) |
| Paya Lebar Quarter | 8.8 km (14 mins drive) |
| Mediapolis | 24.5 km (32 mins drive) |
| Mapletree Business City | 23.8 km (34 mins drive) |
| Tuas Checkpoint | 46.8 km (1 hr and 1 mins drive) |
| Woodlands Checkpoint | 27.0 km (32 mins) |
| Harbourfront Cluster | 21.9 km (31 mins) |
| Punggol Cluster | 8.2 km (12 mins) |
Source: OneMap. Based on driving times during peak hours.
Immediate road exit:
Tampines Central 8
Summary:
Drivers can easily connect to the TPE up north to head to the KPE and Nicoll Highway to get to the CBD area in around 28 minutes. The development is also close to the PIE, allowing drivers to reach the airport in around 10 minutes (off-peak) and around 18 minutes (peak hours).
Groceries
| | |
| --- | --- |
| Name of grocery shop | Distance from HDB (& est. ime) |
| 7 Eleven | Within the development |
| NTUC Fairprice | 6-minutes |
Schools
Primary Schools within one kilometre and two kilometre: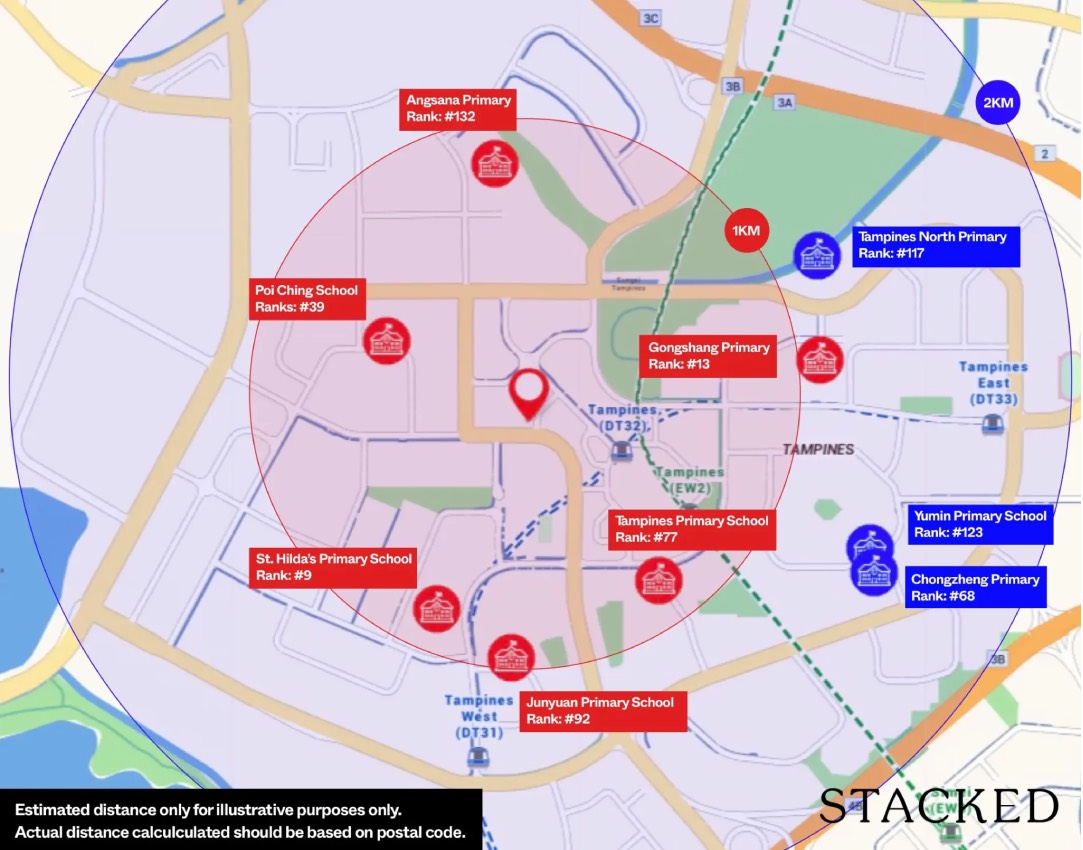 Centrale 8 at Tampines site review
Centrale 8 At Tampines is comprised of seven blocks of 708 units with a healthy mix of three, four and five-room flats.
I like that some parts of the project have nice open spaces with lots of greenery as shown here: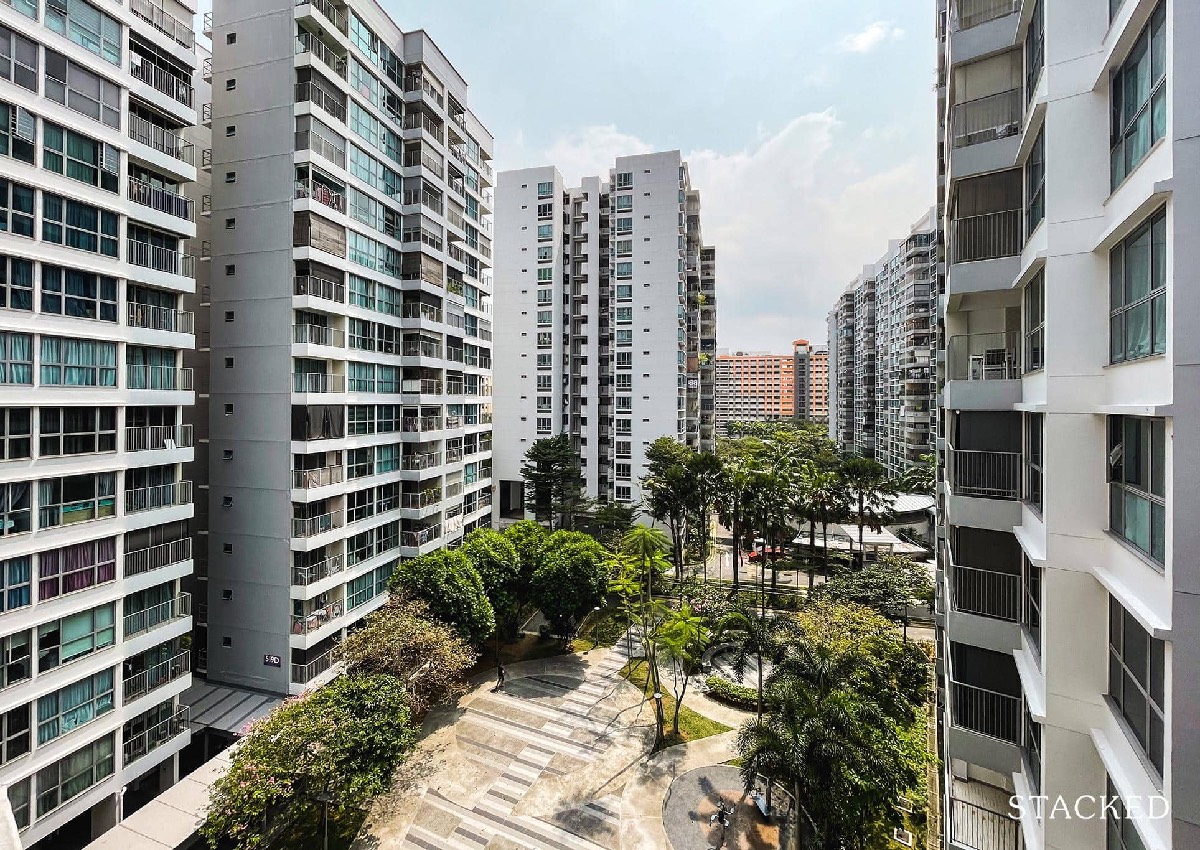 This also does put a good amount of space between blocks, though I do feel that it's still a little too close for my liking.
However, some blocks are quite close to each other: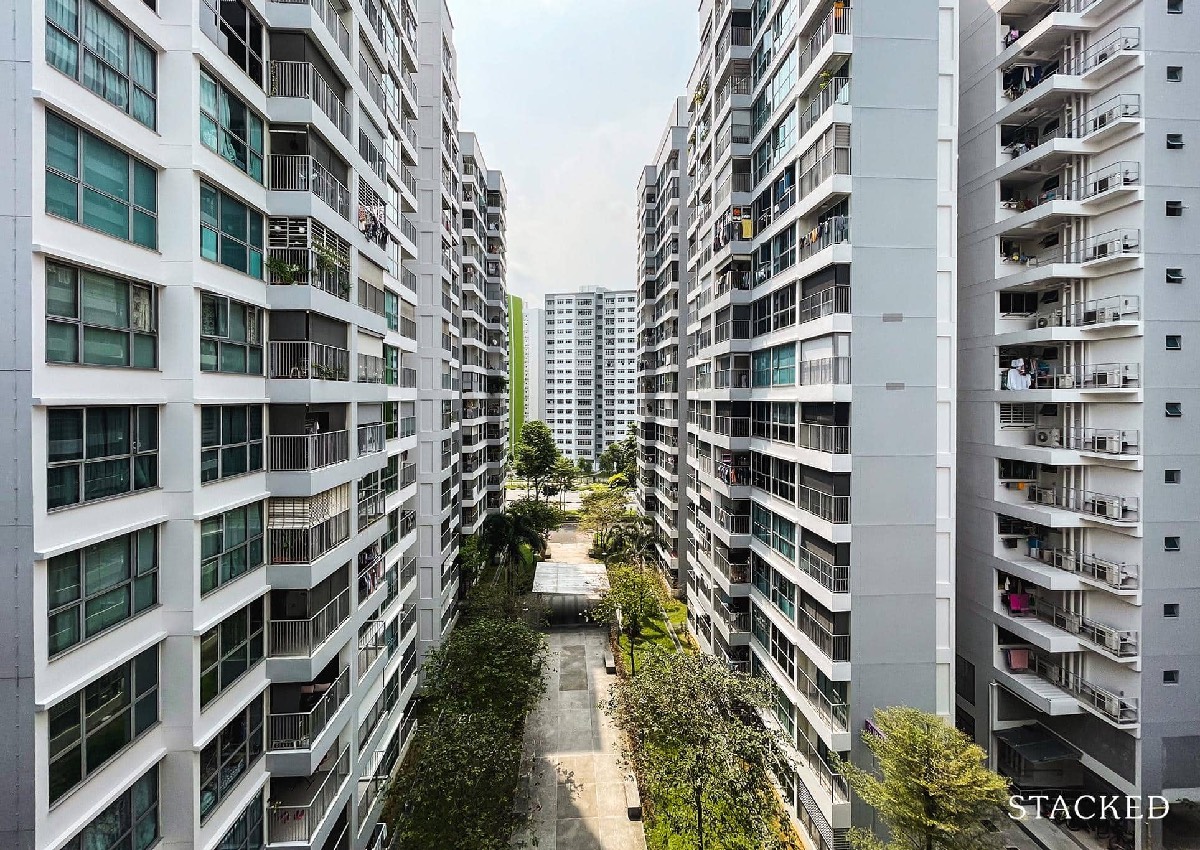 There's also a healthy amount of seating areas surrounded by greenery here, so I do get a kind of homely feel.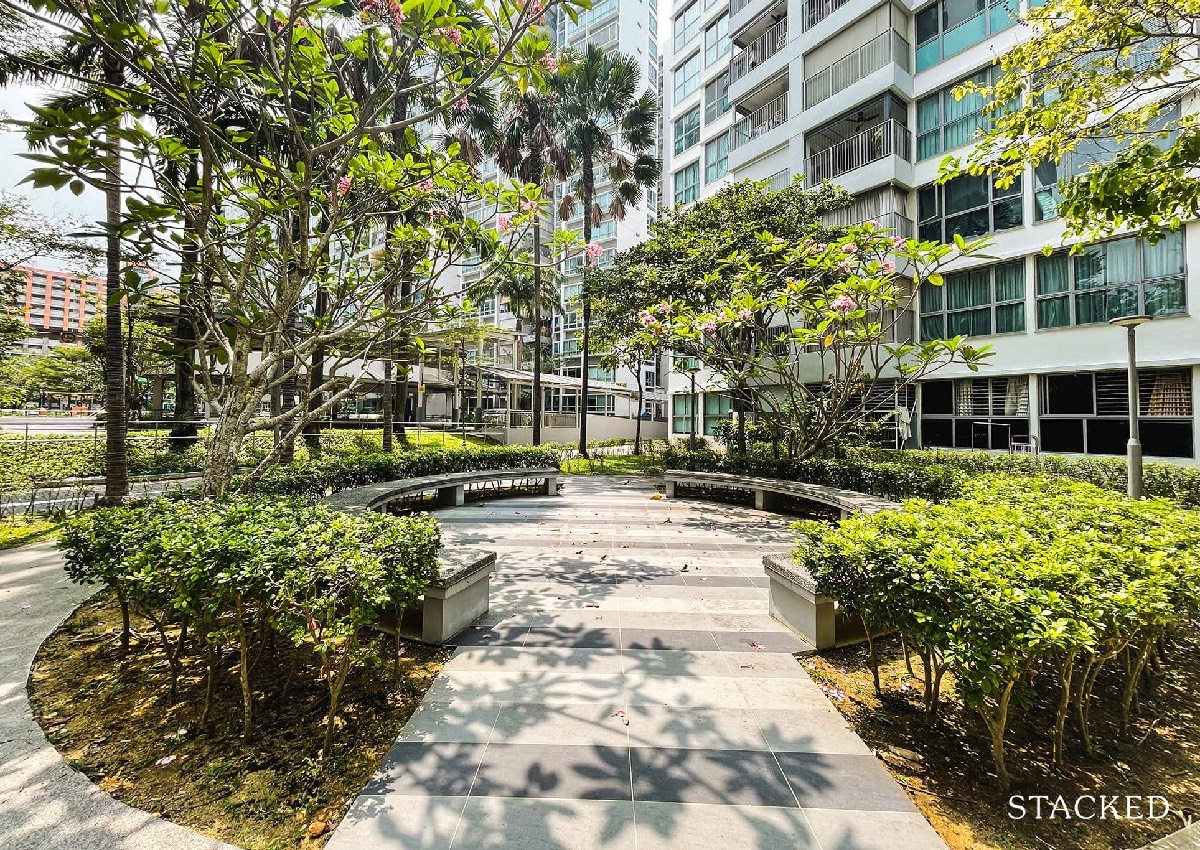 Here's another spacious walkway with benches by the side along with lots of greenery: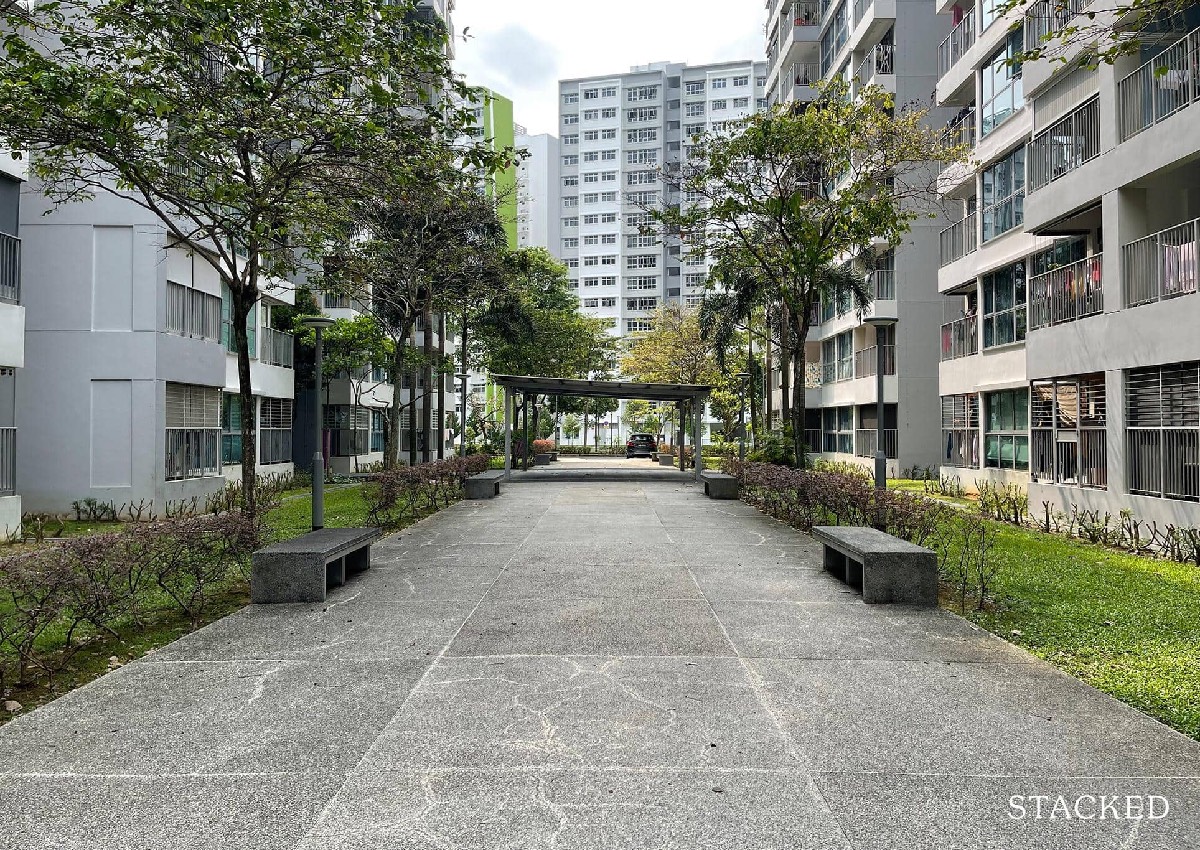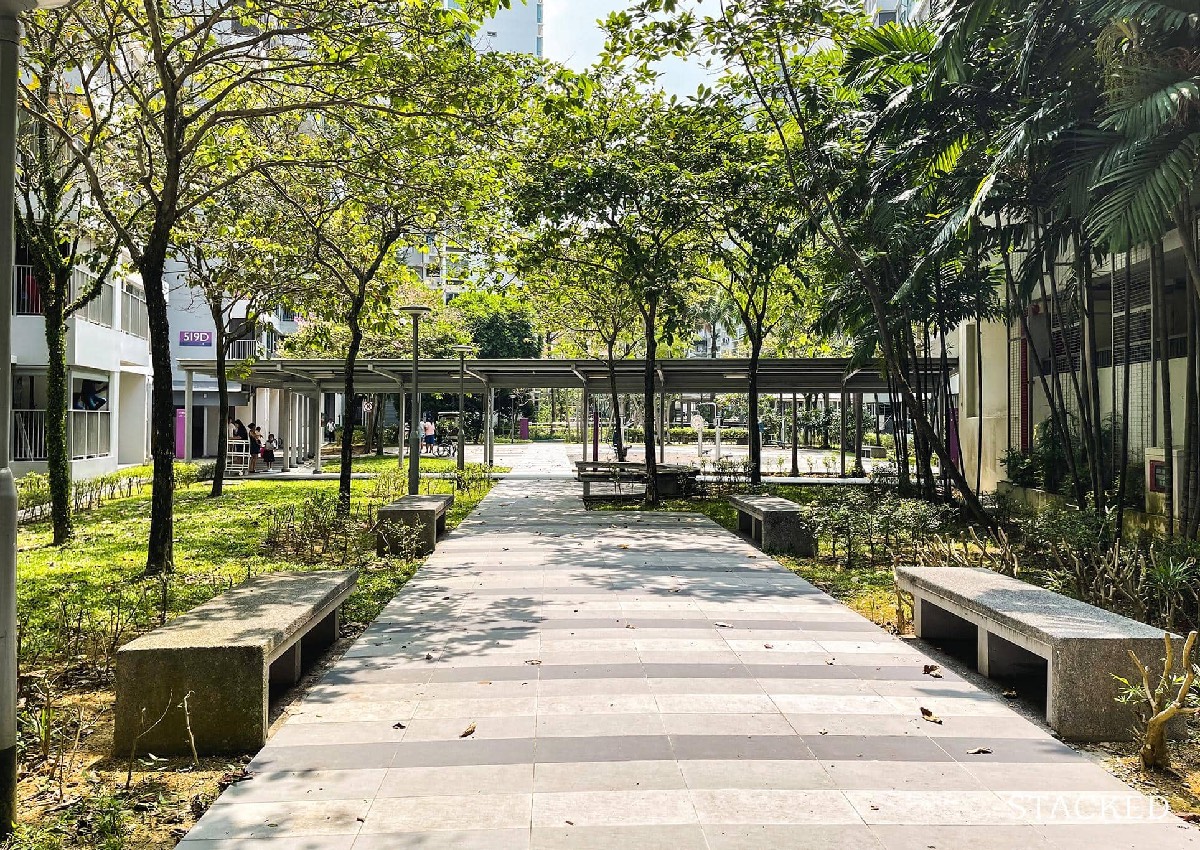 Residents on lower floors would have to deal with a lack of privacy though, as shown here: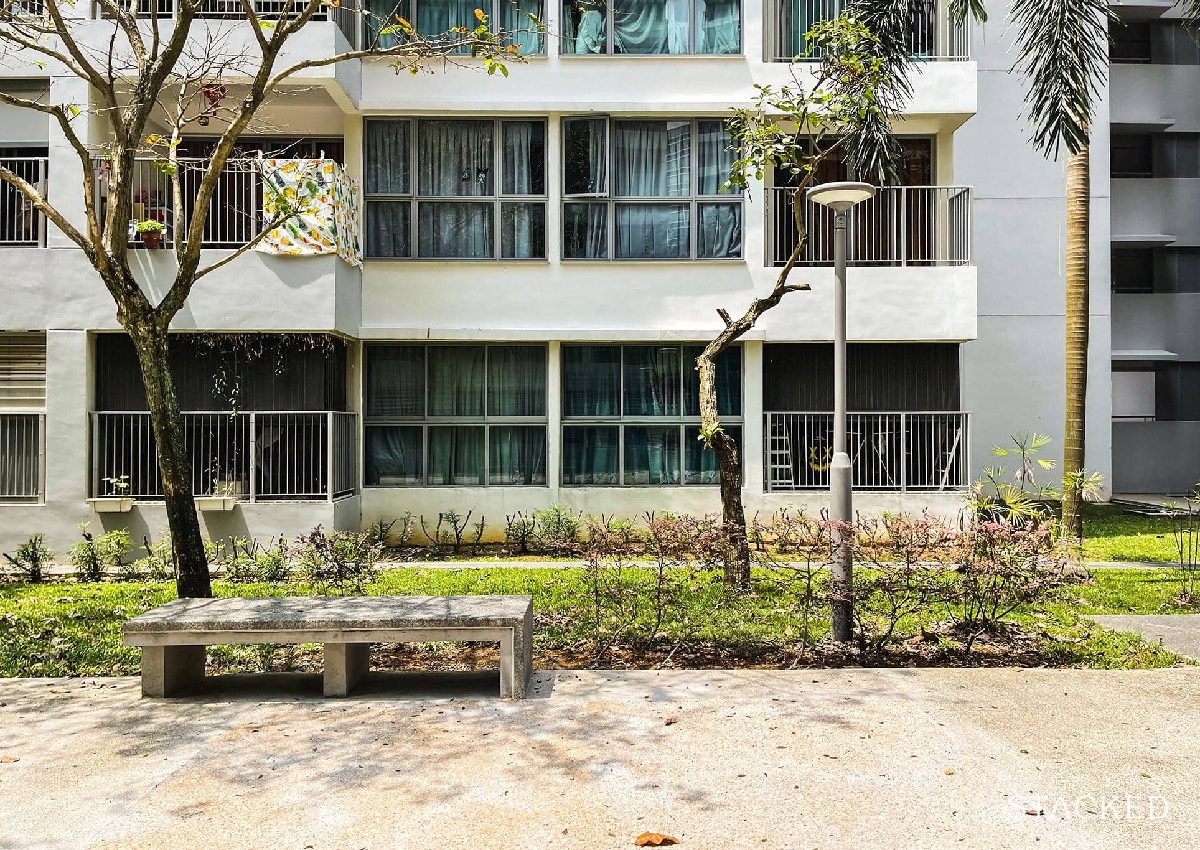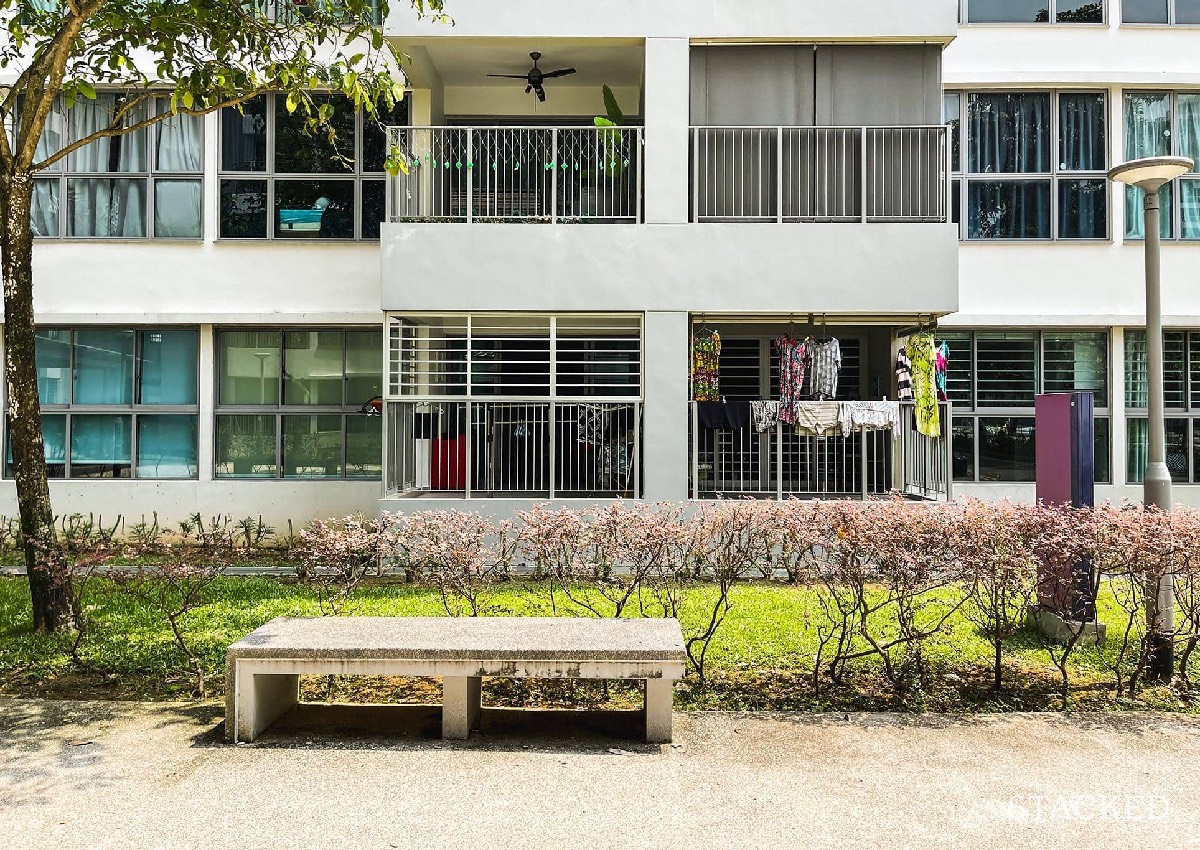 It'd be great if there were thick bushes or trees to at least make the place seem more like a park than an urban residential block since this would not only add privacy to residents here but also create a more welcoming common area. Unfortunately, this isn't something you can expect at Centrale 8.
Overall though, it's pretty decent especially if we compare it to other DBSS like Belvia and Pasir Ris ONE. There is some effort put in by the developers to create open spaces and the greenery here is sufficient.
Unit Mix
| | | | | | |
| --- | --- | --- | --- | --- | --- |
| Block | No. of storeys | Three-room | Four-room | Five-room | Total |
| 519A | 15 | 14 | 112 | 0 | 126 |
| 519B | 16 | 0 | 64 | 56 | 120 |
| 519C | 16 | 31 | 94 | 0 | 125 |
| 519D | 16 | 0 | 0 | 60 | 60 |
| 520A | 16 | 45 | 47 | 0 | 92 |
| 520B | 16 | 0 | 0 | 62 | 62 |
| 520C | 16 | 92 | 31 | 0 | 123 |
| Total |   | 182 | 348 | 178 | 708 |
Centrale 8 at Tampines additional pointers
Close to the popular St. Hilda's Primary
St. Hilda's Primary School ranks ninth in terms of popularity in Schlah's website ranking. Staying in Centrale 8 gives you an opportunity to try and get your child into this school although competition is definitely stiff given the number of HDBs around.
Upcoming Tampines North MRT (Cross Island Line)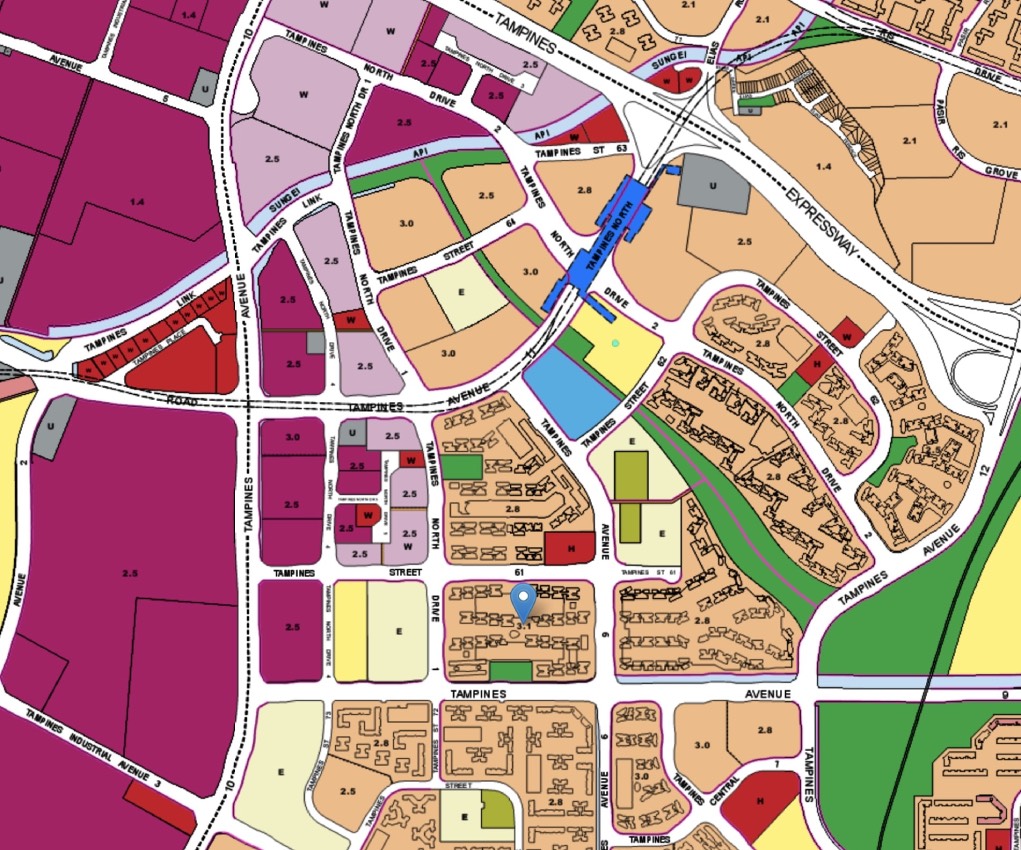 Residents can look forward to another MRT coming up – the Tampines North MRT which is slated to open in 2030. There is also a site zoned under "Commercial & Residential" which is currently empty but could potentially be like a Pasir Ris 8 next time which is integrated with the MRT. That would bring a host of shops to the area and liven up the place, however, this is just speculation on our end.
Exciting changes coming up – including a new 13-hectare park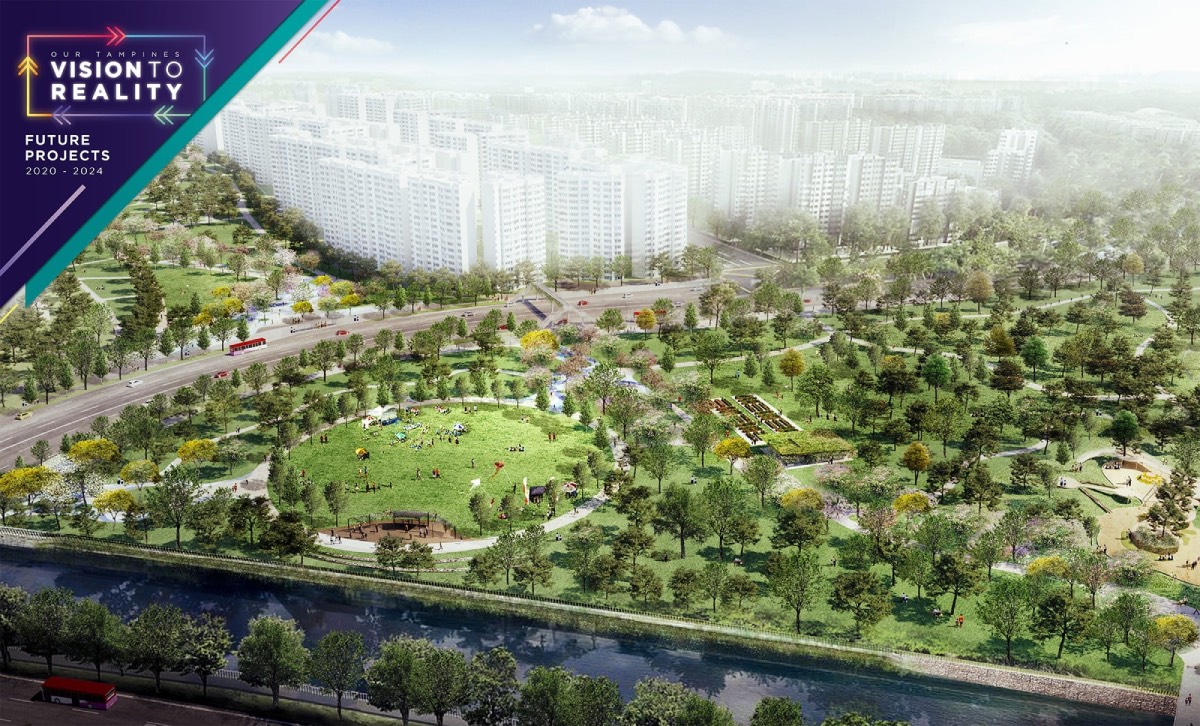 Tampines has quite a few exciting changes underway in its Five-year Master Plan. For one, there'll be a new 13-hectare park (Boulevard Park) slated to open this year that's 13 hectares big! This would connect with Tampines EcoGreen. The park will also feature fitness equipment open to the public, as such, nature lovers living here will have something to look forward to soon!
Centrale 8 at Tampines stack analysis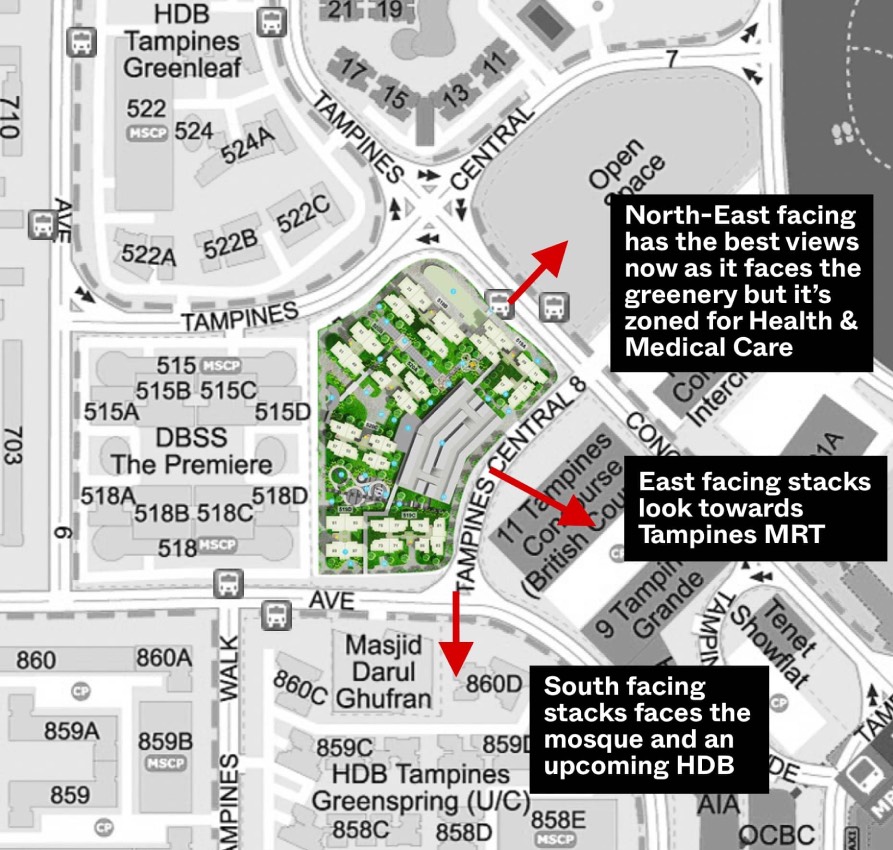 If you're looking for a great view, Centrale 8 At Tampines wouldn't be my pick. Like most properties in a densely-populated country, Centrale 8 faces buildings on almost every side except for the northeast facing.
Stacks facing the northeast current have a view of an empty plot of grass. However, this plot is zoned Health & Medical Care, so the view may not last too long: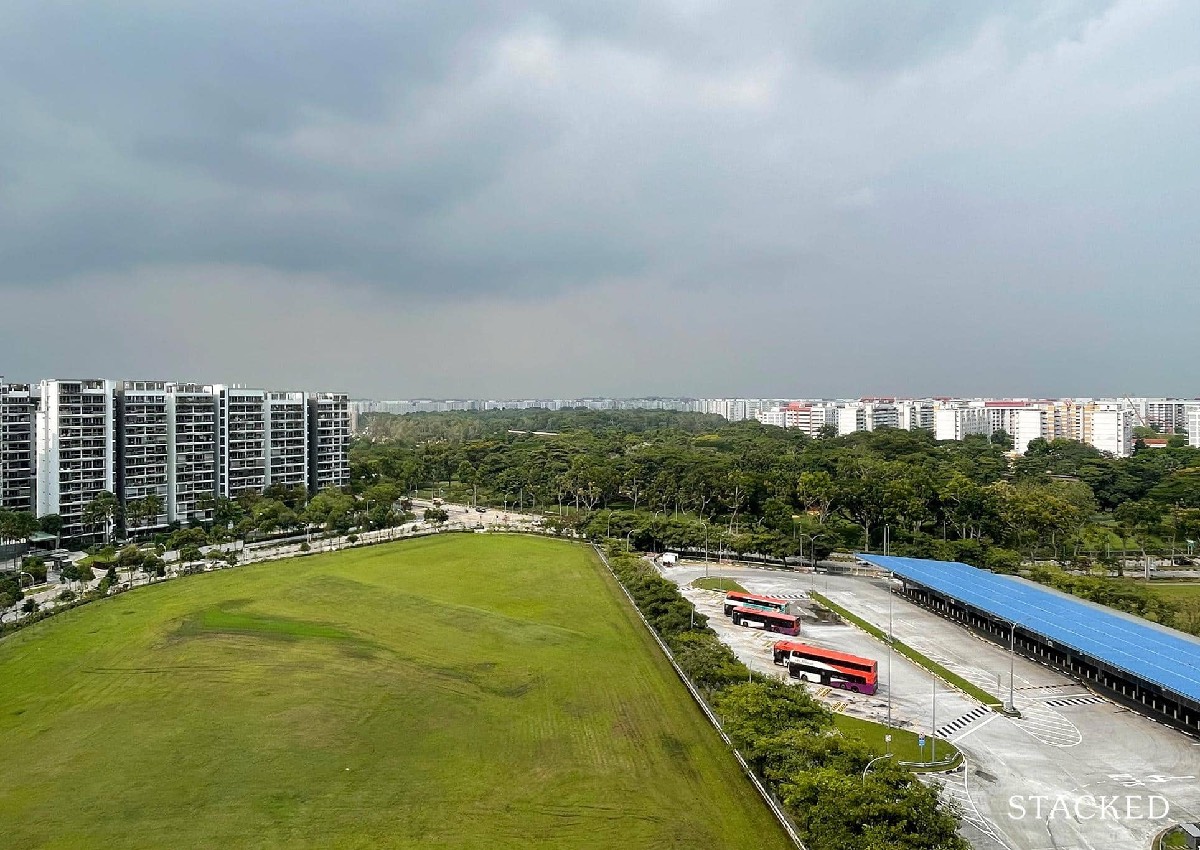 The bus interchange is quite an eyesore though, but at least there are some trees ahead. Nevertheless, if you're going for a greenery view, there are better HDBs out there.
The south-facing stacks face the mosque and the new BTO (Tampines GreenSpring) opposite (it does help that the facade looks great).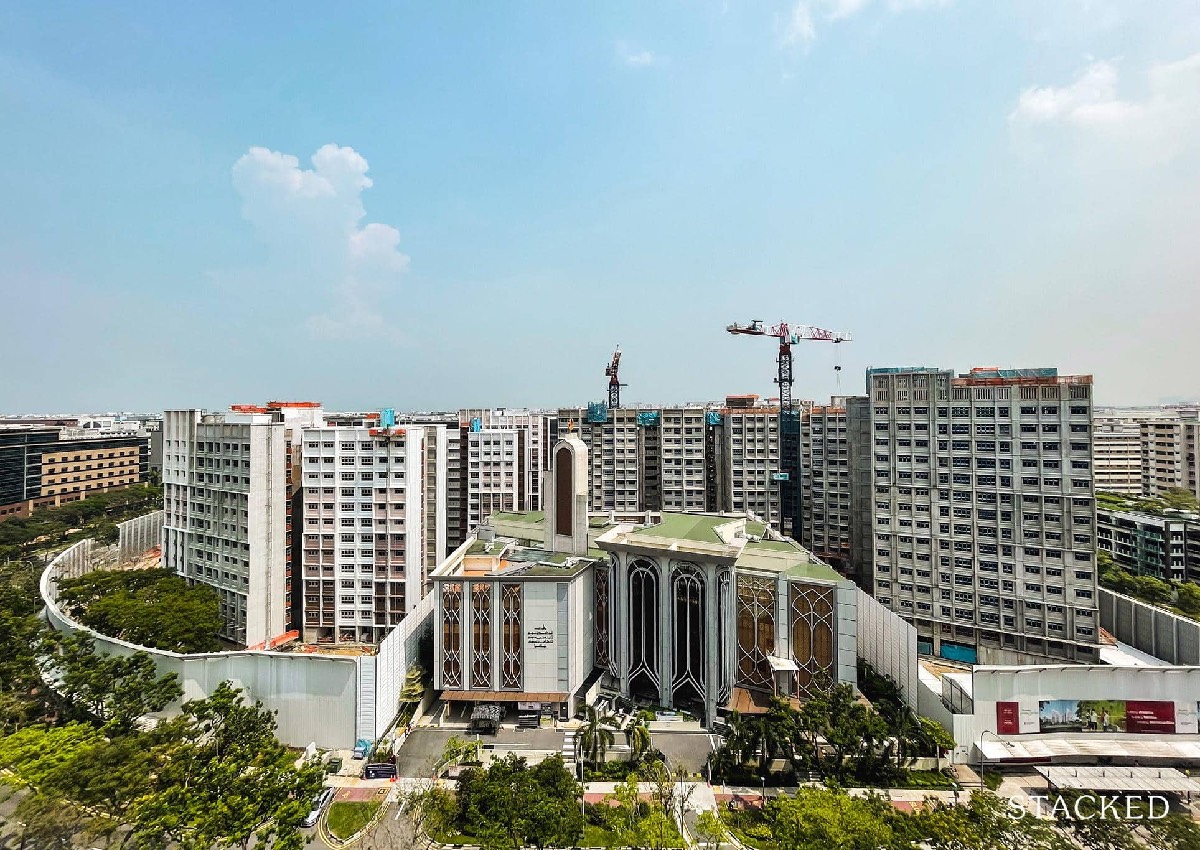 Units facing the east will have a view towards Tampines MRT station and the tracks.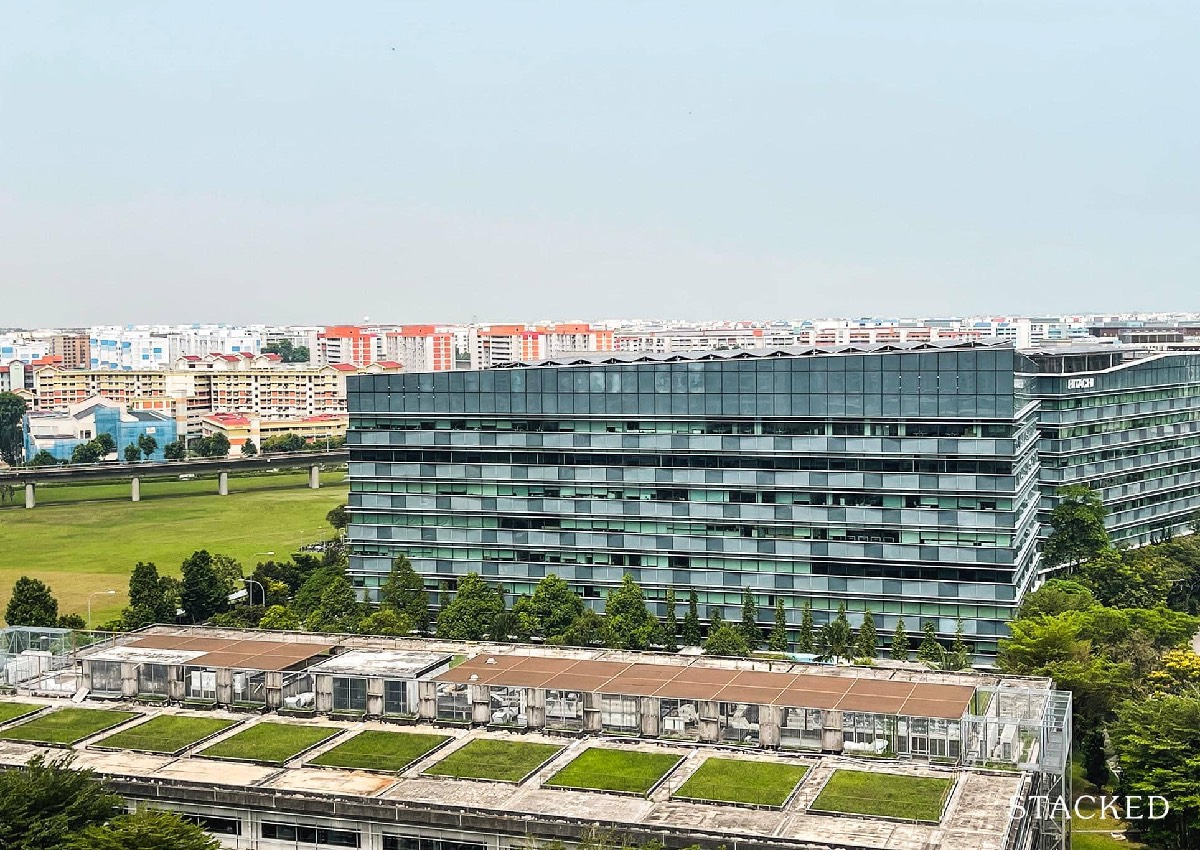 You will need to surpass the 10th floor though, otherwise, you'd have a view of the MSCP instead:
As mentioned in the previous section, inner-facing stacks are not equal across all blocks. Some are closer than others.
Centrale 8 at Tampines layout analysis
Three-room flat (61 sq m)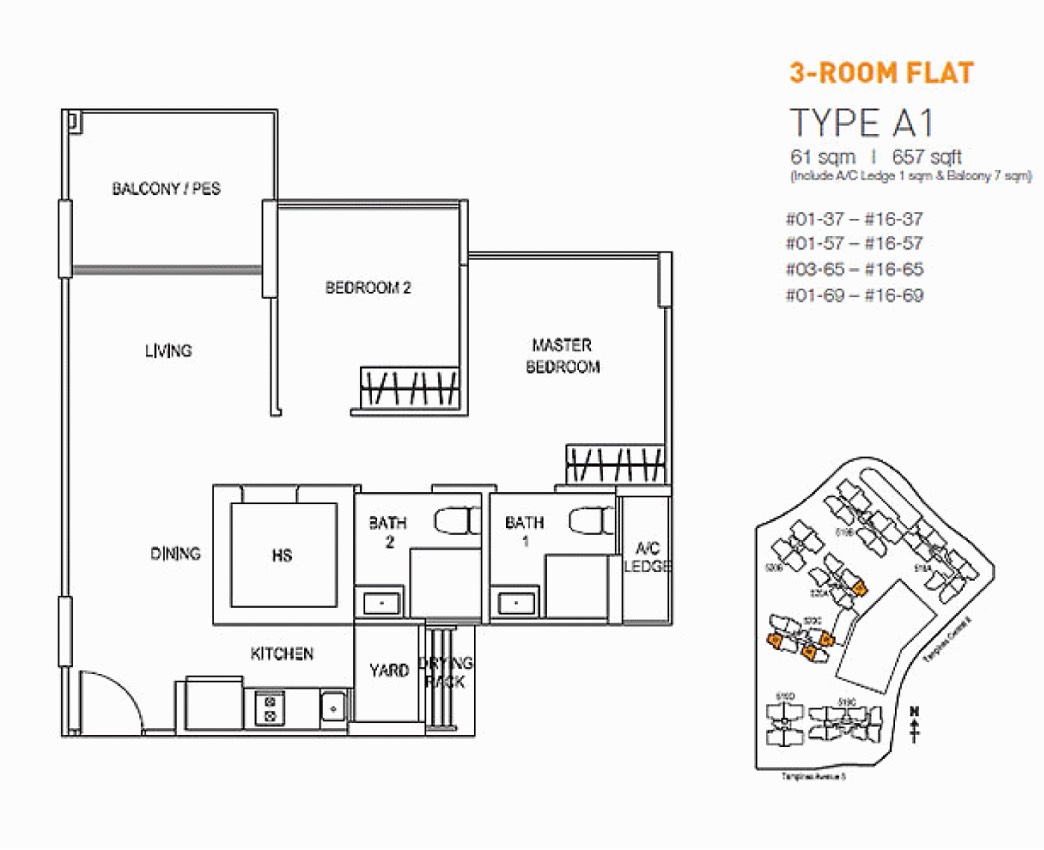 | | |
| --- | --- |
| Pros | Cons |
| Service yard allows for both washer and dryer | Tight living and dining area |
| No wasted corridor space | The main door opens straight to the dining area and lacks privacy. |
|   | Small bedrooms |
|   | Kitchen lacks countertop space |
Four-room flat (84 sq m)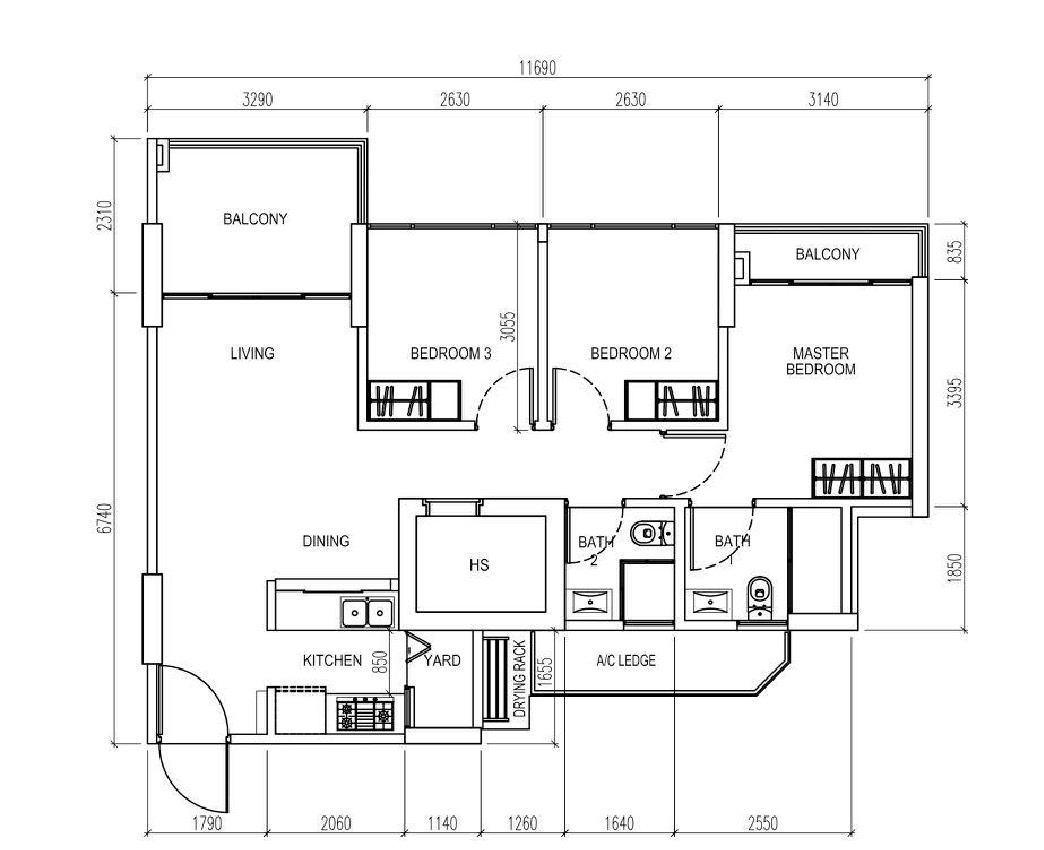 | | |
| --- | --- |
| Pros | Cons |
| Service yard allows for both washer and dryer | Tight living space |
|   | Small kitchen |
|   | The main door opens straight to the dining area and lacks privacy. |
|   | Household shelter in the middle of the home prevents a fully open layout |
|   | Household shelter in the middle of the home prevents for a fully open layout |
Five-room Flat (108 sq m)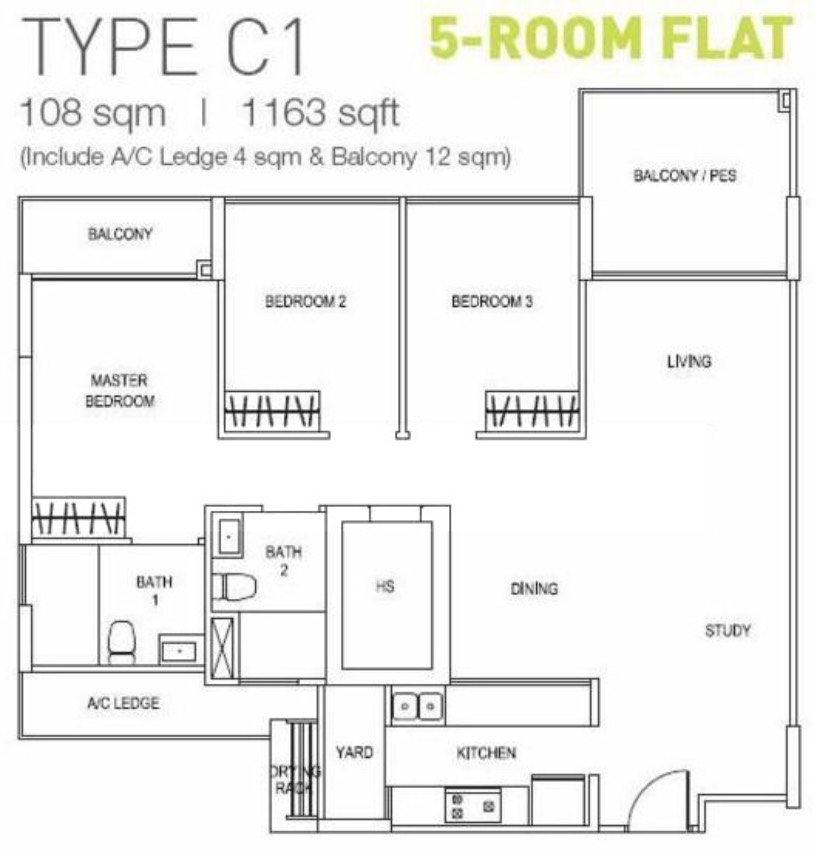 | | |
| --- | --- |
| Pros | Cons |
| Unit opens up into a spacious study/dining area | Relatively large AC ledge |
| Decent kitchen space | The main door opens straight to the dining area and lacks privacy. |
|   | Tight living room space |
Centrale 8 at Tampines pricing review
| | | | | |
| --- | --- | --- | --- | --- |
| Project | Lease Started | Three-room | Four-room | Five-room |
| Centrale 8 At Tampines | 2014 | $563,667 | $739,667 | $826,500 |
| Tampines Greenleaf | 2015 | $511,481 | $714,333 | $825,400 |
| The Premiere @ Tampines | 2008 |   | $758,888 | $866,600 |
Looking around the area, the most comparable HDB around is Tampines Greenleaf and the other DBSS The Premiere @ Tampines.
Buyers looking at Centrale 8 would undoubtedly make comparisons to these developments given their closeness in age and location – particularly The Premiere @ Tampines given it's also a DBSS.
They're similar in price with The Premiere costing slightly more. The reason is due to size – Centrale 8 At Tampines has smaller unit sizes:
| | | | | |
| --- | --- | --- | --- | --- |
| Project | Lease Started | Three-room | Four-room | Five-room |
| Centrale 8 At Tampines | 2014 | 61 – 62 sq m | 83 – 84 sq m | 108 sq m |
| Tampines Greenleaf | 2015 | 67 sq m | 93 sq m | 113 sq m |
| The Premiere @ Tampines | 2008 | – | 92 sq m | 108 – 113 sq m |
This is especially true for the four-room flats which are just 83-84 sq m. This reminds me of Trivelis with its smaller unit size. What makes it worse is that the balcony takes up a significant portion of it too, so there really isn't much internal space to enjoy.
Not my cup of tea at all, and we'll explore the differences soon.
Tampines Greenleaf on the other hand, is pretty much on the regular HDB size of things with the standard 67/93/113 sq m for the three/four/five-room flats.
Naturally, if you're looking for space and a four-room flat, I would consider either The Premiere @ Tampines (if you like balconies) or Tampines Greenleaf.
Here's a look at their $PSF:
| | | | | |
| --- | --- | --- | --- | --- |
| Project | Lease Started | Three-room | Four-room | Five-room |
| Centrale 8 At Tampines | 2014 | $854 | $821 | $711 |
| Tampines Greenleaf | 2015 | $709 | $714 | $679 |
| The Premiere @ Tampines | 2008 |   | $766 | $734 |
Given the smaller four-room size, Centrale 8 At Tampines costs more on a per square foot basis. This is expected as it's 10 square metres smaller and it's also six years newer than The Premiere @ Tampines.
Now that we've looked into their prices, let's do a quick comparison between them.
Centrale 8 at Tampines vs The Premiere @ Tampines floor plan analysis
Comparison of The Premiere and Centrale 8 At Tampines floor plans
As we had measurements on both floor plans, we could more accurately make a comparison between them. The colour blocks here denote the different spaces within Centrale 8 which is then overlaid on The Premiere's respective spaces.
Notice how Centrale 8 has less space compared to The Premiere in almost every single room!
Despite The Premiere having bay windows in both bedroom 1 and the master bedroom, it appears that both these bedrooms have slightly more space than in Centrale 8. The only exception is bedroom 2 which has slightly less space.
However, where The Premiere really shines is in its living and dining space. The entranceway is minimal with the left side being a regular squarish layout that allows for a flexible configuration. In contrast, Centrale 8 has a more traditional layout with the dining and living confined to a small space. Technically, you could just use the space right in front of the hallway/entranceway, but it is pretty awkward and disruptive.
But what's outrageous is the huge AC ledge from Centrale 8 At Tampines – this is unnecessary as such a home can run on one compressor – a System 4.
Also, those who spend a lot of time would find The Premiere @ Tampines's kitchen to be small, but Centrale 8's kitchen ranks even worse in my books. For a four-room flat, this kitchen pretty much looks like something you'd find in a three-room flat. Even the yard and the common bathroom pales in comparison to what The Premiere @ Tampines offers.
In other words, Centrale 8 may be cheaper in total price, but it may not be worth the savings unless you absolutely want that balcony space.
Centrale 8 at Tampines vs Tampines Greenleaf floor plan analysis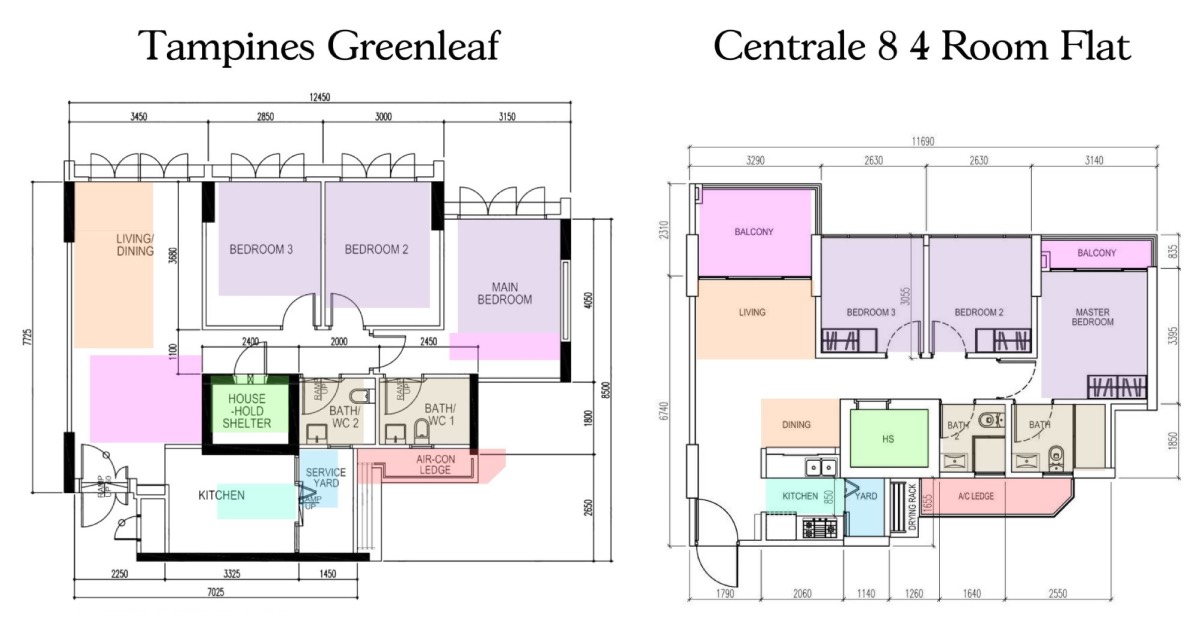 Tampines Greenleaf has around nine to 10 square metres more space than Centrale 8. And if you were to discount the balcony, this means Tampines Greenleaf has a lot more indoor space too.
Also, you can see that even after adding the living, dining and balcony space, there's still some excess space that comes with Tampines Greenleaf. Besides, all of its bedrooms, service yard, and kitchen are also bigger.
Lastly, its AC ledge isn't as oversized as the one in Centrale 8.
Needless to say, its layout is certainly better. Now here's what's peculiar – you can get a unit at Tampines Greenleaf for slightly less too in terms of absolute prices. In terms of $PSF, it's quite a significant discount of 13 per cent.
Tampines Greenleaf is just one year newer, so the lease isn't really the factor here. It's likely that the location of Tampines Greenleaf is just more inconvenient compared to Centrale 8. Depending on the block, the time to the MRT could take two to five minutes more if you're walking. It also doesn't have its own commercial block, unlike Centrale 8.
If we analyse the prices, floor plans and locational attributes of all three developments here, I'm inclined to say that Tampines Greenleaf or The Premiere @ Tampines would be my preferred pick simply due to the size and layout of its units (this pertains to the four-room flat).
However, if you're a stickler for balcony space and prefer being closer to the MRT/having amenities at your doorstep and absolutely do not mind the smaller space, then Centrale 8 At Tampines is worth considering.
Our take
Centrale 8 At Tampines is a development that I can neither love nor hate.
It's probably one for those who prioritise convenience and the location – an almost fully sheltered walkway to the MRT that's not too far away, amenities at your doorstep, a childcare centre and some outward views that are a good distance from the next block. It's also close to the Park Connector and two parks.
And unlike other DBSS, Centrale 8's corridors are quite decent.
But it also has a non-existent rooftop garden at the car park, small unit sizes and a lack of great views.
Some parts of the development feel spacious with its open plan and good distance between blocks, while others feel too close to each other.
Overall, Centrale 8 At Tampines wouldn't be my top pick if I wanted to stay in Tampines but I can see why this place could suit others given the positives mentioned above.
ALSO READ: I regret buying a DBSS unit: 5 homeowners share their biggest regrets
This article was first published in Stackedhomes.