It's just days to the Chinese New Year, and most people are still busy prepping for the festive occasion. 
One key component, no doubt, that everyone loves is the hongbaos or red packets.
While most people are more concerned with what's inside a red packet, that's not to say that the outside doesn't matter.
Hongbao designs come in a variety of designs and sizes, and it can be difficult to settle on the right one to convey your personality and festive message to others.
Therefore, we've done the legwork to figure out what are the perfect hongbaos for the different types of Singaporeans out there.
For the creative Singaporean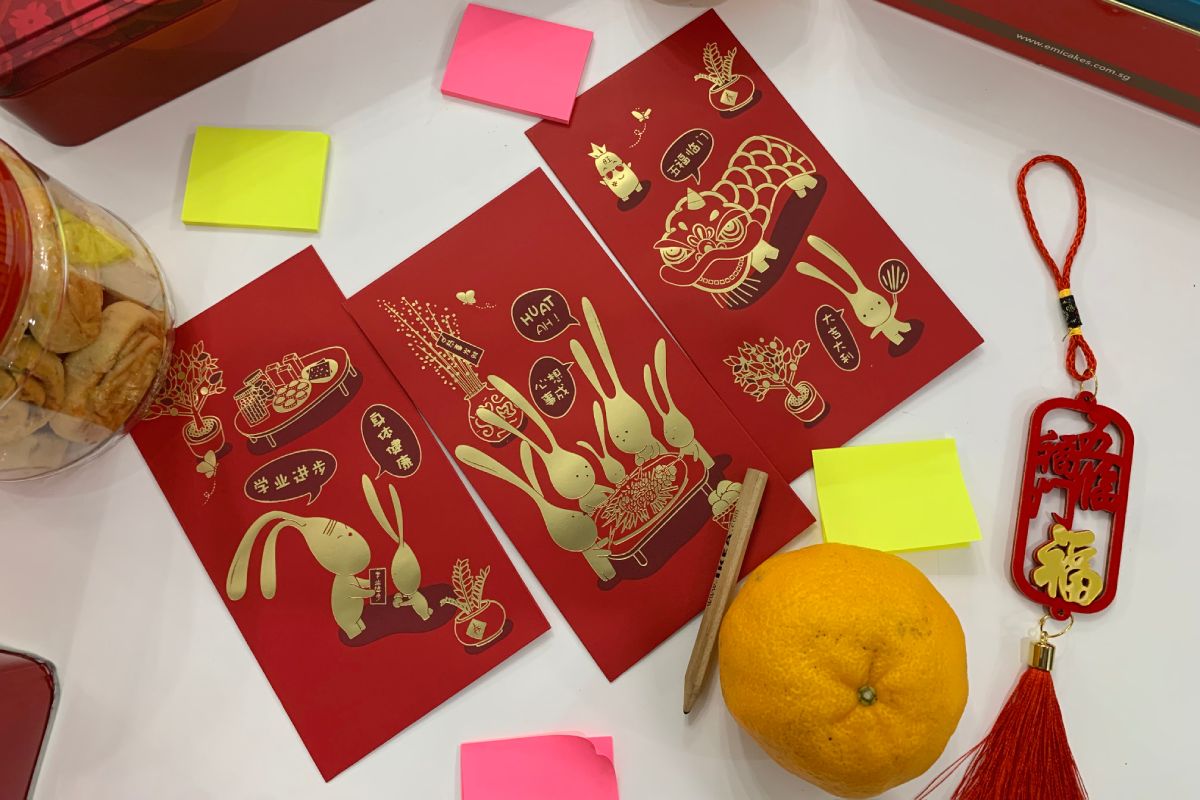 Featuring the auspicious colours red and gold, Singapore Chinese Cultural Centre has released their series of hongbaos based on their Chinese New Year art exhibition (Tu)gether.
Created by local artists Fiona Koh and Warren Khong, the set of six hongbaos is filled with depictions of adorable rabbits engaged in local Chinese New Year customs such as tossing yusheng, giving out hongbaos, exchanging oranges and taking in a Chinese lion dance.
What's more, each set also comes with two blank hongbaos and sticker packs so that you can try your hand at creating your own personalised design! 
To obtain a free set of this limited-edition hongbaos, head down to the Singapore Chinese Cultural Centre level one reception from now till Feb 5, while stocks last. 
For the animal-loving Singaporean
Love or hate them, the otters have been making their presence felt in Singapore. Now they are making their way onto our hongbaos as well.
As part of the Care For Each Otter fund-raising campaign, design agency Creativeans has partnered with wildlife conservation organisation Jane Goodall Institute to produce their own otter-inspired hongbaos.
All proceeds from the sale of the hongbaos goes to the Jane Goodall Institute to help them on their mission to improve the understanding, welfare and conservation of the environment and wildlife.
Made from ethically-sourced paper, the Care For Each Otter hongbao design shows a family of otters coming out to play after a storm and signifies new hope after a period of uncertainty.
Priced at $19.90 for a set of eight, you can do your bit for Singapore wildlife by purchasing the otter hongbaos here.
For the nature-loving Singaporean
Our nation is renowned for being a garden city, and it seems Singaporeans have a soft spot for all things green. Even on our treasured hongbaos.
That is why blinds solution specialist Ziptrak have decided to pay tribute to Singapore by adopting an orchid motif on their 2023 design.
Besides a variety of colourful orchids, the evergreen design also features the Chinese character fu which means blessings and is regarded as a key part of Chinese New Year customs.
The orchid hongbaos are available for free to all Ziptrak customers and partners during this festive period.
For the charitable Singaporean
Chinese New Year is a time for celebration and feasting, but it's also the time to remember those who are not as fortunate as us.
Attempting to create a hongbao series with heart, local fund management company Lion Global Investors have collaborated with the Autism Association's (Singapore) Eden School to highlight their Eden Expressions Talent Development programme.
The results — a series of four hongbao designs which features the artwork of four students who are on the autism spectrum. Not only are the artwork designs gorgeous and exquisite, but they will also become a conversation starter at Chinese New Year visits. 
All Lion Global Investors clients and customers are entitled to a free set of hong baos while stocks last.  
For the traveller Singaporean
With global travel restrictions all but a distant memory, Singaporeans can indulge in one of their favourite activities that has been sorely missed — traveling.
Now, they can share their love for travel with others by getting their hands on the KrisShop's 2023 hongbaos which utilises the Singapore Airlines' iconic batik motif.
To spread the travel 'huat' around, simply spend a minimum of $100 online or inflight on KrisShop to get your free set of hongbaos as shoppers enjoy up to 60 per cent festive discount on their purchases.
For the artistic Singaporean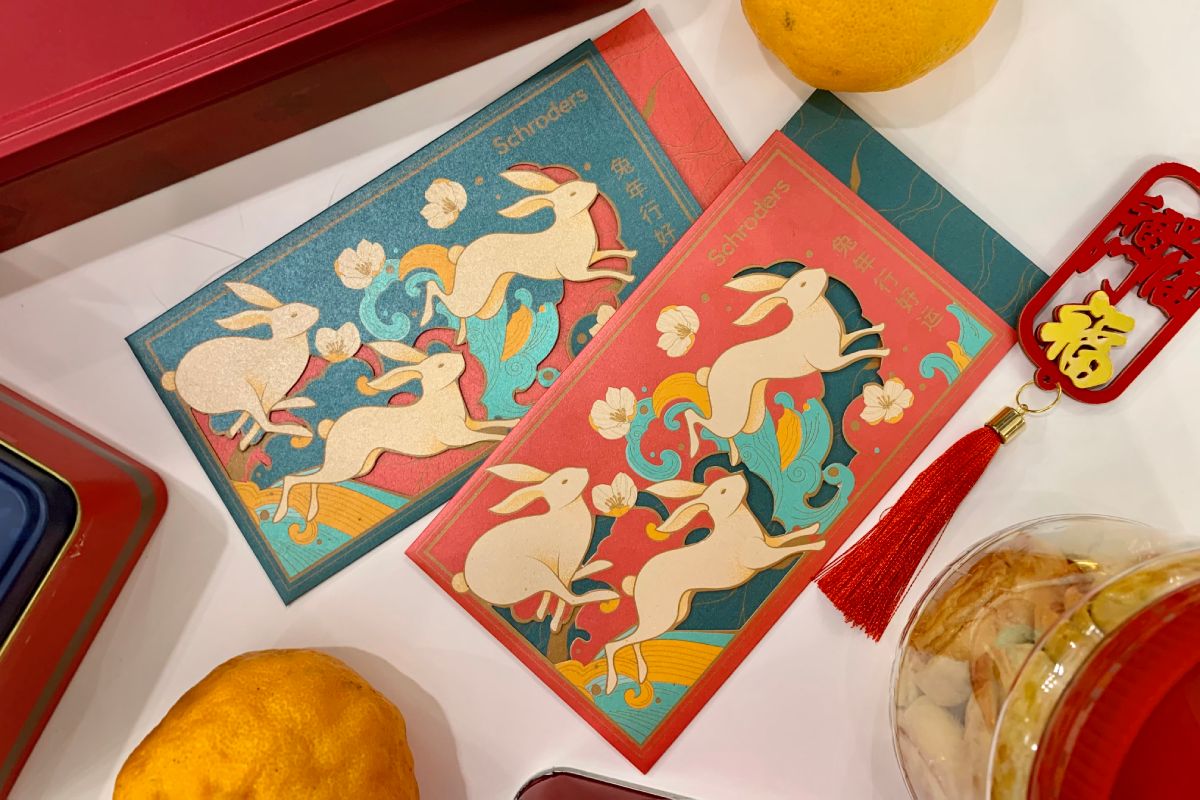 There is a growing appreciation for the crafts scene in Singapore, with more locals opting to take up calligraphy, pottery or origami in their spare time. 
Hence, this segment of Singaporeans are sure to appreciate the ingenious hongbao design by wealth management company Schroders. 
Taking inspiration from this year's Chinese Zodiac animal, Schroder's hongbaos show a trio of rabbits ushering in the new year surrounded by winter jasmine flowers and Chinese New Year motifs.
Slide the sleeve of the hongbao, and the jade green packet resembles waves which signifies a continuous flow of good things in the new year.
The hongbao series is available to all clients and partners of Schroders and comes with an accompanying stylish green pouch.
For the traditional Singaporean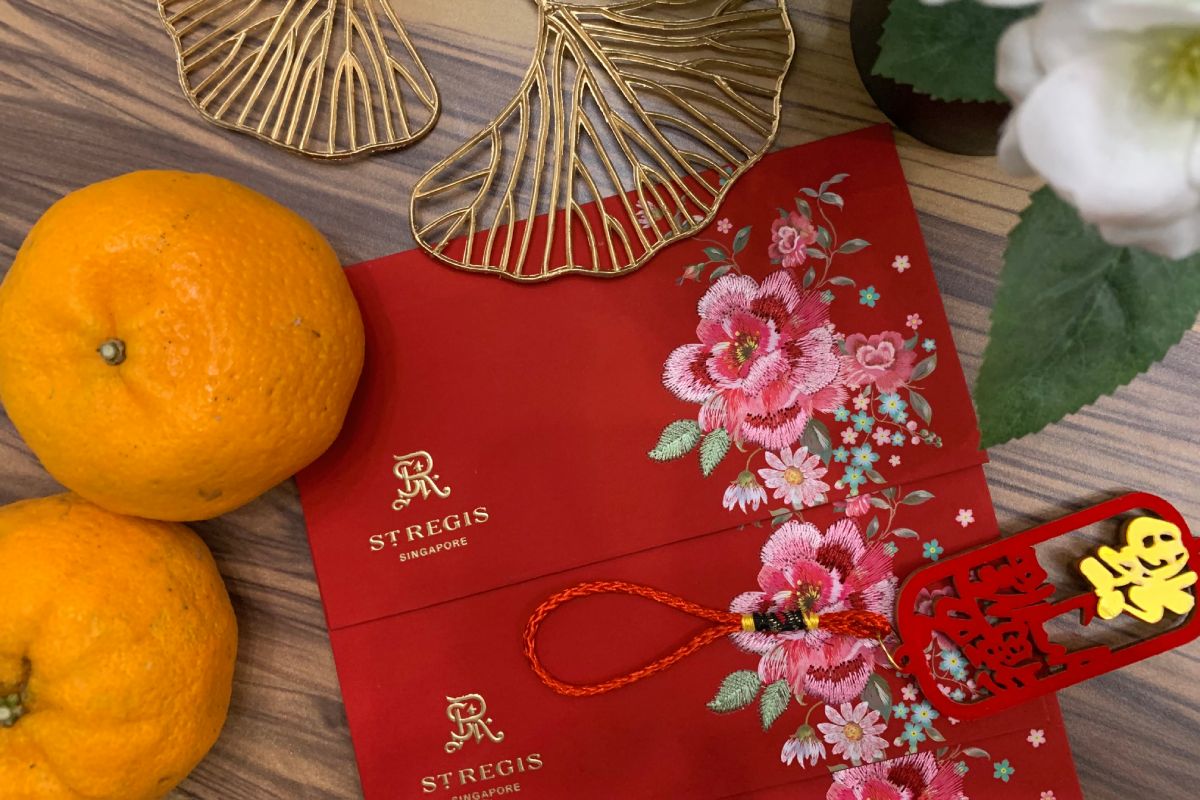 Sometimes, the old way is the best way. After all, isn't Chinese New Year celebrations all about age-old traditions?
So for a touch of elegance and heritage, look no further than St Regis embroidered hongbao.
Despite being relatively understated, the St Regis hongbao design's centrepiece is a beautiful-embroidered peony flower — signifying wealth and prosperity — that showcases the exquisite art of Chinese craft.
To obtain these premium hongbaos, simply claim your free set as a guest staying at the five-star hotel or dine at their Chinese restaurant Yan Ting between January 21 to February 5.
ALSO READ: Chinese New Year red packet rates in Singapore (2023): Everything you need to know 
timothywee@asiaone.com
No part of this story or photos can be reproduced without permission from AsiaOne