[UPDATED, Dec 11, 2020]:

There's much to look forward to during Christmas. The lights, decorations, gift exchanges, carols and of course, the Christmas feasting. 'Tis the season to put our diets aside and reward ourselves for surviving a hard year.
If you're not up to whipping up a feast in your kitchen, here are some places to consider ordering from or dining at instead.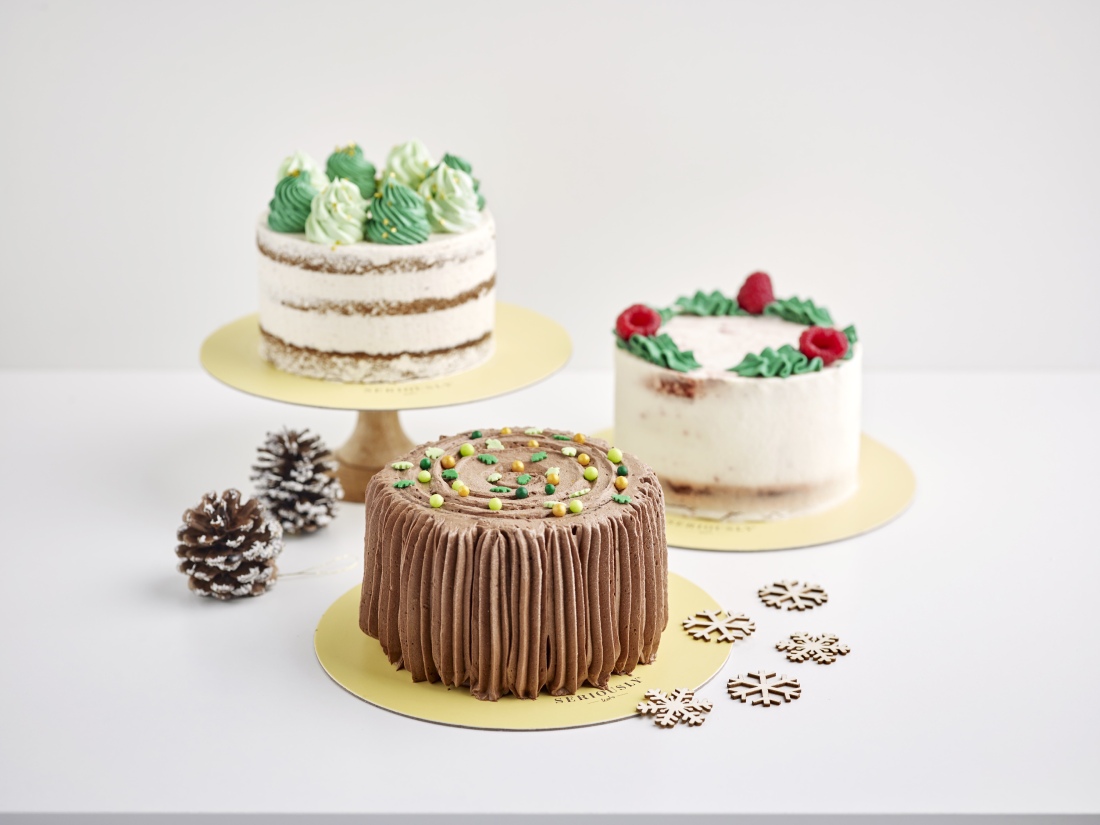 Seriously Keto
If you're watching the scale and are planning to go low carb and sugar-free, but still want to celebrate with festive bakes, consider Seriously Keto's range of Christmas treats.
The brand is Singapore's first wholly ketogenic bakery and they have released a time-limited Christmas collection that is low in carbs, sugar-free and gluten-free.
Some items you can look forward to include their Jingle Snaps cookies and Sinless Cinnamon loaves. Their best-selling Chocolate Brownie, Red Velvet and Peanut Butter cakes have also been given a Christmas makeover and these feed six.
If you need to cater to a larger group, opt for their specially curated Merry Gift Box. It comes with three packs of Jingle Snaps cookies, two packs of Sinless Cinnamon loaves and one Christmas cake in the flavour of your choice.
Also available is the Jolly Gift Box that comes with three packs of Jingle Snaps cookies, two packs of Sinless Cinnamon loaves and four Christmas cupcakes in the flavour of your choice.
Prices for individual bakes start from $8 and the gift box prices start from $58. All items will be available on their website and in-store.
Cat & the Fiddle
Known for their Asian-inspired cheesecakes, Cat & the Fiddle is releasing a special log cake just for Christmas, Fantasy in the Woods.
The inside of the cake features dark chocolate cream cheese mousse and raspberry mousse paired with almond sponge cake. The outer layer is a mixture of hazelnut biscuits and dark chocolate shavings, giving every bite of cake an extra crunch.
Fantasy in the Woods retails at $68.90 and is available at Cat & the Fiddle's outlets. You can also pre-order the cake on their website.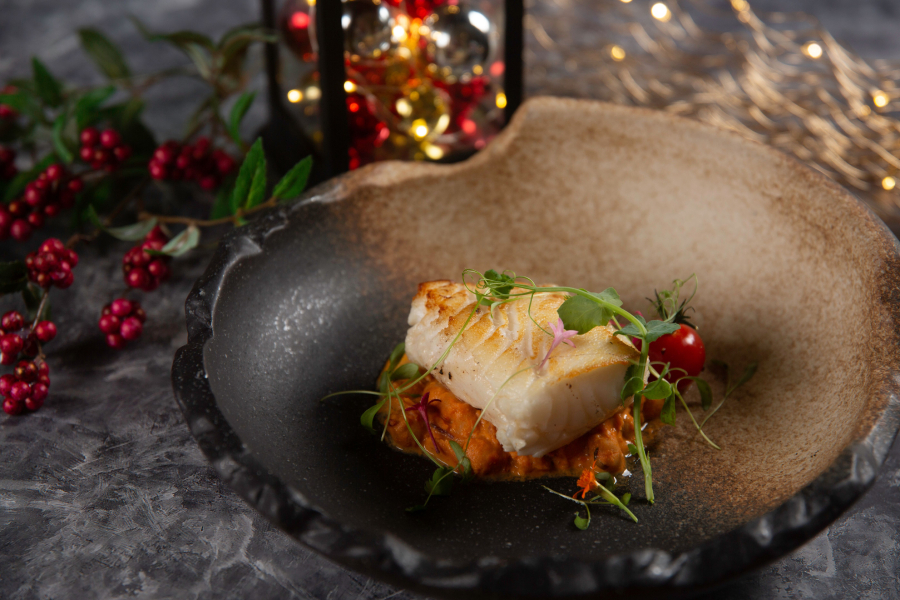 Porta
Modern European restaurant, Porta, is offering a four-course festive meal and it's available for both delivery or takeaway, giving you the option of enjoying it from your home.
The meal starts off with a creamy Butternut Pumpkin Soup and an appetiser of pan-seared Hokkaido Scallops, which comes accompanied with avruga caviar, bacon bits and salad.
For mains, choose either a Pan-Seared Black Cod Fillet with a house-made tomato sauce or a medium-rare Australian Beef Tenderloin that is paired with king oyster mushrooms, creamy celeriac purée and red wine sauce.
End things on a sweet note with a slice of Chocolate Log Cake that comes with raspberry purée and shaved chocolate.
The four-course festive spread is priced at $66+ per person and more details about delivery are available here.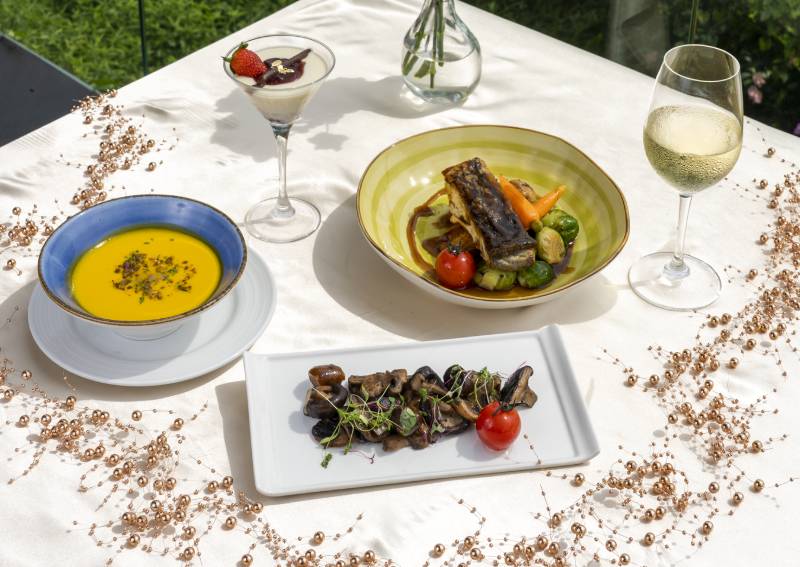 Arbora Hilltop Garden
Celebrate the year-end on new heights at Arbora Hilltop Garden. Located atop Mount Faber, the restaurant is surrounded by lush greenery and offers a birds-eye view of the HarbourFront area.
For the festive season, they have put together a special four-course menu. Start off with a Mushroom and Chestnut Salad and Veloute of Carrot, a rich carrot soup. 
Pick between the Oven Baked Half Pullet and Pan-fried Barramundi Fillet for your main course, and for dessert, you'll have a Panna Cotta & Cranberry Compote.
A special New Year's Eve menu is available on the last day of the year and it includes Arbora Rojak, Butternut Pumpkin Soup, Baby Lamb Rack and Chempedak Bread & Butter Pudding. There's also a special set for the little ones with Fish & Chips and a scoop of Ben & Jerry's ice cream. 
The four-course festive set costs $68++ per pax, with an optional wine pairing at $15++ per pax. The New Year's Eve set menu starts from $118++ for adults and $30++ for kids. To make a reservation for New Year's Eve, click here. 
Pine Garden
Local bakery Pine Garden is releasing a very special cake that will pique the interest of alcohol lovers and those who miss travelling to South Korea.
Their Yakult Soju Log is created with a crowd favourite combination of probiotic drink Yakult and Korean alcohol Soju, making it a unique Christmas centrepiece that will let you conclude your Christmas meal on a high note.
Prices for the Yakult Soju Log start from $58.30 and orders can be made on their website.
Carousel at Royal Plaza on Scotts
Carousel at Royal Plaza on Scotts is offering a festive a la carte buffet spreads for you to enjoy with your loved ones this year end. From now till Dec 31 you can enjoy their festive lunch and dinner menu that includes Turkey Breast Saltimbocca with Sage and Cranberry Jam, Teppan Style Lobster Tteokbokki and Whole Atlantic Salmon served with Chives, Sour Cream and Honey Mustard.
For Christmas Eve menu, additional items will be added to the buffet line up, including Pan-fried Fillet of Halibut with Sauteed Endive, Morel Mushrooms, Truffle Cream and Braised Lamb Shank with Roasted Parsnip and Garlic Confit.
Those dining in on Christmas day can look forward to their unique and popular Sambal Hijau Turkey, as well as special Traditional Festive Treats like Christmas Stollen, Italian Panettone, Festive Cookies and Assorted Christmas logcakes.
Those not comfortable eating out can order in instead. Their delivery menu includes the Burnt Cheese Log, Coffee-glazed Veal Spare Ribs and of course, the Sambal Hijau Turkey.
Prices for the festive goodies start from $34.25 and you can place your order here. Orders must be made three days in advance and are available till Dec 25. Prices for the a la care buffets start from $58++ for adults and $36++ for children, and you can make a reservation on their website.
Address: 25 Scotts Road, Royal Plaza, Singapore 228220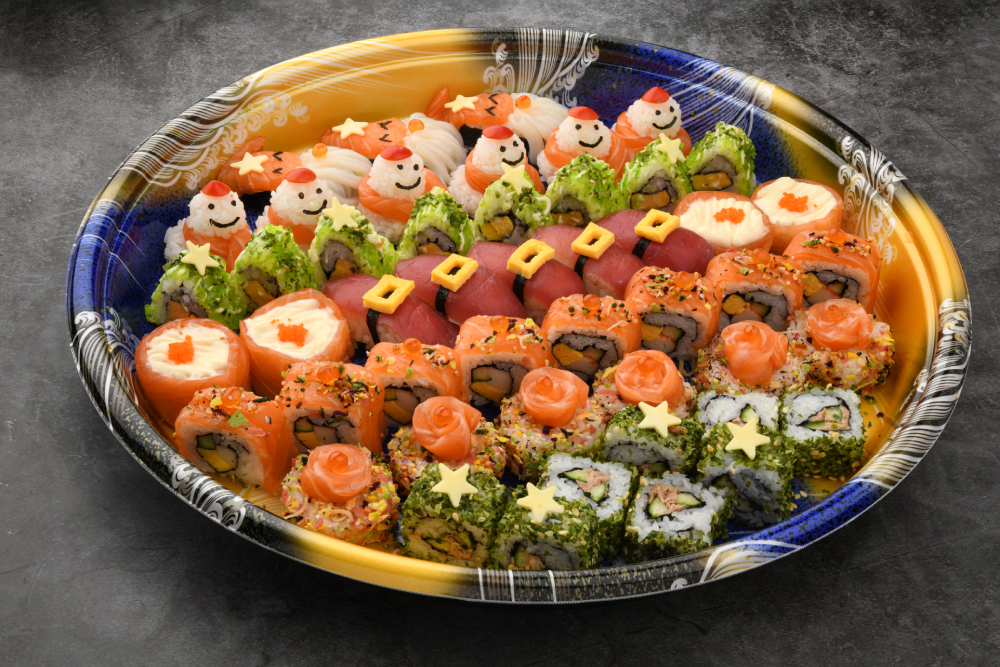 Kuriya
Eschew the conventional Christmas turkey and get the Japanese-inspired Christmas platters from Kuriya instead. Three options are available and they contain a variety of sushi, adorably decorated with a festive theme.
The Snowman Sushi Box has salmon sushi shaped like little snowman and maguro nigiri decorated to look like Santa's belt, while the Santa Claus Sushi Box has Santa Claus Salmon Ika Somen Sushi.
If you're feeding the masses, opt for the Christmas Sushi Platter that contains 48 pieces of sushi in four unique designs: Blooming Salmon Ikura Sushi, Salmon Maru, Sakura Salmon Roll and Tuna Salad Maki.
Prices for the sushi platters start from $25.80 and are available at all Kuriya Japanese Market outlets from now till Dec 27. Orders can also be placed here.
Conrad Singapore
Want something a little different from the typical festive offerings of turkey and log cakes? Consider this takeaway Christmas-themed afternoon tea set from Conrad Singapore.
The package comes with a tiered stand that holds a colourful array of sweet and savoury bites for two - Scottish Smoked Salmon Rillette with Tobiko, Traditional Stollen and a royal chocolate hazelnut crunch cake in the shape of Santa's sleigh.
The set is priced at $85.60 and can be ordered from Nov 25 till Dec 31, 2020 on their website.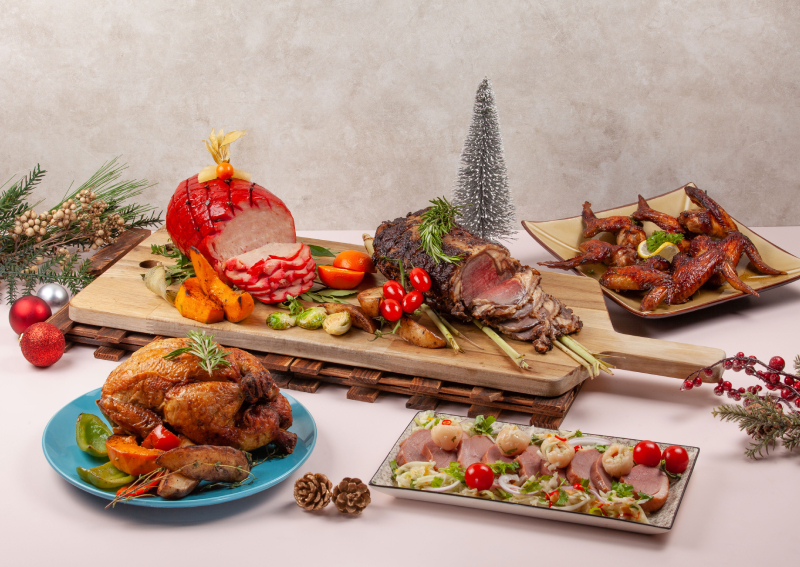 Chilli Api
For Christmas, this peranakan catering establishment is doling out both traditional Nonya delicacies and festive roasts - perfects for gatherings where you have guests with varying preferences.
The Santa's Sleighing Party Set is especially apt for people who have vegan or vegetarian guests as it includes an Impossible Casserole. It also comes with other dishes like Stuffed Spring Chicken with Garlic Herb Sauce and Honey Glazed Chicken Ham with Raisin & Berry Butter Sauce.
For something a little more Asian, you can opt to get one of the Bibik's Festive Sedap Sets which comes with eight courses. Familiar Nonya dishes on the menu include Ayam Bua Kuluak, Bibik's Sambal Prawns and Bakwan Kepiting.
You can also add on western dishes from their Christmas Tok Panjang menu. There are 19 classic festive options to choose from, including Tender Roasted Beef Striploin, Slow Roasted Boneless Leg Of Lamb With Roasted Potatoes and Smoked Duck Breast With Mint Honey Guava Dressing.
Prices for the party sets start from $168. Food from the Christmas Tok Panjang menu starts from $30. You can place an order for these on their website from now till Dec 31.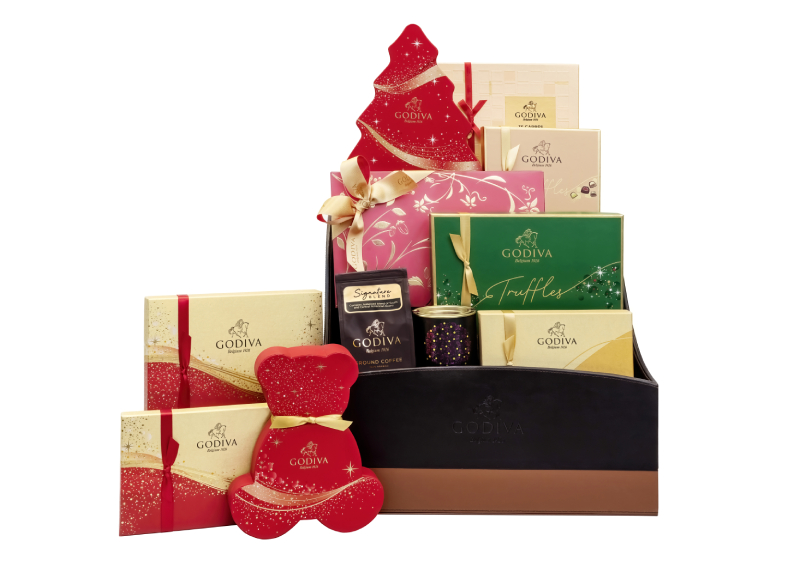 Godiva
This Christmas, popular chocolatier Godiva is launching their limited edition Holiday Sparkle Chocolate Collection.
The special set of chocolates are sprinkled with edible glitter in festive colours and come in nostalgic flavours such as hot cocoa, almond and caramel. You can purchase them individually or as part of a gift box.
Also available are gift hampers that contain an assortment of chocolate gift boxes like the Holiday Chocolate Truffle Gift Box and the Holiday Tree Box with Chocolate.
Prices start from $6 and you can order these from their website or visit any one of their five boutiques.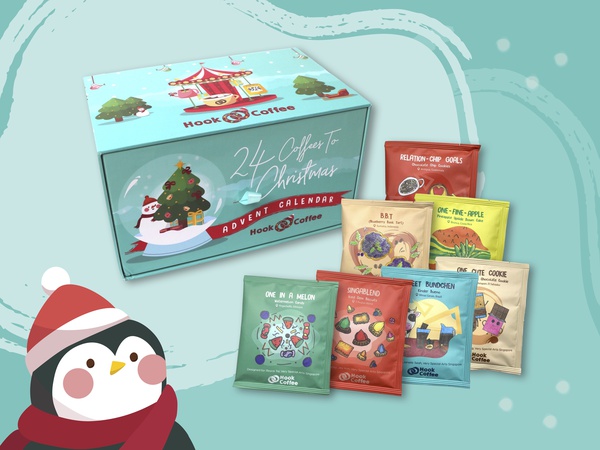 Hook Coffee
For caffeine addicts who need a daily cuppa to function, you may want to check out homegrown coffee brand, Hook Coffee's advent calendar.
Featuring commissioned work by students from Very Special Arts Singapore (VSA Singapore), the calendar consists of 24 days of specially curated coffees - both crowd favourites and limited edition festive blends, including Specu-lose Your Mind, Nuts About You and Kiwi Me Soft.
Each set comes with an advent calendar poster and sticker set, and the coffee is packed neatly into drip coffee bags for easy preparation.
Each calendar is priced at $50 and you can order it from Hook Coffee's website.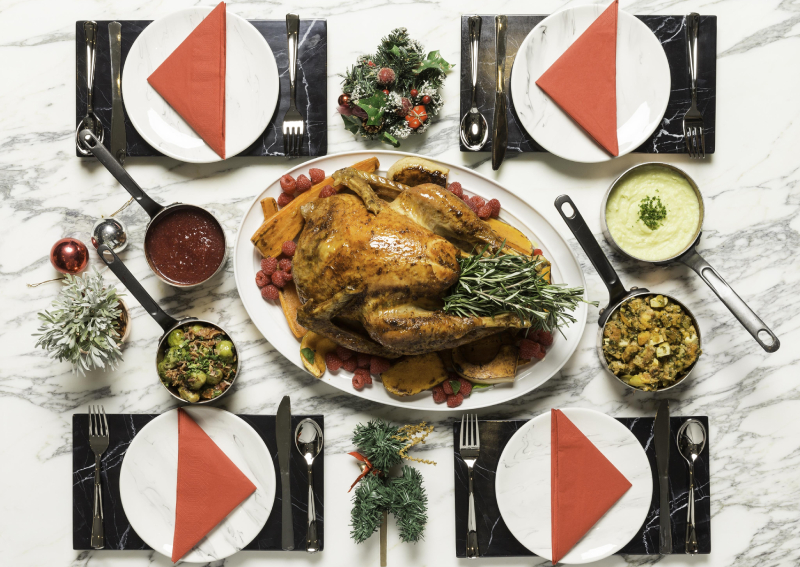 Winestone
For the Christmas season, the Modern European restaurant has rolled out a festive four-course menu. Comprising dishes like Roasted Pumpkin Soup, Wild Alaskan Salmon and Turkey with Winter Vegetables, it's available till Dec 31.
On Christmas eve and day itself, they are rolling out a special menu with dishes like Fillet of Cod with Crab Bisque Risotto and Big Head Prawns Fettucine Pesto.
If you would rather enjoy the holidays from the comfort of your own home, opt for one (or more) of their takeaway festive gourmet roasts like the Traditional Roast Turkey and Low-Roasted US Prime Ribeye Beef.
Prices start from $78++ per person, with an unlimited free flow wine package add-on for $28++ per person. For festive takeaways, place your order here.
Address: 30 Stevens Road, #01-09, S257840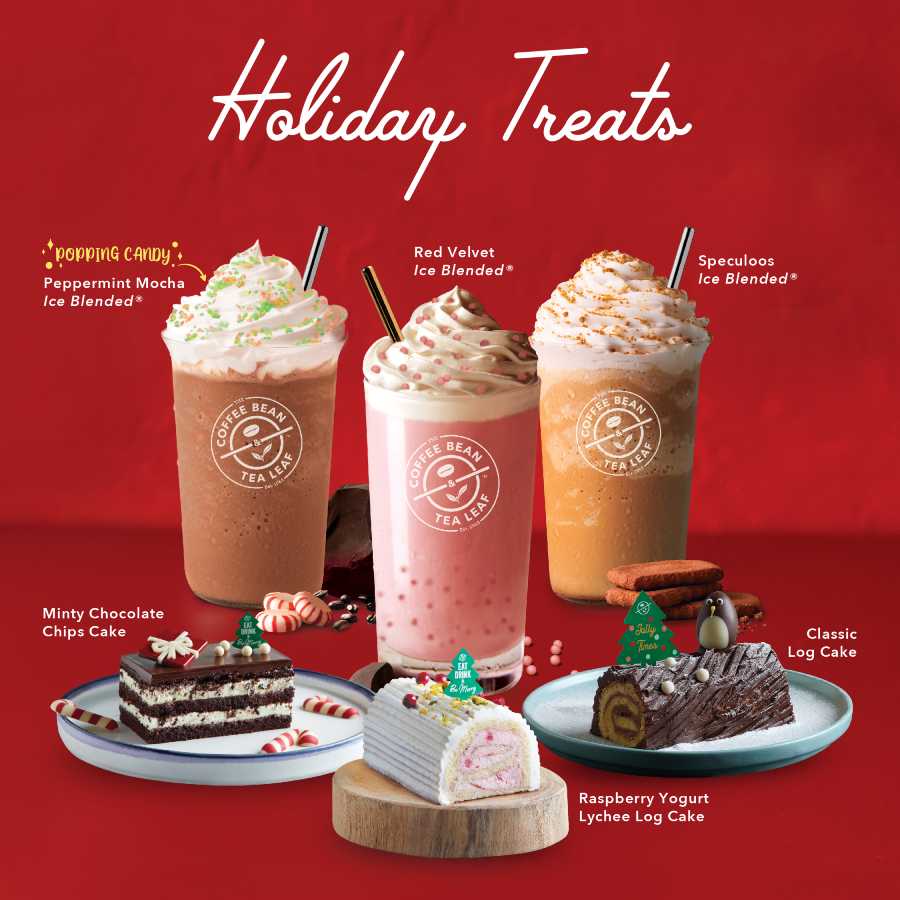 The Coffee Bean & Tea Leaf
The Coffee Bean & Tea Leaf is back again with their range of seasonal drinks. Get ready for the festive season by sipping on drinks like Speculoos Ice Blended, Red Velvet Ice Blended and Peppermint Mocha Latte.
The coffee chain is also offering a range of cakes, featuring new flavours and old favourites like the Classic Log Cake and Raspberry Yoghurt Lychee Log Cake. And because they know that not everyone might want a full-sizes cake, you can also find mini versions in stores.
For those who want something to share with friends during your Christmas gatherings, the nine-piece Christmas Party Pack comes with bite-sized versions of their Red Velvet Cake, Almond Blueberry Cake and Classic Log Cake.
All whole cakes and party packs are available for order from now till 21 Dec, 2020 instore or on Coffee Bean's website. Prices for seasonal drinks start from $7.50 and prices for cakes start from $7.50. The Christmas Party Pack is priced at $22.90.
New Ubin Seafood
New Ubin Seafood may be known for its tze char offerings, but for the festive season they have whipped up a medley of festive goodies for you to enjoy with your family this Christmas.
Their House-Smoked Turkey comes with a complimentary jar of house-smoked maldon sea salt and you can opt for to get either the whole turkey or just the turkey breast.
For something a little different from the usual Christmas spread, get one of their Tze Char Festive Bundles. Each set comprises six different courses, including a 'live' crab course, making it perfect for seafood lovers. Other dishes found in the sets are Chicken Sambal Chinchalok with Petai, Claypot Brinjal with Salted Fish Paella, Chye Poh Kway Teow and Green Dragon Vegetables.
There are also Western food festive bundles that include dishes like BBQ Mackerel, Carbonara, La Galbi with Lettuce and Olive Fried Rice.
All Christmas items are available from now till Jan3, 2021 Prices for festive goodies start from $45+, while prices for the Festive Bundles start from $178+. Visit their website to order.
Cedele
Holding on firmly to their ethos of Eat Well, Be Well, Cedele has rolled out a scrumptious lineup of Christmas goodies that are made with no artificial or processed ingredients.
No Christmas is complete without a turkey, and the Cedele's Rosemary & Butter-Roasted Turkey comes with a side of spiced cranberry strawberry sauce, turkey gravy and Christmas couscous salad to complete this centrepiece.
Other menu options include Honey Cinnamon Glazed Pork Belly, Angus Beef Short Ribs and Lobster & Crab Quiche.
If you're a vegetarian, there are options for you too, such as the Curried Kabocha Squash Gratin.
End the meal on a sweet note with one of their cakes, including the Hojicha Matcha Yuzu Block Cake and Butterscotch Maple Carrot Logcake.
Prices for mains start from $30 and prices of cakes start from $42. Visit their website to order.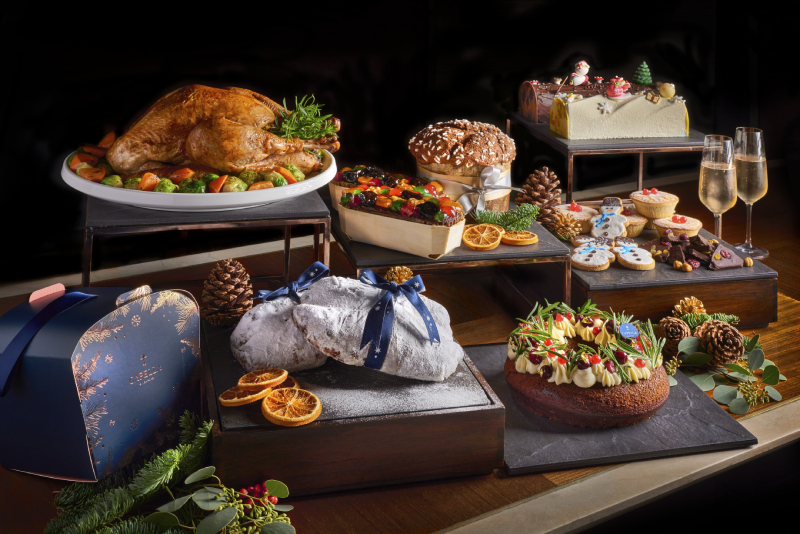 Capella Hotel Singapore
If you're looking for Mediterranean cuisine this Christmas, The Knolls at Capella Hotel Singapore is offering a festive lunch and dinner menu on Christmas Eve and Christmas Day itself.
You can look forward to offerings such as Oven Roasted Turkey with Sautéed Chestnuts and Porcini Cheese Ravioli with Black Winter Truffle. There's also a dedicated menu of plant-based dishes for the vegetarians.
If you aren't a a fan of the typical Christmas fare, Chinese speciality restaurant Cassia is offering a range of Cantonese-style dishes on both Christmas Eve and Christmas Day itself. Some options on the menu include Braised Bird's Nest with Crabmeat in Superior Broth and Baked Spare Rib with Champagne Sauce. 
Prices start from $85++. Visit their website, call +65 6591 5046 or email gr.singapore@capellahotels.com to make a booking. 
Address: 1 The Knolls, Sentosa Island, Singapore 098297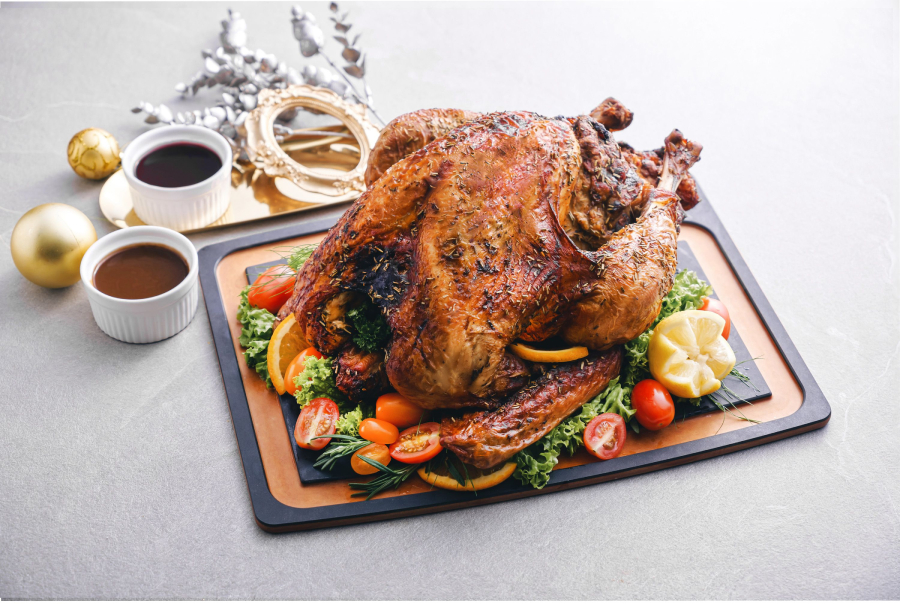 Delifrance
French cafe chain Delifrance may be known for their croissants and bakes, but this festive season they have a lineup of roasts, cakes, cookies and more for the festive season.
Order their menu items individually or opt for curated festive packages that feed up to 10 pax The sets are loaded with Christmas staples such as Rosemary Cranberry Turkey, Citrus Herb Chicken and Stuffed Meat Loaf.
For desserts, there's a spread of cakes priced from $39 to $68 to choose from, including Mango Passion Log Cake, Cookies & Cream and the Joy of Delifrance, which comes in the shape of a talking log.
Prices for cakes start from $39 and prices for the festive packages start from $128. Visit their website to order.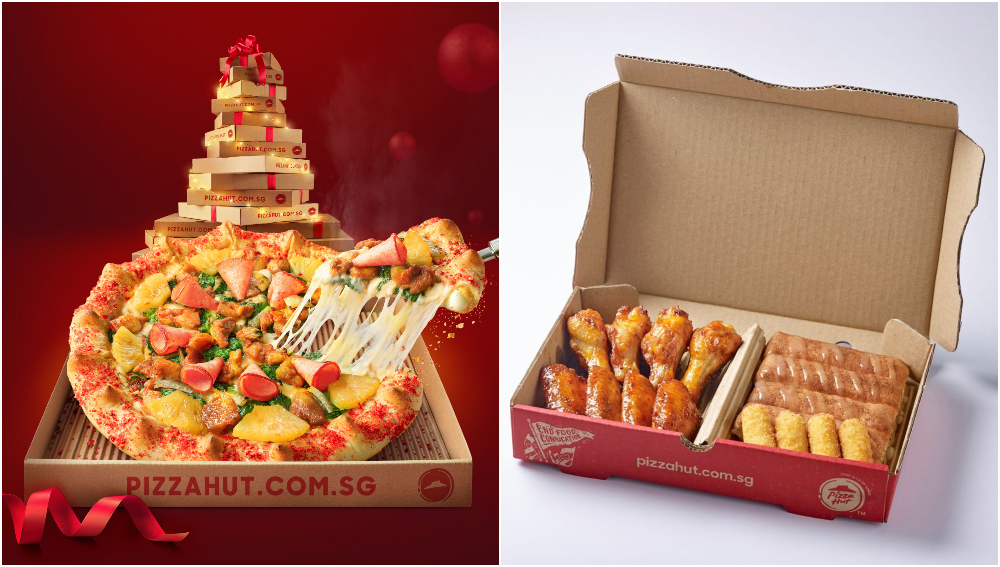 Pizza Hut
You can get festive with pizza this Christmas with Pizza Hut's Christmas Super Pan Pizza series.
The pizzas feature a crispy crust filled with melted cheese, and come with festive sounding names such as The Four Cheese Super Pan Pizza and Christmas Ham Super Pan Pizza. They're also topped off with a dash of red parmesan crumbs for an extra Christmasy touch.
If you're feeding a large group of people, order add-ons such as the Merry Snackbox, which comes packed with goodies such as Sweet n Spicy Drumlets, Cinnamon Breadsticks and Garlic Mozzarella Poppers.
Takeaway bundle prices start from $28.50 and dine-in bundle prices start from $17.90. Orders can also be placed on their website for takeaway.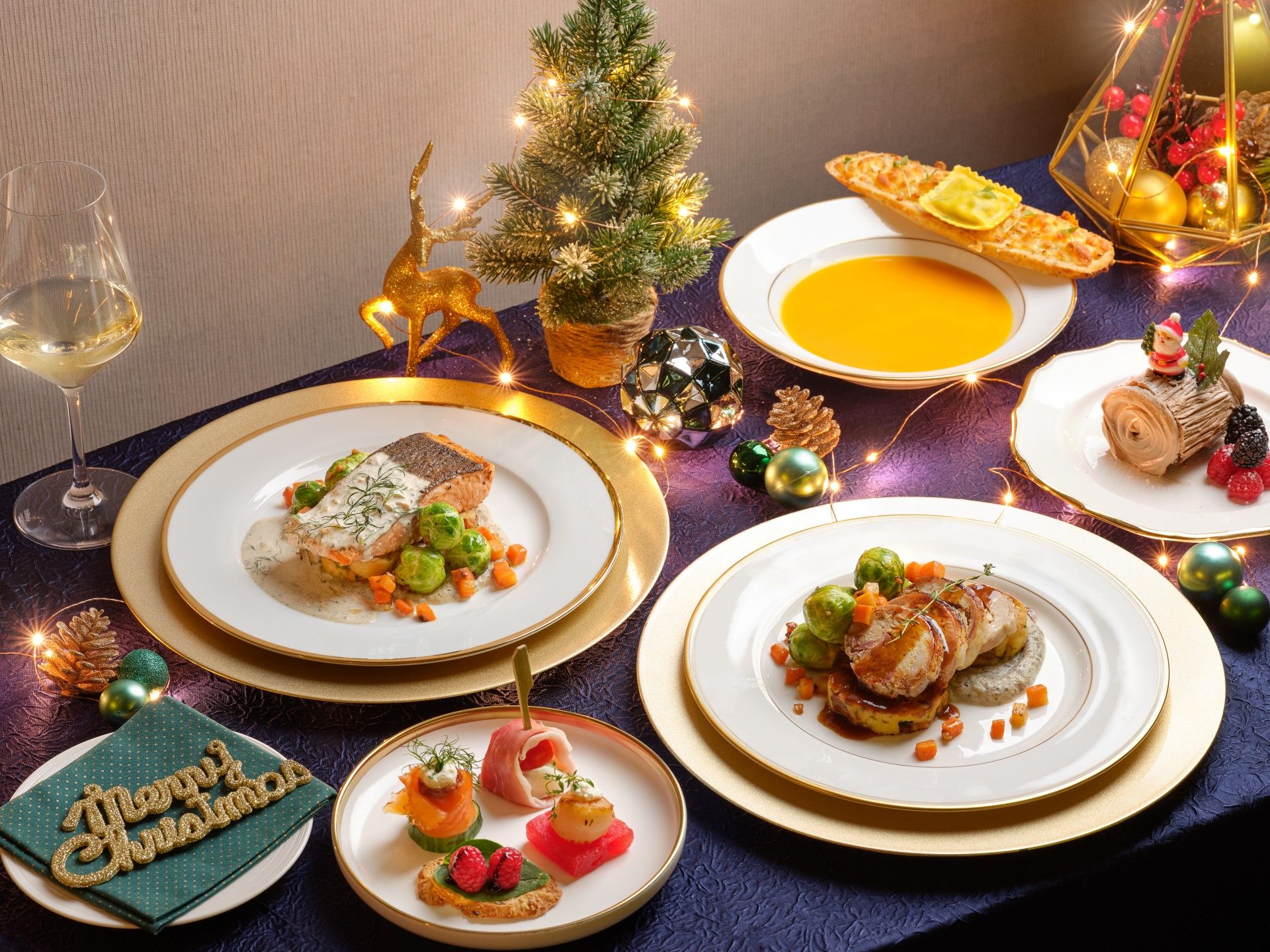 SE7ENTH
The chic restaurant, which specialises in international cuisine, is serving four-course set menus leading up to Christmas. Each set consists of a nibbles platter, soup, your choice of Smoked Turducken Roulade or Pan Seared Salmon in Apple Glazed Butter Cream and a Mini Chocolate Log Cake with Berries.
Celebratory themed set lunches will be available from Dec 21 to 24. You'll get to choose from mains such as the Christmas Gnocchi in Creamy Neapolitan sauce with Spinach and Basil and Turkey Ham with Honey-Glazed Carrots, Brussel Sprouts and Cranberry Sauce.
Prices start from $25++ per person. For dining reservations, please call 6812 6050, email se7enth.premier-singapore@oakwood.com or book via Chope. You can also view the full menu here. 
Address: 6 Shenton Way OUE Downtown 1, Level 7, Singapore 068809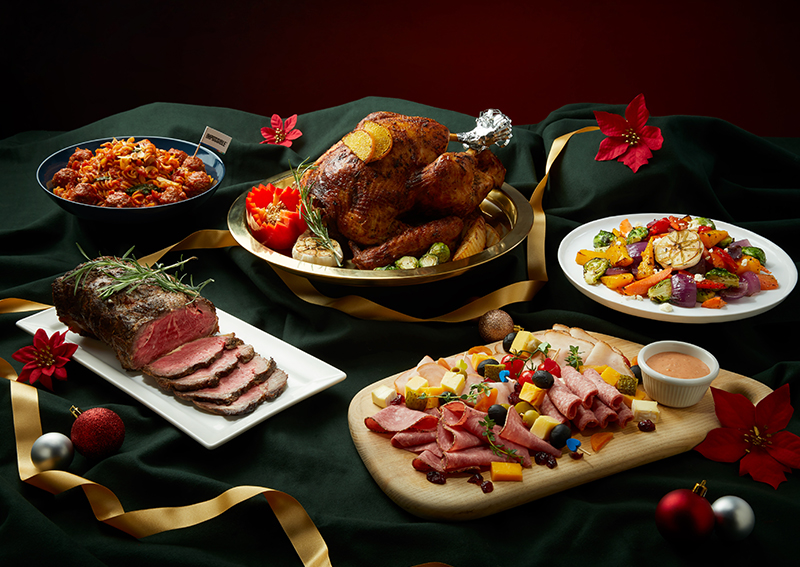 Swensen's
Customise your own Christmas feast for your gatherings with the many festive dishes on Swensen's menu - Garlic Roast Chicken, Impossible Meatball Pasta and Christmas Grazing Platters are just some of the options available.
Can't decide which ones to pick? Order one of the Giftmas Parcels instead. Three different bundles have been put together to cater to groups of different sizes and these are available from now till Jan 5, 2021.
What's a Swensen's feast without ice cream? This year, there's a limited-edition item, Midnight Yule, which is dark chocolate peppermint ice cream flavoured. Cakes are available for now till Dec 31, 2020. 
Prices start from $138 per bundle. Check out their Christmas catalogue here.  
melissateo@asiaone.com