Despite its all-round usefulness as a general utility area and laundry room, the service yard is rarely a top priority for homeowners when home makeovers are concerned.
Still, while many overlook the space, these inspired service yards prove that there's so much more potential that has yet to be unlocked.
1. BUILD IN MORE PREP SPACE
Considering how small service yards are (in general), installing a counter seems to be well… counterproductive. However, the inclusion of a work surface in your service yard is likely to make it more versatile and useful.
For instance, the addition of the countertop in this Yishun apartment provides a large enough nook to house a front loader washing machine and the worktop offers more space for other paraphernalia.
Don't have much of a service yard to call your own? Don't let it stop you from creating your own laundry area! Think a countertop niche that allows you to fit in a washer complete with nifty storage solutions.
2. OPTIMISING YOUR SPACE VERTICALLY
When space is at a premium, it always pays to look up! Besides adding a dropdown clothing rack, you can consider a stackable washer-dryer unit like so.
But wait, before you go ahead, do double check the measurements of your allocated space as these appliances are fairly bulky!
Alternatively, you could try build in tiny shelves into any recesses. This way, you'll have extra space for your accessories. Get a more seamless look by applying the same treatment throughout the space!
3. CREATIVE WAYS TO EXPAND THE SPACE VISUALLY
Considering their relative distance to each other in HDB apartments, most of us treat the home's service yard as an extension of the kitchen. For a smoother transition between the spaces, use a graphic tile flooring that extends from the kitchen into the adjacent service yard. This consistent visual motif will make the two spaces look one and the same.
Then, swap out mesh detailing for glass windows to really brighten and create the illusion of a bigger space.
A galley-style layout works even better. Just think about it: letting your kitchen take over the yard means a larger cooking space. Moreover, tucking everything against the walls means additional legroom!
4. INTRODUCE A SPLASH OF GREEN
Although there are plenty of ways to doll up your service yard, the simplest method is use… that's right, houseplants!
If you have the luxury of a bigger service yard, consider including a shelving unit like the one found below. Not only does it provide easy access to all your laundry essentials, you can even house small potted plants with them!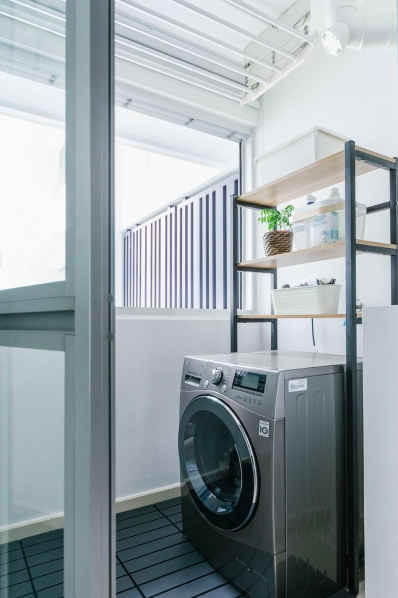 MAKEOVER YOUR HOME AND RECEIVE A PHILIPS HOME STARTER KIT (WORTH $600)!
Connect with up to 5 design firms for non-obligatory quotes to redeem a Philips Home Starter Kit worth $600 AND a Qanvast voucher kit!
All you need to do is submit your renovation details via this link here and engage a firm through Qanvast before 21 October 2019! Find out more about the kit and redemption details here.
This article was first published in Qanvast.