'He was actually really excited': This woman got matching tattoos with her 91-year-old grandpa
PHOTO: Instagram/kimberryx
PUBLISHED ON
April 20, 2022 10:19 AM
By
Melissa Teo
Many from the older generation would be horrified if their grandkids came home sporting a new tattoo, but not Ortega Francis. 
In fact, the 91-year-old is so cool about it that he even agreed to get matching tattoos together with his granddaughter, Kimberly Andrea Lim, 27.
To document the occasion, Kimberly uploaded a series of Instagram pictures and videos on Monday (April 18) of her and Ortega flaunting their new ink. 
"One of the wildest but best things that happened in 2021 — I got a matching tattoo with my [grandpa]!" read her excited caption. 
[embed]https://www.instagram.com/p/CcfPcDdlhGe/[/embed]
While some may assume that Kimberly had to do plenty of convincing to get her grandfather to do this, she told AsiaOne that it was the complete opposite. 
"He was actually really excited. The first time I brought it up, his eyes lit up," she said when we asked about Ortega's reaction to her request. 
"I told him that this tattoo would signify our special bond, also because I'm his favourite grandchild," she added with a laugh. 
While this isn't his first tattoo — the last time he got inked was 70 years ago — Ortega was concerned that his skin would not be taut enough for a tattoo. 
However, he "loved the idea" so much that he decided to just go ahead with it anyway. 
[[nid:536168]]
"He's always loved tattoos since he was young, so to be able to experience getting a tattoo again after 70 over years, you can imagine how refreshed and alive he felt," shared Kimberly. 
Their matching tattoos, which are of the word "pray", have a symbolic meaning too. 
Kimberly says that growing up, Ortega always reminded her to pray, so it just made sense. 
"Growing up Catholic, it ties in with my family's roots and the religious symbolism means a lot to us," she says. 
And Ortega definitely has no regrets about his new tattoo because he's already looking forward to his next one, which will be of Mother Mary. 
Their tattoo artist wasn't a stranger
While most people usually research their tattoo artist and their portfolio before going under the needle, Kimberly didn't have to because her artist was her boyfriend, Christopher Sim, 34.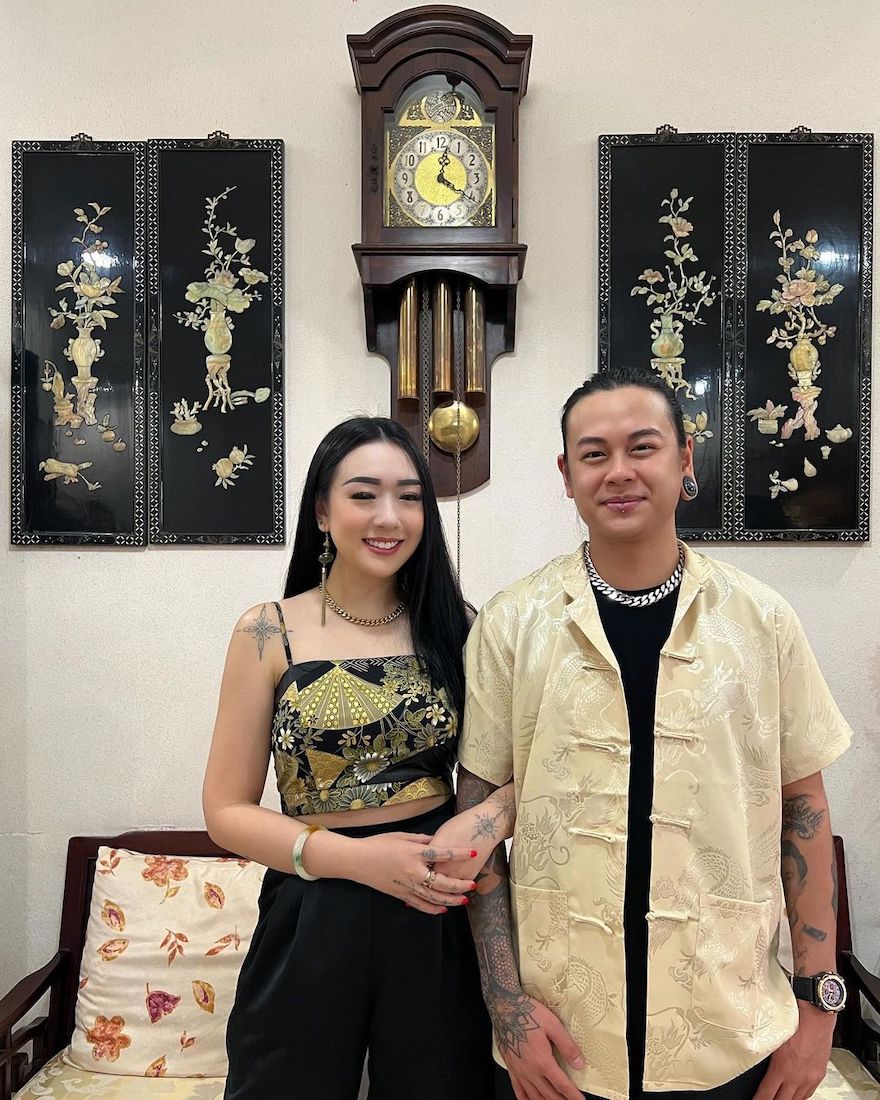 Prior to this, Christopher had already done 21 tattoos for Kimberly, including matching ones with her mother and sister. 
When he heard that Ortega was keen on getting a tattoo done, Christopher was "super thrilled about the opportunity". 
"My grandpa adores him and the both of them have a very cute relationship," Kimberly said. 
"Grandpa is his oldest client to date, and for a tattoo artist, it's a rare chance to [be] able to tattoo someone of that age. So it's really quite a once in a lifetime experience!"
And Ortega isn't the only one who got inked that day. Kimberly reveals that her grandmother, Elizabeth Fernandez, 70, got her very first tattoo on the same day. 
"I was gonna make another post for it, there's just way too many good photos," Kimberly told us with a laugh. 
melissateo@asiaone.com