It's been more than a week into the circuit breaker period, and most of us have been conditioned to stay at home as much as possible and to only leave our homes when necessary.
However, we may still have to go out to get groceries or head to work, for people working in essential services.
While we all know the drill on practising proper hygiene such as washing our hands frequently or disinfecting our homes, what do we do with our clothes when we return home?
A Singaporean paramedic recently shared his daily routine of disinfection after work – showering and washing his clothes immediately once he's home.
Here's some tips on how to ensure the virus doesn't stay on your laundry, especially if you've been in a hospital setting or have been in contact with someone suspected of having Covid-19.
Wash at high temperatures
PHOTO: Unsplash
If the clothing material is resistant to high-temperatures, you can disinfect it by putting it in the wash at a temperature of at least 56 deg C for 30 minutes. For those who have dryers at home, you can also pop it in at temperatures above 80 deg C and dry the clothes for 20 minutes.
Another option is to wash your clothes with a bleach-based product at 40 deg C. For delicate clothing that you usually hand-wash, it's time to use a protective laundry bag and throw it into the washing machine.
The higher the heat and longer the wash, the lesser chance of the virus surviving.
Wash in chemical disinfectants
If the clothing material cannot withstand high heat, you can soak it in chemical disinfectants instead. According to a video by Xinhua News Agency, some of them include:
Phenolic disinfectant
Quaternary ammonium salts
Chlorine containing disinfectant
But do read the instructions carefully before starting the disinfection process.
Besides your clothes, don't forget about disinfecting your jackets and shoes as well. Always check the product labels to know what's the most suitable method of washing.
For shoes, a suggestion is to soak them for a few days in detergent or to bleach shoes if they are white.
Wash linen separately from towels and clothes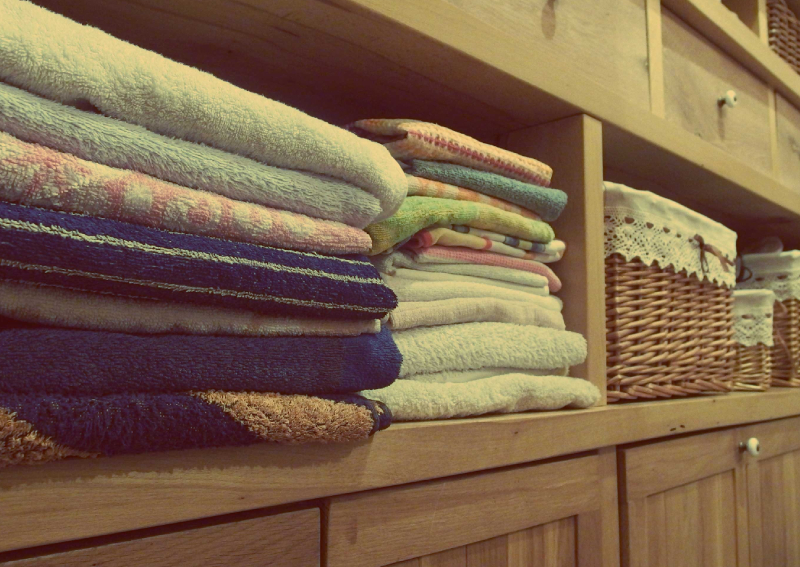 PHOTO: Pexels
Just like how you should separate your home clothes from clothes you wear out, especially in the current climate, it's ideal to wash your clothes and towels separately from household linen. Germs can potentially stay on towels slightly longer due to the material, which is able to retain more moisture.
You should wash them at a high temperature of 60 deg C and use bleach-based products for white bath towels or sheets.
Laundry tips
Run your washing machine through a quick cycle after every use for disinfection
When in contact with dirty laundry, use gloves
Wash your laundry in small batches regularly to avoid germs from accumulating and lingering around
Always wash your hands after doing laundry
It's always better to be safe than sorry and we all have our part to play in keeping our homes clean to keep our loved ones safe!
For the latest updates on the coronavirus, visit here.
trining@asiaone.com