Fears about the Covid-19 virus outbreak have gripped the world, and it can be tough to feel positive in the face of a situation that is out of our control. However, what's within our control is the ability to help out those in need.
As the virus continues to spread and impact the economy and livelihoods, local businesses and vulnerable groups in our society need our support more than ever to weather through this crisis.
From making donations to volunteering your time, here are some things you can do to help out during this challenging period.
Make a cash donation
You can donate money to The Courage Fund, a fund which was set up in 2003 during the SARS outbreak to support healthcare workers and victims.
Donations will be used by the Community Chest to support healthcare workers, patients, frontline workers and vulnerable Singaporeans who are affected by the Covid-19 outbreak.
For more places that need your donations, check out SG United, a one-stop portal designed to link Singaporeans to the various funds and charities that are in need.
They even have a Telegram channel where you will receive timely updates on relief efforts.
Funds you can donate to include The Sayang Sayang Fund, which aims to raise money for transportation vouchers for healthcare workers, elderly and low income families, as well as charities like Food From The Heart and Children's Wishing Well which need contributions to provide food and groceries to vulnerable families.
Crowdfunding platform Give.asia also has a dedicated section for Covid-19 fund-raising efforts.
Also consider donating to Habitat For Humanity's home rehabilitation program.
They aim to help the elderly and low income families with little to no financial or social support clean up their homes and make it safe and liveable.
This is an especially pressing issue now that the Government has advised all Singaporeans to stay home as much as possible.
Alternatively, you can also purchase a UV Sanitiser from Casetify.
Not only will you be able to keep your phone clean and sanitised, all proceeds from its sales will go to global crowdfunding community, GlobalGiving's Coronavirus Relief Fund.
Donate blood
Back in February, the Singapore Red Cross made an appeal for urgent blood donations when stocks for common blood types fell low due to a decrease in donors following the coronavirus outbreak.
Although those supplies are at a healthy level now, our blood banks are always in need of blood donations and you can help by becoming a regular blood donor.
A quick check on their website shows that right now, they are in urgent need of donations from blood types O- and A-.
You can check here or call 6220 0183 to assess your eligibility to donate blood.
Donate In-Kind
If you have extra surgical masks or hand sanitisers, consider donating them to Contribute.sg.
Set up by two Singaporeans who wanted to help out during this trying period, they collect the donations of these essential items and distribute them to those in need.
So far, they have delivered almost 25,000 masks and 1607 bottles of hand sanitisers to places like Singapore Chung Hwa Medical Institution and Metta Welfare Association as well as frontline workers such as bus drivers and medical staff.
To contribute, simply leave your donations at any of the 7 designated drop-off points.
Another place you can donate to is Its Raining Raincoats which collects new or pre-loved items for our migrant workers.
They are currently also accepting donations of masks, sanitisers, and disinfectant products which will be distributed to the workers.
Volunteer your services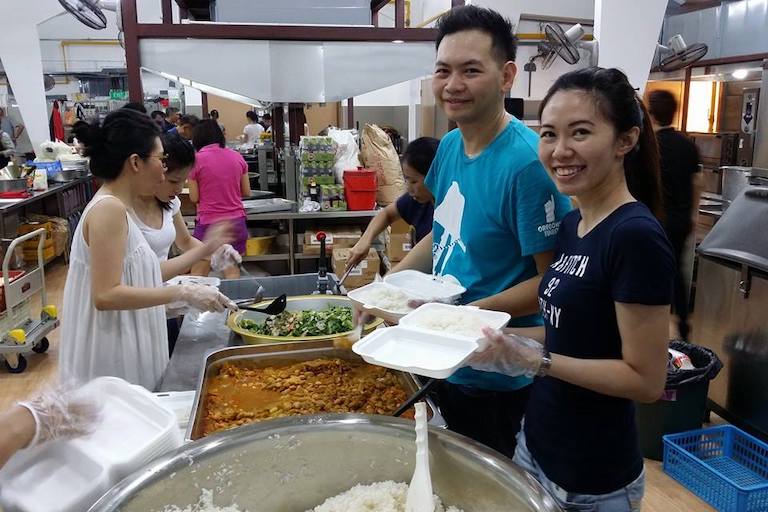 Many charities and non-profit organisations are facing a decrease in volunteers due to the outbreak and they need more people to step up and help out.
You can check on seniors who are living alone, be a facilitator at a tuition centre for students in need, or be a chaperone to accompany vulnerable seniors when they go to hospitals for their check-ups. For more volunteering opportunities, visit SG United to see where help is required.
You can also volunteer at soup kitchens like Willing Hearts which operates daily (including public holidays) to deliver about 6500 meals to beneficiaries at more than 40 locations throughout Singapore.
Volunteers can help to cook, pack food, wash up, or just be of general assistance in the bustling kitchen.
Support local businesses
As more and more people are staying home, many of our local businesses have been hit hard.
A group of Singaporeans came up with ChopeAndSave to combat this situation.
Through this platform, you will be able to see which small businesses are offering gift cards that you can purchase for yourself or your loved ones.
Even if you can't head down to the store now, the gift cards can be used at a later date when the situation gets better. Meanwhile, the purchases will help to keep businesses running during this difficult period.
There are also platforms like iSAVE.SG and Locally Local that highlight special offers like 1-for-1 deals and discounts to encourage Singaporeans to support local restaurants and businesses as much as possible.
Start your own initiative
Want to start your own fund-raising initiative or donation drive?
Share your idea with the Government by filling in this form and they will get in touch to see how they can assist you.
If you need resources, you can apply to Our Singapore Fund by MCCY or the Singapore Strong Fund by the Majurity Trust for grants.
For the latest updates on the coronavirus, visit here.
This article was first published in CLEO Singapore.