After acquiring his new home, the owner, who lives in Hong Kong, decided to make good use of his skillset as an interior designer by designing his own place. He fused the traditional Japanese-style with a modern slant, resulting in an apartment design that could be regarded as a milestone in his career.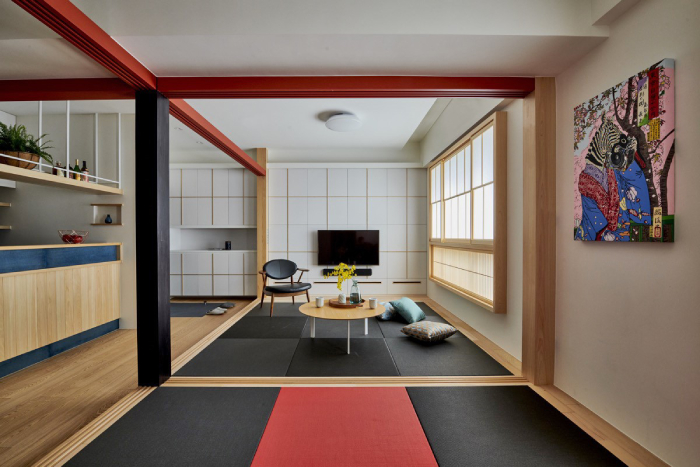 One of the main elements he took from traditional Japanese design was the idea of using sliding doors to demarcate spaces. The sliding doors helped divide the areas into different purposes, such as the living room, bedroom and the guest room. The flexible and versatile design was ideal for the small space. He also used tatami mats and natural wood to add a warm touch to space.
Against a clean and light Japanese atmosphere, he chose not to use the traditional rustic colours, but employed bold reds and blacks to create a strong visual impression. Together with the bright and colourful paintings decked around the home, the character of the design stands out remarkably.
A part of the communal space was decked out in wallpaper, which was a collaborative piece done by the homeowner himself together with a professional wallpaper expert in Taiwan.
In terms of furnishings, he did not seek them out with intention. Instead, preferring to come across pieces he loves before including them into his home. As such, many of the pieces were souvenirs from his trips to Japan, creating a personal story that is unique to his space.
When it comes to furniture, the homeowner sourced for quality Japanese handmade ones that offer a good balance between ergonomics and aesthetics.
One of his favourites is this low chair in the living room. With a short and wide seat, one can lay back comfortably and stretch out one's legs. It's even comfortable sitting cross-legged on it. The L-shaped chair feet can disperse stress points and avoid leaving indentations on the tatami mats. It also prevents the rest of the people sitting on the floor or on the sofa from feeling a sense of distance.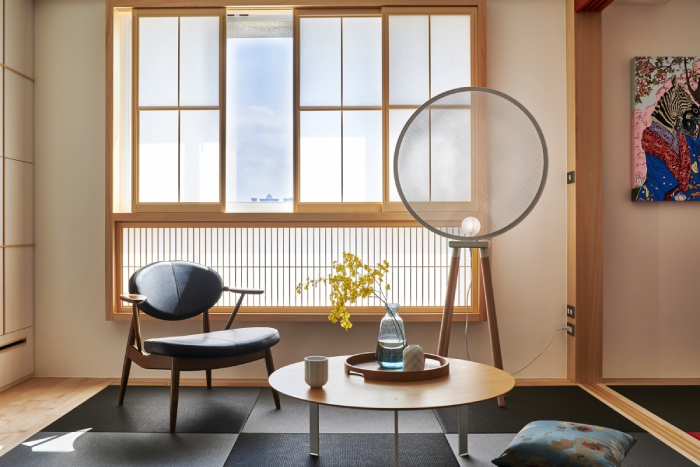 The living space in Hong Kong, like Singapore, is relatively small generally. Through good interior design, it can give you a more spacious living environment.
This article was first published in Renonation.