Do you use smart locks or are you still holding on to the traditional lock-and-key system? For our fifth episode of Insights, Outside, we approached folks at Raffles City to find out what they know, as well as their concerns, about smart locks. At the end of the view, we share must-know facts about smart locks.
You should also watch the first episode, where we ask homeowners what they want for their dream homes, as well as share renovation tips. Can't decide if you should have an open or closed kitchen? Get some ideas here.
Here are three smart locks you should consider:
THE PUSH PULL SAMSUNG DOOR LOCK
Samsung SHP-DP738 lets you unlock your door in four different ways: via the smartphone app, fingerprint, a touchscreen PIN code, and a mechanical key. Their new push-pull function was designed so users can enter open the door conveniently - with just a push when you are outside, and a pull when you're at home - even if their hands are full. That eliminates the twisting action found in most traditional lock-and-key systems. Other Samsung SHP-DP738 features include a log record, the ability to issue a one-time PIN for family members or deliverymen, and an intruder alarm which is activated when the smart lock detects suspicious movements for prolonged periods of time.
More information on the Samsung SHP-DP738 smart lock here.
THE IGLOOHOME SMART MORTISE LOCK
The Smart Mortise Lock by homegrown brand Igloohome is manufactured in South Korea. It has multiple entry modes such as a PIN code, a bluetooth key via the smart phone, as well as a physical key. You also don't need Wi-Fi for the Smart Mortise Lock to work; this reduces the chances of Wi-Fi hacking. The technology encrypts your data, too. Renting out your home on Airbnb? Igloohome's Smart Mortise Lock can automatically issue PIN codes to your guests after you synchronise your Airbnb calendar. Other features include a fire alarm and an emergency power supply. When the batteries are flat, an external DC9V battery can be used to jump-start the lock. Like Samsung, the Smart Mortise Lock also allows you to simply pull down the handle - it assures an anti-panic and easy exit system in times of emergencies.
More information on the Igloohome Smart Mortise Lock here.
ASUS SMART DOOR LOCK (DL101)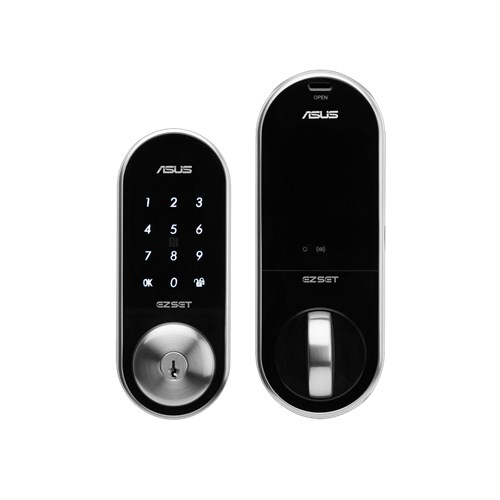 You can unlock your Asus DL101 in four ways: via a PIN code, the SmartHome app, using the NFC (Near-field Comunication, which means the the lock will be activated when your smart phone is near), as well as a traditional key. Security is Asus' top concern; the DL101 features an anti-tamper alert to scare off intruders, an auto-lock system after 30 seconds, as well as a randomised code to prevent anyone from guessing your password. It was also designed to be protected against high-voltage shocks.
More information on the Asus DL101 smart lock here.
This article was first published in Home & Decor.