Ever wondered what your salary and shopping habits are like in comparison to your peers? Money Diaries is a new column by CLEO that takes an honest look at how young Millennial and Gen Z women spend their money.
---
We speak to a 24-year old fresh graduate working in her first full-time job as a videographer in a media conglomerate.
Occupation: Videographer
Industry: Publishing/Media
Age: 24
Education level: Degree
Salary: Around $3,000
MONTHLY EXPENSES
Student Debts: $300/month
Allowance for Parents: $200/month
Netflix: $7/month
SHOPPING EXPENSES
How much she thinks she spends: $50
How much she actually spent: $158.40
ON HOW SHE SHOPS:
"I think I spend about $50 a month on shopping alone. I tend to not go over $30 for clothes, $50 for shoes and $20 for bags.
I'm usually a window-shopper, and this includes browsing the ASOS outlet page, opening 20 tabs, saving my favourite 15, and then closing all of them three hours later.
I only really make a purchase every three or four months when my sister is generous enough to get me something on my wishlist or if I schedule a free day for me to really ransack the sales rack in a physical store.
For online stores, I shop predominantly on ASOS and Pomelo.
For physical stores, I tend to only spend at thrift shops now upon learning the ramifications of my previous shopping habits, which is buying things that I don't really want (or need, to be frank) at fast fashion stores because they are 'on sale and relatively cheap'."
ON HER RELATIONSHIP WITH MONEY:
"I think my relationship with money is terrible. Not because I spend recklessly, but because I constantly feel like I don't have enough even though I know I save at least one-third of my salary (about $800 to $1,000). A lot of it has got to do with the financial trauma that my parents (namely my mother) put me through when I was younger.
I would say I come from a low SES background. Before my father passed away, he was a taxi driver whilst my mother worked in the admin department of a company. It didn't help that my mother not only had terrible spending habits, but also couldn't secure a stable job. It got so bad that there were times I was afraid I wouldn't be able to graduate because we couldn't afford to pay for my school fees.
My mother always made me always feel terrible for asking her for money. So one day, I decided to stop.
From the age of 19, I started supporting myself financially through temporary retail jobs and government bursaries to put myself through school. It was tough feeling broke all the time and even though I'm financially stable now, thanks to my job, I still feel like it could all disappear anytime."
ON THE BEST FINANCIAL ADVICE SHE'S RECEIVED:
"I'm so grateful for my elder sister because she was the one who taught me how to be financially-savvy. She taught me how to categorise my savings. You should always have one for emergencies, one that you can draw from time to time (like holidays or big purchases) and one that you don't touch at all.
My previous attitude towards money was that if I had anything at all, that would be good enough. But now I no longer fear it even if there's still some residual trauma from my teenage days."
HERE'S WHAT SHE BOUGHT IN A MONTH:
Shop similar here: Vintagewknd vintage midi dress, $32
27th Aug: I went thrifting to curb my shopping itch at New2U Thrift Shop and left with 3 dresses despite having only one body. At least I am doing my part for the environment by shopping sustainably and contributing to the proceeds that go towards Star Shelter and the various Singapore Council of Women's Organisations (SCWO) Initiatives.
Spent: $12
Shop similar here: Pomelo front knot tank top, $24
28th Aug: I placed an online order for a white knit tank top as all my white tops have officially gotten too thin to wear, even with a nude bra. I'm confident that this top will last longer than the regular cotton ones that I usually get from outlet malls.
Spent: $24
Shop similar here: Charles & Keith mesh slingback sandals, $46.90
16th Aug: I love my Charles & Keith sandals (which I have worn almost daily for a full year), but it was wearing out in certain places. I bought a new pair because I cannot bear to wear socks when I don't have to in this unforgiving Singapore weather. Also, a friend of mine works at the brand and this is why you maintain adult friendships.
Spent: $32.80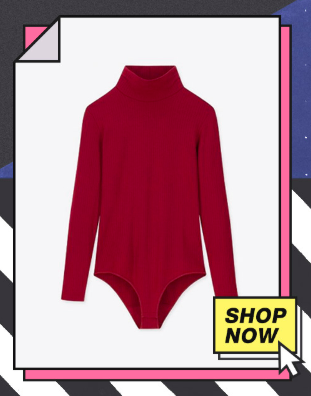 Shop similar here: Uniqlo heat tech ribbed bodysuit, $49.90
19th Aug: I got activated to head to Paris for work and my sister, knowing how deathly afraid of the cold I am, brought me straight to Uniqlo for their thermals. I walked out with 3 thermals and a dress. At least those are purchases that I can wear often (due to the freezing temperature in my office) and the dress has pockets!
Spent: $89.60
This article was first published in CLEO Singapore.