Singaporeans are never one to pass up on a good deal.
In fact, we're pretty adept at sniffing out opportunities to save some hard-earned cash, especially if it smells as pungent as the thorny king of fruits.
So when Four Seasons Durians Restaurant went viral last weekend (June 15 and 16) for their $1 durian hotpot deal collaboration with Shopback, I knew I had to check out their newest eyebrow-raising creation.
After all, over 600 servings of Mao Shan Wang hotpots were snapped up within 10 hours, and curious foodies reportedly formed a queue that stretched over 12-metres.
According to Shin Min Daily News, customers have waited up to 45-minutes for a seat - but is it worth the hype?
And as someone who loves both durians and hotpots (as separate dining experiences), will the combination prove delightful on the palate or downright nasty?
BOILING DURIANS IN CHICKEN SOUP?!
I've got to concede that the restaurant knows how to make a solid hotpot base that's good on its own. Even though it's basic chicken soup, it tastes like it's been boiling away on the stove for hours and enriched with Chinese herbs like goji berries.
Once the durian had been mixed in however, my mind struggled to comprehend the juxtaposition of sweet and herbal flavours in my mouth.
Mao Shan Wang Durian Hotpot ($35).  PHOTO: AsiaOne/ Joey Lee
Although the soup was rich, the taste of durians surprisingly did not overpower the original chicken soup. Instead, I was presented with a complementary yet mind-boggling concoction that automatically made me reach for a second sip.
The addition of other ingredients such as clams and beef only served to sweeten the soup naturally and the bits of durian flesh that disintegrated stuck to every morsel of food I managed to pick up from the pot.
Overall I feel like the dish is an acquired taste that seasoned durian eaters can come to appreciate.
If you're not a fan of the fruit however, then this dish might prove a little overwhelming, especially since the creaminess of the soup proved a little too cloying after a while.
WILL DURIAN FRIED RICE BRING ME TO PARADISE?
Fried rice is one of the safest Asian staples that has the ability to taste good, no matter what leftover items in the fridge gets thrown into the wok. 
Safe to say durian is no exception.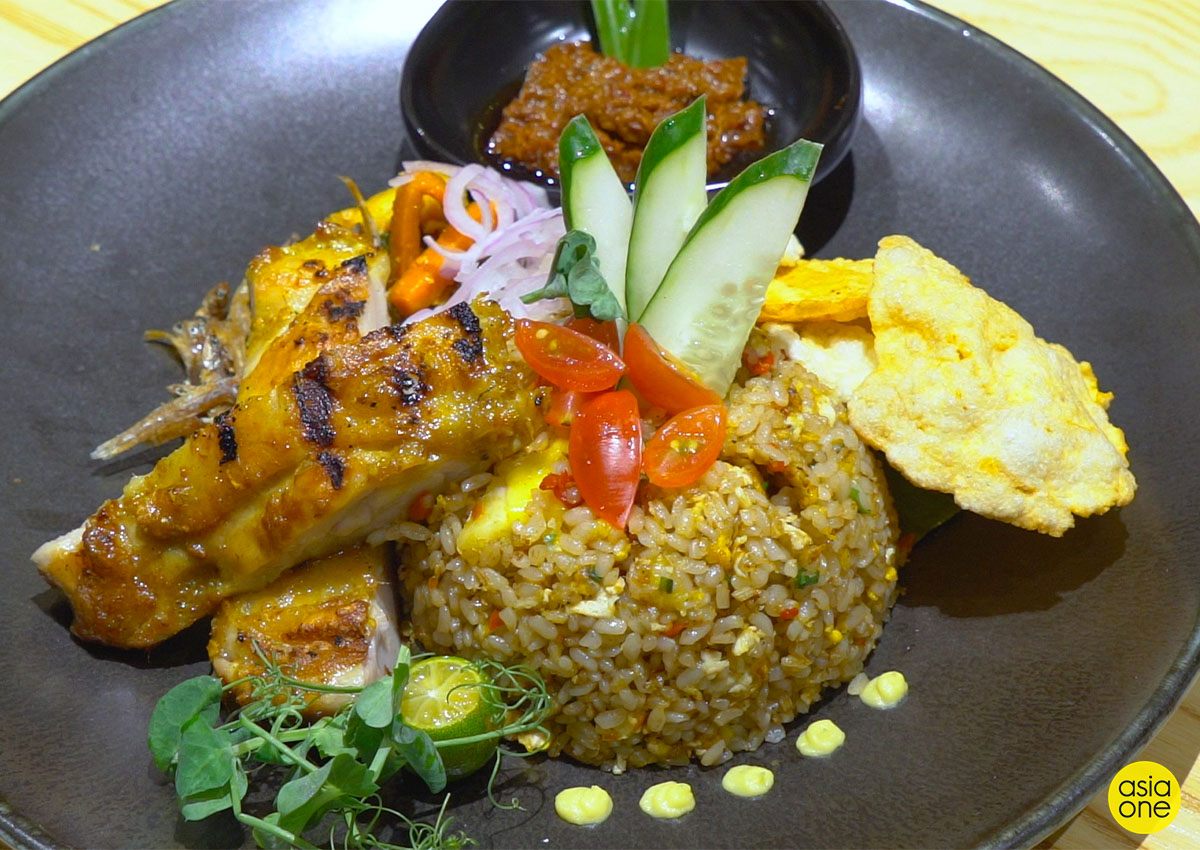 Kampung Mao Shan Wang Durian Fried Rice ($18).  PHOTO: AsiaOne/ Joey Lee
Although subtle, the taste of durians lingers as an aftertaste unless you bite into chunks of the stir-fried and lightly charred fruit.
Served with pickled vegetables (achar) and belinjo crackers, it's more of a Malay-styled Nasi Goreng than Chinese fried rice.
Watch out for the spiciness if you can't handle your chillies because the rice is unexpectedly packed with more chilli than we were prepared for.
In all honesty, I prefer this dish over the hotpot as I felt the flavours complemented each other better.
There was more balance between the sweet and savoury flavours and the sour tang of the lime and achar gave the dish an additional kick compared to the hotpot.
At the end of the day however, nothing beats the real fruit.
So if you're craving durians, go crack one open (FYI: the restaurant provides fresh durians too), but if you're feeling adventurous, this is one place you might want to drop by.
Where: Four Seasons Durians Restaurant Address: Jewel Changi Airport #B2-227/228, 78 Airport Boulevard, Singapore 819666
This article is part of AsiaOne's #Joeyjios series where she brings the internet along on her adventures. If you like Joey and want more of her, check out the hashtag on Facebook, Instagram, Twitter and YouTube or follow us at AsiaOnecom. Stay tuned to this space for more!
joeylee@asiaone.com