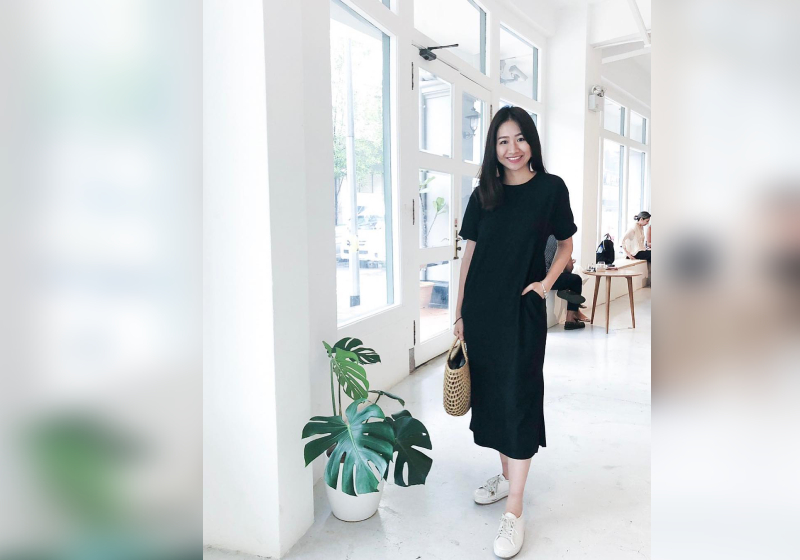 You might not be initially impressed by a brand who solely does the classic t-shirt dress.
But, when you think globally (i.e. the #metoo movement, the #timesup hashtags that littered social media, #globalwarming and the rise of sustainable fashion), you'd realise how everybody has suddenly jumped onto the bandwagon of the street wear culture that's, de facto, not for every woman.
Now, let's zoom back into the merits of the humble t-shirt dress: it's pleasingly simple (no one is going to have trouble styling them), looks good on most women, and instills confidence the minute you put it on.
Knowing that every woman should have this as a staple, preferably sustainably made without breaking the bank (it only costs $65 after all), founder of Paradigm Shift Audris Quek has decided to focus on the classic. 
Keep reading to find out how she has done it in style.
1. SHE WAS A WORKING WOMAN WHO HAS DECIDED TO MAKE A WORKING WOMAN DRESS
"I was in the events management industry before jumping into the fashion business," says Audris.
"Whilst running an event for start-ups and mentorship, something in me shifted and ignited. Firstly, [it was] a realisation that events management was personally not satisfying, and secondly, I had a dream as a teen, [which is] to start my own fashion label. I was also then wearing a lot of plain t-shirt and shift dresses. Hence, the long tee-dress became the perfect combination of both styles."
2. NO TRENDY STYLES HERE. IT'S JUST THE CLASSICS THAT TRANSCEND EVERY SEASON
"I started the brand because I wanted to use fashion for good," explains Audris. 
"I envisioned the label to shift paradigms in the fashion world, where [the current] trends are influencing young women to wear less or dress skimpily based on advertisements. I strongly believe [that] modest dressing and timeless designs can be fashionable."
3. JUST LIKE THE DRESS SILHOUETTE, INCLUSIVITY WILL ALWAYS AND SHOULD ALWAYS BE IN STYLE
"It was also made apparent to me that the plus-sized community is often left out when it came to sizing, at least in the local fashion scene," says Audris. 
"The Long Black is not a one-size fit all, but it definitely is a one-style fits all."
"We have 7 different sizes, ranging from XS to 3XL, which is essentially a UK4 to UK18. 2XL is between a UK14-16, and 3XL is between a UK16-18," she continues. 
"With that, I decided that Paradigm Shift will be an inclusive community where women can celebrate each other's beauty regardless of society's standards. We are all beautiful just the way we are."
4. THESE ARE CLOTHING PIECES WITH A CONSCIENCE
"On my recce trip to Nepal, I witnessed first-hand how people slogged it out in horrible working conditions with tonnes of production orders (accepted by their own bosses) to fulfill," says Audris. 
"As a 14-year-old, my dream was to 'Design my own apparel, have my own business, and use the money to help the less fortunate.' Hence, one thing I hope for Paradigm Shift to achieve is to bridge the gap between the first and third world. That could look like providing jobs or investing in children/youth at risk."
5. THEY ARE ALSO PIECES THAT ARE FUNCTIONAL AKA POCKETS
"Our products are designed to be functional (their pockets go eight inches deep) and versatile," explains Audris. "The Long Black is also made of [an] upcycled fabric from India, bought over by us from a large production house. It is made out of 98% cotton and 2% spandex — lightweight and breathable. When hung to dry, the fabric straightens itself out. We are also hearing from customers that they really want an olive and burgundy option which we're looking into."
6. EACH OF THE LONG BLACK IS LOVINGLY AND SUSTAINABLE MADE
"Our first collection was produced in Purnaa, Nepal, where it gave six women a hundred days of work," says Audris. "Thankfully, the manufacturer has other clients producing with them and supporting their vision, so the women are still employed. We will be having a long-term relationship with Purnaa and hope to produce another batch of dresses with them in 2020 in different colours."
"Moving forward, we will also be working with more ethical factories," she continues. "Our next run is going to be produced in China. We want to break the stigma that 'Made in China' equates to being cheap. Paradigm Shift aims to partner with ethical factories to provide employment opportunities. We say: 'With every purchase, a life is directly impacted.'"
7. YOU'RE GOING TO WANT TO KEEP AN EYE OUT FOR THEIR NEW LAUNCHES
"The inspiration behind our first collection was birthed in a cafe whilst I sipped on coffee," Audris explains about her brand. "Everything happened [in] slo-mo when the eureka moment happened."
"Our community has been very patient and supportive in the journey and we will be launching The Flat White (a summer dress) and The Iced Latte (a linen jumpsuit) soon. They're both perfect for the Singapore weather."
Shop Paradigm Shift today at www.paradigmshiftlabel.com.
This article was first published in Her World .