More Singapore parents are having 100-day celebration party for new baby
PUBLISHED ON
June 13, 2019 7:11 AM
Traditional full-month parties are so 2015. More Singapore parents now prefer to wait until Baby turns 100 days old before throwing a grand celebration.
While it's been gaining momentum here in the last three years, this is a customary practice in other Asian countries.
Traditionally, the Koreans celebrate their newborns' first 100 days of birth, which was considered a feat back in the olden days as most of them didn't survive their first few months.
Over in Japan, an okuizome ceremony awaits the 100-day-old baby. Parents take turns to "feed" him a traditional, full-course meal to signify a lifelong abundance of good food.
Here in Singapore, Joanne Peh (pictured above), Shaun Chen (below) and Kim Lim were among the celebrity parents and influencers who embraced this practice.
Inspired by actress Joanne's social media posts of her second child's bash, first-time mum Jane Toh decided on a party to celebrate her son Joen's 100th day.
Her older family members and relatives had never heard of the practice, but Jane says that at least half of her friends with babies had done the same.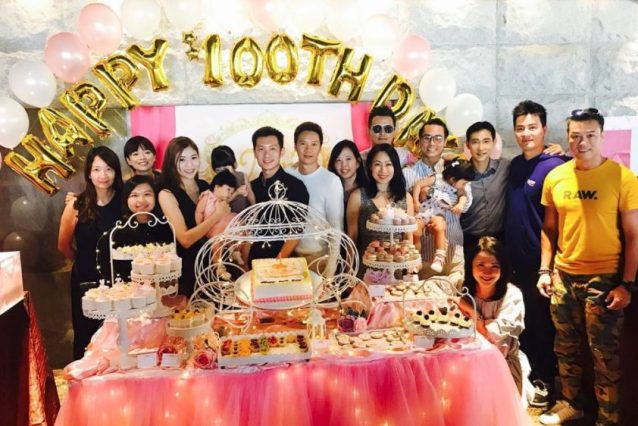 Businesses offering full-month party packages say 100-day celebrations used to be unheard of in Singapore, but have become the rage in the last four years. Irene Ong from Marketing and Partnership at Choz Confectionery says Choz now gets five to eight such requests every month.
These are mostly from millennials, aged 25 to 32, who also tend to throw a fancier and more elaborate party. They spend about 20 to 30 per cent more than customers organising full-month celebrations, possibly because they have more time to plan, Irene says.
Most of the young parents tend to be less strict about adhering to tradition, adds Lim Pei Lin, who runs home bakery Mrs Ergul Delish Treats. She has received about 10 per cent more requests for 100-day confectionery in the last three years.
Young Parents delves into why this growing trend might just become a new tradition.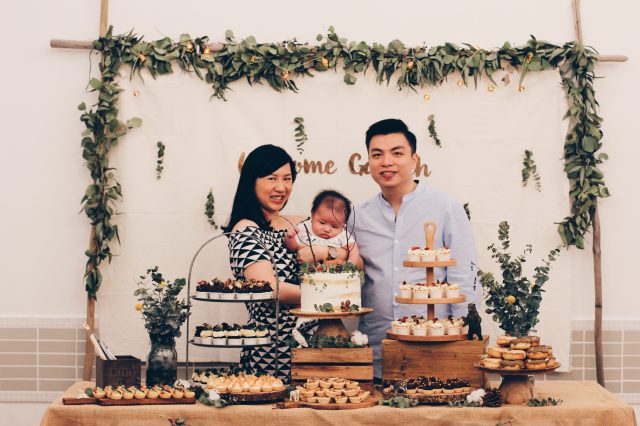 YOU LOOK AND FEEL MORE FABULOUS
With sore nipples from round-the-clock breastfeeding and sleep deprivation at its peak, who has time to plan a party and still be a good host 30 days after childbirth?
Not even actress Joanne. "I can't imagine what it's like to organise a full-month celebration because at the one-month mark, it just felt too soon," the 34-year-old shared on her Facebook page.
[[nid:447358]]
Jenice Tan chose to have a 100-day party for her second child Paige.
"My eyebags from lack of sleep were so bad in the first two months that no amount of Meitu (a photo editing app) could save me," she says. "At my firstborn's man yue party three years ago, I had a bad case of blocked ducts, which dampened my mood considerably. At Paige's 100-day party however, I felt and looked better, probably because she had already settled into a good breastfeeding and sleep routine by then."
Melissa Chen (pictured above), 34, a lawyer, spent the first month figuring out how to carry, feed and care for her firstborn while recovering from a C-section delivery. Even getting out once a week for an hour proved to be a challenge.
"I could not imagine how I could have survived putting together a full-month party, much less entertain guests," she says. Her little one, Gareth, is now one.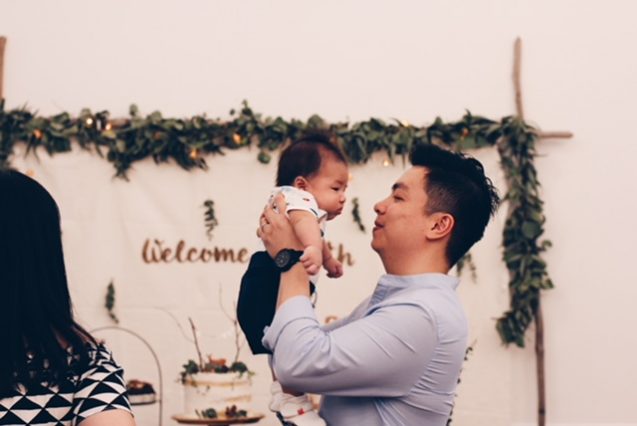 After giving birth, most new mums take about six to eight weeks to recover fully. Those who had C-section delivery would need a little longer, Dr Christopher Ng, a gynaecologist and obstetrician at GynaeMD Women's and Rejuvenation Clinic, says.
They may face issues such as breastfeeding difficulties, breast engorgement or infections, pain from a vaginal or C-section wound, sleep deprivation, postnatal blues, urinary incontinence and piles, he adds.
If you're breastfeeding, your learning curve is the steepest in the first month and fraught with challenges, says Betty Lee, a lactation consultant in private practice.
And compared to a new mum hosting a full-month party, you'll have more time to get back in shape and look your best for those all-important family photos, Dr Ng says.
First-time mum Alison Wong agrees that having adequate rest in the first few weeks after birth was more important than getting a party going.
"My confinement period was a time for healing, rest and, most importantly, a precious time to bond with Baby," says Alison, a business development and sales manager. "I think everyone, including my husband and confinement nanny, were just thankful that we went with a 100-day party."
DON'T FORGET… TO WAIT TILL YOU'RE READY
Whether you decide to celebrate your baby's birth at one month, three months or even later depends on your state of mind, Dr Ng says.
If your newborn has issues feeding and sleeping, and you're showing signs of postnatal depression, it's best that you postpone the party. "After all, it should be a genuine celebration rather than a concerted effort to appear happy in front of friends and relatives," he adds.
Look out for the postnatal depression warning signs below, and seek professional help when needed.
• Anger and irritability
• Anxiety attacks
• Trouble eating or sleeping
• Crying for no apparent reason
• Feelings of worthlessness, guilt
• Thoughts of suicide or harming the baby
• Lack of interest in things and activities you used to enjoy.
YOU GET MORE TIME TO PLAN AN INSTA-WORTHY PARTY
Many mums say it would have been impossible for them to plan a decent party in under one month while settling into motherhood.
For her baby's party, Jane (pictured above) spent about $1,500 on a Mickey Mouse-themed party complete with a buffet and dessert table filled with cupcakes and macarons.
She also sent out invitation cards, requesting guests to come dressed in "Mickey colours" of red, black, yellow and gold - something she would not have been able to pull off without ample time.
"Most of the guests were quite enthusiastic about the party theme, and came dressed in the colour code. It was all so fun and only possible because we had time to coordinate the fine details for the event," says Jane.
Other mums say the longer timeline allowed them to source for an ideal party venue. For instance, Melissa booked Food For Thought at the National Museum for her baby's 100-day bash last year, as a nursing room was conveniently located beside the restaurant.
To ensure her guests get "good music, good views and good coffee", Alison checked out five to six venues before deciding on 5 Little Monkeys Cafe, a rooftop cafe with a garden offering panoramic views of the Kallang Basin.
"I loved that it had an outdoor area where kids can run around and the view of the cityscape is amazing. I spent quite a bit of time looking for the perfect venue because my guests' comfort is very important to me," Alison says.
DON'T FORGET… TO CONSIDER GRANDMA'S FEELINGS
Besides having a 100-day bash, Jane and Alison kept to the local tradition of celebrating their babies' first month, albeit on a much smaller scale, to keep the grandparents happy.
"We put together a basket of red eggs and brought Baby to visit my parents when she turned one month old. They were happy to be able to give her a hongbao," Alison says.
While you may be tempted to impress guests with an artisanal macaron tower and Insta-worthy cupcakes, keep older relatives in mind when planning a 100-day bash.
Irene of Choz Confectionery says it is important to cater to all types of palates. "For example, having a good mix of modern confectionery and traditional kueh will keep the aunties and uncles happy," she suggests.
As 100-day parties tend to be more elaborate affairs with bigger guest lists, be sure to set aside ample space for the take-home gifts, Irene advises. Assign someone to give out them out.
BABY LOOKS BETTER IN PHOTOS
A one-month-old spends most of her day sleeping. After three months, however, your little one is ready to blossom into a social butterfly - and that's when the fun starts.
"At around three months, my baby was more aware of his surroundings. It was real fun, seeing him so smiley and giggly while interacting with the guests," Jane says.
Dr Leo Deng Jin, a paediatrician at Thomson Paediatric Centre at Bukit Panjang, says: "By around six weeks, babies will often start vocalising and make cooing sounds. At three months, they're able to fix their eyes on a moving object and also stay awake for longer during the day."
At 100 days old, your little one also spends less time breastfeeding, which frees you to entertain your guests, says lactation consultant Betty.
A one-month-old usually nurses for around 30 to 40 minutes per feed. "By three months however, your baby's nursing patterns are more or less settled. She will also nurse for a shorter period of time as she becomes more inquisitive," Betty adds.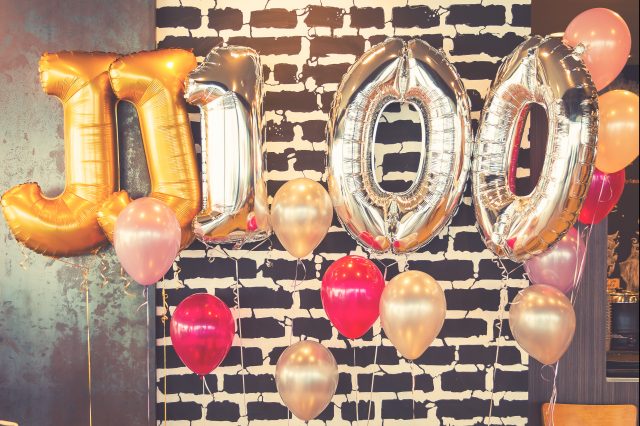 DON'T FORGET… BABY'S IMMUNE SYSTEM IS STILL DEVELOPING
Your 100-day-old baby may look a lot sturdier than she did at one month, but don't be complacent. Her developing immune system is still immature and she is susceptible to infections, Dr Leo says.
To minimise the chances of your little one falling sick after a social gathering, remember his tips:
• Consider placing Baby in an elevated cot to discourage young kids from running their hands over her.
• Put a bottle of hand sanitiser near the cot to encourage guests to use it before they carry or touch her.
• Rather than putting the cot in the living room surrounded by guests, move it to a separate room that is well-ventilated.
• If your baby is bottle-fed, continue to ensure that all of her teats and bottles are sterilised properly and that you wash your hands thoroughly before preparing her milk.
• Remind friends and relatives who are unwell or still recovering from a recent infection to do their part by staying away from such events, if possible.
This article was first published in Young Parents.