Mirror, mirror on the wall, who'll be the fittest of them all? Your 2020 self, with any luck.
As you kickstart a new year and work out your fitness resolutions (you know, the ones you forgot about last February), it's handy to keep up with the trends that'll shape your 2020 #fitspo game.
Some of these fitness trends are hardly new, but they're set to shake up our sweat life in bigger and more exciting ways.
From snazzy tech to spiritual yoga, here's a look at what you should be jumping into for that new year's bod.
DNA-BASED FITNESS TRAINING
One size doesn't fit all when it comes to fitness.
Thanks to our unique genetic makeup, our bodies metabolize food at different rates, respond to strength training differently, may be more or less suited for endurance or power-based sports, have different kinds of injury risks - the list goes on.
And while training programs tailored to genetic profile were once exclusive to pro athletes, DNA fitness testing is now going mainstream.
You might have spotted fitness-focused DNA kits popping up in Singapore's health chains.
DNAcode, for instance, launched its Lifestyle DNA Test Kit in Guardian earlier this year, while ONI Global's DNA-me hit the shelves of GNC just this June.
The process is surprisingly fuss-free: send a saliva swab for testing, and receive reports on your genetic profile, along with customised insights into diet and exercise programs that work best for you.
No more cookie-cutter exercise routines - the future of wellness is bespoke.
YOGA WITH A SPIRITUAL CONNECTION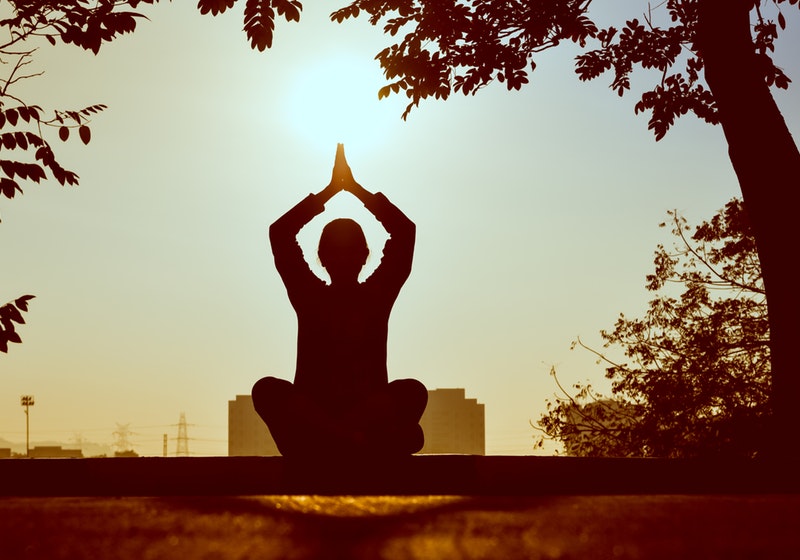 We all need a zen fix in busy-bee Singapore, so it's no surprise that yoga classes have never waned in popularity.
But whereas the past few years' crazes have been all about athletic hybrids like HIIT yoga, aerial yoga, and acro yoga, the trend is now coming full circle. 
We're seeing a turn away from mere fat-burning, and back to the traditionally spiritual aspects of yoga.
Sound healing, for one, is fast catching on. These classes immerse you in sounds made by singing bowls or gongs alongside your usual meditation or yoga, based on the age-old principle that certain sound frequencies can induce inner harmony and energy flow.
There're already a handful of Singapore studios where you can sink into aural bliss, such as Ascend Yoga Therapy and Space2B.
Another trend to watch? Yoga and wellness practices that draw on Ayurvedic healing techniques.
For the uninitiated, Ayurveda is an ancient Indian holistic system, grounded in the idea that wellness involves a delicate balance between body, mind, and spirit.
It's not so much a fitness activity as a whole lifestyle - from practicing yoga to eating in accordance with your body type - and it's certainly going strong in wellness retreats across Asia.
NEXT-GEN WEARABLES
Fitness trackers have been adorning the wrists of everyone and their grandma in recent years, and these wearables just get more sophisticated every year.
As demand for feature-packed devices keeps growing, we'll likely see the line between 'high-end fitness tracker' and 'basic smartwatch' dissolve.
Think 'hybrids' like the Fitbit Versa 2, which boasts limited smartwatch functions while lacking essentials like built-in GPS.
Frills-wise, our wristband buddies are set to become more relevant to healthcare monitoring than ever.
Smartwatches which track blood glucose levels, alert you to dehydration, or even sense haze and allergens in the air around you - the sky's the limit!
GROUP TRAINING
Gone are the days when we hit the weights or hopped on a stationary bike solo.
From spinning to rebounding, Pilates to boxing - whatever the next big craze, it's clear group training is here to stay.
After all, staying motivated to work out can be tough, so what better than a #FitFam to celebrate your gains and spur you on?
2020 will likely put a high-tech edge on the fun of group fitness.
If you've gone gymming in TFX Funan's high-tech playground, you might have tried out their MyZone heart rate monitors.
MyZone uses cloud tech to broadcast your heart rate and caloric burn live on-screen, along with all your fellow sufferers' - which means a bit of friendly competition to see who tones up best.
It's a great twist on the track-your-performance-on-a-giant-screen concept that gyms like Anthem and F45 have been doing for a while, and we can't wait for more to come!
LIVE-STREAMING AND SOCIAL FITNESS APPS
The love affair with fitness apps and Youtube channels is not new, but virtual workouts have never been this interactive.
Apps like FitOn, Zwift, and Aaptiv are taking the market by storm with the best features of group classes - live-streamed workouts, social elements like live leaderboards, and personalised guidance for fitness plans.
In other words, you get all the energy of group training in the comforts of your home. It's certainly a brave new world for fitness.
This article was first published in City Nomads.