No condos and country clubs, here are the new 5Cs defined by Singaporeans
Back in the day, a person's social-economic standing was based on the quintessential '5Cs': cash, credit card, car, condominium, and country club.
You were considered to be successful in life if you possessed all five Cs. But this has been superseded in recent times with people noting the shift towards the new five Cs, focused more on intangible success markers such as creativity, compassion and confidence.
In a recent survey commissioned by business app Tigerhall, 1,000 white-collar workers aged between 21 to 60 years old have once again redefined the five Cs. 
Asked to define what is important to them, they ranked (in descending order) cash, career, cultural proficiency, credibility and convenience as the top-most priorities in their lives.
Out of 1,000 respondents, 27.6 per cent of them were under 30 years old, 40.6 per cent were 30 to 44 years old, and 31.6 per cent were above the age of 45.
Overall, only one in three people felt that it was important to own a condominium (33 per cent), credit card (32 per cent) and car (30 per cent).
Country club memberships have clearly fallen out of favour as well, with only three per cent of respondents pointing out that having a country club membership was essential to them.
THE NEW 5Cs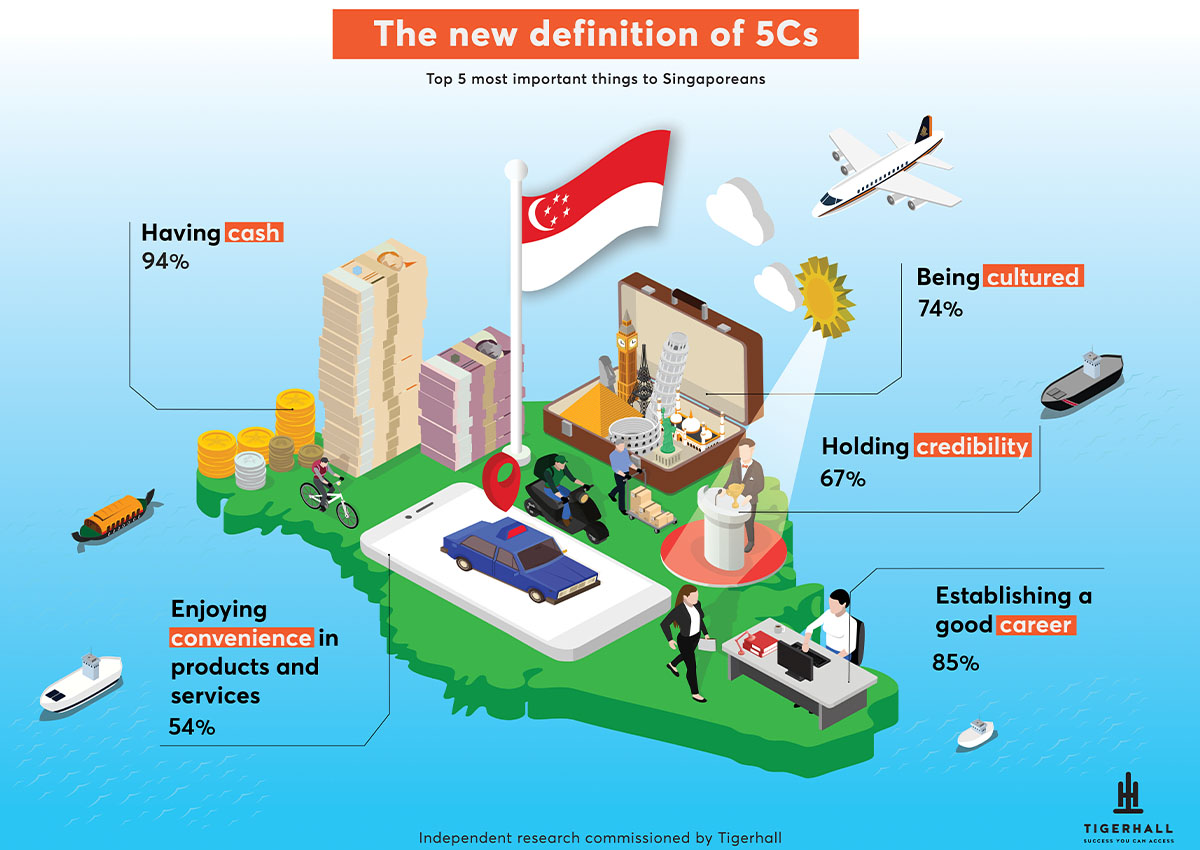 CASH STILL KING
94 per cent of those who took the survey identified that cash is still important. It is the only life goal that has remained between the traditional and new five Cs. 
Not that we're surprised. After all, money acts as a conduit to attaining many things we want in life.
CAREER IMPORTANT FOR UNDER-30s
Career is ranked second most important across all age groups, but is more apparent among Singaporeans who are at the start of their career.
[[nid:457798]]
Nine out of 10 Singaporeans under age 29 felt that establishing a good career was important to them. 
A 2016 study by US-based workforce solutions provider Manpowergroup highlighted that millennials "want the security of full-time work to ensure they can maintain their standard of living". 
Not to mention, no job equals no money.
CULTURAL PROFICIENCY GOES A LONG WAY
74 per cent of respondents evenly weighted across all age groups felt the need for developing cultural proficiency through travelling the world.
Travelling broadens your mind and that happens through engaging with people of different walks of life.
Being open to one another's differences is especially relevant in today's world. No one wants to be a xenophobe.
As they say, walk a mile in another's shoes before you judge them.
[embed]https://www.instagram.com/p/BuSiF9RhSIc/[/embed]
CREDIBILITY THE NEW CURRENCY
In this day and age where one's reputation can be so easily destroyed in a flash, especially on social media, being credible is an important trait for 67 per cent of respondents.
Nearly seven in 10 white-collar workers felt it was important for them to know they can be trusted by people around them.
According to The Resource Connection, success at work is dependant on your credibility, and here are four ways to build it.
CONVENIENCE AT OUR FINGERTIPS
With the rise of e-commerce, private hire cars and food delivery services, we've basically been spoilt when it comes to getting things we want without doing much heavy lifting.
54 per cent of respondents in the survey felt it crucial that products and services are easily within reach. 
But lest we worry that need for convenience is making us a lazy and impatient bunch, being more efficient also frees up our precious time so that we can tend to the more important things in life. Hopefully.
Said Nellie Wartoft, CEO of Tigerhall: "The findings uncovered in this research are reflections of the evolving mindsets of society and sheds light on the key attributes of professionals today - ambitious, open-minded, constantly seeking personal growth and wants the world at his or her fingertips.
"Today's hungry professionals seek accessible but effective methods to learn, grow and move closer to achieving their goals and to gain the respect of their peers."
Do you relate to the new five Cs?
melissagoh@asiaone.com