Putting on a mask appears to be the default mode now when leaving home. But with the Covid-19 pandemic said to continue on for at least one more year, perhaps it makes more economical sense to invest in some quality reusable masks — and one that's also environmentally friendly. 
During this trying time, many Singaporeans have come together to rally for support: from sewing homemade masks for the needy, to individuals or businesses donating part of the proceeds made from masks to local charities. There's no better time than now to step up and offer support.
If you're looking for stylish yet comfortable masks for your child, look no further!
Note: Children under two years old are advised against wearing masks, or anyone who is unable to remove the mask without assistance.
15 great places to get reusable face masks for kids
1. YEO MAMA Batik
These #Batikful reusable cloth masks by YEO MAMA Batik ranges from pretty pastels to fun bold colours, guaranteed to brighten your day. Double-layered and made from 100 per cent cotton, they are super comfortable even if worn for the entire day.
They also come with hidden filter pockets to insert disposable filters. With every purchase of a pack of masks, MAMA YEO Batik will donate $1o to charity (of a different cause each month). | Website
Note: Designs in the pack may vary as masks are made from fabric off cuts. You may, however, drop a note in your order on your preferred colour or motif.
Cost: $30 for an assorted pack of two
2. Elizabeth Little
Are you or your little one a fan of floral prints? You'd be glad to know that Singapore-based brand Elizabeth Little stocks handmade face masks in adult, tween and kid sizes in the famous flowery prints from the prominent British company Liberty of London, known for its heritage liberty fabrics.
You can choose between 2-ply or 3-ply options. Their child size fits approximately three to 8 years old and comes with adjustable ear loops. | Website
Cost: $22
3. 1929 Mask
This classic face mask by 1929 is said to help eliminate bacteria and microbes, as well as limit contamination. It's also non-toxic and highly water-repellent which makes it great for active kids. Available in kids, petite and adult sizes with its active ingredients lasting up to 100 washes. | Website
Cost: $25 each
They're currently offering back to school bundles:
Buy 2 for $22.50 each
Buy 5 for $2o each 
4. le petit society
Made with double-layered fabric and comes with a slot to insert your filter of choice. | Image source: Website/le petit society
With adorable designs like this Narwhal Print mask, among others like Penguin and Koala print, hopefully, your children will be less averse to putting on their masks.
Ranging from XS to L sizes, these machine washable masks are also great for adults, so #twinning with your child is definitely possible! Plus, there's no limit to the number of times these masks can be washed and used. | Website 
Cost: $10 
5. littleoddforest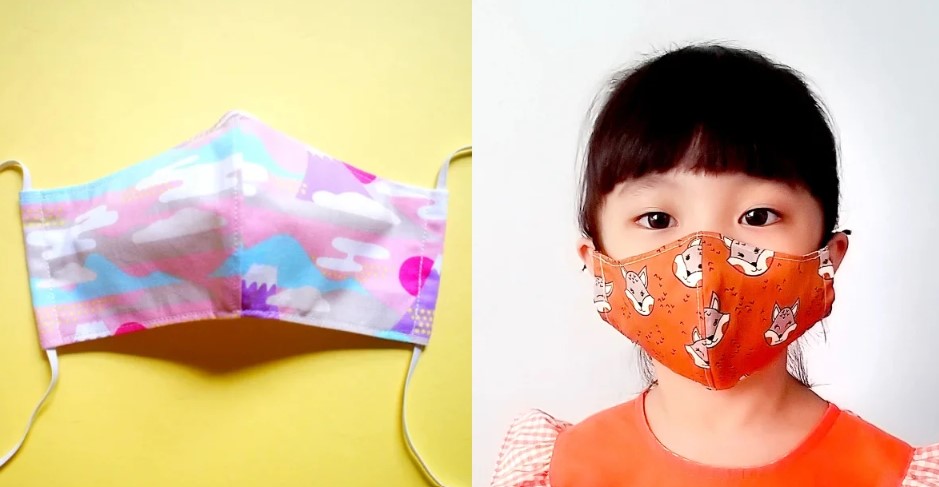 You will be spoilt for choice with so many vintage and kawaii designs to choose from. They include motifs such Mount Fuji in Japan to adorable animals such as hedgehog, sloths and foxes!
These soft cotton masks come with three layers of fabric with a filter pocket as well as open-ended flat elastic ties to ensure that they are well-fitted for your child. | Website
Cost: From $22.90
6. Maison Q
Available in both kids (4 to 12 years old) and adult sizes, these 3-ply woven cotton masks are made sustainably from leftover fabrics meant to construct the compartment for the inserts. Reusable and washable, they come with comfortable ear loops.
In Singapore, Maison Q will donate 10 per cent of their sales proceeds to Daughters of Tomorrow, a charity organisation that helps women from low-income families obtain gainful employment through their programmes. | Website
Cost: $16 (child size), $18 (adult size)
7. Shopee
Parents rave over these comfortable and breathable cotton and anti-dust children's masks. Great for kids as young as two and three years old, these masks also come with a wire at the nose bridge, adjustable earloops as well as a pocket to insert a filter. | Website
Cost: $1.55 (U.P. $3.30. subject to change)
8. COCOONESE
Use these mask covers to effectively extend the usage time of your surgical masks (and for extra protection)! These aesthetically pleasing reusable cloth mask covers are made-to-order with 100per cent breathable light cotton.
Certain designs cater to kids' sizes like this one above. Simply insert your surgical mask from the side and adjust the top and bottom accordingly. | Website 
Cost: $10.90 – $15.90 
9. Independent Market
Suitable for kids aged two and above, these antimicrobial masks (set of 4) are not just cute but also made with quality in mind. Other designs include dino in space and vintage planes. Its breathable and hypoallergenic fabric will be beneficial for children and especially those with sensitive skin.
Made with 100 per cent cotton and double-lined, it comes with an additional pocket for inserting a disposable filter as well as elastic ear bands. | Website
Cost: $39 (set of 4)
*Ready stocks available in stores and online. 
10. MonBebe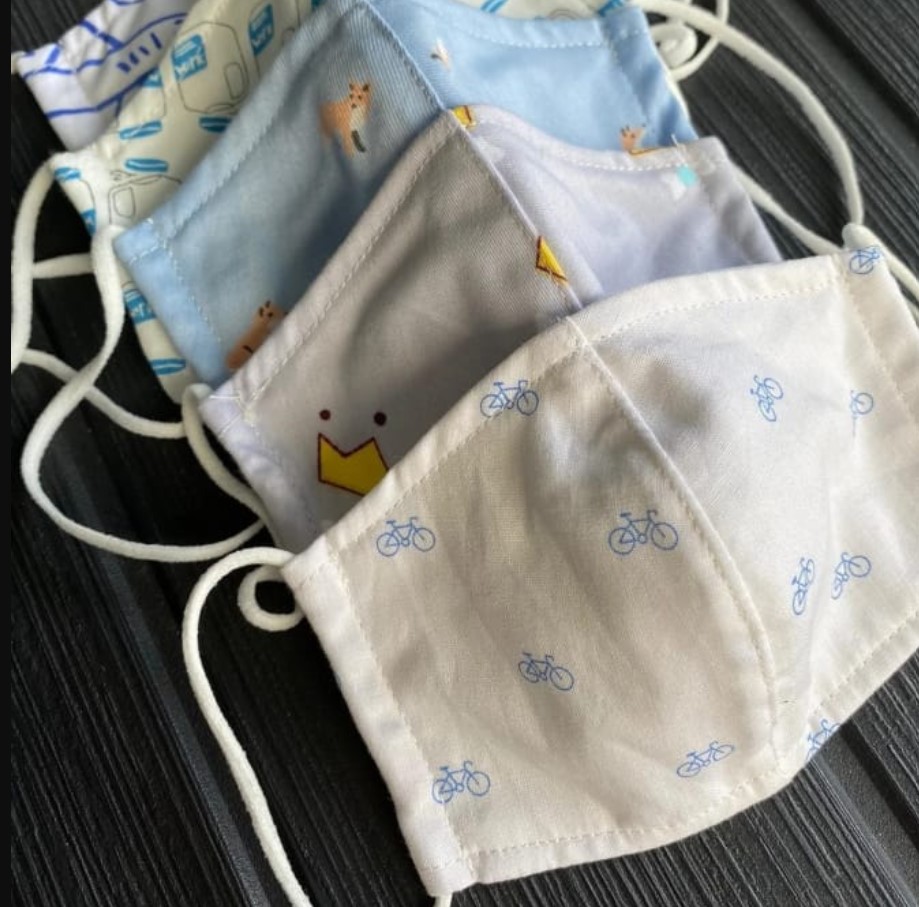 Here's one of the best-selling 100 per cent cotton masks from Monbebe that are suitable for babies under 3 years old. These 4-ply masks come with a filter slot if you would like the additional protection. The filter itself, however, is not included.
The ear loops are also made of soft material to help reduce pressure on the baby's ears while wearing. You can also find masks for older children from three to 8 years old here. | Website
Cost: Various
Baby (below 3 years old): From $9.90
Kids (3 to 8 years old): From $10.90 
Adults: From $13.90
11. Sea Apple
Add an accent to your little ones' outfit with these chic designs by Sea Apple. Made using upcycled fabric from previous seasons, their mask series are comfy with 100 per cent cotton fabric that comes with two protective layers as well as a pocket to slip in your mask filter (whenever required).
Plus, you'd be contributing to individuals and families affected by the pandemic. 20per cent of their sales proceeds will go to The Courage Fund. | Website
Cost: $10
12. OETEO
If you're looking for functional masks for regular use, consider this WOW by OETEO mask. Made from 65 per cent Cotton and 35 per cent Polyester, the thoughtfully designed masks are soft, breathable and comes with an anti-bacterial finishing (can last up to 30 washes).
Available in two sizes for kids, from toddlers aged one to three, as well as kids aged four to six. They come in a box of 10 pieces. | Website
Cost: $12.90 (1o pcs/box)
13. CYC Made to Measure
Heritage tailors CYC Made to Measure features over 30 floral and solid colour designs, made from premium Egyptian cotton fabric. You'd be glad to know that 100 per cent cotton 3-ply masks also come with an N95 hydrophobic filter (washable up to 25 times).
Available in large, small and Kids' sizes (great for kids aged 3 to 8), there's definitely something for everyone in the family! In addition, purchasing their masks also means you'll be helping to support their Masks for Migrants initiative. | Website
Cost: From $16
14. Binary Style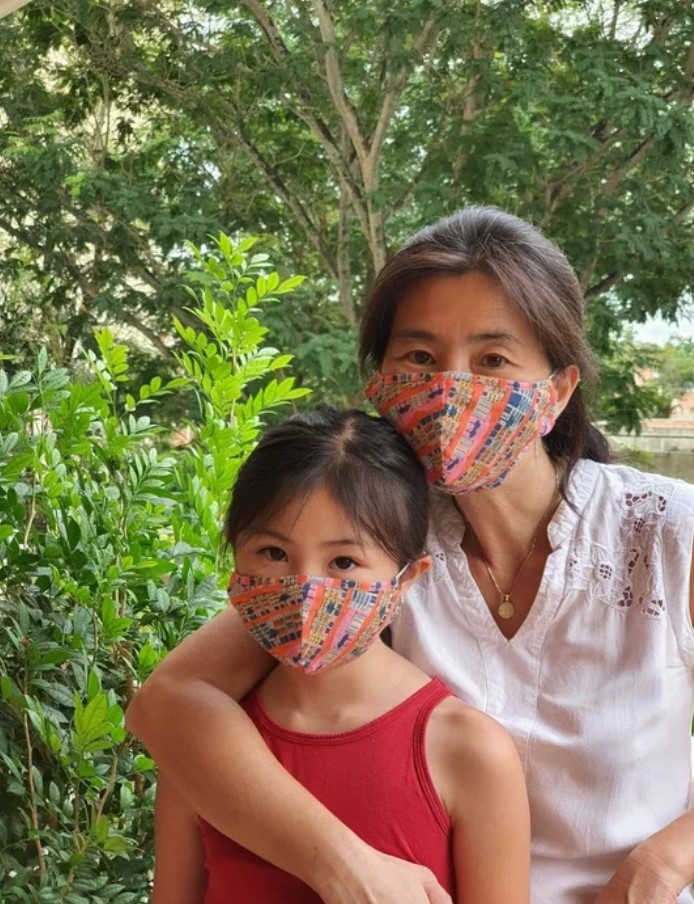 Featuring local-style motifs such as the Tiong Bahru, Peranakan and Orchids masks, these masks are made of two layers of 100 per cent cotton fabric and come with opening slots to insert your own non-woven filters.
While they are currently sold out due to popular demand, their next restock will be on Aug 23, 2020, 9am. So don't miss out! 20 per cent of the sales will be donated to various charities. | Website
Cost: $15
15. The Everyday Club
Mask up with these vibrant mask selections from The Everyday Club. Their designs are available in a variety of materials, including premium cotton, cotton, polyester (water-repellent), and satin fabric. Their premium cotton masks come with 3 layers: 2 layer cotton and 1 layer muslin.
Earloops come untied so you can adjust them according to your child's comfort.  
While we don't advise babies under two to wear masks, they do offer such mask options—and for children up to 9 years of age. | Website
Cost: From $8.90
We hope you've found a mask (s) of your liking from our reusable face masks for kids listing! And just a gentle reminder, to always wash your brand new masks before wearing to avoid any potential allergies. 
This article was first published in theAsianparent.