Singapore's first 'Netflix for cars' lets you switch between Ferraris, Porsches and Maseratis every month
PUBLISHED ON
June 28, 2019 8:14 AM
By
Joey Lee
It's been said that comparison is the thief of joy.
But when you're living in the world's most expensive city, owning a fancy luxury car is mostly a pie in the sky unless you're one of those crazy rich Asians.
In that case, shoo! You probably already own a garage full of atas cars of every brand, colour and make.
If you're just a commoner like I am, who'll probably have to sell my kidney and first-born child in order to afford one, then you'll want to read on.
[[nid:438825]]
Carro, Singapore's first "Netflix for cars", is a subscription-based car service which just launched its luxury category where you'll find premium brands such as Porsche, Maserati and Ferrari in their fleet.
But how is this any different from renting a car? We asked the same question.
Unlike going to a car rental company where your choices are limited to options in their fleet, you select the model you want and Carro provides it to you.
Typical car rentals also require renters to declare beforehand if they are driving the car to Malaysia -- super troublesome especially if you're just popping over to JB to do a spot of shopping.
[[nid:446190]]
No declaration is needed for Carro renters crossing the border and more importantly, no extra payment is needed. You'll just need to purchase additional insurance if you're driving further than Penang.
DON'T LIKE? DON'T BUY, JUST SWITCH.
Just like Netflix, subscribers pay a flat fee of $4,999 monthly which includes all costs associated with car ownership - such as insurance, road tax, warranty, 24-hour assistance, and maintenance costs.
In a city where you might have to pay more to own the car than for the actual car itself, this subscription-based model eliminates worries about annual depreciation and unexpected expenses such as repairs, roadside assistance and insurance premiums.
Typically, those who lease a car are tied to a long-term contract with heavy penalties incurred for early termination. Carro users, who are subscribing on a monthly basis, are able to cancel or switch their contract at any time.
Not enjoying cruising around in your Maserati? Try a Porsche next month or a Ferrari the next.
[embed]https://www.youtube.com/watch?v=iVmQ21Fcxwk[/embed]
Worried about damage? Carro promised that customers can return the car with no questions asked about minor wear and tear, dents and scratches.
One point to note -- the luxury category requires users to make a hefty downpayment of $15,000 which is non-refundable.
Before you balk at that figure though, Carro has three other monthly subscription plans that range from $1,399 to $2,299 for users with different needs -- all with refundable downpayments of $1,000.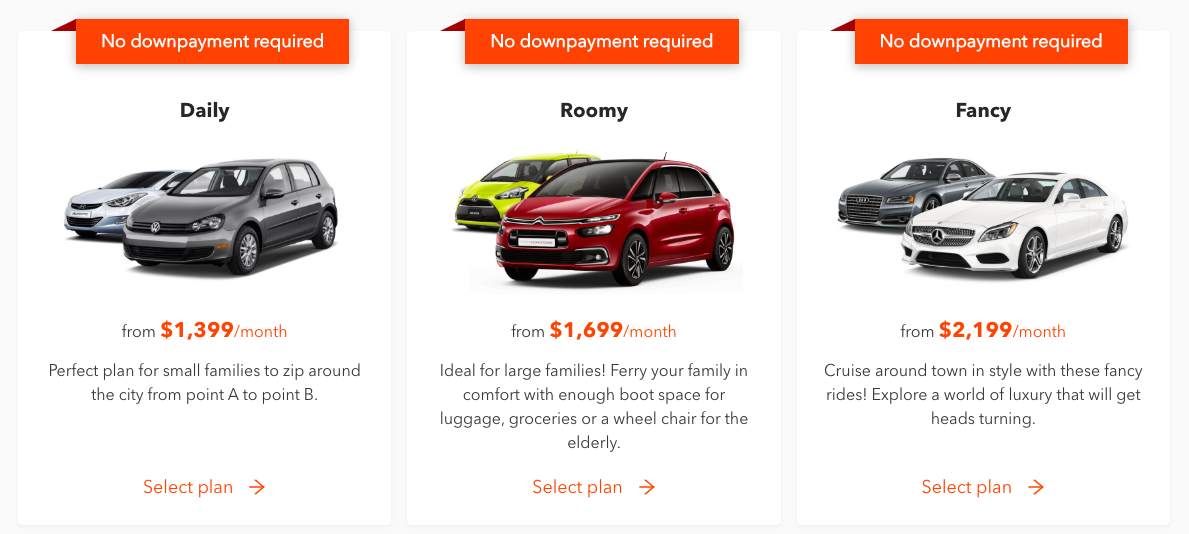 According to a press statement by Carro, over 2,000 have joined their waiting list within two months of launching their subscription model in March.
For more information, visit: https://carro.sg/leasing
joeylee@asiaone.com