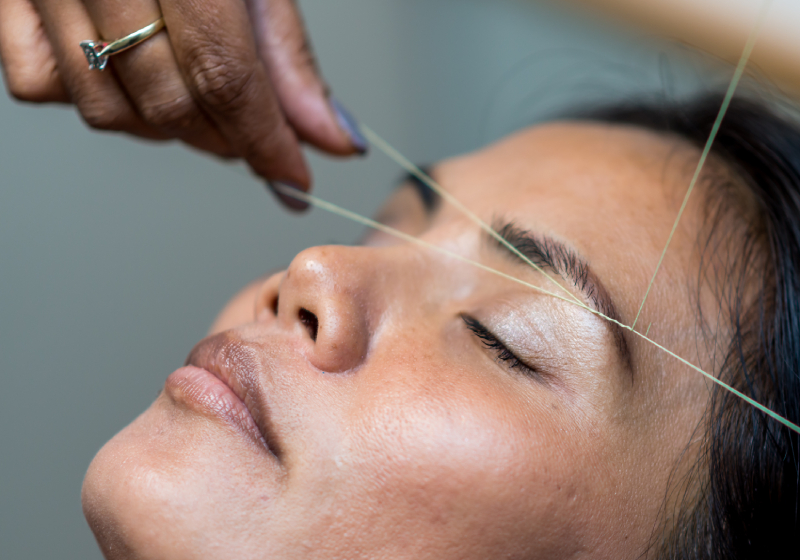 Your eyebrows can literally change the way you look. Which is why it's so important to keep them looking 10/10 on the regular.
However, some of us are still guilty of making eyebrow mistakes, such as over-filling our brows and choosing the wrong shade to fill them in.
In fact, these are just some of the mistakes that Benefit Cosmetics National Brow Artist, Rochelle Paz, sees often.
So how does one avoid making such mistakes? Having the right brow products helps a ton. Not sure which product to choose? We say try the new Benefit Cosmetics Brow Styler, which is available in eight shades. This multi-tasking product comprises a wax pencil and loose filling powder to give you better control over shaping your brows.
The wax pencil has a diamond-shaped tip (which is different from the Goof Proof Eyebrow Pencil's tear-drop shaped tip), is waterproof and promises an 18-hour wear. The shape of the tip makes it easier for you to sculpt and define your eyebrows.
The loose powder, which comes with an angle-tipped applicator that allows for precision application, is great for those who prefer a softer, more natural brow look.
Use them separately or together to beautiful bold brows.
Want to know the common brow mistakes Singaporeans make? Find out some of those that Rochelle regularly sees, and how to rectify the misses below
COMMON BROW MISTAKE #1: OVERPLUCKING.
One of the most common mistakes I see is women overplucking their brows in a bid to make them look identical.
This only has one result: disastrous brows. We need to always remember that brows are sisters, not twins, and they don't need to look identical.
My tip would be to tweeze the occasional stray brow hair, and see a professional for a full grooming session.
Solution: If you've gone too far with the tweezer, you can use the wax pencil on the Benefit Cosmetics Brow Styler to outline the desired shape of the brows.
Once you have an outline in place, you can fill in the brows using the loose filling powder for the illusion of fuller, fluffier brows.
COMMON BROW MISTAKE #2: USING TOO MUCH PRODUCT AT THE START OF THE BROW
When you concentrate a lot of product at the start of your brow, it makes you look angry and fierce.
The key is to analyse your brows and focus the product application on the sparse area or where you need more texture and definition.
Solution: To ensure your brows don't look overly filled, use the powder end of the Brow Styler at the start of the brows with a very light hand.
You can even tap the wand so the excess powder dusts off. Once the front is filled in, you can use the wax pencil to define the arch and/or extend the end of the brow.
COMMON BROW MISTAKE #3: BLINDLY FOLLOWING TRENDS
While there is nothing wrong with trying out the latest trends, you need to ask yourself,"Does this look good on me? Does this trend work for my face shape?" If it doesn't, don't force it.
Alternatively, customise the trend according to your face shape without straying too far from your original brow shape. The straight Korean brows trend is a great example of this, and I known women whom have even shaved off their arches just to be on-trend. This is a big NO for me.
Solution: If you really must follow a trend like the Korean straight brows, you can achieve it by using the wax pencil of the Benefit Brow Styler to fill the bottom of your brow as well as under the arch to give the illusion of straighter brows.
Then using the powder, lightly fill in the top, so that it is softer and not too arched.
COMMON BROW MISTAKE #4: NOT SEEING A PROFESSIONAL
While doing your brows yourself can save you some money, plucking even one strand of hair from the wrong place can leave your brows looking unbalanced.
Plus, it messes with the growth cycle of your brow hair. I always recommend making standing appointment with a professional so your brows are always in good hands.
Solution: Visit any of the Benefit Brow Bars and have your brows professional groomed so you never have to suffer through any brow-blems.
COMMON BROW MISTAKE #5: NOT USING THE RIGHT COLOUR BROW PRODUCT
I suggest using brow products that are close to your natural brow hair colour if you want natural-looking brows. For Asians, that is usually soft black or brown-black and for Caucasians, it's blonde or dark brown.
Even if you have sparse brows, wearing a eyebrow product in a shade lighter than your natural eyebrow colour creates a contrast that doesn't look natural.
Solution: When picking a shade to fill in your brows, don't go more than two shades lighter than your natural brow shade. If your hair is coloured very light, you can opt for the Benefit Cosmetics 3D BrowTones Eyebrow Enhancer to soften the look.
This article was first published in CLEO Singapore.