Whenever Spring arrives, droves of tourists flock to the Land of the Rising Sun for one simple reason - the Cherry Blossoms. If you are planning to head to Japan this season, complete your trip with ShopBack's travel deals!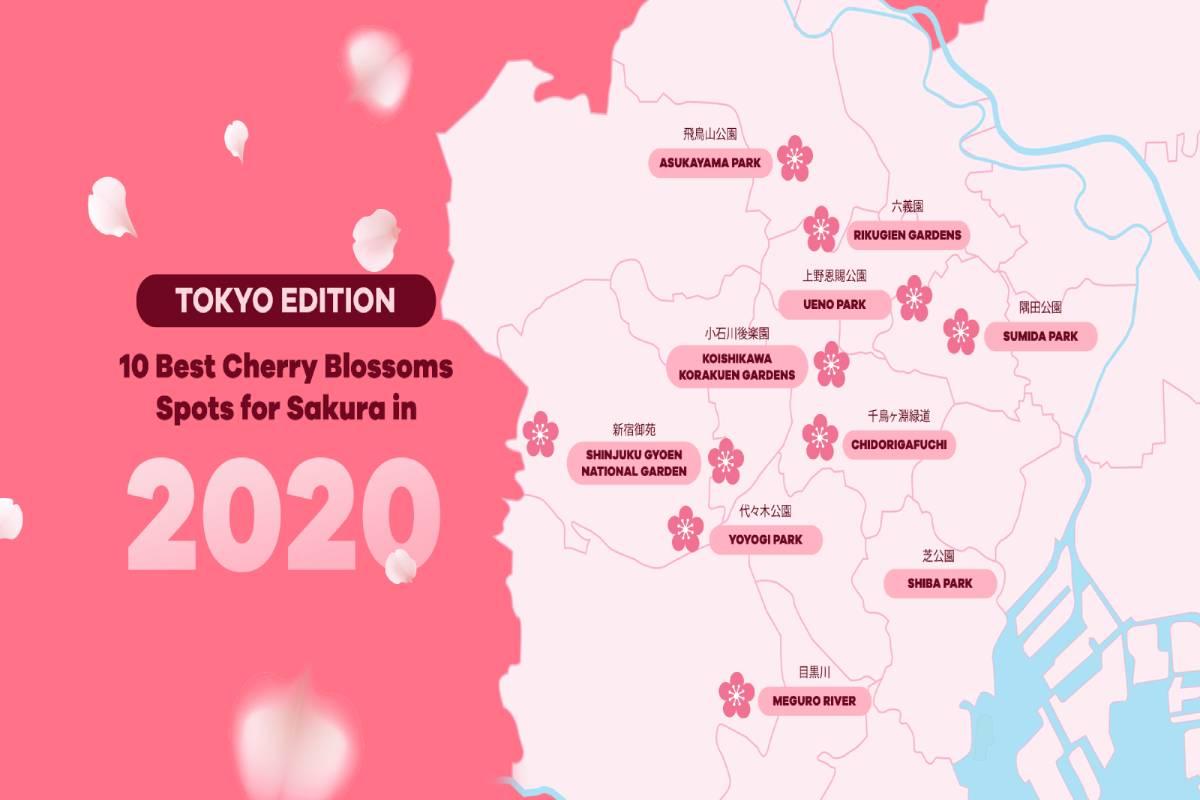 Due to recent coronavirus proliferation concerns, travellers are advised to take extra precautions and follow travel advisory when travelling overseas during this period.
Before you rush to book your flights, you'll need to understand what hanami means.
Hanami (花见) is the Japanese word for flower viewing. However, it is often used specifically to signify cherry blossom viewing instead. The locals love sakura season as much as we do, and many of them celebrate by having a picnic party.
They even "chope" the prime spots as early as 6 am using picnic mats with their names attached. This is a much-needed break for them to spend time with their loved ones under a canopy of sakura trees.
Hanami does not necessarily have to involve a picnic. It can be as simple as a stroll on the streets or heading to vantage points to enjoy the views. However, popular spots can get congested.
So if you are willing to put up with the crowds then you'll be duly rewarded with spectacular views. Also, there are still quite a few spots around that you can get to without jostling for elbow room.
SAKURA SPOTS ALONG THE TOKYO METRO LINE
Jumping around places can be time-consuming and taxing. So we've come up with a concise guide on how to metro-hop so you can make the most out of your time!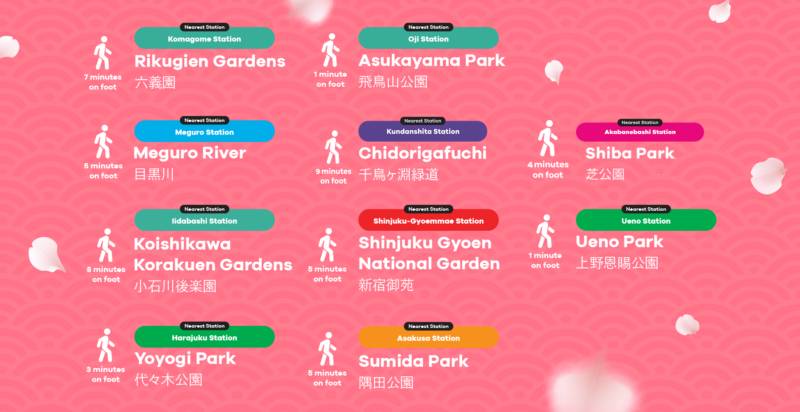 NAMBOKU LINE
1. RIKUGIEN - KOMAGOME STATION
Dating back to the 1700s and known as one of Tokyo's most gorgeous gardens, Rikugien literally translates to "six poems garden". Featuring a central pond that is surrounded by a network of trails and manmade hills, Rikugien is perfect for a morning stroll.
Address: 6-16-3 Honkomagome, Bunkyo 113-0021, Tokyo Prefecture
Nearest train station: Komagome Station (Yamanote Line)
Opening Hours:
09:00 to 17:00 (entry until 16:30)
Evening light up until 21:00 (during Spring and Autumn seasons)
Admission fee: 300 yen
2. KOISHIKAWA KORAKUEN GARDEN - IIDABASHI STATION
Acknowledged as one of Tokyo's finest traditional gardens, Koishikawa Korakuen Garden offers a splendid view of the cherry blossoms with influences drawn from ancient China. The tranquil garden is extremely peaceful albeit located in the heart of the vibrant Tokyo city.
The Chinese-inspired Full Moon Bridge, Engetsu-kyo, is a hot photo spot, so we really suggest heading there a little earlier to snap your photos.
Address: 1-6-6 Koraku, Bunkyo 112-0004, Tokyo Prefecture
Nearest train station: Iidabashi Station (junction of Namboku Line, Toei Oedo Line, Tozai Line, and Yurakucho Line)
Opening Hours: 09:00-17:00 daily
Admission fee: 300 yen
3. ASUKAYAMA PARK - OJI STATION
Oji Station is not just home to the Asukayama Park, but also the Asukayama Museum, the Paper Museum and the Shibusawa Memorial Museum. That's quite the handful of attractions all in one spot!
Known to be one of the original spots of hanami back in the olden days, the Asukayama Park is located atop Mount Asuka and it remains rather void of tourists. An estimate of 650 sakura trees stands strong in the park, turning the park into a grandeur during the spring season.
Take a free monorail ride up to the northern tip of the hill to get the best view of the entire area!
Address: 1-1-3 Oji, Kita City, Tokyo Prefecture
Nearest train station:
Oji Station (Keihin-Tohoku Line, Namboku Line)
Asukayama Station or Ojiekimae Station (Toden-Arakawa Line)
Opening Hours: 24 hours
Admission fee: Free entrance for the Park and Monorail, 300 yen for the Museums.
GINZA LINE
4. SUMIDA PARK - ASAKUSA STATION
Another park that's off the tourist's grid, Sumida Park features a peculiar looking monument that stands out amidst the greenery. A look through the holes offers a unique and unparalleled view of the Tokyo Skytree.
Sip on a cup of aromatic coffee as you take in the views of the falling cherry blossoms and snap some photos with your travel camera!
Address: 1-2-5 Mukoujima, Sumida City, Tokyo Prefecture
Nearest train station: Asakusa Station (Ginza Line, Toei Asakusa Line, Tobu Skytree Line)
Opening Hours: 24 hours
Admission fee: Free entrance
HANZOMON LINE
5. CHIDORIGAFUCHI MOAT - KUDANSHITA STATION
Located northwest of the Imperial Palace, the Chidorigafuchi Moat sees a concentration of sakura trees that blooms during Spring. We suggest visiting later in the season so the river gets covered in blush pink sakura petals and creates the magical illusion of a pink river.
Nearby, the Yasukuni-jinja Shrine and the National Showa Memorial Museum, and the Nippon Budokan are right around the corner from Chidorigafuchi, so be sure to pay those a visit as well!
Address: 2 Chome Kudan Minami, Chiyoda City, Tokyo Prefecture
Nearest train station:
Kudanshita Station (Tozai Line)
Opening Hours: Closed for winter from November to early April (tentative)
Boathouse: 11:00 - 17:30, closed on Mondays
Admission fee: Boat rental is 500 yen for regular seasons and 800 yen for hanami season
CHIYODA LINE
6. UENO PARK - UENO STATION
Situated in central Tokyo, Ueno Park is home to many of Tokyo's best museums, including the Tokyo National Museum, the National Science Museum and many more. Since there are many museums on the park's ground, you can expect a huge crowd here any day of the year.
During the sakura season, the central pathway is lined with more hanami viewers than sakura trees. So if you're looking to snap a great and clean photo, I wouldn't suggest coming here.
But if you're looking to bask in the hanami spirit, then the Ueno Park will be the perfect place to do so. Get a spot near Shinobazu Pond or the Kiyomizu Kannondo for the most spectacular view!
Address: 5_20 Uenokoen, Taito 110-0007, Tokyo Prefecture
Nearest train station: Ueno Station (Chiyoda Line)
Opening hours: 05:00 - 23:00
Admission fee: Varied fees for Museums and Exhibitions
7. YOYOGI PARK - MEIJI JINGUMAE (HARAJUKU) STATION, OR JR YAMANOTE LINE
As compared to the traditional Koishikawa Korakuen Garden, Yoyogi Park is an upbeat and modern spot for the hanami lovers. With the spirit and essence of today's Tokyo, the practical Yoyogi Park has wide fields and sufficient open areas to house large groups of people.
If you'd like to grab a spot for a picnic, you'll still need to head there early. Japanese convenience stores (konbini) are arguably the best around the world so grab your snacks and head to Yoyogi Park for a lovely afternoon under the sakura!
Address: 2-1 Yoyogikamizonocho, Shibuya City, Tokyo Prefecture
Nearest train station: Meiji Jingumae (Harajuku) Station (Chiyoda Line), or JR Yamanote Line
Opening hours: 24 hours
Admission fee: Free entrance
TOZAI LINE
8. MEGURO RIVER - MEGURO STATION
Located in the Nakemeguro area, and near to Shibuya, the cherry blossom trees stretch over 4km along the Meguro River. It's quite the sight to take in, especially at night when the streets are lit up, giving off a completely different vibe form the day.
Since the Meguro River is near to Shibuya, you can take the chance to visit the Shibuya Crossing and the many restaurants and cafes around! Find out where are the best areas to stay in Tokyo the next time you are there!
Address: 2-9 Shimo-Meguro to 3-1 Higashiyama, Meguro Ward, Tokyo
Nearest train station: Meguro Station
Opening hours: 24 hours
Admission fee: Free entrance
MARUNOUCHI LINE
9. SHINJUKU GYOEN NATIONAL GARDEN - SHINJUKU-GYOEMMAE STATION
As the name of the garden suggests, the Shinjuku Gyoen National Garden has cherry blossom trees planted across the garden. The Garden originated from the 1600s and was previously used by the Imperial Family as a recreational spot before being destroyed during World War II.
Fortunately for us, the Garden was rebuilt and reopened as a public park, thus allowing us to bask in the cherry blossom season!
This Garden is also famous for its late-blooming cherry blossoms trees. Travellers who can only visit during mid-April can try their luck here since it will be hard to spot blooming cherry blossom trees anywhere else by then.
Address: 11 Naitomachi, Shinjuku City, Tokyo Prefecture
Nearest train station: Shinjuku Gyoemmae Station
Opening hours: 09:00 - 16:30, closed on Mondays
Admission fee: Free entrance
TOEI - OEDO LINE
10. SHIBA PARK - AKABANEBASHI STATION
A relatively smaller park as compared to the others, there are only ~200 cherry blossom trees here. It is still quite a magnificent sight to take in despite the smaller scale, credited to the Tokyo Tower that stands in the background.
Because of its small scale, the Park gets pretty packed during the hanami season. So having a picnic there will not be your best option. But we'll still recommend giving it a short visit while you're in the area!
Address: 4-10-17 Shibakoen, Minato City, Tokyo Prefecture
Nearest train station: Akabanebashi Station
Opening hours: 24 hours
Admission fee: Free entrance
This article was first published in Shopback.