Check out what these homeowners and their interior designers did to turn standard BTO layouts into one-of-a-kind spaces!
Grand entrance
Where: Four-room BTO in Buangkok
Home to a chef, who wanted an open-concept kitchen, his wife and their young daughter, Wee Studio reconfigured the original BTO layout to seamlessly combine the living room and kitchen, leaving half of the dining area visible through wooden slats that divide the latter and the entrance walkway with seating and shoe storage.
Having such an open environment is the easiest way to make the most of natural light.
Designated display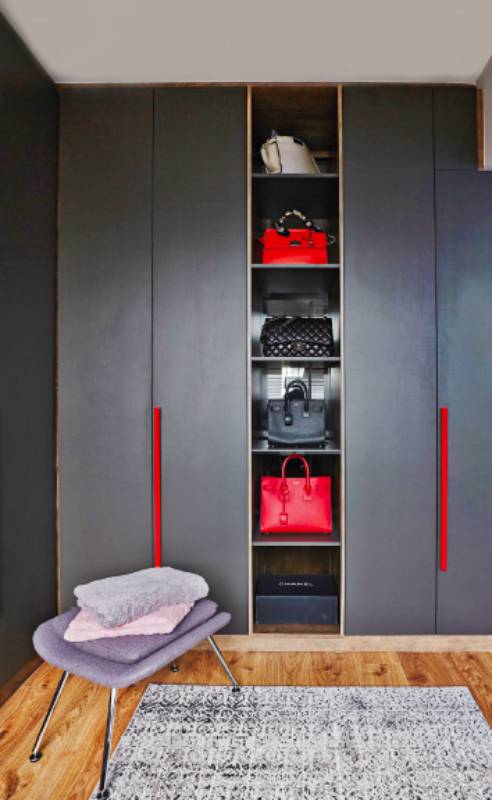 Where: Four-room BTO in Jalan Tenteram
Not only did interior designer Joey Khu of Joey Khu Interior Design create sufficient space for a walk-in wardrobe by merging the master bedroom and an adjacent bedroom, he also left pockets of space in the wardrobe to allow the homeowner to neatly showcase her handbag collection.
Luxury of space
Where: Four-room BTO in McNair Road
In order to enlarge the master bedroom of her matrimonial home, homeowner and architect Vanessa Ong of April Atelier used some of the floor area of an adjacent bedroom to fulfil her dream of a wardrobe-cum-dressing area.
More storage room
Where: Three-room BTO in Punggol
As the homeowners did not need an additional bedroom, Kelvin Teo of Space Sense Studio converted half of it into an industrial garage-style storeroom that has become a standout feature in the home.
Bathroom beauty
Where: Three-room BTO in Chai Chee Road
Tasked with creating a spacious open-concept en suite bathroom for the master bedroom, Ivan Lin of Aart Boxx Interior converted the two original bathrooms into one.
The right angle
Where: Four-room BTO in Ghim Moh
The original layout of this apartment positioned the dining room in an area lacking daylight and ventilation. Architect Liew Kok Fong of Studio Super Safari hacked away part of the kitchen wall to produce a dining counter that sits at an angle facing the living room, and allows guests to chat with whoever's doing the cooking.
Gather around
Where: Five-room BTO in Punggol
The homeowners wanted a space where they could accommodate gatherings with family and friends. Sujono Lim of Parenthesis reconfigured the layout to ensure the kitchen and study had symmetrical settings.
Then he put a wooden island between them that can be used as a station for food preparation, studying and working. It's also perfect as a buffet table.
New perspective
Where: Five-room BTO in Bukit Batok
Designer Sherlynn Low of Millimeters Studio created a bold look with all-black interiors for her home. She also adopted an unconventional layout in her master bedroom by incorporating a headboard-cum-dresser design more often seen in hospitality projects.
This article was first published in Home & Decor.