It's a bird's world and we're just living in it. 
After the big move, Jurong Bird Park has rebranded itself to Bird Paradise, which is part of the Mandai Wildlife Reserve, comprising Night Safari, Singapore Zoo, River Wonders.
What should you expect at Bird Paradise? For starters, it's the largest bird park in Asia, with more than 3,500 birds across 400 species. 
We visited the park ahead of its soft launch on May 8, and here's what to expect. 
Explore the wild through the immersive aviaries 
The 17-hectare bird park is home to eight walk-through, mixed-species aviaries that resemble natural habitats found across the world. 
For instance, when we stepped into the Australian Outback aviary, we quickly noticed the reddish landscape with towering rock structures decorated with Aboriginal rock paintings.
It's hard to miss the Laughing Kookaburras' iconic laughter. While we did not spot any emus, the highlight had to be the more-than-friendly Red-tailed Black Cockatoo, which had no qualms perching on people's shoulders. 
Set against the backdrop of a gorgeous 20-metre waterfall, the Hong Leong Foundation Crimson Wetlands mimics South America's flooded savannahs. You will fall in love with the sight of American flamingos chilling as they would in their natural habitat. 
Look up, and you will see flocks of vibrant macaws swooping high and low. 
Another noteworthy aviary has to be Heart of Africa. Spanning 1.55 hectares, the aviary is the biggest one of all, inspired by forest valleys of continental Africa. 
Get a bird's eye view of the habitat by crossing the suspension bridge and making your way up the winding stairs leading to the viewing tower. You will see birds like Red-winged Starlings, Laughing Doves and Great Blue Turacos.
During our visit, the penguins were yet to be moved, but we still managed to walk through the Ocean Network Express Penguin Cove.
The indoor habitat will be home to four species of penguins, including the King Penguin. Once they have settled in their new home, you can catch a glimpse of these flightless birds in the two-storey space that resembles the Sub-Antarctic. 
Look forward to interacting with the birds
You can also learn more about the birds you see from the park's keepers at interactive sessions known as Keeper Talks. These sessions occur at the various zones in the park during certain times of the day. 
The Macaw Keeper Talk runs daily at 12pm at Hong Leong Foundation Crimson Wetlands, while the Songbird Keeper Talk runs daily at 4pm at Songs of the Forest.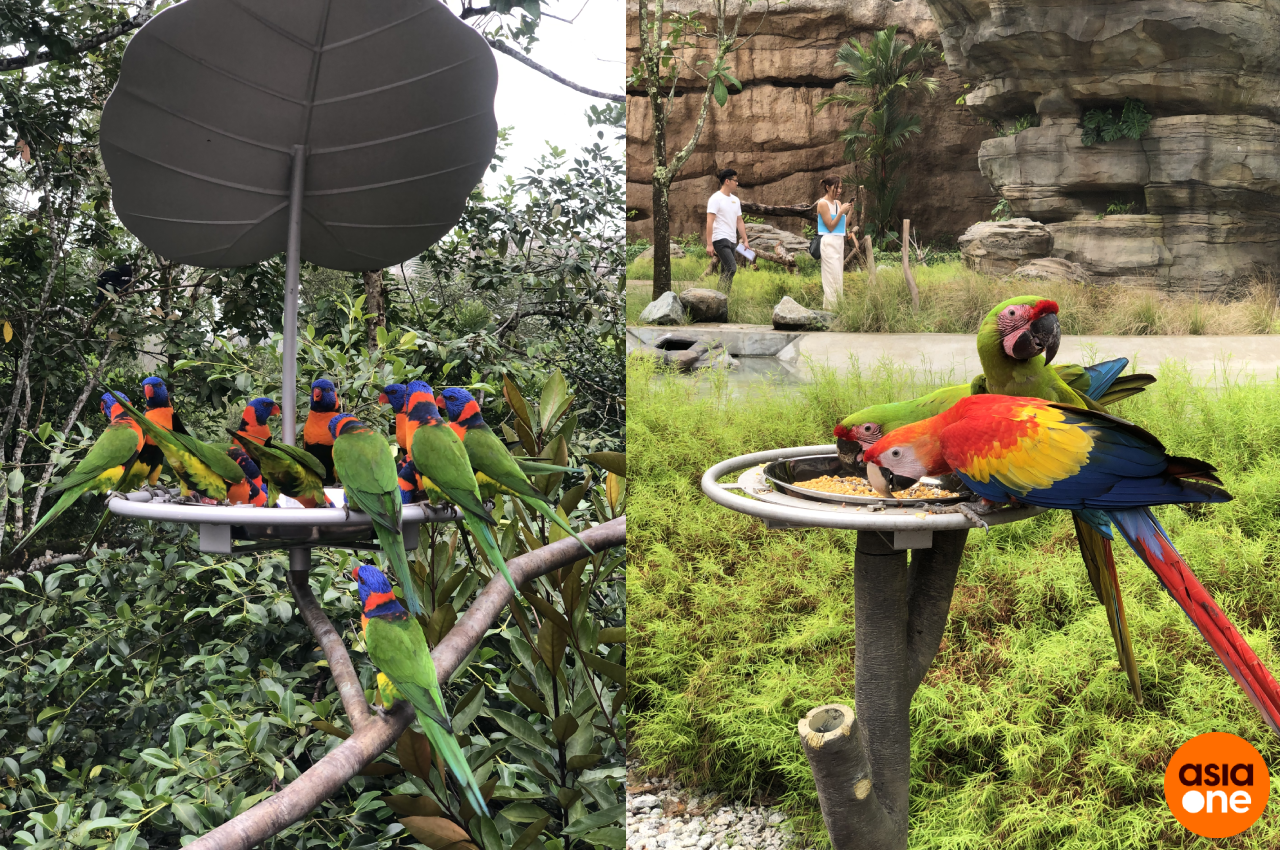 We got up close and personal with Sally the Oriental Pied Hornbill at Kuok Group Wings of Asia, a Bali-inspired aviary. We learned that she loves getting her cheeks massaged and is a finicky eater as she only likes ripe blueberries. 
There are also feeding sessions. At Lory Loft, you can have a hand at feeding Lories and Lorikeets by offering them a nectar cup. Just be prepared to be the centre of attention as the birds will flock towards you. 
Learn more about the birds at The Hubs
Serving as respite from the humidity and heat, The Hubs are air-conditioned learning spaces connecting the different habitats in the park. While you're cooling down, take the time to learn a thing or two about your feathered friends. 
Before you head to the Songs of the Forest aviary, there's the hub where you can learn about the different songbirds and the various sounds they make. Or learn about birds' nesting behaviours at the hub between Heart of Africa and Kuok Group Wings of Asia, where you will see a human-sized weaver's nest. 
Food galore
After exploring the bird park, make your way to the many cafes and restaurants for a little refuelling. Highlights include the Food Central for local faves like Hainanese chicken rice, Bird Bakery for delicious pastries and Egg Splash Cafe & Shop for an array of egg-centric dishes. 
At the entrance of the park, you've got casual eateries like A&W, Han's Union, Starbucks and Collin's. We padded our stomachs at Pavilion Banana Leaf with a variety of Indian dishes. 
For starters, we got the dahi puri, a crispy street snack, which was a one-bite flavour bomb. The chilli chicken biryani was a spicy, moreish meal. For those who prefer less heat, go for the naan paired with butter chicken. 
For a refreshing treat, there's Birds of Paradise, where you can get yourself scoops of botanical-flavoured gelatos. 
Bird Paradise opens to the public from May 8. Tickets cost a special rate of $38 for adults, $23 for children (aged three to 12 years old) from May 8 to 26. Thereafter, tickets for adults and children go for the full price of $48 and $33 respectively. 
Advanced ticket sales start on April 24. 
Address: 20 Mandai Lake Road, Singapore 729825
Operating hours: 9am-6pm
ALSO READ: Preparing for takeoff: 75 per cent of the 3,500 birds from Jurong Bird Park moved to Mandai
No part of this story or photos can be reproduced without permission from AsiaOne.