We try the new 'most Instagrammable bubble tea' in town to find out if it tastes as good as it looks
New year, new day, new bubble tea shop…? When will Singaporeans ever get sick of bubble tea? The answer: probably never.
Yet another bubble tea brand has planted itself on Singapore soil, and it's called 春芳號 Chun Fun How. Never heard of it? Well, neither did we.
Established in Taiwan in 2014, there are apparently 14 outlets there, one in Canada, one in Hong Kong, with another set to open in Indonesia in April this year.
Claiming to be the most Instagram-worthy bubble tea, AsiaOne went down for a media tasting on Tuesday (March 17) to find out. Sure, the cups were colourful and not run-of-the-mill plastic. But more importantly, how about the taste?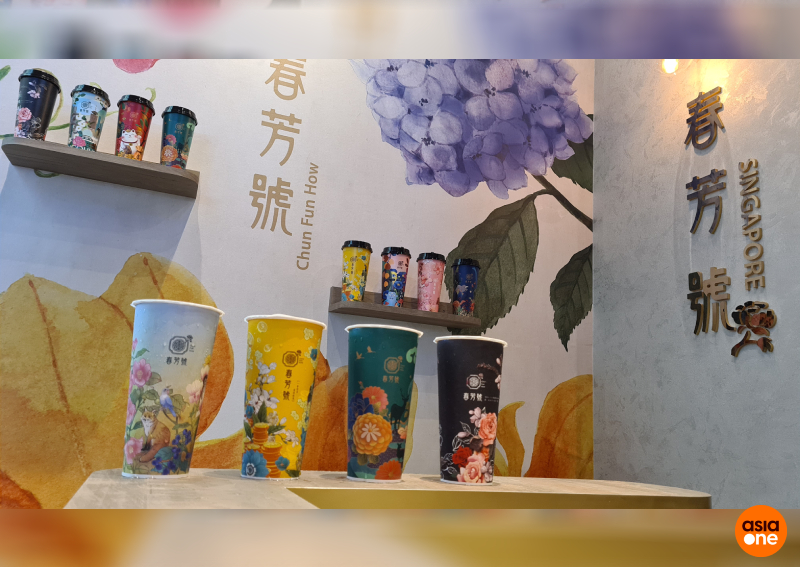 EXPECTATION VS REALITY
While we often drool at food videos online, we tend to wonder... does it really taste as good as it looks? Well, we've done the taste-test for you and here's the low-down on three drink flavours:
1. LYCHEE FOUR SEASON WITH ALOE VERA ($6.60)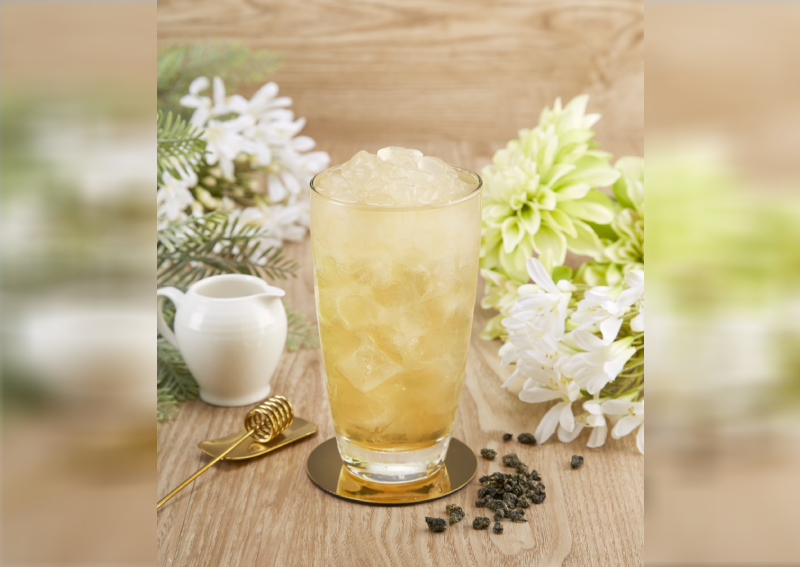 It's no surprise that this flavour takes the number one spot in the Chun Fun Ranking...and also in my heart. Not only does the drink have just the right amount of sweetness, it is also said to be healthy, using natural fruits with no artificial flavourings.
The drink contains small aloe vera chunks that are soft and easy to chew, pairing well with the lychee juice. This is my personal favourite out of all the flavours we tried because it has a light and refreshing taste.
2. WINTER MELON LEMONADE ($6)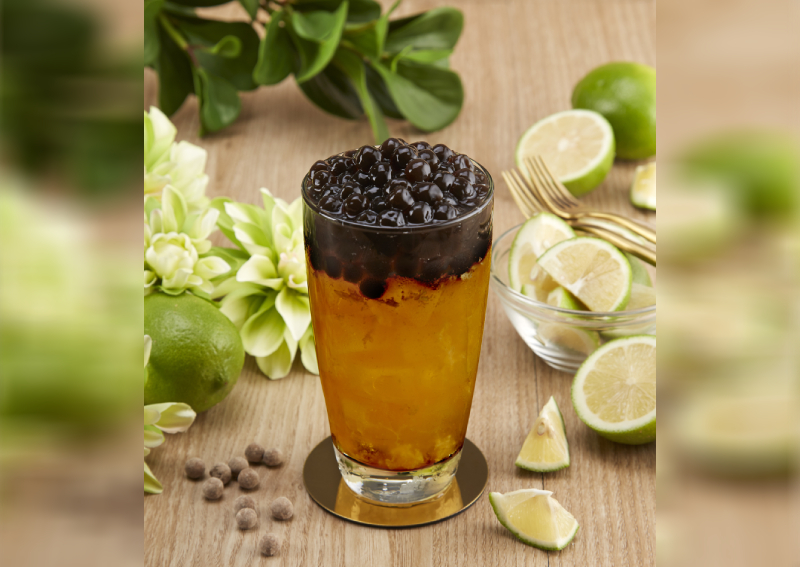 Even for a sweet-toothed person like me, I felt that the lemonade was a tad too sugary. On first sip, the sourness hits your tastebuds hard, but it is soon replaced with the flavour of winter melon. I didn't really like the blend but it could just be a personal choice.
My colleague on the other hand though, shared that Winter Melon Lemonade is actually a popular and cheap drink in Taiwan. However, the taste could either be hit-or-miss – being too sour or too sweet. She praised the ratio of the winter melon to the lemonade and noted that it was just right.
3. SWEET POTATO BLACK TEA LATTE WITH PEARLS ($7.60)
Chun Fun How claims to be the "pioneer" of the sweet potato bubble tea, so we had high hopes for this particular flavour. But alas, we were sorely disappointed. Maybe sweet potato shouldn't be mixed with tea after all?
The sweet potato flavour seemed to overpower the black tea taste so it wasn't really to our liking. The pearls, which are said to be made with brown sugar, also tasted slightly bland, although the chewiness and portion are noteworthy.
Don't take our word for it though, do try it for yourself! We also caught wind that new flavours might be coming to the menu in a few months, possibly something with ginger and a local-favourite – sugar cane.
But apart from the unique sweet potato drink series, what makes this particular bubble tea shop different from others would most likely be its signature floral design cups – most notably its black floral motif.
INSTA-WORTHY DESIGN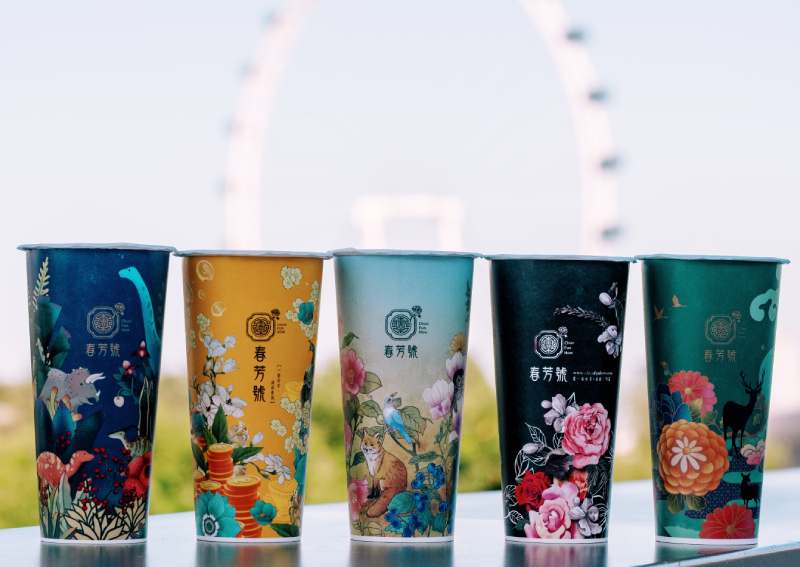 While outlets in Taiwan have a range of 19 designs, only five have been brought over to Singapore so far, with plans to bring the rest of the designs over later in the year. According to the brand's thirty-something-year-old franchise manager Vicki Guan, some designs also have some pretty interesting backstories.
For example, the fortune cat design was designed as a greeting to customers during Chinese New Year.
The popular green floral design came about due to how Taiwanese people love to travel to Japan. In hopes that customers can "leave their hearts in Japan", the cup is adorned with flowers and deers (presumably the famous Nara deers) and gives off a dreamy feel.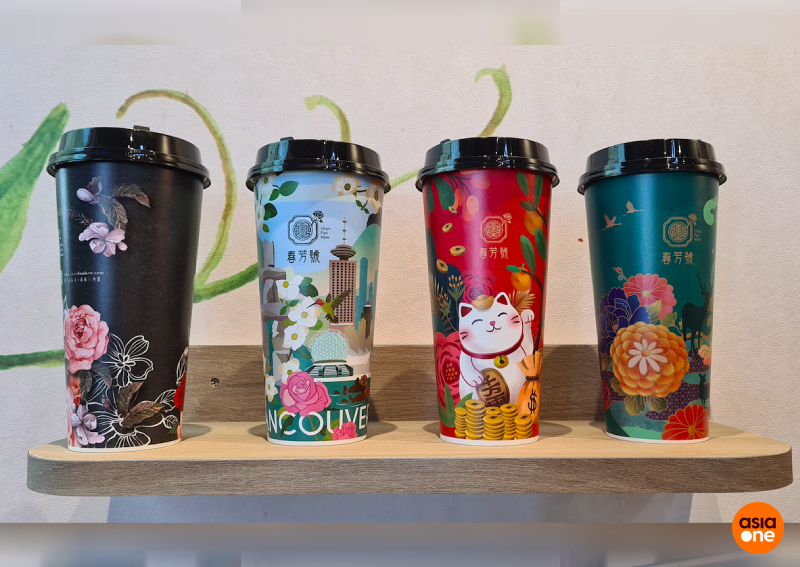 There is even a cup designed specifically for the Canadian city of Vancouver, where there is one outlet. But what about Singapore? We had a sneak preview of a localised design, although it is still in the works.
What we've seen so far though, incorporates the usual Singapore icons such as the Merlion and pink orchids, with a pretty shade of purple. There are also plans for tumblers to be rolled out in either April or May this year, said Guan.
Guess we can only wait and see when the final products are released.
IS IT WORTH THE MONEY?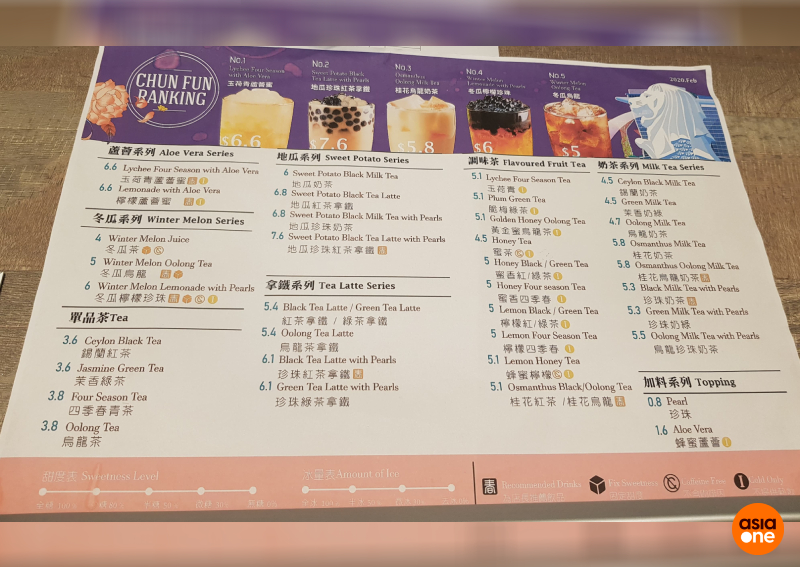 The cheapest drinks on the menu are Ceylon Black Tea and Jasmine Green Tea, both priced at $3.60 each, which is the usual compared to other bubble tea shops. The most expensive item would be the Sweet Potato Black Tea Latte with Pearls, at $7.60.
As the cups only come in one large size, we think the standard tea drinks are pretty value for money. The sturdy cups can be reused at home too. Guan shared that some customers have even used the floral cups as mini planters for small plants.
PROMOTIONS
With the grand opening slated from March 21 to March 22, keep your eyes out for these promotions when you purchase any of Chun Fun How's top five drinks:
For the first 50 customers – $2 off on your next visit
For the next 50 customers – $1 off on your next visit
The promotion is limited to the first 100 customers per day on both days.
Klook users also enjoy 10 per cent off the following drinks: Lychee Four Season with Aloe Vera, Sweet Potato Black Tea Latte with Pearls and Winter Melon Lemonade with Pearls, while stocks last.
Customers can check out their Facebook page for further giveaways on opening day (psst...we hear there will be two limited edition file folder designs to be given away – in black and green). Here's a sneak peak: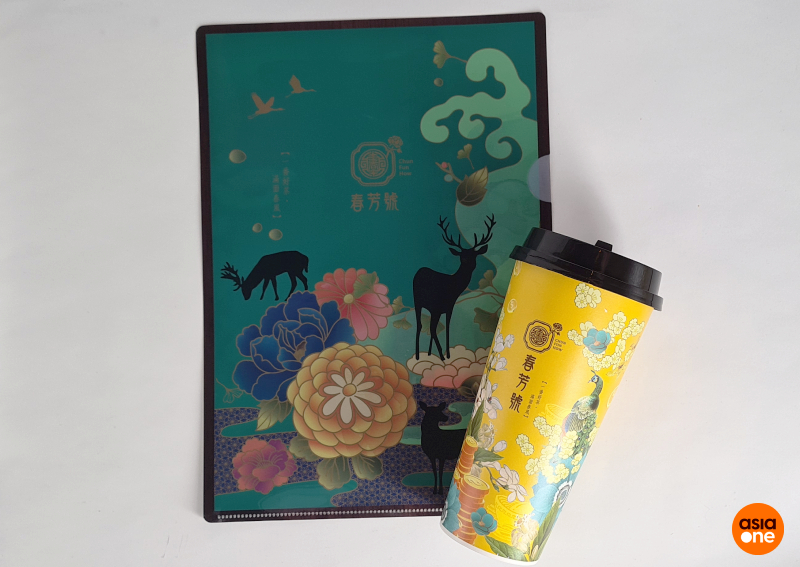 Where: The Esplanade Mall, #02-13, 8 Raffles Avenue, Singapore 039802
Opening hours: 10.30am to 10pm, daily
trining@asiaone.com