[UPDATE; 4:05pm]
The Hunky Man Cleaning Service is not just for marketing purposes — it will be carried out as scheduled this weekend, a Vehs.com spokesperson confirmed to Shin Min Daily News today.
Over 10 people have contacted the company to enquire about the service, said Vehs.com, adding that it will require some time to sort out the logistical issues due to the unexpected demand.
The company also emphasised that the hunks had consented to going topless, explaining: "From the start, we have stressed that we have to maintain a professional, healthy image in order to avoid misunderstandings."
---
Want a clean house with a side of eye candy? For this weekend only, you can hire a bevy of ripped men to give your home a thorough scrubbing.
The service, launched by renovation platform Vehs.com, is apparently "not an April Fool's joke", according to a Facebook post on Tuesday (April 6).
It does, however, appear to be part of the company's marketing efforts for their Home Renovation Expo taking place from April 24 to May 9.
According to the images shared by Vehs.com, the cleaning service appears to include several shirtless beefcakes whose cleaning repertoire includes mopping, wiping down various surfaces and lifting sofas.
If the overwhelmingly thirsty comments section is any indication, the men will probably be booked and busy this weekend.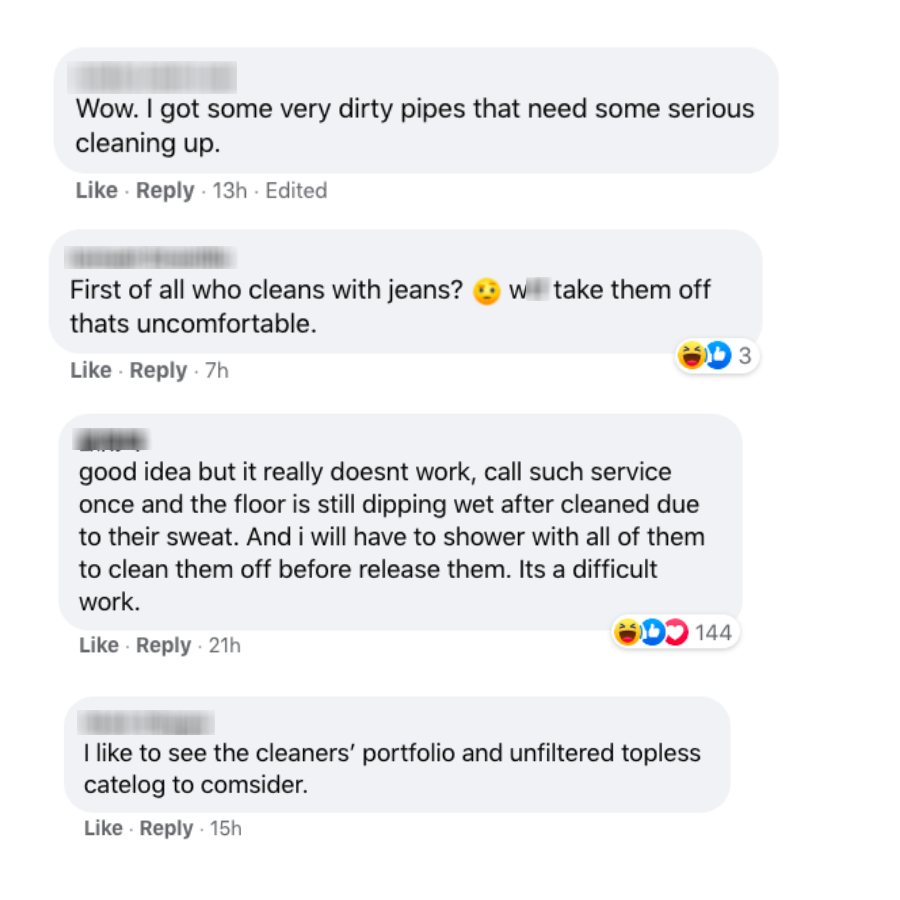 But the hunks for hire certainly don't come cheap.
Prices for the Hunky Man Cleaning Service range from $420 for a one-bedroom apartment to $700 for a penthouse.
The service is also only available on a first-come, first-served basis, so you'll have to act fast to secure your slots.
To book a slot, drop Vehs.com a message on Facebook or WhatsApp them at 82394135.
kimberlylim@asiaone.com