Have been bingeing on Korean drama Crash Landing On You the past weeks and having withdrawal symptoms after the final episode aired in February?
Don't worry, we gotchu. If you haven't already watched the drama and are wondering why everyone and their neighbour is talking about it, let's put it this way: it's one of the highest-rated drama this year.
The K-drama follows the story of the CEO of a fashion company, Yoon Seri (played by Son Ye Jin), who got swept into North Korea (literally) after a paragliding accident. There, she met and fell in love with a military captain Ri Jeonhyuk (played by Hyun Bin).
You can enjoy sweet, romantic moments, suspense and comedic scenes as you watch the 16-episode drama. But, more than that, you'll also feast your eyes on Seri's impeccable fashion sense (she owns a fashion company, after all).
Want to look as fashionable as her? We've compiled some of our fave looks with tips on how to wear them to work, plus similar pieces that you can shop online!
MAKE THE BEACH DRESS OFFICE-READY
Spring is here, which means… floral dresses are everywhere. If you've been quick to jump on the trend and realise your wardrobe is filled with more floral dresses than you can wear on the weekend, why not start wearing them to the office? Make it work-appropriate by layering with a turtleneck or shirt.
Shop similar: POMELO Floral Square Neck Frill Dress – Black, $49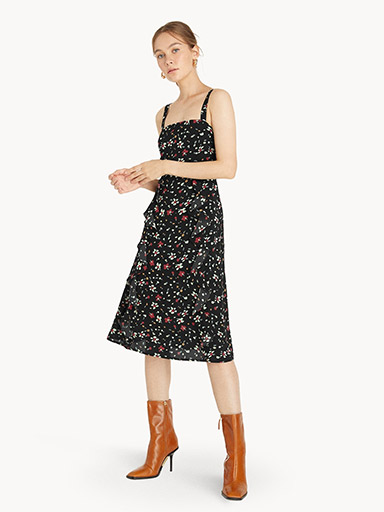 This dress falls just below the knees, making it fairly modest, so you won't get a warning letter from HR.
LAYER A NECKLINE-PLUNGING DRESS
Have a dress with a plunging neckline that's great for brunch but not-so-appropriate for the office? Similar to how you'd treat your summer dresses, layer it with a turtleneck or shirt.
This trick works not only for floral dresses like the one Seri is wearing, but any neckline-plunging numbers. Top it off with an oversized cardigan to keep you warm in the office.
Shop similar: Something Borrowed Pleated Hankerchief Hem Swing Dress, $44.90, Zalora
The handkerchief hem makes this dress looks flirty, making it perfect on days that you have a date planned after work.
ACCESSORISE WITH A SCARF
It's raining and cold outside and you just want to wear a snuggly cardigan or sweater, but there's a risk that you might look like you're heading to bed. The solution: tie a scarf around your neck to elevate the outfit. You can complement it with a scarf in a similar colour like Seri did, or opt for a contrasting colour.
Shop similar: Bershka cable knitted cardigan in soft pink, $48.15, ASOS
Looking for a sweater that's wearable in Singapore's unpredictable weather? This cropped one will keep you warm when it's raining and doesn't make you sweat buckets when it's warm.
YOU CAN NEVER GO WRONG WITH MONOCHROME
Is there anything that screams chic more than a black-and-white ensemble? The collared finish is great for days when you need to make an important point during a big meeting.
Shop similar: Something Borrowed Contrast Collar And Cuff Shift Dress, $39.90, Zalora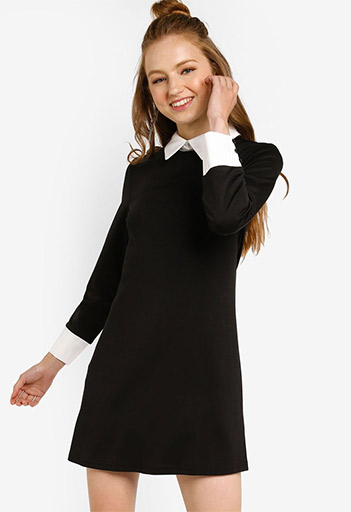 Seri wore three pieces for that outfit - a shirt, a long blazer (worn as a dress) and cycling shorts - but if you're too lazy to mix and match, this dress is a great alternative.
GO FOR CHECKS
Remember this iconic scene where Seri went to Pyongyang in a Miu Miu trench coat? All of a sudden, she looked every part like the CEO of a fashion company that she is. If you're hoping to give off similar vibes, opt for a similar blazer - because a trench coat isn't exactly the best thing to wear in Singapore's hot weather.
Shop similar: Check Oversize Blazer, $159, Zara
Wear this on its own (like the model did) or shrug over a dress or tee-with-jeans combo to jazz up a casual outfit.
This article was first published in CLEO Singapore.