Malaysia lockdown: Man shares husbands' hilarious struggles to help wives shop for groceries
PHOTO: Facebook/Cheanu Chew
PUBLISHED ON
March 24, 2020 8:35 AM
By
jia ling
It has only been a week since Malaysia's nationwide lockdown. The country banned citizens from travelling overseas and also shut schools, shops and many public services until March 31 in a bid to contain the Covid-19 outbreak.
And that has reignited the fear of food shortage, propelling shoppers into panic buying mode once again: Emptying store shelves to stock up their homes.
Panic buyers have also encountered a new set of challenges — "remote groceries shoppers" — husbands mobilised by their wives to pick up groceries while they stay home.
Husbands shopping at the supermarket
"If you're a 'remote groceries shopper' like me, don't forget to fully charge your phone before you execute your mission!" wrote Facebook user Cheanu Chew after a recent trip to the supermarket.
His relatable and hilarious post called out to fellow men like himself, who were tasked by their wives to do grocery shopping.
There were three husbands featured, to be exact.
According to Chew, the husbands received instructions from their wives through their mobile phones — and getting the items right were of priority.
During his "mission", Chew overheard one husband getting scolded by his wife after he chose the wrong carrots.
"One of these remote shoppers got scolded by his wife over the phone when he was on loudspeaker and he quickly turned off the loudspeaker to continue operation," wrote Chew.
He also witnessed a lady shopper who "felt sorry for him and just let him take his time to choose before she took her turn".
A "stealth operation"
Another husband worked in a different manner by "solely texting and snapping photos [during] the entire operation," he said. "We call it stealth operation."
Unlike the other man, who was on a video call the entire time, "just to make sure everything was all clear".
And it seems like these husbands not only caught the attention of Chew, but also a fellow shopper and Facebook user, Charlotte Pua.
Serious business
"Don't play play," Pua wrote in the photo caption.
Grocery shopping is indeed serious business when it comes to these husbands. Chew, who successfully completed his shopping, shared some tips with men out on a similar mission.
Apart from ensuring that the mobile phone is fully charged, Chew suggested getting enough sleep the night before to maintain calm over the phone, as well as to minimise disruptions during the operation.
"Mission accomplished for me, and I'm ready to retreat!"
What netizens are saying
Chew's relatable post has since garnered over 60,000 likes and 37,000 shares.
Facebook user Eddie Lee gave his two cents about the matter, saying that is it not the husbands' fault for the continuous voice calls, video calls or taking of photos in confirming the grocery list.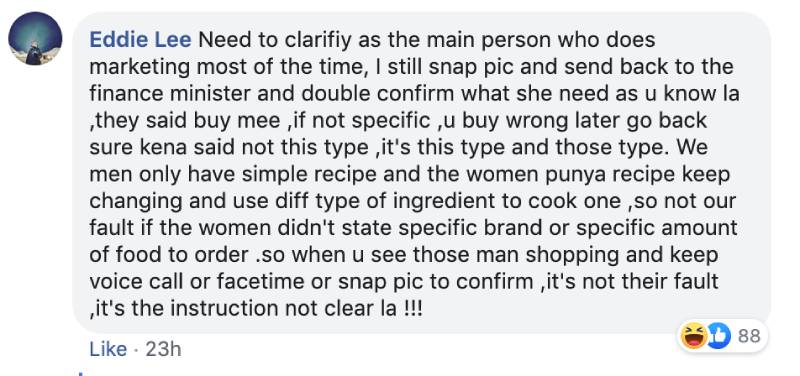 Other users like June Khaw, amused by Chew's humourous post, described the incident as a "system HANG".

What do you think? Are you also a "remote groceries shopper"?
This article was first published in theAsianparent.