With home prices at an all-time high, buyers are looking in every possible nook and cranny for a better deal. Here's a flicker of hope for them: Developers close to their ABSD deadline are highly incentivised to move their last few units; and if they are desperate enough, you may get discounts that are even better than earlier buyers. Here's a look at some condos that are creeping closer to that deadline:
Update March 27, 2022: Park Colonial has been sold out and has been removed from the article.
What is the ABSD deadline, and why would there be discounts?
When property developers buy land plots, they put down Additional Buyers Stamp Duty (ABSD) of 35 per cent of the land price (remissible), plus five per cent (non-remissible).
Assuming the developer can complete and sell all the units within five years, they can then get back the remissible portion. This is to ensure developers can't create artificial scarcity, by hoarding and withholding land.
As the cost of the ABSD is so high, it rarely makes sense for a developer to hold on to a handful of units beyond the five-year deadline. This can result in fire-sales, where the developer rushes to clear out the last few homes for cheap.
Note that the five-year time limit applies regardless of size; whether there are 100 or 1,000 units, the developer has to complete sell all of them.
A caveat: ABSD deadlines don't guarantee discounts
Some developers will sell their remaining units en-bloc to a single buyer like an investment firm, rather than to the public. Likewise, some developers may give a conditional discount (e.g., lowering the price only if they sell all the remaining units that week.)
For buyers, note that discounts tend to happen when developers are close to selling out, not when they're too far behind.
For example: if less than half the units are sold as the deadline nears, the developer may not give a discount – they probably won't sell out fast enough to meet the deadline anyway, so a price change is fruitless at that point.
It's when developers are left with a handful of hard-to-move units, that you may see a discount. Unfortunately, this can sometimes mean picking among less desirable units, or very high quantum units that most can't afford (e.g., penthouses, or strata-landed units in the condo).
Condos nearing the ABSD deadline in 2022/23
1. 8 Hullet is the closest to the deadline, but the one with the most percentage of units left is One Draycott
8 Hullet is expected to reach its deadline on May 24, 2022.
8 Hullet has only 44 units, of which 84 per cent have been sold; this would leave about seven units to go. This freehold condo has one of the best city-centre locations, being near Chatsworth International School (near Centrepoint mall on Orchard Road).
8 Hullet hasn't seen any recorded transactions since October 2021. The last few units seem to be just sitting there, without much recent interest:
The last recorded transaction was at $3,671 psf, up from the 2018 median price of $3,490 psf. This transaction was on 6th August 2021, for a 797 sq. ft. unit at $2.924 million.
There have been no other transactions in the past six months, and the developer may be eager to finish up sales.
We don't think there's anything "wrong" with the remaining units; it's just that 8 Hullet is a luxury property, and the high quantum + small unit sizes give them smaller prospective buyer pools.
One Draycott is another small development with just 64 units that have just sold about 14 per cent total, with the ABSD deadline approaching at the end of 2022.
It is in a very prime location, and also has the advantage of being freehold. That said, it doesn't offer any variance in unit type either, with just 2 bedroom units (varying sizes from 732 sq. ft. to 1,345 sq. ft.). Mind you, the biggest unit available isn't bigger in terms of floor space, but because it has a much higher ceiling given it's the "penthouse" unit on the top floor. So the target market is invariably a smaller group.
The last unit sold was recently in March 2022, a 797 sq. ft. unit that sold for $2.57 million, or $3,226 psf.
2. There are a number of CCR projects that have ABSD deadlines in 2023 that still have a good amount of remaining units
| | | | |
| --- | --- | --- | --- |
| Project Name | No. of Units | Take-Up (March 2022) | ABSD Deadline |
| Jervois Prive | 45 | 2.22 per cent | 04/06/2023 |
| Cuscaden Reserve | 192 | 5.73 per cent | 14/11/2023 |
| Jervois Treasures | 36 | 5.56 per cent | 02/09/2023 |
| The Atelier | 120 | 8.33 per cent | 19/09/2023 |
| Petit Jervois | 55 | 23.64 per cent | 25/04/2023 |
| Dalvey Haus | 17 | 23.53 per cent | 07/11/2023 |
| Haus on Handy | 188 | 32.45 per cent | 07/08/2023 |
| The Gazania | 250 | 49.20 per cent | 21/04/2023 |
| Van Holland | 69 | 36.23 per cent | 06/09/2023 |
| Pullman Residences Newton | 340 | 37.06 per cent | 21/10/2023 |
| Hyll On Holland | 319 | 37.62 per cent | 03/10/2023 |
| The Landmark | 396 | 37.12 per cent | 15/11/2023 |
| Midtown Bay | 219 | 36.07 per cent | 02/04/2023 |
| Juniper Hill | 115 | 40.87 per cent | 31/05/2023 |
| Sloane Residences | 52 | 38.46 per cent | 25/02/2023 |
| Riviere | 455 | 46.81 per cent | 07/06/2023 |
| The Hyde | 117 | 51.28 per cent | 30/04/2023 |
| Wilshire Residences | 85 | 55.29 per cent | 26/07/2023 |
| Leedon Green | 638 | 58.93 per cent | 11/10/2023 |
| One Holland Village Residences | 296 | 54.39 per cent | 13/11/2023 |
| The Avenir | 376 | 59.84 per cent | 16/09/2023 |
| RoyalGreen | 285 | 68.42 per cent | 31/05/2023 |
Of the many CCR projects that are facing pressure, the noteworthy ones here are Sloane Residences , Midtown Bay , and Riviere – since these fall within the first half of 2023.
If you've taken a drive around District 7 recently, you might have seen the ongoing construction of the entire area. You can already see the makings of a really big transformation there, The Guoco Midtown precinct, the new Shaw Tower (450,000 square feet of Grade A office space, as well as retail and F&B offerings), with even more to come at The M.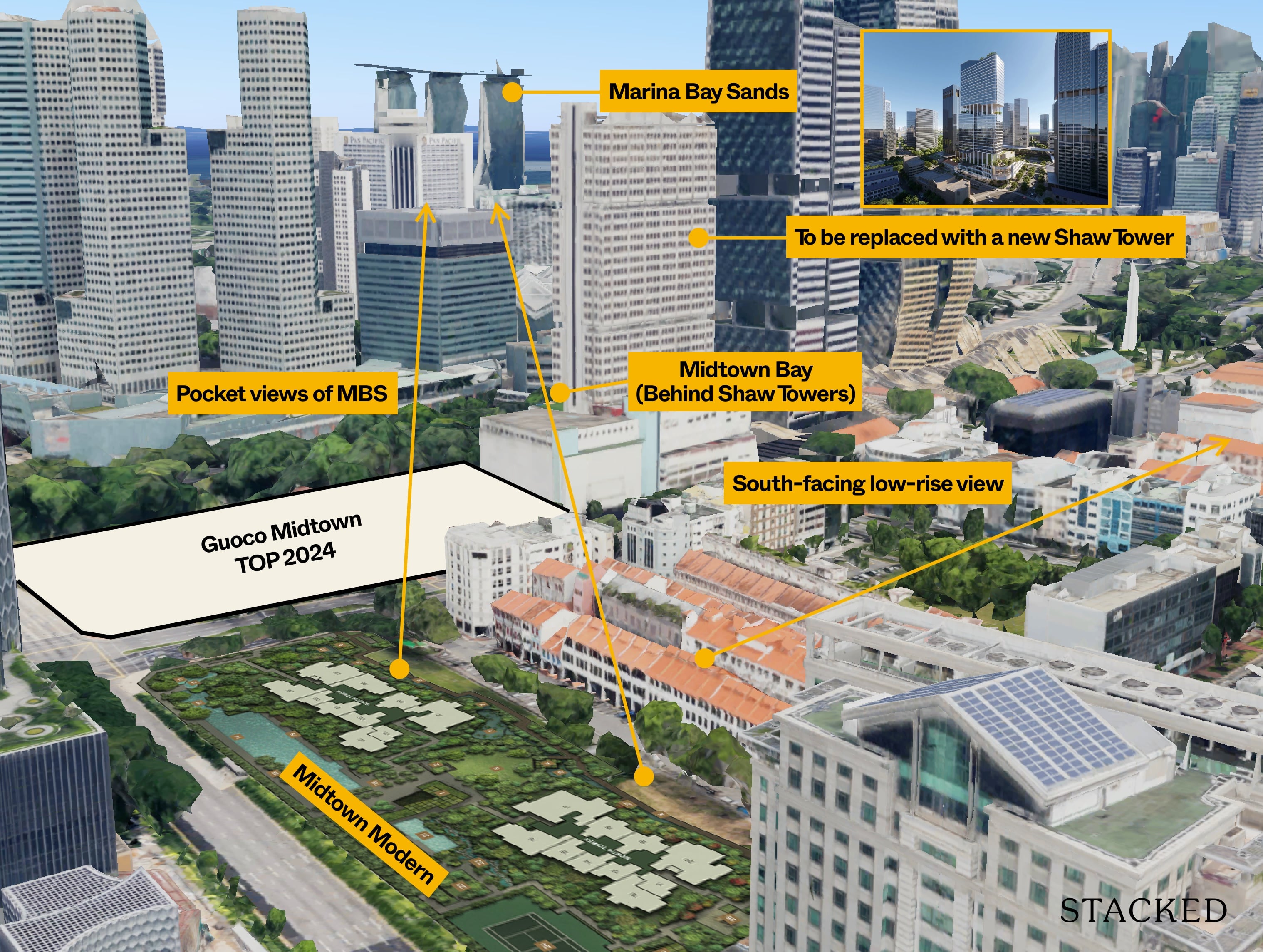 Midtown Bay is the more exclusive of the two residential offerings at Guoco Midtown, and it is currently about 36 per cent sold with its ABSD deadline coming in during Q2 2023. That said, it has just 219 units total, and given the transformation taking place, it isn't a whole lot to move in a year.
Riviere, however, is a different story as it has more of a luxurious residential focus. It is currently about half sold, and with more than 200 units left, it does face a tough fight with the current cooling measures that affects the high-end foreign crowd.
Besides the central areas, the Holland vicinity is also another one to point out. We've spoken about it before , but there is currently more than adequate supply in the area with developments like Wilshire Residences, Leedon Green, One Holland Village Residences, Van Holland, and Hyll on Holland all hovering around the 30-50 per cent uptake mark.
Finally, the Jervois area is another that is worth mentioning with a very healthy supply of units. Jervois Mansion may have bucked the trend here, but Jervois Treasures, Jervois Prive, and Petit Jervois are struggling at the moment. That said, these are all boutique projects, with the biggest development here holding just 55 units.
3. Three Marine Parade luxury condos have a deadline in Q1 2023
Three luxury, boutique condos in Marine Parade will reach their ABSD deadline in Q1 0f 2023. These are Meyerhouse, One Meyer, and Nyon at Amber.
Nyon, a Peranakan-themed freehold condo along Tanjong Katong Road, has only 92 units. The ABSD deadline for Nyon is estimated to be in March 2023.
Around eight units are left right now, and the median price has already fallen below the initial launch price:
Transactions have been going strong from December 2020 to last month, so it seems buyers are moving in to mop up the last units at a good price.
Meyerhouse and One Meyer still have some ways to go. Meyerhouse is estimated to have around 16 or 17 units left, of its 56 units; and One Meyer has about 12 of its 66 units left.
Both of these properties have seen prices dip from their initial launch:
Meyerhouse has seen recent transactions at $2,531 psf, down slightly from $2,561 psf back in 2019.
Meanwhile, One Meyer has also shown lower prices:
The median price is now at $2,573 psf, down from $2,669 psf in 2019.
While it does look like prices are already lower in anticipation of the encroaching deadline, it could also be down to bigger units moving towards the end instead. Don't be fooled by the small numbers of units; while they are very few, these are luxury homes and can be tough to move.
One Meyer has till 18th January 2023, while Meyerhouse has till 28th March 2023.
Of the three, Meyerhouse looks to have a little more inertia to move given the much higher quantum (big units), and the December 2021 cooling measures would also have a greater impact on foreigners buying high-end homes.
4. Some notable projects are very close to selling out, but have Q1 2023 deadlines
Affinity at Serangoon has a deadline that's just over a week later, on Jan 11, 2023. There are an estimated 24 units remaining, out of this mega-development's 1,012 units.
Buyers do seem to be moving in to take up the last few units – we've seen a good number of transactions from January to March this year:
Median prices at Affinity are also down to about $1,513 psf, from $1,584 psf in 2018. However, the remaining units seem to be the larger 1,400+ sq. ft. units, which can reach a quantum of $2.2 million or higher; this is a bit much for the average HDB upgrader.
If these units still can't move toward the end of the year, the developer may be more aggressive in clearing them.
With the war in Ukraine and recent cooling measures, the Singapore private property market has become a bit hard to read. If there's a rush toward real estate as a safe haven (especially now with the opening up of our borders), these units may be snapped up with no further discounts.
If buyers seem uncertain, however, we doubt many developers – who are already squeezed – are willing to pay the hefty ABSD. It may be a good time for those looking for new homes to keep an eye out.
This article was first published in Stackedhomes.