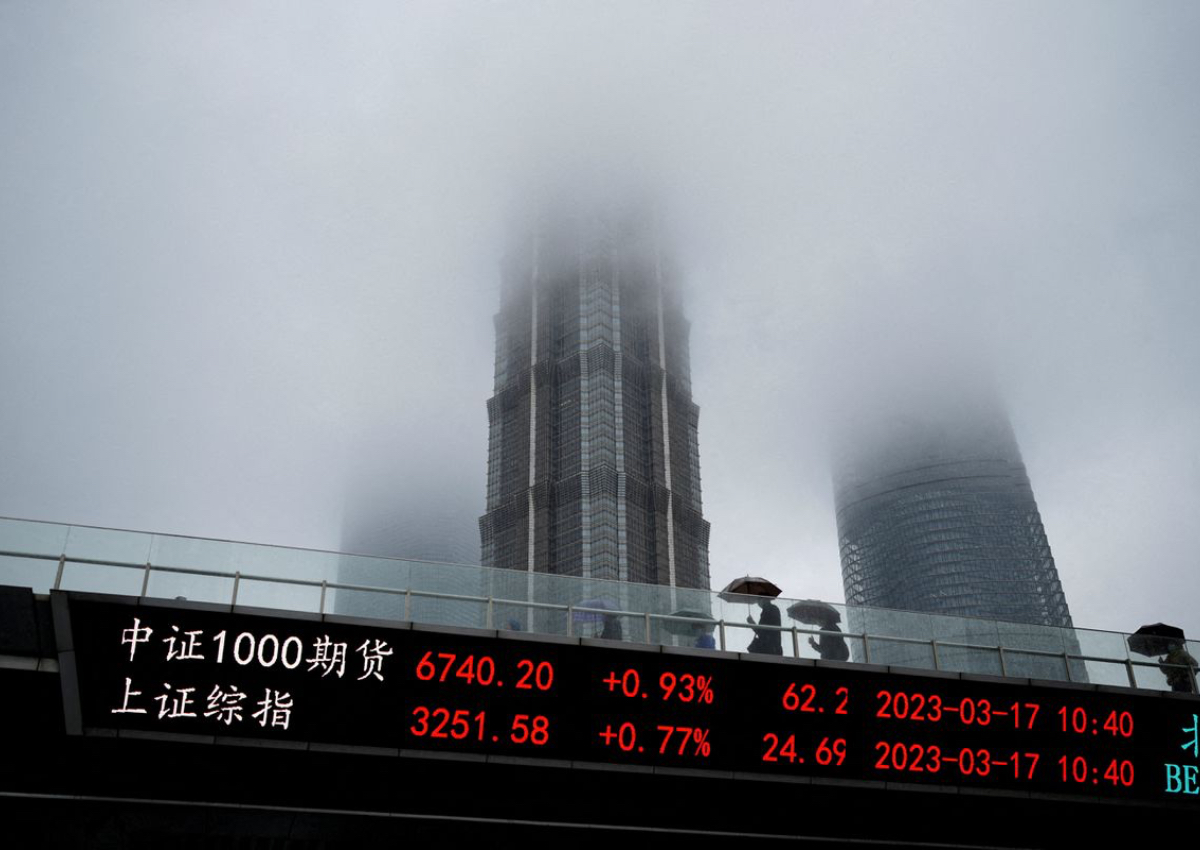 SINGAPORE — Asian shares stumbled to a two-month low on Thursday (May 25), and the dollar rose as the impasse in negotiations to raise the debt ceiling undermined risky assets on worries about the hit to the global economy if the US government defaults.
MSCI's broadest index of Asia-Pacific shares outside Japan fell 0.84 per cent to 503.93, the lowest since March 21, and was on track for a second straight month of losses.
China shares fell 0.53 per cent, while Hong Kong's Hang Seng index tumbled two per cent to their weakest in 2023. The drop in these two markets weighed on MSCI's Asia ex-Japan index, whose top 10 constituents include Tencent Holdings, Alibaba Group Holding, AIA Group and Meituan.
Tokyo's Nikkei remained an outlier in the region and was up 0.25 per cent.
Negotiators for Democratic President Joe Biden and top congressional Republican Kevin McCarthy held what both sides called productive talks on Wednesday as they race to reach a deal to raise the debt ceiling.
But with no resolution in sight, traders remained wary of a possible and catastrophic default with US Treasury Secretary Janet Yellen maintaining early June as a debt ceiling default deadline.
"There's a beginning of a sense that maybe this time is a little bit different," said Rob Carnell, ING's regional head of research, Asia-Pacific.
"Despite the comments that progress keeps being made, you just wonder, McCarthy gets a deal (and) whether even his own party will support it," he said. "So that's a concern."
Credit ratings agency Fitch put the US on watch for a possible downgrade late on Wednesday, further dampening sentiment.
A downgrade could affect the pricing of trillions of dollars of Treasury debt securities. Fitch's move revived memories of 2011, when S&P downgraded the US to AA-plus and set off a cascade of other downgrades as well as a stock market sell off.
"I hope Fitch knows the consequences of doing this and they're almost doing it just to try and put a bit of pressure on," ING's Carnell said. "It doesn't necessarily mean they will downgrade but it's like saying, 'you better be mindful, otherwise this is coming'."
Overnight, Wall Street's main indexes ended lower on debt-ceiling concerns.
E-mini futures for the S&P 500 rose 0.38 per cent, while Nasdaq futures climbed 1.4 per cent in Asian hours after Nvidia Corp forecast second-quarter revenue more than 50 per cent above Wall Street estimates.
The semiconductor company said it was boosting supply to meet surging demand for its artificial-intelligence chips, which are used to power ChatGPT and many similar services.
Shares of Taiwan Semiconductor Manufacturing Co Ltd (TSMC) and South Korean firm SK Hynix in Asia also surged after Nvidia's earnings.
European stocks were set for a higher open, with the Eurostoxx 50 futures up 0.09 per cent, German DAX futures up 0.10 per cent and FTSE futures up 0.15 per cent
On the monetary policy front, Federal Reserve officials "generally agreed" last month that the need for further interest rate increases "had become less certain," according to minutes of the May 2-3 meeting when the benchmark rate was raised a quarter-percentage-point to 5.00 per cent-5.25 per cent. Several officials said that hike might be the last.
Ray Attrill, head of FX strategy at National Australia Bank, said the minutes reflect the somewhat divided nature of much of the post-May meeting commentary from an array of Fed officials.
"Those advocating for the Fed to not be done at the current 5.0-5.25 per cent do seem open to at least a pause in June," Attrill said.
Markets though are now pricing in 33.6 per cent chance of a 25 basis point hike in June, compared with 28 per cent last week, according to CME FedWatch tool.
Treasury bills maturing around June 1, the so-called X-date when the government runs out of money, have been under pressure for weeks and came in for further selling, pushing yields on securities maturing on June 1 to 7.628 per cent.
The two-year US Treasury yield, which typically moves in step with interest rate expectations, was up seven basis points at 4.413 per cent.
In the currency market, the dollar index , which measures the US currency against six peers, rose 0.183 per cent, touching a fresh two-month peak of 104.06.
The yen weakened 0.08 per cent to 139.56 per dollar, while sterling was last trading at US$1.234 (S$1.67), down 0.19 per cent on the day.
US crude fell 0.17 per cent to US$74.21 per barrel and Brent was at US$78.35, down 0.01 per cent on the day.
Spot gold added 0.1 per cent to US$1,958.09 an ounce.
ALSO READ: Singapore's GDP grew 0.4% in Q1, beating advanced estimates