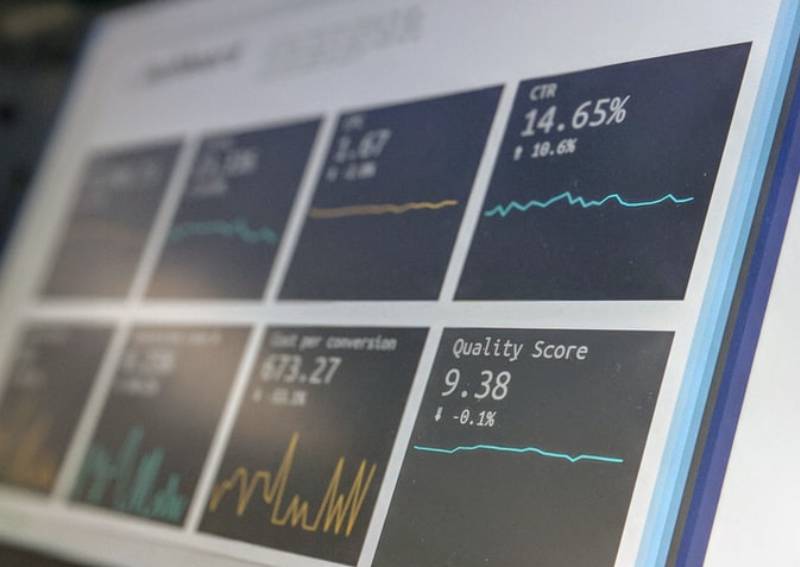 In recent years, Singaporeans have been acquiring more loans through pawn shops.
While traditional loans are still the more popular choice, pawn shops can be attractive due to their quick cash disbursal without a credit check or income requirements and ability to lend to foreigners.
During the circuit breaker, it was expected that pawn shops would lose some of their business due to closures, but their fast recovery was on pace with recent trends, and Aug 2020 showed the highest borrowed amount over the past year.
How has the relationship between pawn shops and their customers changed during Covid-19, and are they a suitable alternative to traditional lending during a time of economic uncertainty? We explore this trend below.
Pawn shop loans fell 42 per cent during Covid-19 but recovered quickly
As Covid-19 began to spread across the world, stay-at-home orders were implemented by governments to protect the population.
Singapore's circuit breaker ordered restricted movement of people and non-essential businesses to close from April 1st, 2020.
Since pawn shops were considered a non-essential business and had to close, the result was a 42 per cent decline in business in April and May. In fact, in one interview from Channel News Asia, a senior director of a popular pawnshop estimated that footfall dropped between 80 per cent to 90 per cent.
Those who did apply for a loan borrowed mostly micro-loans of $1,000-$2,000 in case of a medical emergency.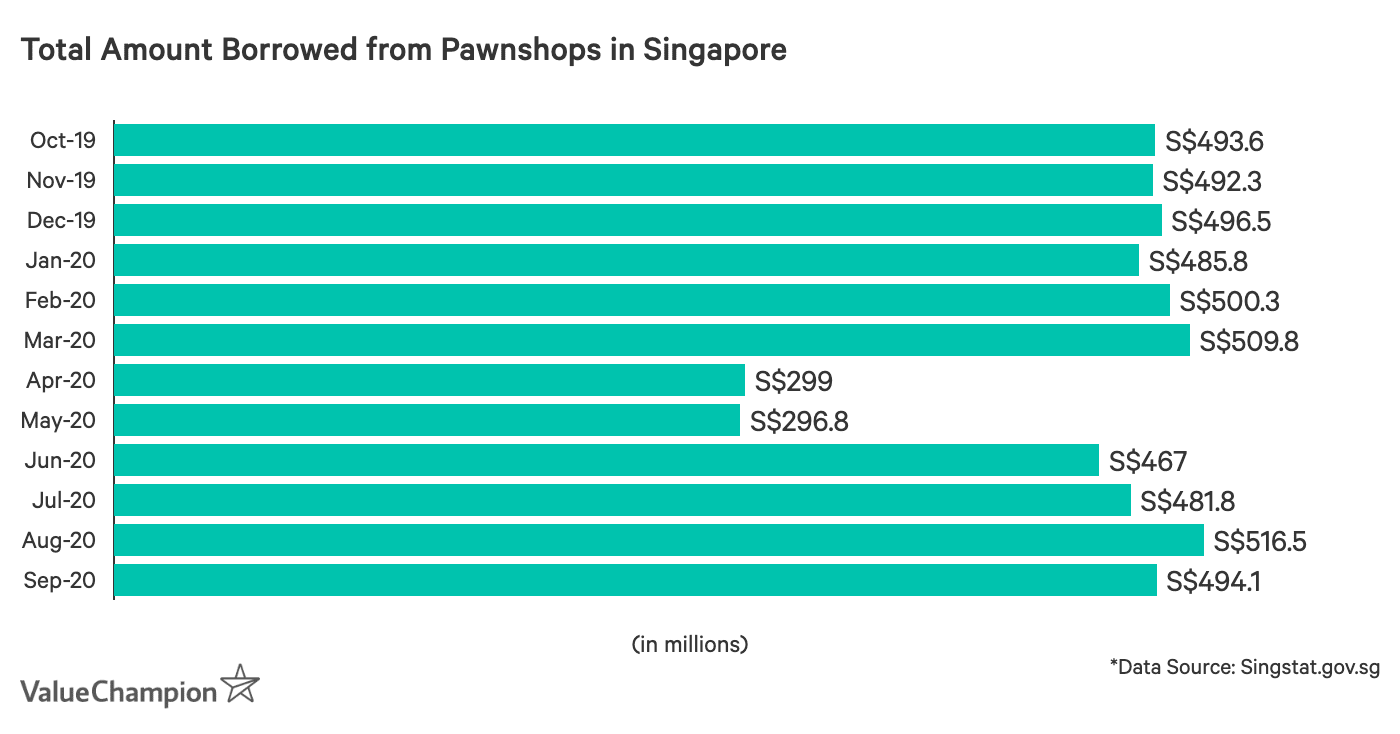 Despite the initial decline in sales of loans from April - May, the pawn shop loan market recovered fairly quickly. A potential reason is that nearly 130,000 people lost their jobs in Singapore.
Thus, Singaporeans needed ways to pay for their bills and other expenses. To make up for the lack of business in April and May, 220 of the 235 pawn brokers waived interest rates for the first month of a loan to stimulate growth.
As pawn shop loan tenors (6 months - 1 year) are relatively short compared to traditional bank loans (1-7 years), but have much higher interest rates, this interest rate reduction probably helped secure customers who can't apply for traditional bank loans.
Loans and pledge redemption was at an all-time high during Covid-19
What's very interesting is that during a time when most people needed extra cash, pawn shops found themselves with more customers that were redeeming their items than pawning them.
In fact, between April 2020 and July 2020 pledge redemption stood between 7 - 23 per cent more pledges were redeemed than were received at pawn shops — the highest in the past 10 years.
Pawn shop loans were a similar story-the number of loans redeemed was 9 -16 per cent higher than the loans given out.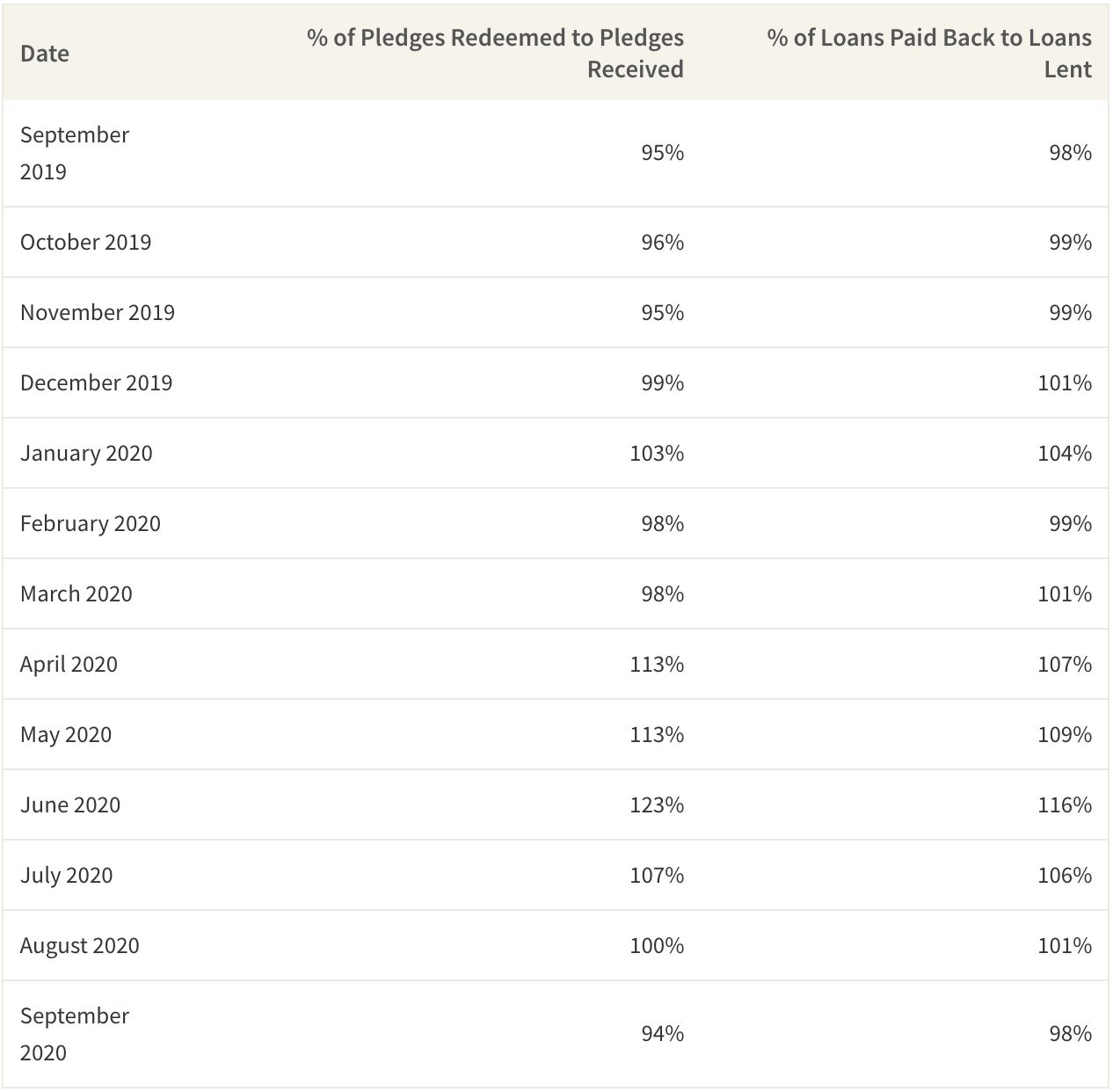 This could have happened for a number of reasons. The first is that the extra funds given out by the Singapore government helped struggling Singaporeans redeem their items.
Second, some pawn shops surmised that the closure of gambling places meant that some of their customers ended up with more cash than before and were able to pay off their loans.
Regardless the reason, this is a heartening statistic to see.
Are pawnshops your best option during economic uncertainty?
As pawn shop loans only take 10 - 15 minutes to redeem, and most brokers will give you 60 per cent - 80 per cent of the value, pawn shop loans may be an attractive way to quickly borrow money.
However, it's worth pointing out that pawn shop loans have higher interest rates than personal loans from banks, and you could risk losing your collateral if you cannot repay the loan.
For instance, a pawn shop charges 1 per cent interest the first month and gradually increases their rates, while a traditional bank charges 3.48 per cent - 5.79 per cent per year.
But what if you're not qualified for a traditional bank loan? In that case, you have other options.
For instance, moneylenders and credit co-ops have more flexible eligibility requirements but provide a safe lending environment.
Despite what avenue you choose to take, you should check the regulations of any lender on the Ministry of Law's website prior to taking out a loan.
For example, pawn brokers cannot legally charge you more than 1.5 per cent interest per month and are restricted from sending you SMS messages. In doing so, you can avoid any scams that might befall you.
For the latest updates on the coronavirus, visit here.
This article was first published in ValueChampion.