Like HDBs, executive condominiums (ECs) are subjected to a 5-year Minimum Occupation Period (MOP) as they are a hybrid of public and private housing. Once an EC MOPs, its owners are allowed to sell their unit on the resale market (to Singaporeans/PRs) or put the whole unit up for rent. 
Resale ECs might be attractive to some buyers as they are generally more affordable than new launches. Once it reaches its 10-year mark, it is fully privatised, and its investment potential is likely to increase. A recently MOP-ed EC is also attractive as there will still be 94 years of the remaining lease and it will most likely be in good condition.  
If you plan to buy a resale EC, here are six ECs that will MOP in 2023. 
Resale ECs which MOP in 2023
Treasure Crest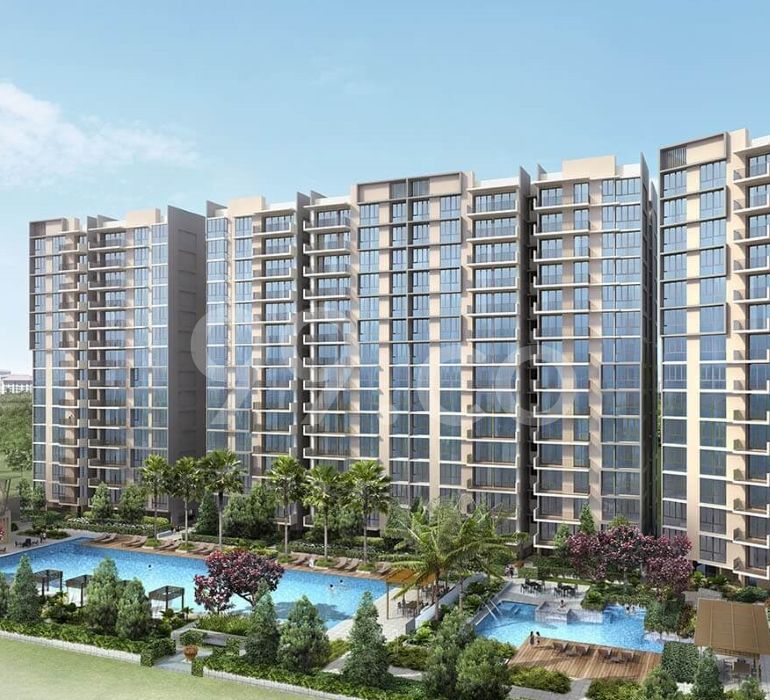 Address: Anchorvale Crescent
Number of units: 504
Nearest MRT/LRT stations: Cheng Lim LRT (269m), Sengkang MRT (849m)
Average price psf: $1,107
Located in the Anchorvale area of Sengkang, Treasure Crest consists of 3 and 4-bedroom units, which are great for larger families with two to four children. 
The EC is within walking distance of a Sheng Siong supermarket, a coffee shop and Sengkang General Hospital. The latter has a food court and other eating establishments. Compass One shopping mall and Kopitiam Square (which has a hawker centre and wet market) are also just one LRT stop away. 
For buyers with young children, the good news is that five primary schools are within 1km of Treasure Crest. These are Nan Chiau Primary, Springdale Primary, Anchor Green Primary, Punggol Green Primary and Compassvale Primary. 
Sengkang Riverside Park is also a few minutes away, where residents can enjoy a refreshing walk and the facilities at Sengkang Sports Complex. Plus, there's a park connector which links to Punggol Waterway Park and Coney Island. 
The Criterion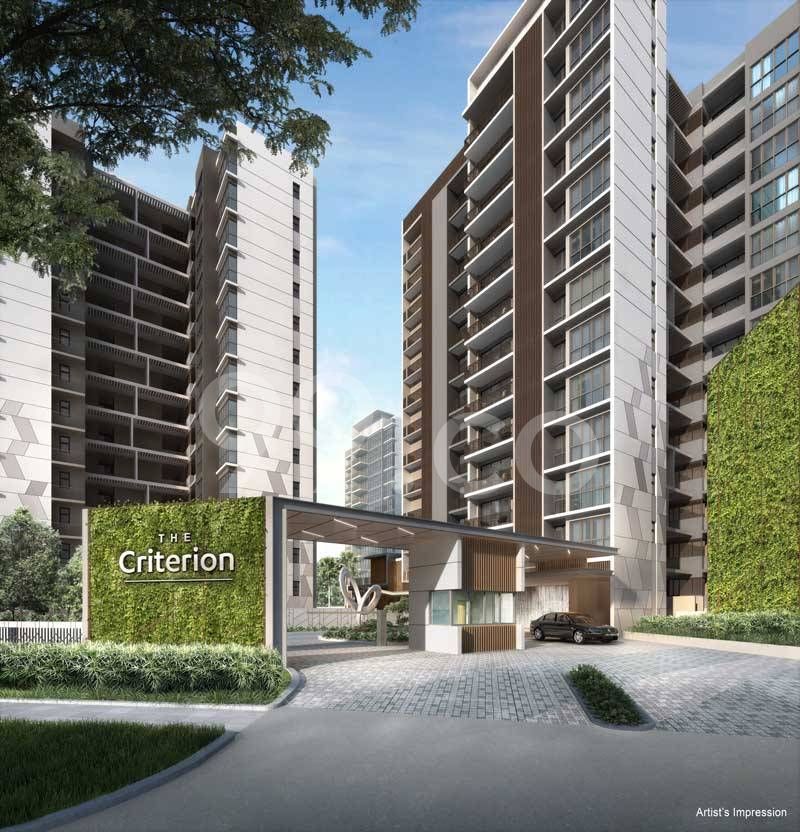 Address: Yishun Street 51
Number of units: 505
Nearest MRT/LRT stations: Khatib MRT (1.4km)
Average price psf: $1,073
The Criterion is one of three ECs that are MOP-ing in the Yishun and Sembawang area this year. It has a mix of 2 to 5-bedroom units to suit couples, young families and even multi-generational families. 
Primary schools within 1km of The Criterion are Hua Min Primary, Naval Base Primary and Northland Primary. Half of its blocks are also within 1km of North View Primary.
For your grocery needs, there's a Sheng Siong supermarket within a 5-minute walk away and a FairPrice Finest at Wisteria Mall. The mall has F&B outlets, hair and beauty salons, enrichment centres and other services. There are also several coffee shops in the HDB developments nearby. 
One downside of The Criterion is that it's not very close to an MRT station, but there are bus services that'll bring you to Khatib MRT in less than 15 minutes. 
The Visionaire
Address: Canberra Drive
Number of units: 632
Nearest MRT/LRT stations: Canberra MRT (503m)
Average price psf: $1,088
Situated a 7-minute walk from Canberra MRT station, The Visionaire comprises 2, 3 and 4-bedroom units catering to varying family sizes. 
One plus point is that it's just opposite the newly opened Bukit Canberra, an integrated sports and community hub with an 800-seater hawker centre, a gym, a swimming pool and a polyclinic.
The Visionaire is also conveniently located within walking distance to Canberra MRT, Canberra Plaza, Sembawang Shopping Centre and Sun Plaza, where there are supermarkets, F&B outlets and other amenities. 
Primary schools within 1km of The Visionaire are Wellington Primary and Sembawang Primary. 
Parc Life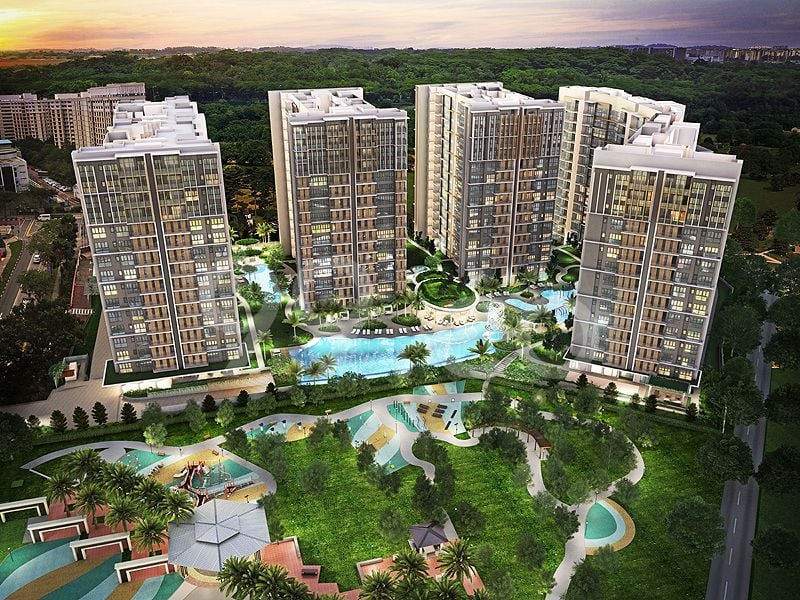 Address: Sembawang Crescent
Number of units: 628
Nearest MRT/LRT stations: Sembawang MRT (666m)
Average price psf: S$1,070
Just down the road from The Visionaire is Parc Life, another EC MOP-ing in the area with 2, 3, 4 and 5-bedroom units. 
Located a 10-minute walk from Sembawang MRT, it's near schools like Canberra Primary, Sembawang Primary and Wellington Primary (some blocks won't be within 1km of Wellington Primary).
Parc Life is also a 3-minute walk to the nearest supermarket, Prime and Kimly Coffeeshop at the neighbouring HDB Sun Breeze development. Shopping malls like Sun Plaza and Sembawang Shopping Centre are also within walking distance. 
Sol Acres
Address: Choa Chu Kang Grove
Number of units: 1327
Nearest MRT/LRT stations: Teck Whye LRT (267m)
Average price psf: $1,151
There are not just one but two ECs MOP-ing in Choa Chu Kang this year. The first is Sol Acres, a development with 1 to 5-bedroom units catering to families, couples and investors. It's the only EC on this list to have 1-bedroom units. 
For daily groceries, residents can take a short walk to a FairPrice Xpress at Keat Hong Mirage and Sheng Siong at Teck Whye Shopping Centre, which also has a variety of F&B outlets and amenities.
Primary schools within 1km of Sol Acres are Choa Chu Kang Primary, South View Primary and Teck Whye Primary. 
Although the EC is not near an MRT station, residents can take a short LRT ride to Choa Chu Kang or Bukit Panjang MRT stations from either Teck Whye or Keat Hong LRT stations. 
Wandervale
Address: Choa Chu Kang Ave 3
Number of units: 534
Nearest MRT/LRT stations: Choa Chu Kang MRT (647m)
Average price psf: $1,115
Located nearer to Choa Chu Kang Central, Wandervale has 3 and 4-bedroom units which are suitable for a family of four to six. 
What's great is that it's a 9-minute walk to Choa Chu Kang MRT station on the North-South line. It's also within walking distance to Lot One shopping mall, which has a FairPrice supermarket and plenty of F&B outlets. Residents will also be near the coffeeshops and eateries at Teck Whye Shopping Centre.  
Primary schools within 1km of Wandervale include Choa Chu Kang Primary, South View Primary and Teck Whye Primary. 
Residents can also walk to Choa Chu Kang Park and the new SAFRA Choa Chu Kang, which will have a sheltered swimming pool, futsal court, a running track and more.
Should you sell your EC right after MOP?
For those living in an EC, you might want to sell your unit right after MOP to gain a tidy profit. 
In a report by real estate agency, Orange Tee & Tie in October 2022, 99.9% of ECs sold in the resale market between 2007 and end-Aug 2022 yielded an average gross profit of $295,904. Most of the 4,266 transactions of ECs sampled were sold less than 10 years after they were first bought. 
The same report also revealed that 7% of resale ECs earned a profit of $500,000, including a unit at CityLife@Tampines which yielded the highest profit of $1.38 million. 
With encouraging figures like these, it's understandable that EC owners would want to sell their unit once it reaches MOP. 
Besides the likelihood of gaining a high profit, ECs are generally regarded as popular as there's a chance to buy a condo with government subsidies. 
Another factor might be the high demand but low supply of ECs in the market. 
According to data from URA Realis, there are only 433 unsold EC units in the market. Hence, owners of freshly-MOP ECs might want to capitalise on the low supply of ECs. 
This is coupled with the fact that recent EC launches have also performed well. Copen Grand, which launched in October 2022, is already fully sold while Tenet EC (launched in November 2022) is already more than 93% sold. 
More importantly, don't rush to sell off your EC
1. Consider the life cycle of ECs
If you are an EC owner, you might also take a "wait and see" approach. One factor to consider is the life cycle of ECs. ECs are a special case in Singapore's property market as they are subsidised as a new launch condo, but once they reach 10 years, they are fully privatised. 
We've compared five ECs which TOP-ed in 2014 and will be fully privatised in 2024 – Austville Residences, Arc at Tampines, Belysa, Blossom Residences and The Canopy. For a fairer comparison, these projects are across different estates in Singapore and are quite a distance away from an MRT station.   
Based on the price trends of these five ECs, their average psf prices didn't appreciate much after reaching MOP in 2019. However, between the 6th to 8th year after TOP, their average psf prices appreciated more significantly. Hence, you might want to keep your EC a little longer before selling it for even more profit in the later years. 
One thing to note is that other factors might be at play, such as the property boom during the Covid-19 period and the supply and demand of new ECs, which brings us to our next point. 
2. Supply and demand of ECs and newly-MOP HDBs in the area
Another factor affecting how much profit you make from your EC is the supply and demand of ECs in the area and the number of newly-MOP HDBs in the area. 
If there's a low supply of ECs or private condos in your area, chances are you'll be able to demand a higher price. If several ECs are MOP-ing in an area in the same year, many EC owners will be eager to sell off their unit, so waiting for a few months or even a year might be better. 
It's also important to look at the number of HDB developments MOP-ing your area. This would form the pool of buyers for your resale EC, and they are most likely to upgrade to private property in the same area. 
ALSO READ: An EC made $1.38m in profits? 10 most profitable executive condos in the past 10 years
3. Consider your finances and housing situation
If you're selling your EC to upgrade to a private condo, you'll need to ensure that it's within your financial means. With the rising interest rates from banks, you'll need to be able to tide through your monthly mortgage payments. (Don't forget to use 99.co's Mortgage Calculator and Affordability Calculator.) 
You'll also need to make arrangements and factor in the finances for temporary accommodation if you want to downgrade to a resale HDB, as there's a 15-month wait-out period.