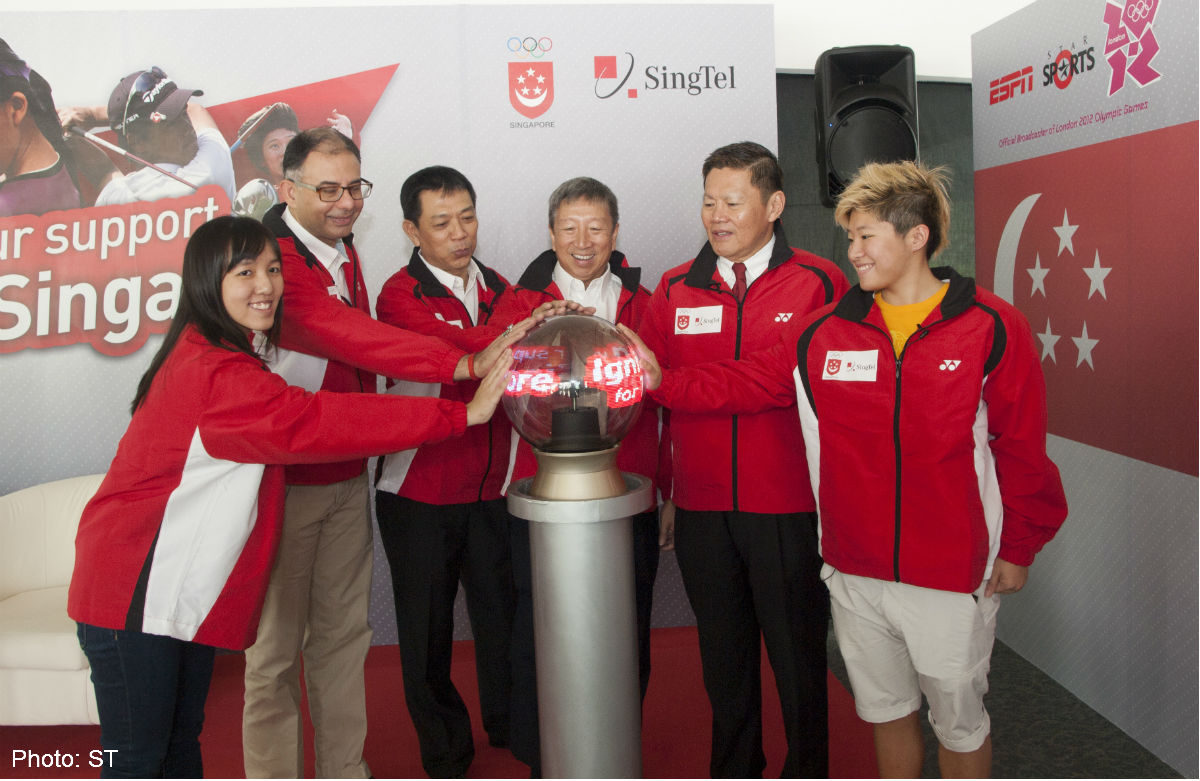 SINGAPORE - It has been supporting Team Singapore athletes via a sponsorship deal with the Singapore National Olympic Council (SNOC) for major events like the South-east Asia (SEA) Games.
And telco giant SingTel may well strengthen its support for local sports, as Singapore gears up to host the biennial Games next year at the Sports Hub.
Speaking to The New Paper on Monday, a SingTel spokesman said: "The 2015 SEA Games will be a great event for Singapore - SingTel is an avid supporter of local sport and we are definitely keen to show our support.
"We are in discussions with the Singapore Sports Council to work out the best ways in which we can contribute."
In addition to its SNOC sponsorship deal, which runs till 2017, the telco has been the title sponsor of the Formula 1 Singapore Grand Prix since 2008.
Corporate support for the 28th SEA Games, which will be held here from June 5 to 16 next year, is an area the Singapore SEA Games Organising Committee (Singsoc) is looking to grow and develop for the long run.
The aim is to target small and medium businesses, as well as companies with regional links.
Singapore will host the SEA Games next year for the first time since 1993 and interest is ramping up as it coincides with the 50th year of the country's independence.
INITIATIVES
In a first, athletes and officials from the region will stay in hotels around downtown Singapore.
The regional sports extravaganza is estimated to reach an audience of around 600 million people, and organisers have already set a target of attracting about $50 million in both cash and value-in-kind sponsorships.
Singsoc has been in discussions with potential sponsors since last year, with packages starting from $50,000, and will hold a launch party on Saturday at The Meadow, Gardens by the Bay, to unveil the Games logo, theme and mascot, among a slew of other initiatives.
Already, one major local corporation will be linked to the Games.
Some of the competitions will be held at the OCBC Arena and OCBC Aquatics Centre, as part of the banking group's naming rights deal with the Singapore Sports Hub.
The bank already sponsors the OCBC Cycle Singapore and OCBC Cycle Malaysia, and backs the OCBC Singapore Pro Cycling Team.
Asked if it would consider SEA Games sponsorship, head of group corporate communications Koh Ching Ching said: "Our current sports sponsorship is not done in a small scale.
"Our sports sponsorships have allowed us to engage and connect with the communities in a meaningful way.
"We have been able to engage with our customers and members of the public beyond the banking environment where people are indulging in their passions and interests.
"Support for the SEA Games in 2015, if any, will have to be considered in the whole scheme of things for us."
sayheng@sph.com.sg

Get The New Paper for more stories.