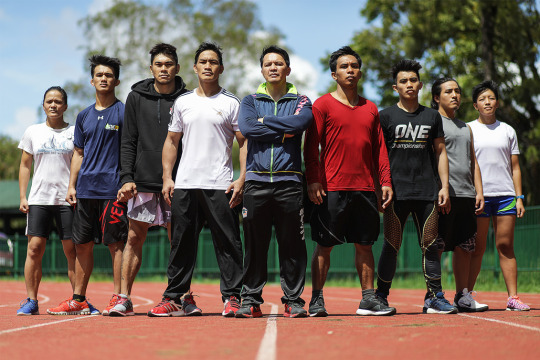 Team Lakay has been the standard-bearer for martial arts excellence in the Philippines.
Led by coach Mark Sangiao, the Baguio City-based team has produced a host of talented athletes who have progressed to the global stage in ONE Championship.
A quartet of Team Lakay stars are set for action on 26 January, as Joshua Pacio, Edward Kelly, April Osenio, and ONE Interim Flyweight Title challenger Geje Eustaquio are all scheduled for competition at ONE: GLOBAL SUPERHEROES in Manila.
After a tough year in 2017 that saw the team suffer some tough losses, including the loss of star team member Eduard Folayang's ONE Lightweight World Title, Sangiao says the team is ready to bounce back in 2018, starting this weekend on home soil.
"Losing is a big part of this sport," said Sangiao.
"I would be a hypocrite if I said I was fine with the losses. But let's be real, and say that these losses have served as opportunities for us to re-examine the areas of our skills that we have to improve on.
"Losing is the greatest teacher, and sometimes in victory, you cannot see your faults. The losses helped our athletes re-evaluate their abilities, their weaknesses, and how we can become better."
The highest-profile loss for the team in 2017 was undoubtedly Folayang's stunning knockout defeat at the hands of ONE Featherweight Champion Martin Nguyen, whose one-punch finish of "Landslide" saw him crowned the first two-weight world champion in ONE Championship history.
It was a defeat that Sangiao described as "heartbreaking and devastating", but said the support shown to Folayang and the wider team was a huge boost following such a significant loss.
"We were all disappointed at the outcome, especially Eduard," admitted Sangiao.
"But we continued to support each other and looked at the positives.
"Back in our hotel room, we had a heart-to-heart talk within the team. There was no negativity and no excuses, only flooding support. That helped us get through those difficult times, and now, Eduard is more motivated than ever to get his belt back."
Another big loss for the team came when Danny Kingad lost out to Adriano Moraes in his challenge for the ONE Flyweight World Title. But, as you'd expect from one of the world's top coaches, Sangiao has taken a lot of positives from his protege's defeat.
"People might see Danny Kingad as just another victim of Adriano Moraes, as an inferior martial artist," he explained.
"But in a real sense, Danny did not really lose. Moraes is a proven world champion and a seasoned veteran who is considered one of the top martial arts talents in the entire world.
"Danny, at his age, was actually very lucky to be able to challenge Moraes for the title. He is still young and he has his whole career ahead of him.
"The experience against Moraes only helped him to become better. Expect a much better Danny Kingad when he comes back."
One man Sangiao is excited to watch in 2018 is his young charge Joshua Pacio. The 22-year-old has already taken his career wins in the cage to double figures, and is constantly improving in the gym. He faces China's Lan Ming Qiang at ONE: GLOBAL SUPERHEROES on 26 January.
"Honestly, as his coach, I see a bright future ahead for Joshua Pacio," he said.
"He has shown incredible discipline, a positive attitude, and a dedication to training. I will not be surprised if Joshua will one day be a world champion, sometime very soon."
Pacio lost out to Japanese veteran Hayato Suzuki via first-round submission last year, but the Filipino strawweight's attitude and progression in the gym has Sangiao optimistic about the young striker's chances, should the pair meet again.
"His bout against Hayato Suzuki was a bit premature, yes, but this is not an excuse by any means," he said.
"I think with more experience, a rematch between the two would produce a different result."
With a host of stars among the team's ranks and with a dedication to constant improvement, Sangiao has high hopes for a big year for Team Lakay in the coming months and years.
"The last six years has been phenomenal for Team Lakay in terms of growth and experience," he explained.
"Our team and all of our athletes have been constantly growing and improving their skills — not only nationally, but also regionally in Asia."
Sangiao also paid tribute to ONE Championship, saying the organisation has played a huge part in the team's success, providing his best students with the chance to compete at the highest level.
"ONE Championship, from the very beginning, has been instrumental in our growth, constantly providing us with opportunities to demonstrate our potential on the world stage," he said.
"Currently, we are the premier martial arts team in the Philippines, and internationally we have built a reputation of having some of the fiercest and most-talented athletes in the game.
"Team Lakay has consistently produced world-class talents and champions, and will continue to do so in the foreseeable future."