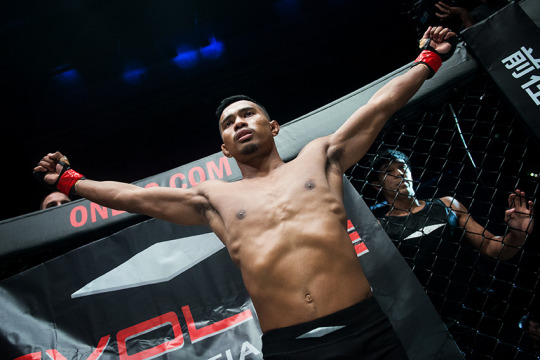 Amir Khan is young, in form, and heading to the top of the ONE lightweight division.
The Singaporean striker has been a revelation inside the ONE Championship cage, winning his last six contests, with five of those wins coming inside the distance.
The 23-year-old is heading into this weekend's ONE: QUEST FOR GOLD in Yangon, Myanmar, where he'll take on Russian Timofey Nastyukhin at the Thuwunna Indoor Stadium looking to book a shot at the ONE Lightweight World Championship currently held by Martin "The Situ-Asian" Nguyen.
Khan sat down with ONE Championship for an exclusive interview, where he opened up on his career to date and his recent stint in Singapore's National Service, which helped shape him into the man he is today.
"I served for two years, and completed my National Service in May last year," he explained.
"It was a tough challenge. I was really worried before I enlisted for National Service, but somehow I knew I could find a way to still train and compete. As it turned out, I had two matches per year. I just wanted to stay active and keep improving.
"The key for me for that two years was I promised myself that even if I did not get matched up, I would keep improving every day as a martial artist, so when I finished my National Service, I would be ready to go for a world title, because that is my ultimate goal.
"It was tough, because I had to work 8am to 6pm, and then train afterwards. I did not really have much of a life outside of work and training, so I had to get my priorities straight. Looking back, I think it taught me a lot, and it made be a better man and a more focused person."
Luckily for Khan, his superiors took his sporting endeavours into consideration when assigning roles, and gave Khan clerical work, which allowed him to still continue his training.
"I talked to my commander and he let me do lighter duties so I could save my energy for training," he said.
"I was thankful that I had great support from my bosses during my National Service. They were really supportive."
Now he's free of his National Service commitment, Khan is ploughing forward in his martial arts career, and was free to dedicate all his time to furthering himself as a martial artist. It's just as well, as Khan's weight class - lightweight - is arguably the toughest division in ONE Championship.
"I believe lightweight is the most stacked division in ONE Championship," he said.
"There is no real ranking system, so I would say I am next in line for the title shot. I would not say number one, or two, or three. I think any of the top five could compete for the title next, honestly."
He includes his upcoming opponent in that group. Nastyukhin is a prolific finisher of bouts and another top-level contender in the lightweight division. Khan says he has a tough task on his hands, but believes he's equipped with the skills needed to come out on top on 23 February.
" I feel he is a really tough martial artist. He has good attributes, but he is not as well-rounded as me," he said.
"I feel I have more opportunities to win the bout with the skills I have. I see myself getting a TKO, second round."
Needless to say, if he's successful, Khan believes his next bout should be for a belt.
"I feel I should get a title shot (if I win)," he said.
"Maybe the interim title against Eduard Folayang. He was the last champion, so maybe he should also get a shot again. Or of course I would love a shot at Martin and the full world title. That is what I feel the next option should be — either one of those."
Nguyen's spectacular knockout of Folayang last year sent shockwaves around the martial arts world. Khan was an interested spectator and said the result didn't shock him.
"I knew if the match went the distance, Eduard would take the win, but I also knew Martin was capable of taking Eduard out because of his big overhand right," he explained.
"I could see it going either way, so I am not surprised. Martin is a tough guy. Credit to him for what he has done."
While Khan gives Nguyen due credit for his performance against Folayang, the Singaporean says he'd love to face the Australian in the ONE cage, and actually believes he matches up better against the current champion than the former belt-holder.
"Honestly, I feel Martin is the better match for me, stylistically," he said. "But I do not mind either one – I do not really care who I face next.
I feel his strengths are he has a good double-leg [takedown] and a good overhand, but I do not think his overhand will land on me. I feel his overhand would fall short every time and I feel I can keep him out of range.
"I am confident against Eduard, too, but if you were to ask me who was the better match, I would say Martin."