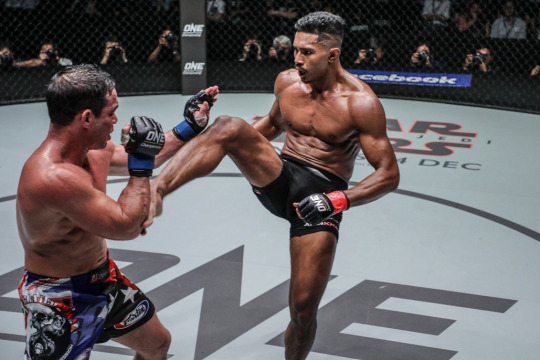 Amir Khan is in the best form of his career, and he has his sights set on world championship glory in ONE Championship.
The Singapore lightweight (9-2) has won his last six, including a run of five straight finishes, and most recently outpointed Australian veteran Adrian Pang in impressive fashion at ONE: IMMORTAL PURSUIT.
Though he didn't capture his sixth straight finish, Khan says that his performance over the full three-round distance against Pang will stand him in good stead as he continues on his path towards a title shot.
"I think that win over Adrian was really valuable to me, because it proves I can take control of a whole bout," said the 23-year-old.
"Even though he was more experienced than me, and even though he has been in the game longer than me, I was still in control for the whole of the bout. So it goes to show that if I do not finish you, I can still control you for the whole match.
"We knew he was tough coming in, and we all knew he wanted to brawl. So the game plan was we did not want to [compete on his terms]. I kept my range and picked my shots. I was not going to go chasing for the knockout, because if I did that and went chasing the KO, he would capitalise."
Khan was widely considered to be a title challenger in-waiting before his tussle with Pang. But following his win, his stock has risen further, with Pang's durability helping bring the best out of Khan - including aspects of his game that were rarely seen during the quickfire finishes of his previous wins.
"It shows I am well-rounded," he continues. "And it proves to people that I can hang with the top contenders, I can compete with them, and dominate them."
Khan returns to action on Friday, 23 February in Yangon, Myanmar when he faces fellow contender Timofey Nastyukhin at ONE: QUEST FOR GOLD. It's a battle between two of the most exciting lightweight contenders on the ONE Championship roster, though he's taking it as just another bout on his path to the belt.
"I did not have a big reaction when I got the call," he said.
"I always scout potential opponents, and was not surprised we got matched up. I want to go and make another statement.
"Obviously, I wanted a world title shot right away, but Martin is challenging for the bantamweight world title, so I am going to focus on me, keep competing, and keep improving. And when ONE Championship thinks it is my time to compete against the world champion, then I will be ready to go.
"I feel he (Nastyukhin) is a really tough martial artist. He has good attributes, but he is not as well-rounded as me. I feel I have more opportunities to win the bout with the skills I have."
Victory should set up the winner for a shot at the title, currently held by Martin "The Situ-Asian" Nguyen. But with the Australian champion currently preparing to drop to bantamweight in a bid to capture his third world title, Khan admits he may have entertain the possibility of an interim title bout before he gets the chance to face Nguyen inside the cage for the full title.
"I feel whoever wins this deserves to get a world title shot next," he said.
"Timofey beat Koji Ando, who is one of the top guys, too. So whoever wins this match deserves the next shot at the world title.
"Obviously, if Martin wins [the bantamweight world title], then he will have options to compete in three weight classes. So if he does not come back straight away, we can always do an interim title."
Khan's quest for gold continues, and he plans on standing one step closer after 23 February.