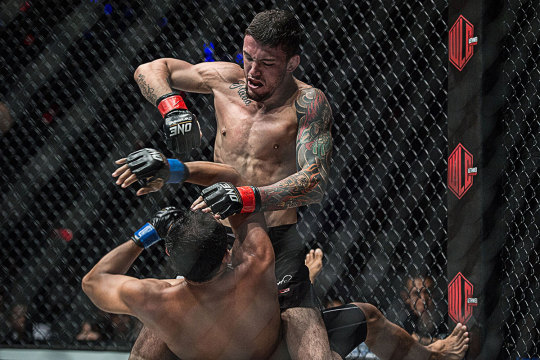 After two years of injury torment, ONE Championship star Bruno Pucci is back, and ready to make up for lost time.
Pucci takes on Emilio "The Honey Badger" Urrutia at ONE: GLOBAL SUPERHEROES on Friday, 26 January, in a bout that looks set to propel the winner towards contender status in the ultra-competitive featherweight division.
The Singapore-based Brazilian admits it's a huge relief to finally be able to compete pain free for the first time in years.
"The last two years has been a big on and off," the 27-year-old explains.
"I have been with ONE since 2013, but I was not able to compete much because a lot of injuries were holding me back. But the last year was the best because I stayed healthy for the whole year — no injuries at all. So even though I did not compete that much, I got a big win, and I managed to keep training day-to-day and sharpening my skills. That is the most important thing.
"So in 2018, I am looking forward to keeping more active, and it is good I get to compete at the beginning of the year. Hopefully I can get the win, and I can move on and get some more matches throughout the year."
Pucci claimed back-to-back no-gi BJJ world titles in 2009 and 2010 before switching to the cage and picking up a couple of wins on the Brazilian regional scene. That was when he was offered the chance to compete in the ONE Championship cage.
He took his chance with both hands, submitting Bashir Ahmad at ONE: CHAMPIONS & WARRIORS to kickstart his career on the global stage.
Unfortunately, injury struck the Brazilian, whose efforts to compete through the pain of a longstanding back injury led to mixed results. Eventually, he conceded defeat to his ailments, and decided to get them fixed.
"I had two herniated discs in my lower back," he says.
"I had them for four or five years where they were bothering me, but in the past three years, I tried to avoid the costly surgery. But it got to the point where I could not even walk very well because of the pain.
"It meant I could not really train, and it was a really big deal. I could not shoot for a takedown because of my back, and not being able to drill things like that when you battle on the ground was a big problem."
Pucci consulted with a number of doctors before going under the knife. It was a scary moment for the Brazilian, but after a few weeks, he knew he'd made the right call.
"It took a while to recover, but looking back, it was all worth it, because now I can be the best I can be," he says.
"My surgery was complicated — there was a nerve that was pinched — and I did not know whether I would be able to come back or not. So at that point, it was very scary. But it all worked out perfectly, and I am so happy that I can train properly without pain, and I can compete at my best from now on."
His back injury was just one of three major injuries that needed operating on, however, with Pucci requiring separate surgeries on both his eyes to fix fractured orbital bones sustained in bouts.
"It was close to two years, on and off," the Singapore-based Brazilian explains.
"I had to take some time off, and it was a bit scary when I returned to sparring. But over time, the fear went away, and now it is fully healed and I feel fine. I do not even think about the fact I had eye surgery."
Now injury free and ready to compete at 100% once again, Pucci will be one to watch in Manila on Friday night.
"It was the worst timeline. I wanted to compete more, and I wanted to stay active, but it made my mind stronger, and now I am hungrier than ever."