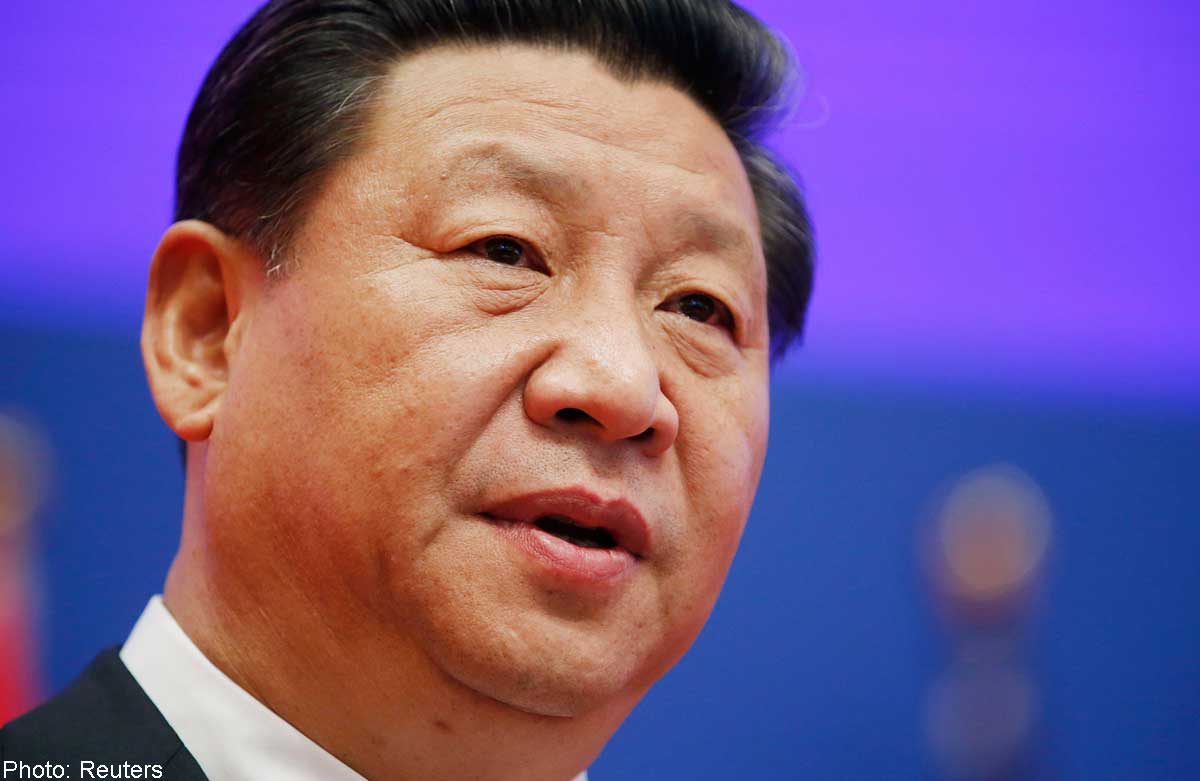 BEIJING - Chinese President Xi Jinping's name has graced the pages of the Communist Party's flagship newspaper more frequently than any other leader since founding father Mao Zedong, according to researchers.
The report by the University of Hong Kong's China Media Project comes amid a much-publicised anti-graft crackdown which some analysts say Xi has used to root out political enemies and solidify his grip on power.
In the 18 months since he ascended to the Chinese Communist Party's leadership in November 2012, Xi has been mentioned by name 4,725 times in the party's flagship newspaper, the People's Daily newspaper, the researchers found.
That compared with 2,001 and 2,405 times for his predecessors Jiang Zemin and Hu Jintao during the 18 months after they each took office, according to the study, led by professor Qian Gang and released earlier this month.
Xi's total was second only to that of Mao Zedong, the Communist Party's founding father, who was named nearly 7,000 times in the 18 months after the 9th party congress in 1969, when the tumultuous Cultural Revolution was in full swing.
Mao was at the centre of a huge personality cult in China, and the ruling party has since sought to avoid a repetition.
But the report concluded that "since the Deng Xiaoping era (in the 1980s), there has been a gradual rise in intensity" in mentions of top leaders' names.
On Monday, Xi was featured in two of seven headlines on the People's Daily front page, compared with one for Premier Li Keqiang.
"With Central Military Commission Chairman Xi Jinping's Approval, New Rules On Military Awards and Commendations To Take Effect On August 1", read one headline.
"A New 'China-Latin America Era' Begins: Chairman Xi Jinping Visits Four Countries in Latin America and Attends China-Latin America Leaders' Meeting", read the other.
The whole of page two was also devoted to Xi's trip.
Xi came even closer to Mao in terms of front-page People's Daily mentions, the study found, with 1,311 for the incumbent and 1,411 for Mao.
By contrast Jiang had 1,003 in his corresponding period and Hu had 987.
Since Xi took power, "the party newspapers have begun to advocate strongly on behalf of the leadership", the researchers said.
Xi was also the centre of attention for the People's Daily compared with other top current Chinese leaders, with 745 front-page headlines in the 18 months since taking office, compared to 365 for Li.
The other five members of China's all-powerful Politburo Standing Committee each received only double-digit mentions.
In addition to being China's president, general secretary of the ruling party and chairman of its military commission, Xi has also assumed control of several top bodies, including the newly-established national security committee.