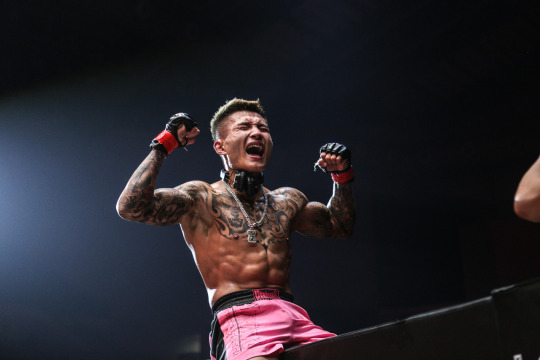 Chinese featherweight "The Underdog" Li Kai Wen returns to the ONE Championship cage on 23 February in Yangon, Myanmar, looking to continue building his skills and experience in the martial arts sphere.
The 22-year-old has martial arts in his blood, having been introduced by his father, a martial arts instructor.
"Martial arts in my family is actually ancestral. It goes back many generations," he told ONE Championship.
"Everybody from my father's side is a martial artist. They come from a kung fu background. My father not only taught me some skills, but also little things in life, such as building relationships with other people.
"Martial arts taught me the importance of discipline, respect, and determination, among many other spiritual principles which I try my best to adhere to in my everyday life, such as honesty, punctuality, persistence, and courage."
Sadly for Li, his parents separated when he was 8 years of age, splitting up the family. He ended up living with his father, before he eventually enrolled in the Hunan Sports Vocational College, where he found wrestling as a release from his turbulent home life.
Li racked up an impressive 50 victories in wrestling competition, but found himself on the wrong end of bullying from some of the older members of the wrestling team. Li didn't take kindly to the abuse, and fought back.
"I was bullied by older team members and got into fights constantly," he said.
"There is a tradition of hazing at my school, which instigated many fights and arguments among teammates.
"I stayed and trained at my school until I turned 18. My entire childhood and adolescent years were spent there, so instead of having a 'normal childhood' living at home with my family, I lived among teammates. I followed the regulations of the school, and the coaches were my guardians."
Once he turned 18, Li headed into the cage, training at Tianjin Top Team, home of fellow ONE Championship athletes Ma Jia Wen and "The Stalker" Xie Bin.
"I started training when I turned 18, out of the sheer love for the sport and the competitiveness of it," he said.
"It is a complete sport, which allows me to demonstrate and showcase all aspects of being a well-rounded athlete."
He embarked on a pro career and achieved a spot in the ONE Featherweight Beijing Tournament in 2014, winning back-to-back bouts to become the tournament champion.
He followed up with two more wins before losing to current ONE Lightweight and Featherweight World Champion Martin "The Situ-Asian" Nguyen. But rather than see his momentum derailed, he bounced back with victory over Malaysian contender Keanu Subba in July 2016.
Then, after a spell developing his skills in the United States with stints at Team Alpha Male, Kings MMA, and Millennia MMA, he returned to the ONE Championship cage for an ill-fated bout with Ahmed Mujtaba at ONE: IMMORTAL PURSUIT.
Unfortunately Li was disqualified early on in the contest after a succession of illegal strikes, something he put down to not having enough experience.
Now he's ready to return, better for the experience, and ready to showcase his skills once again when he takes on newcomer Roel "Akiyama" Rosauro at ONE: QUEST FOR GOLD in Yangon, Myanmar.
"I am ready, and this time, I will beat him," he stated.
"I want to show everyone I will never give up. This time, I am not taking it easy. I will beat him with the strength and the skills I have."