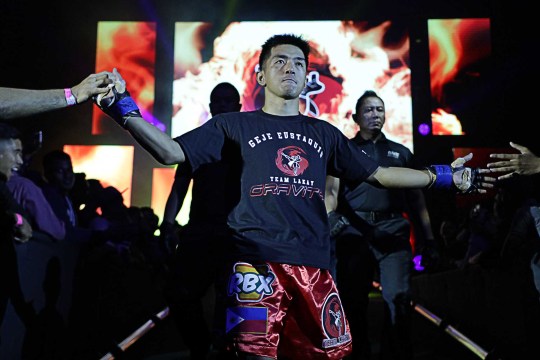 Geje Eustaquio will step into the ONE Championship cage in Manila on 26 January with a nation on his side, and a stubborn determination to avenge his last defeat.
The 28-year-old may still be on his martial arts journey, but the Filipino flyweight has done the hard yards in preparation for this moment.
Eustaquio takes on former ONE Flyweight World Champion Kairat Akhmetov for the ONE Interim Flyweight Title in the main event of ONE: GLOBAL SUPERHEROES at the Mall of Asia Arena.
It's the culmination of a journey that has taken him from a peaceful mountain community to the bright lights of a big city - with the eyes of up to 1.7 billion people now watching him compete on the global stage.
Eustaquio may have the backing of a nation now, but initially he had to battle hard just to gain acceptance from his own family. Put simply, turning away from the working world to become a professional martial artists just wasn't the done thing.
"In our region, our culture is simple. You go to school, you graduate with your degree, and you go find a job," he says.
"When I was in college, [my parents] did not want me to play sports because it was a distraction. They did not want me to do martial arts, but I was a hard-headed boy and I was stubborn. I wanted to prove to them that I could do a lot of things at the same time."
That stubbornness and determination to prove his parents wrong led him to take up kickboxing, which soon spawned an interest in other martial arts. Eustaquio's journey had begun, and he was obsessed with training.
"In our community, there is small local kickboxing promotion. I used to watch those events. I got encouraged. I wanted to be those guys. I wanted to stand up and compete, so I looked for a gym to train," he explains.
"I just did my best," he says. "And then, the opportunities came."
His skills saw him earn a spot on the junior Philippines national wushu team, and later, a scholarship at the Universiaty Of The Cordilleras. That saw him taken under the wing of the wushu national team's head coach, Mark Sangiao.
Eustaquio completed his studies, earning first a Batchelor's degree in education, then a Master's in Physical Education. He took up teaching for a year, but that was long enough away from martial arts to convince him where his future truly lied.
"I was done with my degree," he remembers.
"I was so excited to apply it to my work. Then I tried it for a year. My world became so small. My job took all of my time. They get you from 7:30am in the morning to 5:30pm in the afternoon, then you have homework and paperwork. I was like, 'No, I am too young for this.'"
Then, in February 2011, a golden opportunity presented itself when a local promotion was looking for athletes to compete on its events. Encouraged by Sangiao, Eustaquio took the plunge.
"Coach Mark said, 'Why not try?,'" he recalls of their simple conversation. "So I said, 'Let's go!'"
Eustaquio went to work, and claimed a knockout win inside the first minute of the opening round, getting his career off to a flying start, and he hasn't looked back since. Now one of the leading contenders in the ONE flyweight division, Eustaquio has the opportunity to compete for championship gold in his own country.
It'll be his second crack at a title, having lost out to Adrian Moraes in his first title tilt. But after that loss, "Gravity" went back to the drawing board, identified his shortcomings and is now ready to come back a better, more well-rounded martial artist.
He'll rematch Akhmetov in the main event in Manila, in a repeat of their 2017 bout that split the judges after three competitive rounds. After narrowly losing the decision to "The Kazakh" last time out, Eustaquio is determined to ensure he leaves no doubt second time around.
"This is the most important bout of my career so far," he said.
"I have to prove that I have learned from my mistakes in the first bout. If I can defeat Akhmetov and claim the interim title, then it will send a message that I am ready to face Adriano Moraes again. There can only be one champion, and this is the first step to determining who is the best at flyweight."
Spurred on by a determination to put right the performance of his last bout, and focused on a rematch with current world champion Moraes, Eustaquio says he's prepared as hard as possible for the test that lies ahead. He may not have been fully prepared first time around, but now he's ready.
"We shall see, by the time we enter the cage. God willing, I will win this bout," he continues. "I have been working very hard with my teammates, covering all bases and improving all aspects of my game. I am ready."