HONG KONG - Armed with a metal cart and steel poles, protesters in Hong Kong rammed through a glass door and broke into Hong Kong's Legislative Council (Legco) building on Monday (July 1) in a fresh wave of demonstrations.
The protests came on the 22nd anniversary of Hong Kong's return to mainland China from British rule, and after weeks of demonstrations against a controversial extradition Bill.
Riot police stationed inside the Legco building are responding with pepper spray, but that did not deter the protesters from attempting to ram through another glass panel and some were seen throwing eggs at the building's gate. Other protesters are seen rushing to bring water and tissues to help those in direct confrontation with the police at Legco.
Earlier, the officers were seen loading their rifles with rubber bullets, and had put up a red banner that read: "Stop charging or we use force." Some lawmakers were seen trying to mediate between the protesters and cops at the building's cracked glass doors in an attempt to stop the pushing.
The crowd is heard chanting, "Release the martyrs!", referring to those who were arrested by the police.
Legco chairman Andrew Leung has strongly condemned the violence and has sought police assistance, a local media report said.
Metal barricades are being used to block the gate of the government headquarters for now, and police have responded to the protesters by using pepper spray.
Senior Superintendent Kong Wing Cheung said at a police press conference at around 2pm that the authorities had asked the Civil Human Rights Front (CHRF) to postpone or change the route of their planned pro-democracy march in Victoria Park. He said that the organisers had refused.
But CHRF later confirmed that the Monday march would be rerouted. The route, which was originally supposed to start at Victoria Park and end in Harcourt Road, Central, will now end on Chater Road, according to CHRF organisers.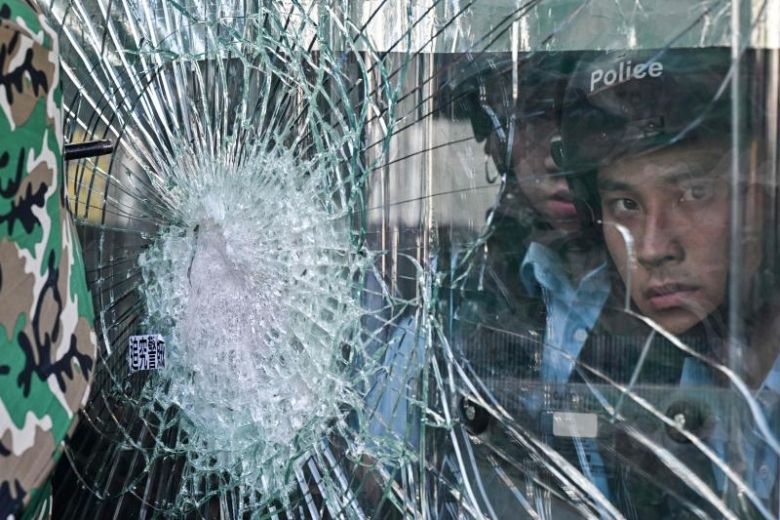 Meanwhile, just two streets away, thousands of peaceful protesters took part in the pro-democracy march, cheering each other on.
In Central, luxury boutiques like Hermes and Cartier have shut in anticipation of the day's rally. At the junction of Des Voeux Road Central and Charter Road, organisers were rallying the vote from the top of a makeshift stage built on top of a van.
Hong Kong police had earlier appealed to protesters to not resort to violence, stop blocking roads and leave the scene as soon as possible after clashes broke out on Monday morning in which riot police used pepper spray and batons.
Amid heightened security, Hong Kong Chief Executive Carrie Lam and other senior government officials witnessed a flag-raising ceremony inside the Convention and Exhibition Centre in Wanchai at 8am. The annual ceremony marked 22 years since Hong Kong was handed back to mainland China by the British.
In a speech at the event, Mrs Lam promised to change her style of governance to make it "more open and accommodating" and to "listen" to the thoughts of the young people who are at the forefront of the protests pressing for her resignation and the withdrawal of an unpopular Bill that will allow extradition of suspects to mainland China.
Hours before her speech, riot police swooped down on protesters who had blockaded a street in the Wanchai district after a stand-off since early morning. They used pepper spray and batons in an attempt to push back the protesters who appeared to be throwing objects at them, local media reports said. At least one female protester was seen bleeding from a head wound after the clashes, an AFP report said.
A police statement released after the incident said a large number of protesters had "dashed" onto Lung Wo Road, Tim Mei Avenue and Harcourt Road. "They blocked the roads and obstructed traffic with mills barriers and sundries," it said.
"Some protesters stole iron poles and bricks from nearby construction sites and guard rails from nearby roads," police said, adding that some had "also pried up bricks on Lung Wo Road and transported them towards Hong Kong Convention and Exhibition Centre".
The police said the protesters threw unidentified liquid at the officers at 9.30am during the road blockade and charging of police cordon lines, resulting in some of them experiencing difficulty in breathing and swollen or itchy skin. Thirteen officers were sent to the hospital.
"The case was taken up by the Organised Crime and Triad Bureau. Police strongly condemn such illegal acts and will stringently follow up."
"Police appeal to protesters not to resort to violence, stop blocking roads and leave the scene as soon as possible," the statement said.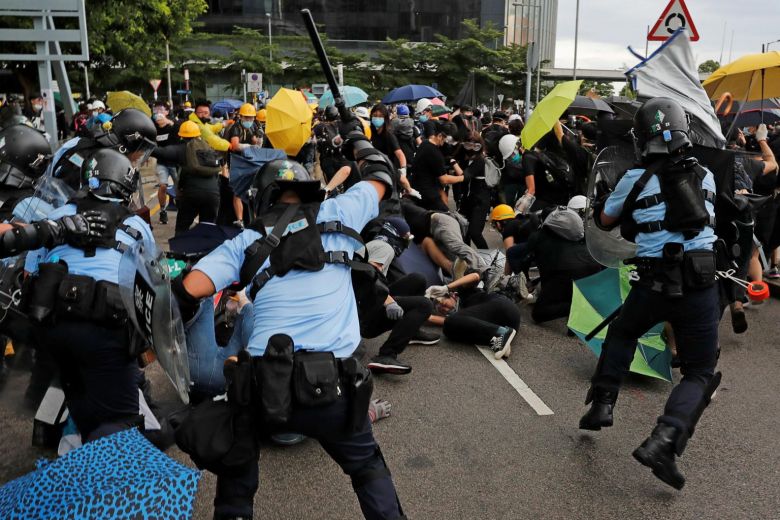 The government had put in a series of measures to contain the fallout as it braced for Monday's protests. Security was stepped up ahead of disruptions expected at the planned flag-raising ceremony at the Golden Bauhinia Square in Wan Chai. The Square was under lockdown and the nearby Convention and Exhibition Centre was closed. Harbour Road, next to the Convention Centre, had been cleared out by officers to let attendees of the morning reception gain access.
Shortly before 7am, the government also issued a statement that guests would view the flag-raising ceremony from the Convention Centre as wet weather plans kicked in amid scattered showers. Consequently, the flags were raised outside while the attendees at the ceremony watched a live broadcast of the proceedings.
Police earlier urged the public to avoid Admiralty and Wanchai, which are near the area of protests, while train services to these two stations were suspended and only resumed just before 11am.
PROTESTERS GATHER IN THE WEE HOURS
In the wee hours of Monday morning, hundreds of black-clad protesters gathered at Tamar Park in Admiralty. At around 3am, they replaced the national flag with a black version while the official Hong Kong flag was at half-mast beside it.
By 4.30am, some parts of Lung Wo Road that stretches from Central to Wan Chai were blocked and protesters were dragging metal and water-filled barricades to block roads.
Some 100 police armed with shields and helmets were stationed at Lung Wo Road near the Convention Centre and started to clear protesters by 5.30am.
In the afternoon, there are plans for the annual CHRF march from Victoria Park.
Some of last month's massive protests turned violent causing dozens to be arrested and injured.
The protesters are demanding the full withdrawal of a controversial extradition Bill which will allow for suspects to be extradited to the mainland. The Bill has been suspended indefinitely. The protesters also want the release of all those who were arrested and an investigation into alleged police brutality on June 12.
This article was first published in The Straits Times. Permission required for reproduction.