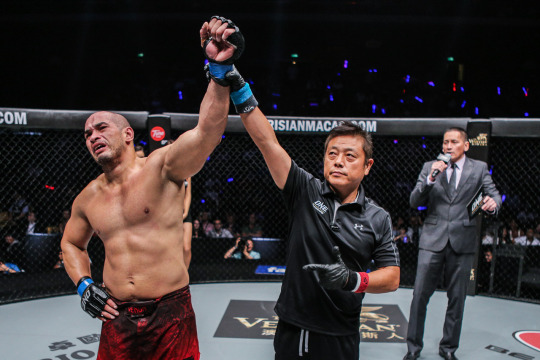 Brazil's Alexandre Machado has a lot to be thankful for, but nothing more than his own family.
The 35-year-old will challenge for the vacant ONE Light Heavyweight World Title at ONE: QUEST FOR GOLD in Yangon, Myanmar, when he takes on ONE Middleweight World Champion Aung La N Sang.
While he'll be competing in Aung La N Sang's home country of Myanmar, Machado already has all the support he needs. His family introduced him to martial arts as a 5-year-old, and helped him every step of the way as he learned the art of Brazilian jiu-jitsu.
Now he gets the chance to win a world title not just for himself, but for the family who put him on his path to greatness.
"[My father] has taught me and passed down the knowledge until the final days of his life," he said.
"He is the master who has taught me all I know, while he was still alive."
Sadly Machado's father - a police officer - was killed in the line of duty when Alexandre was just 13. From that moment on, "Bebezao" resolved to continue his father's legacy and keep alive the BJJ that had been passed down to him. 
Indeed, the whole family rallied around and to this day all work on the family academy, Familia Machado Jiu-Jitsu.
"My whole family trains jiu-jitsu," he explained.
"My sister is also a black belt, and helps me at the gym. She is a school teacher, but she trains girls there. My brother [Ruan], to whom I passed down all my knowledge, helps me work, and my mother helps us all.
"Because my brother was little [when their father died], he did not understand that much, so he started seeing me as a father figure, and I helped in his upbringing.
"In sports, I was practically a father to him, being an older brother and father at the same time.
"Nowadays, we work together, we are partners, and we share the gym fifty-fifty. [We] share all the work. Him being a professional athlete as well, we switch roles — when one competes, the other coaches, and vice versa."
Machado's unbreakable bond with his family has given him strength and support throughout his career, and he'll be drawing on that when he returns to the ONE Championship cage to take on the biggest test of his career against Aung La N Sang on 23 February.