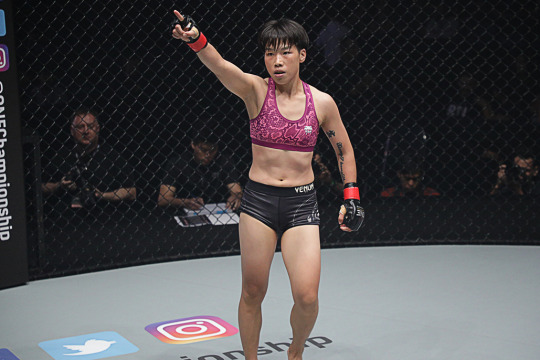 Xiong Jing Nan has earned her shot, and now the Chinese prospect will look to catapult herself to stardom by winning the ONE Women's Strawweight Title at ONE: KINGS OF COURAGE in Jakarta on 20 January.
"The Panda" is bidding to become the first Chinese athlete to become a world champion inside the ONE Championship cage when she takes on Singapore's Tiffany "No Chill" Teo in Indonesia.
The 30-year-old contender will step into the cage inspired by her father, whose advice and guidance throughout her life has proved crucial in her journey towards her title bout.
"My dad taught me a lot, including his life experiences growing up," she explained
"From when I was a little girl, my dad told me never to run away when facing difficulties, and to always take responsibility. Most importantly, he taught me to be brave and confident.
"The biggest thing he gave me was courage. I really admired my dad's courage and confidence."
As a youngster, Xiong was an active child, who often found herself in trouble as a result of her daredevil exploits.
"I would climb the walls of other people's houses to pick fruits from their trees, and fell from these trees and high roofs," she recalls.
"One time, I broke my hand, and the bone was exposed."
After being helped home by a neighbour, Xiong had to face her disappointed father, who used the incident to help teach her a lesson.
"My dad did not take care of my injury at first. It was not that he did not care about me. He just wanted to let me know that this was my own mistake, and I needed to be responsible for the result," she said.
"And then he taught me some principles. He asked me if it felt painful first, and then asked me why I did it. Then, he said: 'This is what you get, you have to be responsible for what you have done.'
"After telling me off, he asked me if I wanted to cry. He said: 'If you want to cry, you can sit here by yourself and continue to cry, and let your hand continue to bleed.' After he said this, I looked at him obediently. Then he said, 'Alright, let's go.' He held me, and took me to see the doctor."
The medics helped patch up Xiong's hand, which made a full recovery. Now she's using her hands to claim victory in the sporting arena.
She's claimed knockout wins as a professional boxer, submitted opponents as she won the China Open BJJ Championship, and has also put them to good use in the ONE Championship cage. 
Her first-round TKO of April Osenio at ONE: WARRIORS OF THE WORLD in early-December propelling her into a title bout with Teo.
Now a disciplined, confident martial artist, Xiong says the life lessons taught to her as a youngster have played a huge part in her development, but also said he has a softer side that provides balance to the stern lessons she's learned over the years.
"He was really a person who was not good at expressing his emotions," she admitted.
"In fact, he has different attitudes towards me for different things.
"When he should be gentle, he is gentle. When it is time to show a father's love, he does it. His heart is actually really soft. I can feel his love for me from his heart."