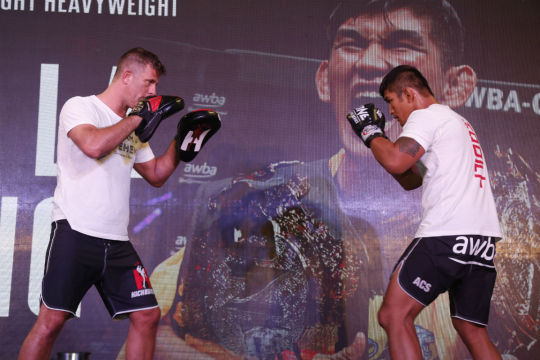 A look back through Aung La N Sang's body of work in ONE Championship will take the viewer on a thrill ride through some of the most memorable bouts in the organization's history.
The two-division ONE World Champion has featured in some of the most thrilling encounters ever seen under the bright lights of ONE's big arena events, and "The Burmese Python" is rightly proud of his career to date.
Aung La N Sang will look to make the latest defence of his ONE Middleweight World Title in Yangon, Myanmar on 26 October when he faces Mohammad Karaki in the main event of ONE: PURSUIT OF GREATNESS.
Ahead of the contest "The Burmese Python" took time out of his busy schedule to chat about his career to date and some of the bouts that have defined his remarkable career.
Aung La N Sang captured the ONE Middleweight Title in a rematch against then-champion Vitaly Bigdash, and most recently defended the title in a thriller against Japan's Ken Hasegawa. 
In between, he took on and defeated heavyweight striking specialist Alain Ngalani in an open-weight super bout, and won the ONE Light-Heavyweight World Title by knocking out Brazilian Alexandre Machado with a spectacular head kick.
Perhaps surprisingly, it was the latter bout that "The Burmese Python" picked as his favourite bout when chatting about his great performances of the past.
"I like the hard fights, like the second Bigdash fight was fun, and my last fight against Hasegawa was a fun fight, but I felt really on point against Machado," Aung La N Sang says.
"I felt where his head was and where my kick was. Everything was on point. That was my favourite performance."
Unlike some of his most notable wins, which came after gritty, back-and-forth wars against the likes of Bigdash and Hasegawa, the win against Machado was a much more straightforward affair. 
The Myanmar athlete claimed a quickfire KO in just 56 seconds to win the title and claim the fastest stoppage win in ONE's light-heavyweight history.
But they were not the key reasons why Aung La N Sang chose the bout as his favourite.
"I had a coach that believed in my kicks, and I had a good group of killers that I trained with every day. The camp was on point," he states.
"When I walked [into the cage], I felt like I was ready – I was ready for it to be a one-rounder or a five-rounder. I was ready for everything and anything. I felt really focused and dialled in.
"Physically, I was ready. Mentally, I was ready. Spiritually, I was ready."
His preparation for the Machado bout contrasted with that experienced ahead of his win over Ngalani, where he felt a little off-key, despite claiming the win.
"In the Ngalani fight, even though I won in the first round, that was a tough fight for me," Aung La N Sang admits.
"I don't like the feeling when you go into a fight thinking, 'I hope I get the finish,' as opposed to when I went in there against Machado, I didn't care what he was going to do.
"I didn't care if it was one round, two rounds, three rounds, four rounds, or five rounds – I was going to go in there and handle my business.
"The first two kicks, I set it up to the body. So, as I landed those kicks to the body, I saw his hand getting lower. 
"I saw his head drift more to the right side, and I threw that head kick. It was like my shin connected and he just fell, and I jumped in for the finish."
The preparation for his win over Machado vindicated his decision to move his training camp to Florida-based team Hard Knocks 365, where head coach Henri Hooft has helped mould Aung La N Sang into a more well-rounded, more dangerous, better-conditioned competitor.
Since then, Aung La N Sang has taken the decision to move himself and his family to Florida, to keep everyone close together, even during training camps.
And he hopes that his new setup will only take him to new heights as he prepares to face Karaki in Myanmar.
The 33-year-old seems to get better with every performance, and with his training cranked up a notch, and with his family close by for support, do not be surprised if we see the best Aung La N Sang ever when he returns to action on Friday, 26 October.