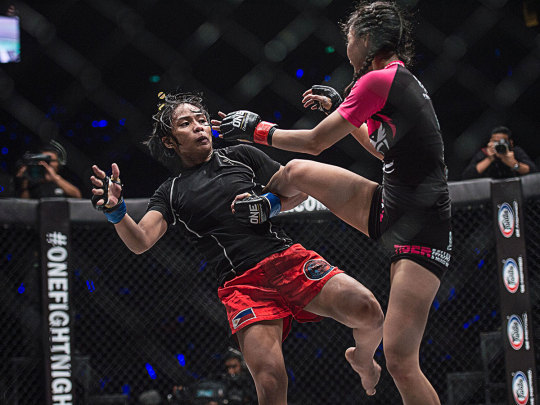 Jomary Torres is a hero of female martial arts in the Philippines, but she certainly doesn't see things that way.
Torres burst onto the scene in ONE Championship in August 2018, scoring a shock submission of Thai star Rika "Tinydoll" Ishige at ONE: KINGS & CONQUERORS, then following it up with a unanimous decision victory over Indonesia's Nita Dea at ONE: HERO'S DREAM.
It's a superb start to her martial arts career, which currently stands unblemished at 3-0, but she admits nerves played a part in her performance in her most recent outing.
"I really planned on stopping her in the first round, but my body would not co-operate," she recalls.
"I got a lot of locks in, but I just could not finish her off. My muscles were shaking during the match.
"I think it was more because I was nervous, but there was probably some fatigue there, also."
Torres' martial arts journey began back in 2015, when she met Ruel Catalan, who introduced her to his older brother, two-time wushu world champion Rene "The Challenger" Catalan. Rene then invited her to train at his family gym, Catalan Fighting Systems.
Torres quit her job as a nanny and dedicated herself to her training. Three years later, she's an established professional with a 3-0 record, and a growing reputation in ONE Championship.
Torres says she owes all her success to the elder Catalan, who has proved to be a huge source of knowledge, guidance, and inspiration in her career so far.
"Although he may be a bit strict sometimes, I know that it is for my own good," she says.
"He is the one who introduced me to this world of martial arts, and I really admire how he manages to do what he does."
Catalan will be in Torres' corner when she next competes inside the cage at ONE: GLOBAL SUPERHEROES. She'll take on fellow Filipina April Osenio in a three-round atomweight contest at the Mall of Asia Arena in Manila.
It's a challenge Torres is taking seriously, with Osenio training out of the respected Team Lakay camp in the Philippines' Baguio City, and earning notable victories over Natalie Gonzales Hills and Ann Osman.
"I am still not certain how I will go about with the match," Torres admits.
"She will have to wait and be surprised with what I am going to do in the cage."
A modest athlete with a burning desire to be the best, Torres will once again put her skills on display looking to score another victory, and move one step closer to greatness.