With a total of 2,594,740 Singaporeans eligible to vote in the next general election (which will have to arrive soon, coronavirus or not), that's a whole lot of first-time voters this time around. 
To be exact, there are about 80,000 more Singaporeans who are now able and required to participate in the democratic process of choosing who should run their country. 
It's a huge responsibility, of course — and one that could scare many first-timers who previously might not even have cared about local politics. Fortunately for the thousands of new citizens and millennials who've come of voting age, there's a way to grasp everything they need to know quickly, and it's called Grassroots Level Party. 
An independent initiative by music composer Rachel Leia Devadason and filmmaker Megan Lim En, the two former School of the Arts (SOTA) students teamed up to quickly produce a no-frills website that provides a basic overview of the general elections in Singapore. 
Though they may label it basic information, the information that they've put together from a variety of reliable sources are actually pretty comprehensive and informative, especially for those who know little about the local political landscape. 
PHOTO: Website screengrab
The crash course includes details ranging from the structure of the General Elections to the composition of Parliament; from the constituency boundaries to what to expect on polling day. More importantly, Megan and Leia managed to compile all the relevant information into a very digestible format without bias or baffling jargon, both of which are easy traps to fall into when discussing politics in Singapore. 
It's unfortunate, then, that they aren't able to vote this year — the both of them are late 1999 babies who aren't of voting age just yet. 
"Nevertheless, in the interests of ourselves and our first-time-voter-friends, we wanted to create a resource with basic information about elections and the political system in Singapore as a starting point for deeper personal research," they wrote on their website.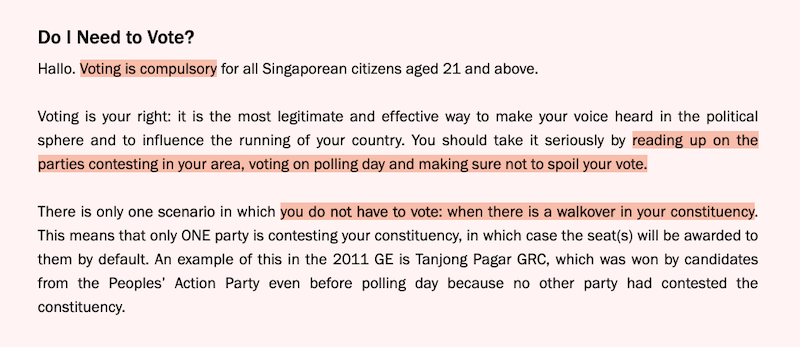 PHOTO: Website screengrab
It's a good reminder too, that all Singaporeans have until the end of today (March 27) to check their particulars and voting eligibility on the Elections Department Services website. 
As for Grassroots Level Party, Megan and Leia are working on a crash course for the various political parties involved in the General Election this year. Which has already produced some excitement and controversy even before Parliament is dissolved. 
Ilyas@asiaone.com