Never the type to miss out on sweet deals, Singaporeans (and Singapore permanent residents) started queueing up early to get their hands on $54 smartphones. 
Huawei, however, underestimated the Singaporean disposition towards anything considered a bargain. About 10.30am today — when retailers were just about to launch its National Day deal — Huawei announced that their offer is over. Such is the frightening amount of people who turned up outside all the Huawei Concept Stores and electronics retailers carrying the deal. The outlets are all "oversubscribed", apparently. Despite not having opened yet. 
"Due to overwhelming demand of our NDP S$54 Y6 Pro 2019 offer, we are unable to provide the vast majority of you with this promotion," Huawei announced in a Facebook post, advising everyone not to come by anymore. "We are truly sorry to have disappointed those who have showed your support from early morning." 
But for real though, what was the company expecting? Since Huawei announced its special promotion earlier this week, attention towards it has been pretty intense. Which is no surprise, considering that their Y6 Pro (2019) line of smartphones are being sold for a mere $54 — an attractive purchase even if the phone itself is pretty basic. 
The offer was supposed to have lasted three days from today till Sunday. Alas, not even the age limit (you'd have to be 50 and above to be eligible for the deal) was able to lessen the demand. Perhaps it even exacerbated the queues. 
Just how bad are the queues?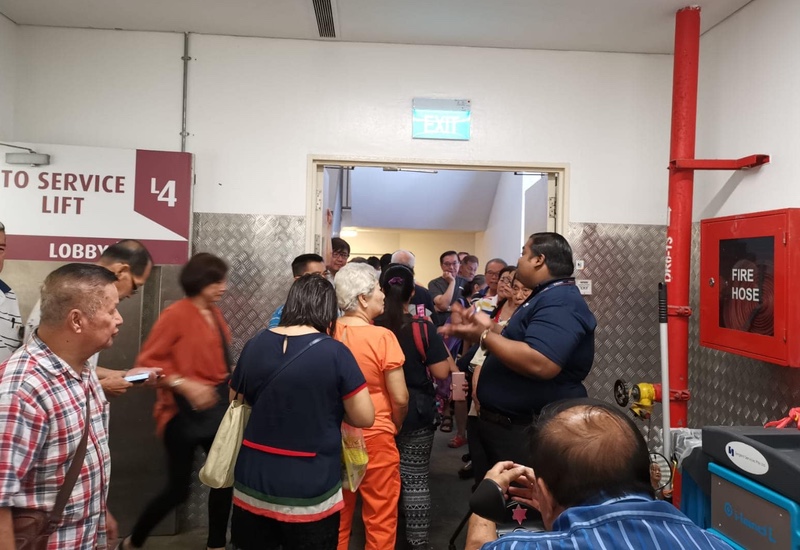 Uh, pretty bad. The turnout was big enough to prompt the closure of Huawei Concept Stores in Tampines Mall, Bugis Junction, Lot 1, Jurong Point, and 313@Somerset for "security reasons". 
On his Facebook page, Capital 95.8FM personality Feng Jianbin shared pictures depicting the sheer volume of people who turned up to queue at an unspecified shopping mall. Uncles and aunties were even forced to form snaking lines at staircase lobbies.
It's pretty much the same scene across the country. According to folks who spoke to STOMP, hundreds of keen buyers had already started camping outside stores in the morning, with some people having arrived as early as 5am.
Elderly tensions were thick — a witness mentioned that folks had been threatening to tear down the shutters of the Huawei Concept Store at Lot 1. 
Here, take a look at the cops being called in to take control of the crowd. 
And the day's not even over yet. Huawei will continue posting updates on the volatile situations on Facebook. What a way to commemorate the nation's 54th birthday. 
People in HK fight for their freedom and democracy. While old people in Singapore fights over Huawei $54 smartphone. Police activated on scene. Oh my.

— Er Kok Yong (@eRky_) July 26, 2019
ilyas@asiaone.com