Andie Chen had to ask friends for money to produce his first Singapore war film The Last Song
PHOTO: Instagram/andiechen
PUBLISHED ON
April 16, 2020 5:55 AM
By
Bryan Lim
Asking family and friends for money is already kind of paiseh (embarrassing) for us plebeians. We shudder to think about what it might be like for a celebrity to do so.
However, in order to secure additional funds for his first short film The Last Song, actor Andie Chen had to "ask [his] friends for money" and he also readily admitted to us that it was "tough" to do so.
The actor doubled up as producer for the film, which was conceived as part of Storeys, a film festival and ground-up initiative organised by media agency CreativesAtWork and supported by the Infocomm Media Development Authority (IMDA).
CreativesAtWork increased their initial budget, said Andie, but it wasn't enough so he had to call in favours.
In an interview on Monday (April 13), the 34-year-old Singaporean added: "For this project, because it was a passion project, you basically call in a lot of favours. Everybody that was part of the project was doing it on a discounted rate. I tried to pay them as fairly as I could, but definitely it's not their usual rates."
[embed]https://www.instagram.com/p/B-02UyuDF50/[/embed]
He also called up some friends whom he thought "would be interested to support a film like that". He clarified that while it might have been difficult, it also wasn't all that difficult because he wasn't trying to "cheat their money".
"I just explained the film, why I'm doing it, and why I think it's important. If they felt the same, then they'll support it," he explained and noted that the money given was an investment, so his friends would be able to get it back should the film make money.
The Last Song talks about a war in Singapore, "set in the future 2030 when Singaporeans are thrust into defending our country against an unknown force". Aside from Andie, it stars travel vlogger Nuseir 'Nas' Yassin (or better known as Nas Daily), Aaron Mossadeg, Sivakumar Palakrishnan, Jeremy Chan, Aaron Teo, and YouTuber Hirzi.
ALSO READ: Nas Daily makes acting debut as Singapore soldier in Andie Chen's short film, says it's harder than making his own videos
Andie declined to disclose how much he raised in total, but it seems to be a five-figure sum. He said the budget rose from a "low five-digit" to around a "mid five-digit" sum.
As to what contributed to the jump, Andie said it was "everything", as he spared no expense for his maiden attempt under his new production house Vagabond Media.
Problems with censorship
That decision clearly showed in the final product which was released free online on Sunday (April 12). In the scene where Nas' character meets with his bloody demise, one can see his innards spilling out after being caught in an explosion.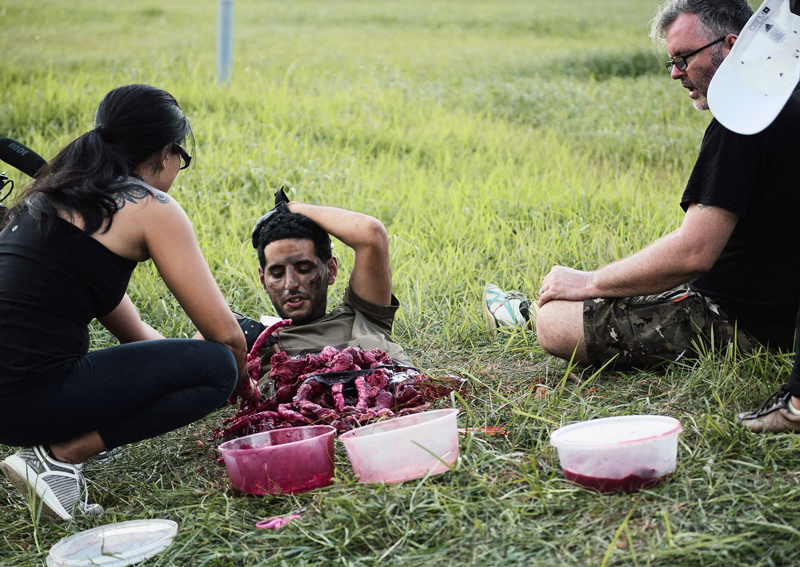 And it's this level of detail that got Andie in a spot of trouble with censorship rules. Aside from the gore, the dialogue also included numerous profanities, and as such, he had to create a "clean version for some platforms".
But all of that was intentional, as the newly minted producer set out to push the envelope when it came to creating local content. When he set up Vagabond Media, he wanted to create productions that are diverse — not just in the genre, but also what we could see onscreen.
"I had been toying with the idea of producing for a while now. I've been an actor for 13 years and honestly, the genres we have in Singapore have always been very limited. It's either family or romance, again and again and again. So after a while, I was like, if I want to be in something different, I might have to do the producing.
(Warning: Gory scenes and profanities are in the video below)
[embed]https://www.youtube.com/watch?v=DyAAgPBlG5I[/embed]
"So I started a company called Vagabond Media. At the same time as I was setting up this company, I got a call from CreativesAtWork. They were doing Storeys and I thought it was a good time to make something that is what my company stands for — which is something more honest, grittier, edgier than what we usually see," Andie explained.
"My vision is really to try and push our limits and lines, so when I do that, I'm pretty sure some of my projects in the future might be controversial and might get a lot of negative feedback... I don't want to be so safe. As a nation we're always so safe."
Will Singaporeans step up for the country?
In line with pushing the boundaries, Andie also intentionally had his sights set on a war film to explore the themes of patriotism, sacrifice and brotherhood in particular to Singaporeans. If the country is forced to go to war, will Singaporeans be able to step up?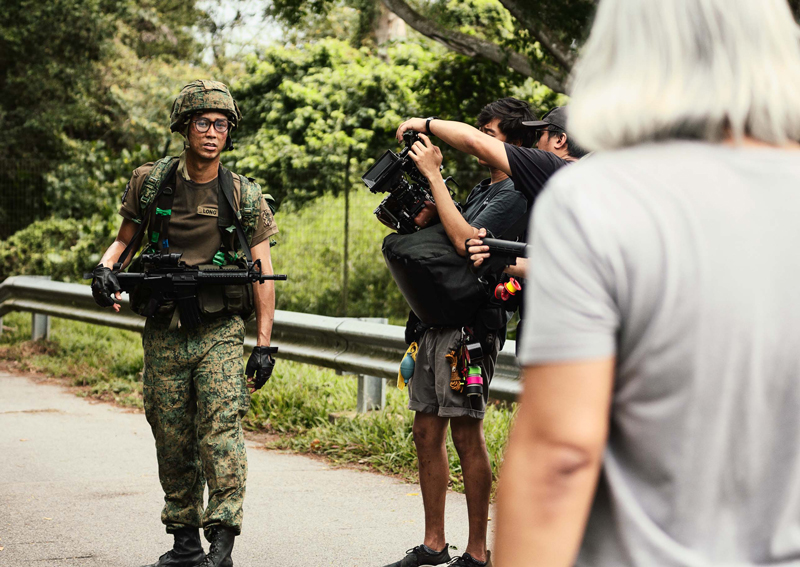 People usually dismiss the idea of Singapore going to war as "fantasy or fiction", but Andie thinks there is always a possibility of war and we might not be far away from it.
He mused: "So the question is, will Singaporeans actually stay and defend our country? Is there something here that is worth sacrificing our lives for? That's the very question we're answering. Personally, I think I will. I think there is something about this country I love enough to want to fight for.
"I think if people watch [the film] and ask themselves that, regardless of the answer, I'll consider it a success."
So if Singapore really goes to war, does he think that Singaporeans can defend the country?
"I think so actually. I have no question that we can step up. It's just that we have a very slow sense of urgency as we can tell from this whole Covid-19 situation. We just don't think that we're in danger because we've been a peaceful nation for a very long time," he noted.
[[nid:475519]]
For now, Andie intends to hone his craft as both a producer and an actor. He admitted that producing can be both difficult and fun, but it's still "worse" than being an actor because it's a role that requires you to be involved in the entire process and "everything is your problem".
It's a "more tedious and constant workload" compared to an actor, but the role also gave him a lot more control over the production.
That said, he isn't going to pick one over the other because he views both roles as "one and the same".
Andie said: "I'm very passion about media — film, television and even online — and the one thing that really kept me surviving in the industry was being focused on being an actor. The only reason I stepped into producing was because I see it as a way for me to be involved in projects where I can hone my craft even more.
"To me, being a producer is part of this whole process of becoming a better player and professional in the filmmaking industry."
bryanlim@asiaone.com