Despite appearing only briefly as socialite Celine (or "Radio One Asia") in Crazy Rich Asians, Constance Lau made her mark serving a flawless 'resting b**** face' and a side-eye that could strike fear into the hearts of the weak-willed.
Now, she's serving a different kind of 'face' as sex worker Siu Lan in the Toggle series Last Madame.
Although the two shows can't be more different, Constance surprisingly pointed out that both characters aren't that dissimilar.
During an interview with AsiaOne on Tuesday (Oct 1) to promote the web serial, the 28-year-old actress said: "They both want what they want and they will go ahead and get it.
"I've never thought about the differences but they're actually very similar because they're both hungry for attention."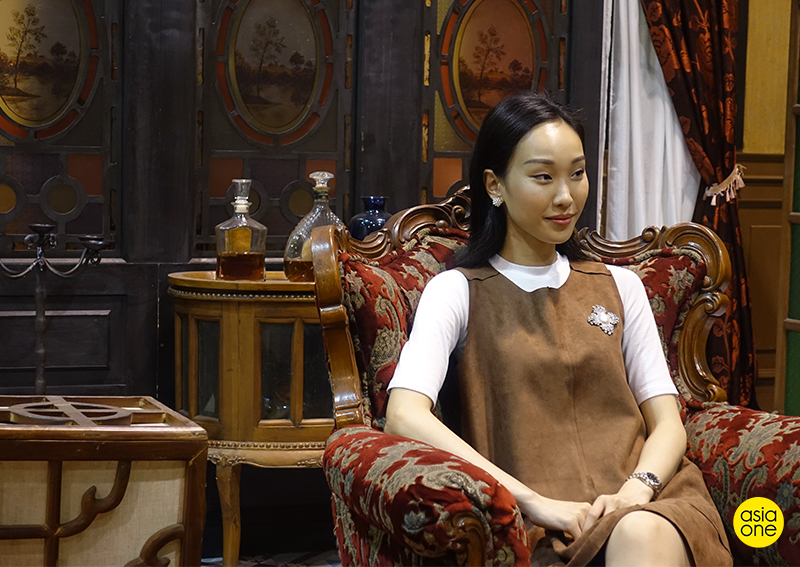 She went on to single out Celine's act of circulating the photo of the protagonist Rachel Chu, and Siu Lan's complaints about Soh Fan's (a young prostitute in Last Madame) rising popularity to illustrate her point.
There was one glaring difference between the characters, though, as Constance remarked amusedly, "One is a crazy rich Asian, the other one is just a..." before trailing off.
Prostitute is the word that was missing, and it felt like the elephant in the room because of the stigma associated with it.
Not that anyone could blame her because even we felt conscious about using it, as our conversation delved deeper into her character and the insights she gleaned from portraying Siu Lan.
It wasn't that long ago that she revealed to local media about her desire to play a prostitute and we couldn't help but wonder if she was foreshadowing her role?
Alas, we put away our tinfoil hat because Constance confessed that it was just a coincidence and even the producer of Last Madame was surprised upon reading that interview as the latter had actually planned to cast her in the show.
WALKING A MILE IN THE SHOES OF A STREETWALKER
Constance told AsiaOne that her motivation to play a streetwalker was to walk a mile in their shoes and experience what life was like, so we quizzed her on what she learned.
"I think the insights I've gleaned is that back then, the women were really mistreated; but there were still very empowered women. So I think female empowerment started many years ago in the '40s, which was essentially Fung Lan's kind of character," she reflected.
Fung Lan, played by Joanne Peh, is the no-nonsense brothel owner with an imposing presence who would clash with secret societies to protect her girls just as easily as she would pimp them out.
Constance added: "I've seen how they take the bad out of the situation and turn it to good, even back in the early days when men couldn't even care about women."
Incidentally, the optimism and tenacity are traits that she admires about her character.
Constance remained tight-lipped about the story arc to avoid spoilers but she did let on that Siu Lan learns to "empower herself" after experiencing a "bad situation" and "comes out a stronger person".
And in case anyone was wondering, she doesn't have any nude or raunchy sex scenes, revealing that the most risque thing she did was "full-on making out" and "groping".
ALSO READ: Joanne Peh 'disappointed' that sex scene in Last Madame didn't show more
Such as being groped by a client along the brothel's corridor in the first episode?
"Oh, there's more," she quipped, and joked that the "customers" were "very impatient" to get things started.
SOCIALITE-TURNED-PROSTITUTE
Interestingly, no one has made a joke about her 'fall from grace' as a fictional socialite-turned-prostitute.
"Do you have a joke?" she asked us. Unfortunately, we are not skilled at improvisational comedy.
Her manager, Abby, piped up and exposed her: "She's asking you because she wants to use the joke."
For the uninitiated, Constance loves her comedy and has shared videos of her co-stars' reactions to her bad jokes on Instagram Stories. We pointed this out and Constance feigned outrage — "Wow, 'bad', thanks very much" — before giving us a hearty laugh.
She might be a joker but this girl doesn't kid around with her career, and it's been on fire since her big break in Crazy Rich Asians.
Life is still busy, she said, but the biggest change is that she now gets to do what she loves and she's grateful that her acting career is headed towards the direction that she's always wanted.
And that includes comedy — bad jokes or not.
Since her career is trending up, we were curious to know who she would love to work with the most.
She mulled over it and replied: "Hmm... Stephen Chow.
"Because his movies are so funny. I've always wanted to do something funny, though Abby would disapprove of me being a comedian," she laughed.
HER FAVOURITE HUNK
Before we concluded the interview though, we brought up an interesting observation that she's acted with a lot of hunky actors. As we rattled off names like Henry Golding and Pierre Png (Crazy Rich Asians), Firdaus Rahman and Joshua Tan (Lion Mums), and Alan Wan and Ky Tan (Last Madame), she exclaimed: "I never thought about it! I never saw it that way also."
Well, now that she's realised that she's been acting with thirst traps, has she ever swooned over them?
"Actually don't have leh," she insisted, much to our surprise.
However, when Constance does swoon and gush, like when she met local singer-musician JJ Lin, she admitted that it's all internalised. She said: "It's all 'inside voice' lah."
Then who is her favourite hunk so far?
She went down the list and as she landed on Harry Shum Jr., who has a cameo in Crazy Rich Asians, she gushed: "Oh, Harry Shum. Actually Harry Shum, yes. I used to be a huge fan of Glee... I think the 'swoon' moment was with Harry but it was really 'inside'."
Last Madame is now streaming on Toggle.
bryanlim@asiaone.com